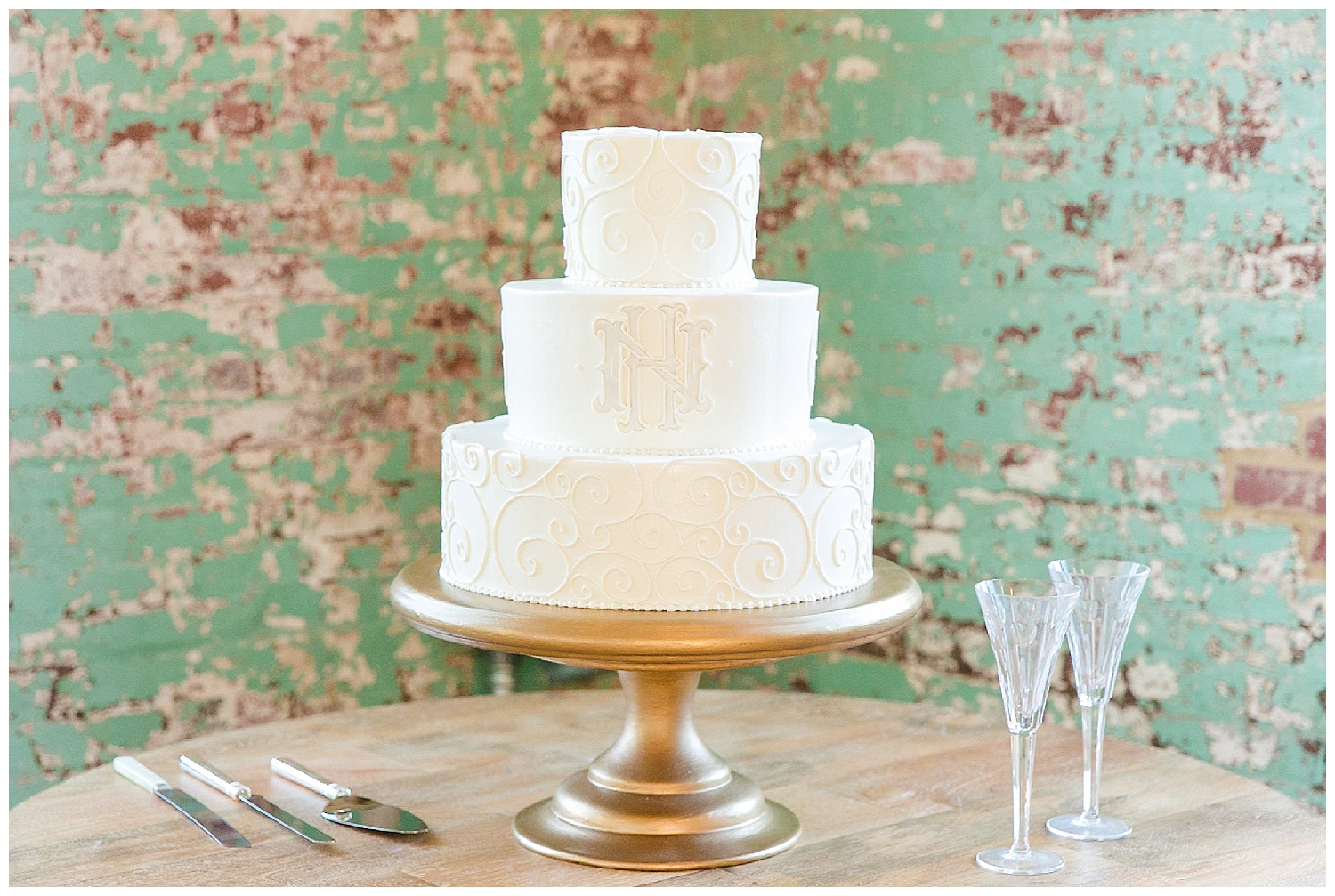 04 Jun

Hilary & Nathan | The Cedar Room

The Wedding Row: Let's start from the beginning. How did you two meet?
Hilary: Nathan is from Richmond, Virginia, and I'm from western New York, but North Carolina has been home for us for years. We met at a mutual friend's birthday party at a rooftop bar in Durham. Since it was March Madness the game was being on. The mighty Tar Heels were kicking butt, and when Nathan moved closer to the screen (and me), I asked if he was a Heels fan. You can imagine his disdain as a Duke fan, "No!" he said, to which I responded "Oh, so you're that guy." And we let the bantering begin.  

TWR: Any highlights from your time dating one another?
Hilary: We dated for 10 months before getting engaged. Nathan's job took him to Santa Barbara, California, about a month after we started dating, so neither of us were really sure what that meant for us. Thirty minute calls turned into hours of FaceTiming, and we quickly realized we had something pretty special. Our favorite times were our West Coast road trips to Paso Robles (because wine), Los Angeles (for family and fun), and the Channel Islands (for gorgeous hiking and insane sea kayaking). Not only were the destinations awesome, but the trips gave us a lot of time together.

TWR: We want to hear all the details on the proposal! Spill the beans.
Hilary: As I was finishing up packing snacks for one of our mini-journeys, Nathan walks into the kitchen and asked me if I was forgetting anything. I looked around bleary-eyed and said, "I don't think so?" When I looked back at him, he was on one knee with the ring. I was so excited that I forgot my phone at the house.

TWR: What did you envision for your wedding? Was there a theme or color palette in mind?
Hilary: I wanted our day to be elegant but warm. As for the palette, the timelessness of navy was a no-brainer. I love dark-textured arrangements, so we incorporated some fun florals like blue thistle and purple Queen Anne's lace. We sprinkled grey and mixed metals throughout to give some contrast. I am still in love with the linens—a very short crushed velvet in a gorgeous dove grey—we chose for the guest tables.

TWR: Any supremely special moments from the Big Day or did anything funny happen? What was your first dance to?
Hilary: The first look was such a special moment. Nathan and I both were originally against the concept but after our photographer talked about the merits, we did a complete 180. Having that time together at the Cistern at the College of Charleston and being able to fully experience the emotion in private was the best gift.

The funniest highlight from the day stems from me being supremely clumsy. Seven minutes before show time, I lean over to apply my lipstick one last time and drop the stick down the front of my pristine ivory gown. I froze and then grabbed my phone so I could google a solution. Everyone kept reassuring me that no one would see the three-foot long stripe down the front of my dress and they were almost right! Only my husband noticed. We still laugh when we talk about him seeing me at the end of the aisle with the lipstick stripe and shaking his head knowingly at me.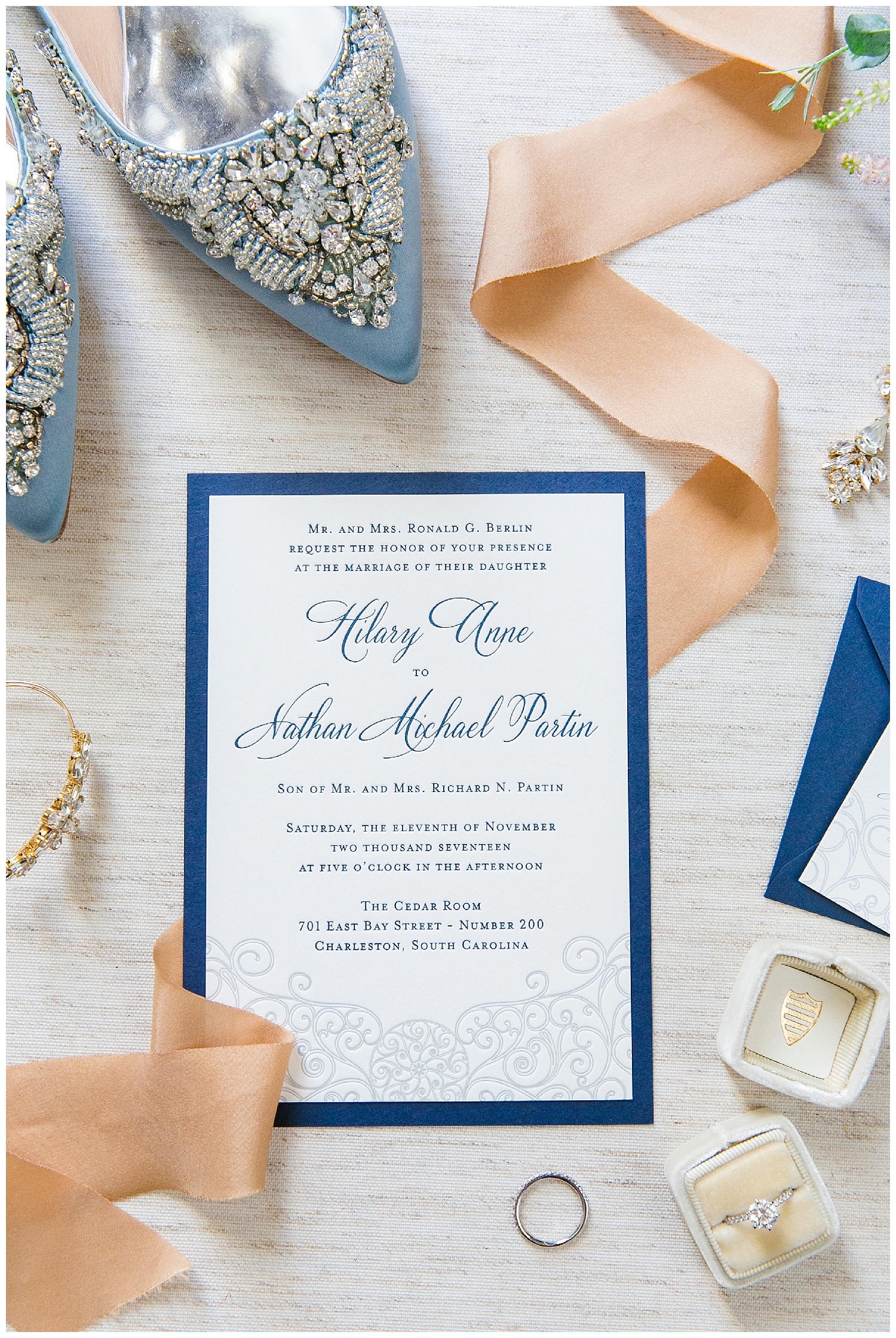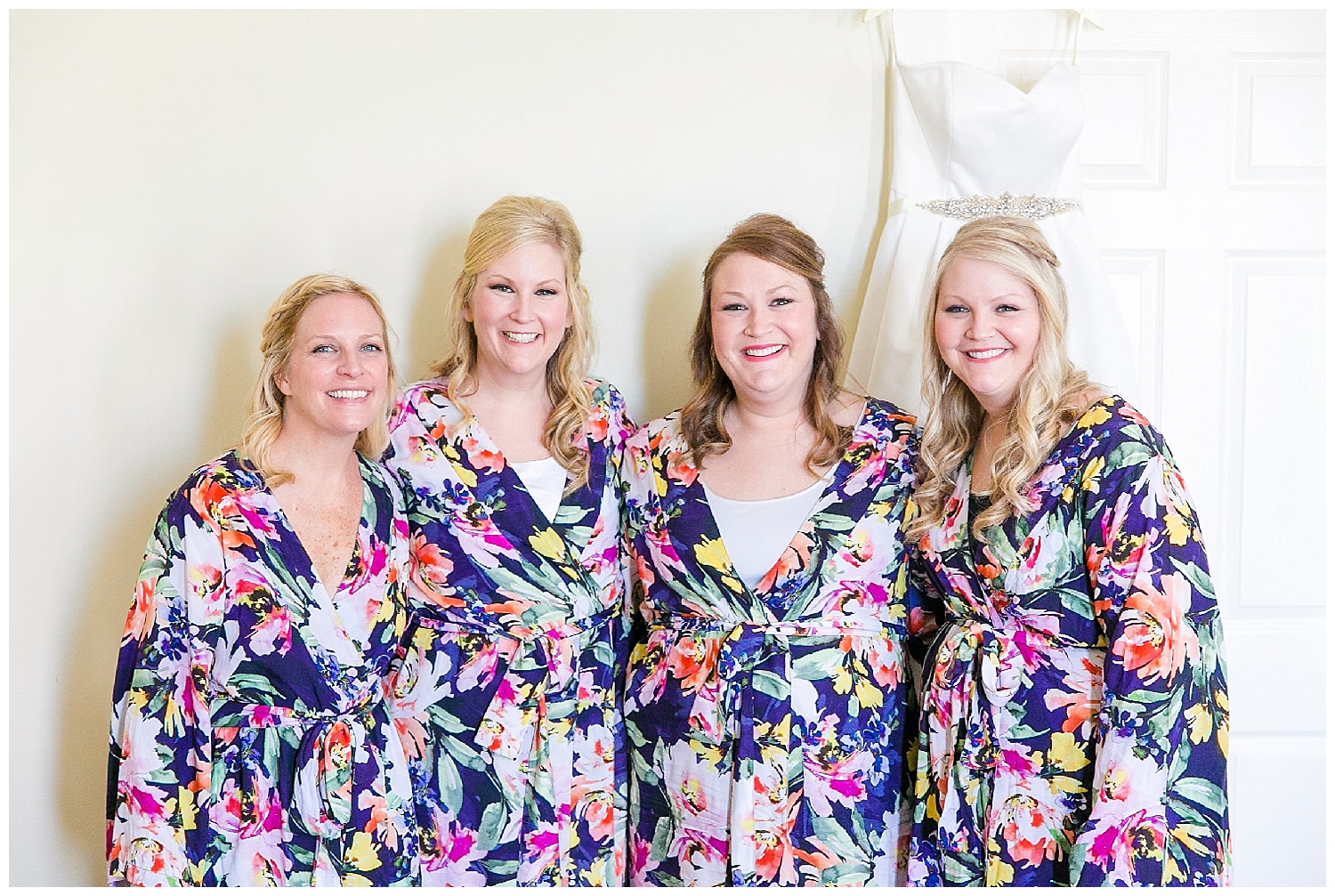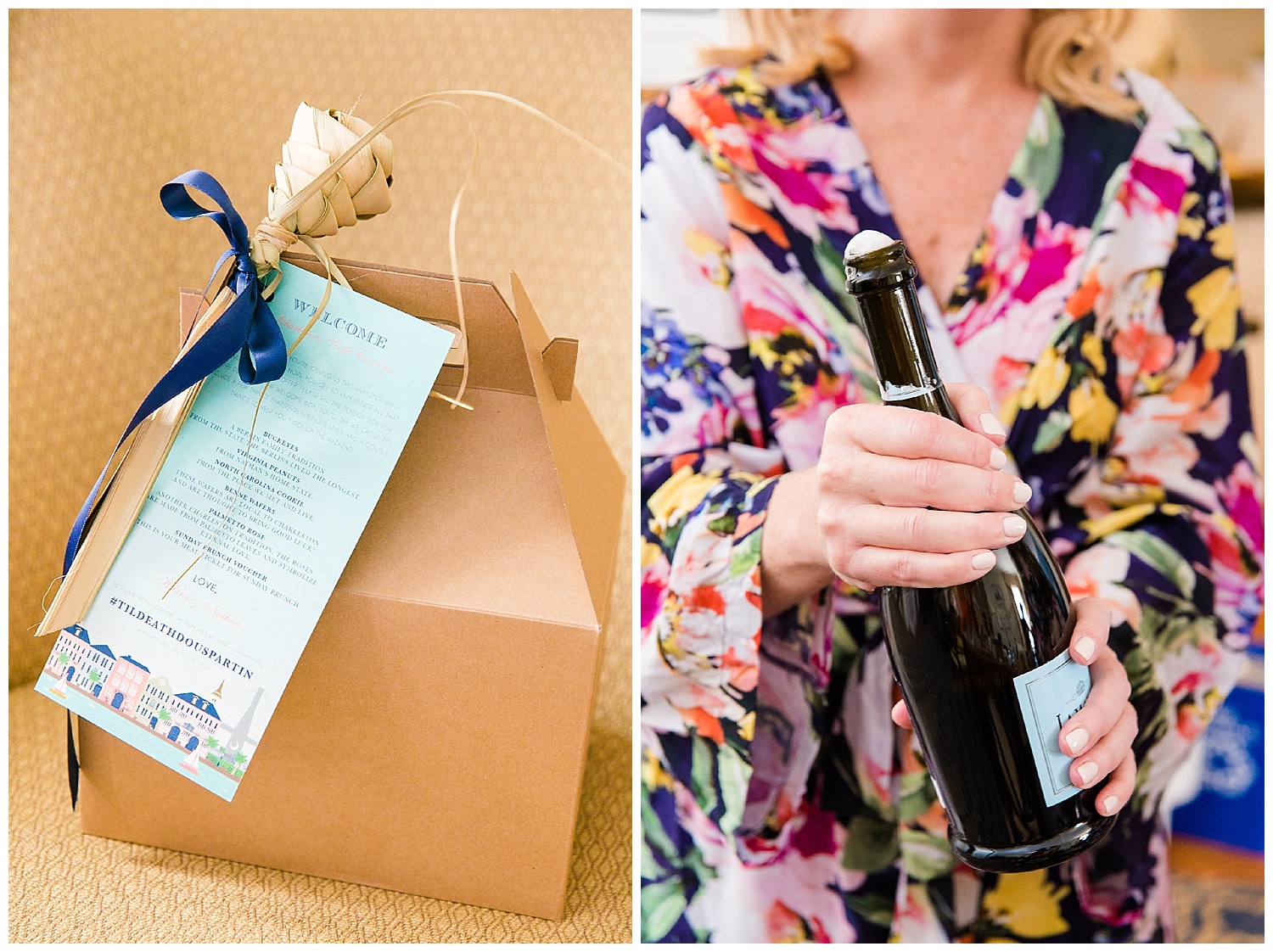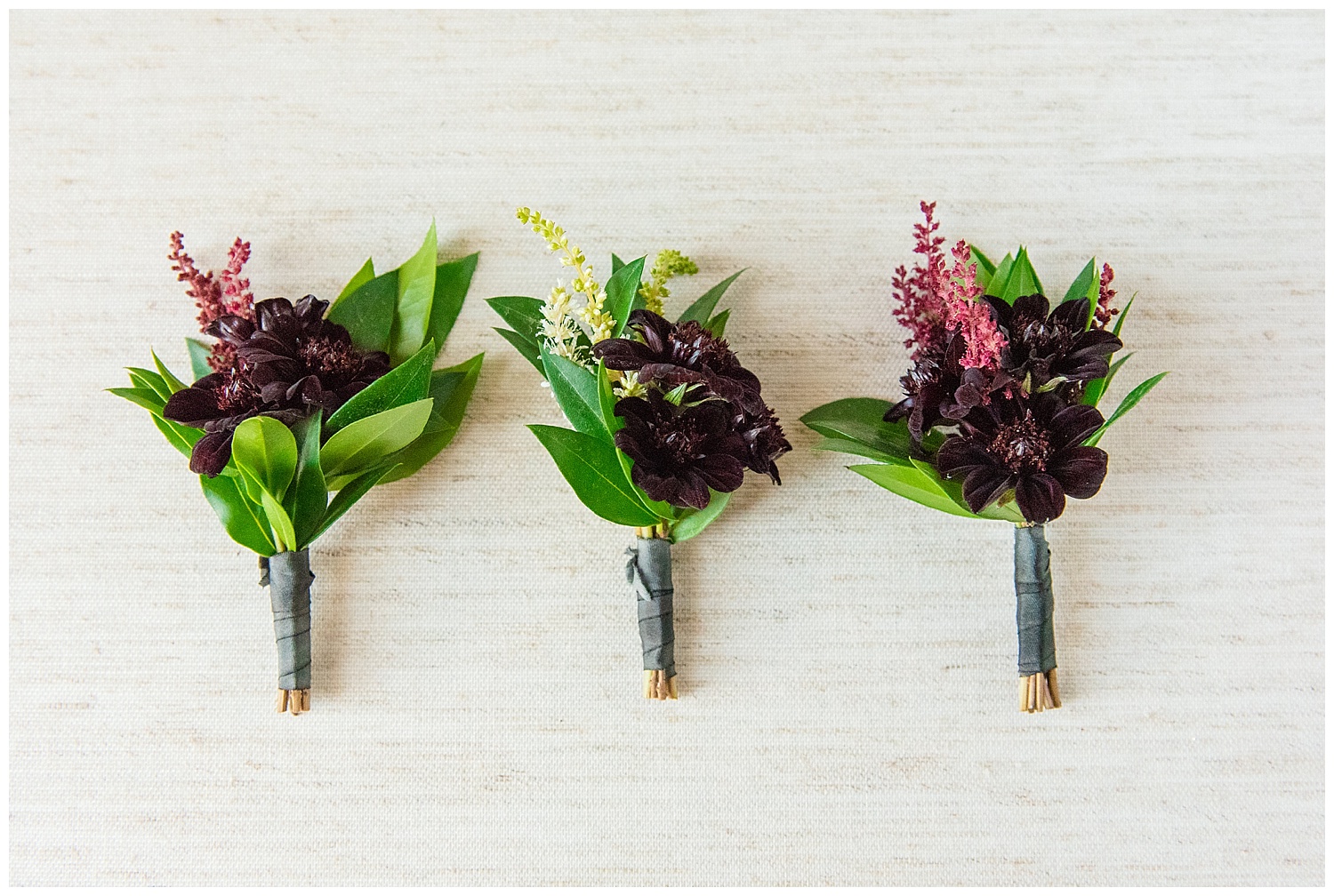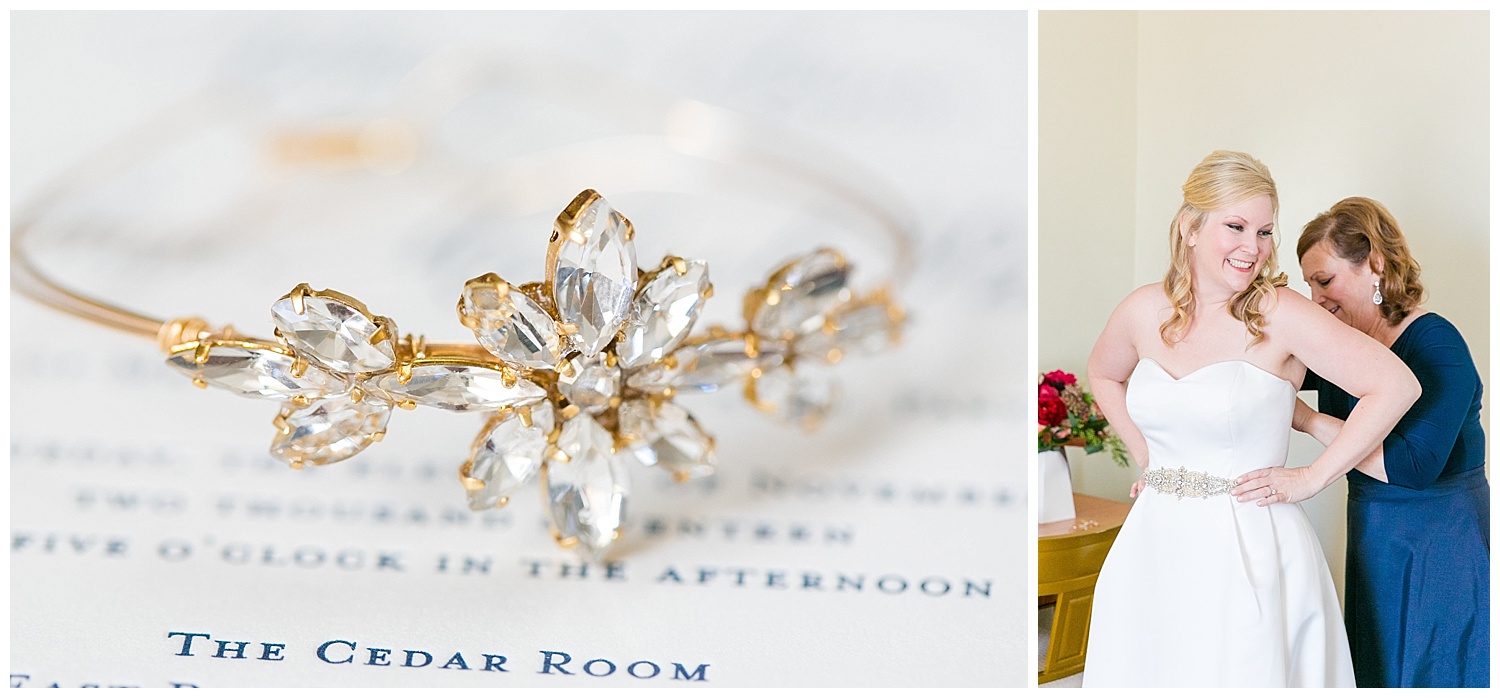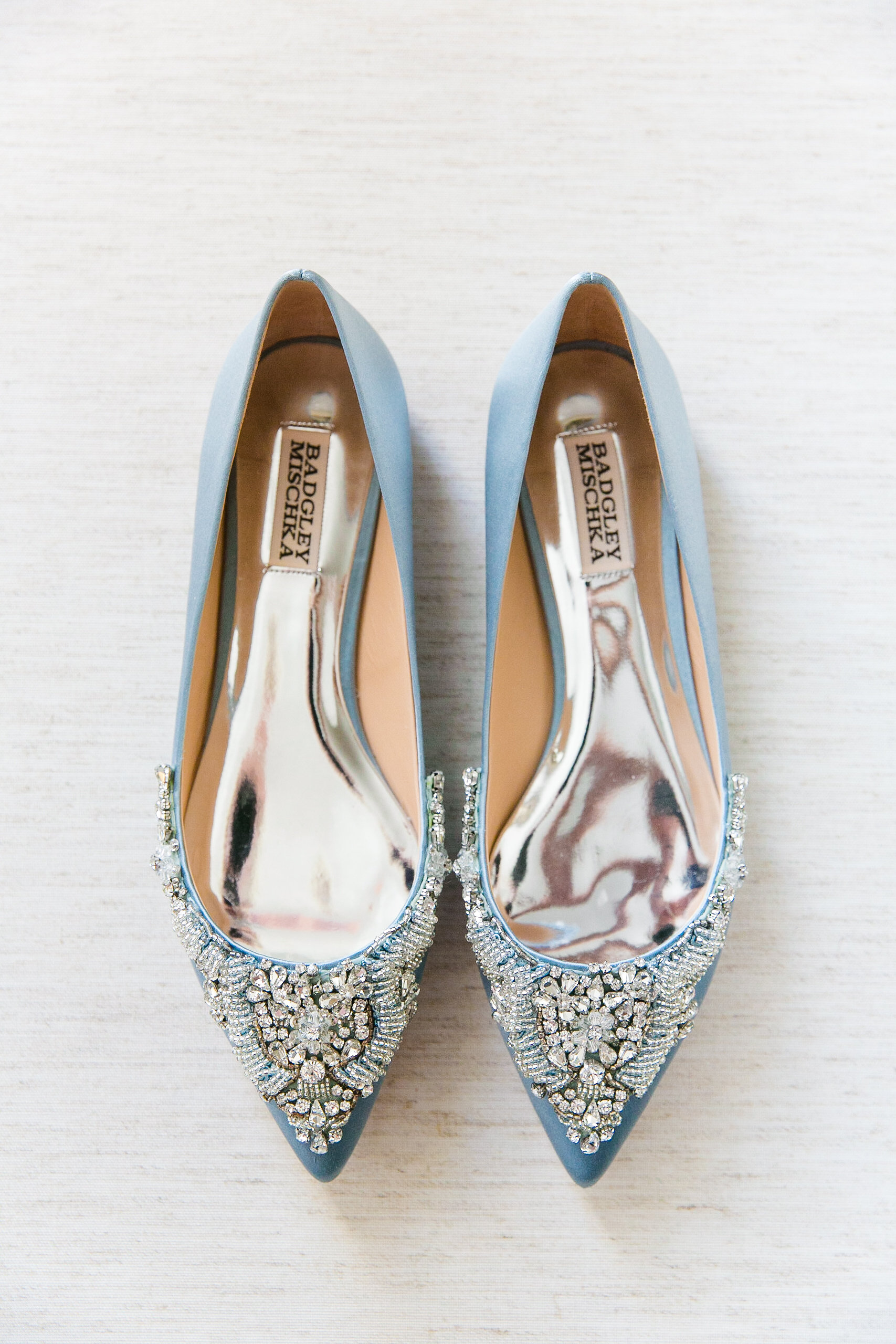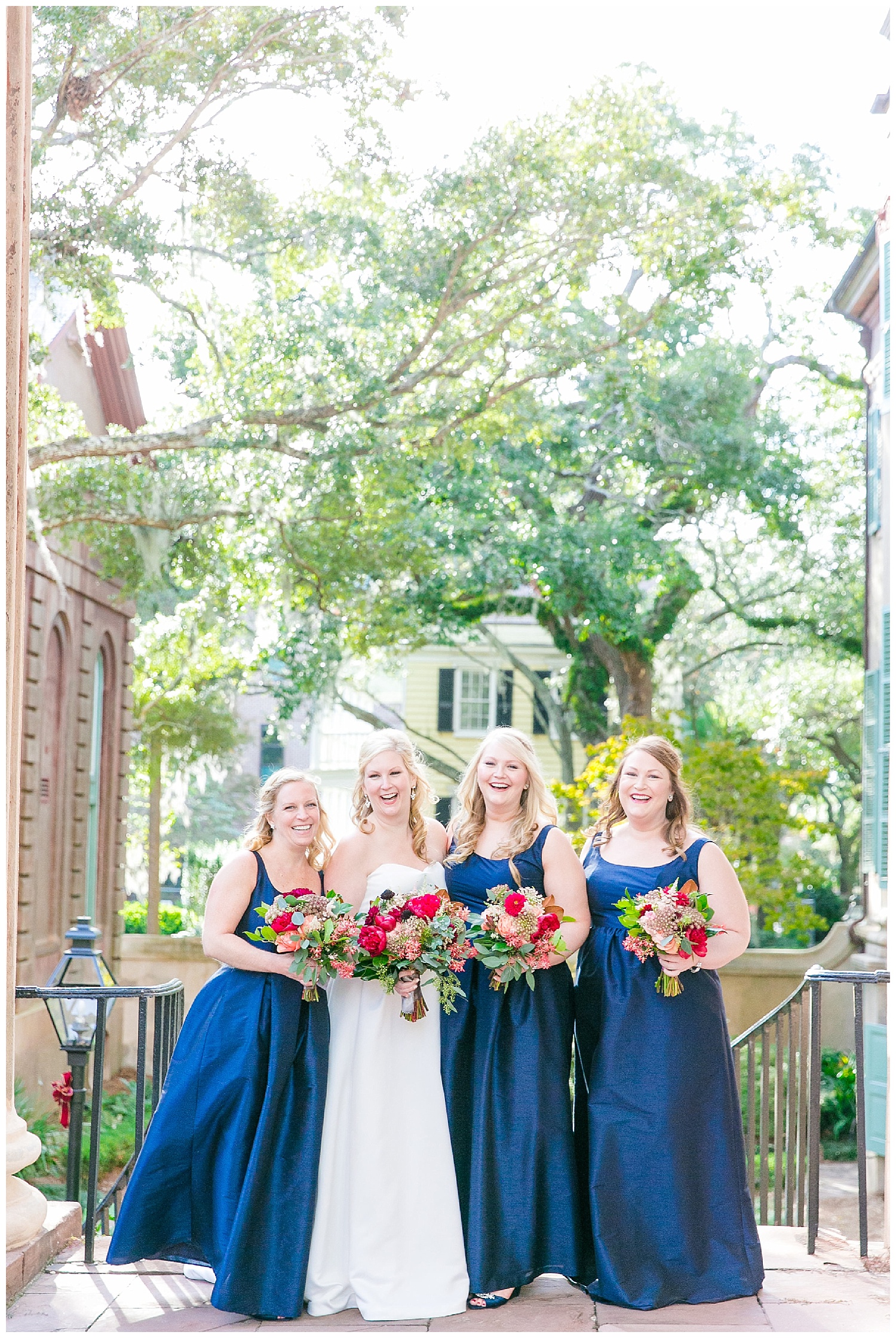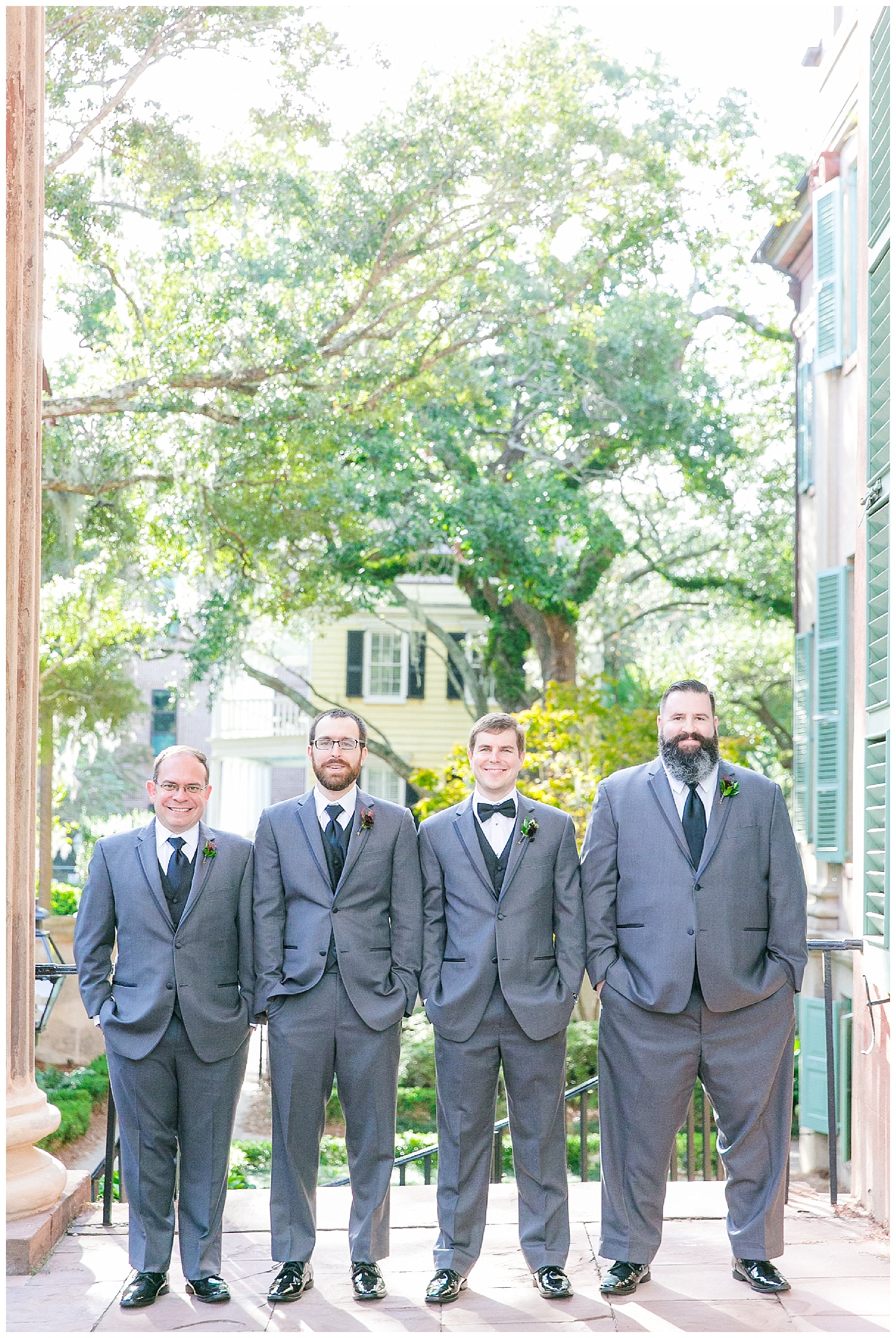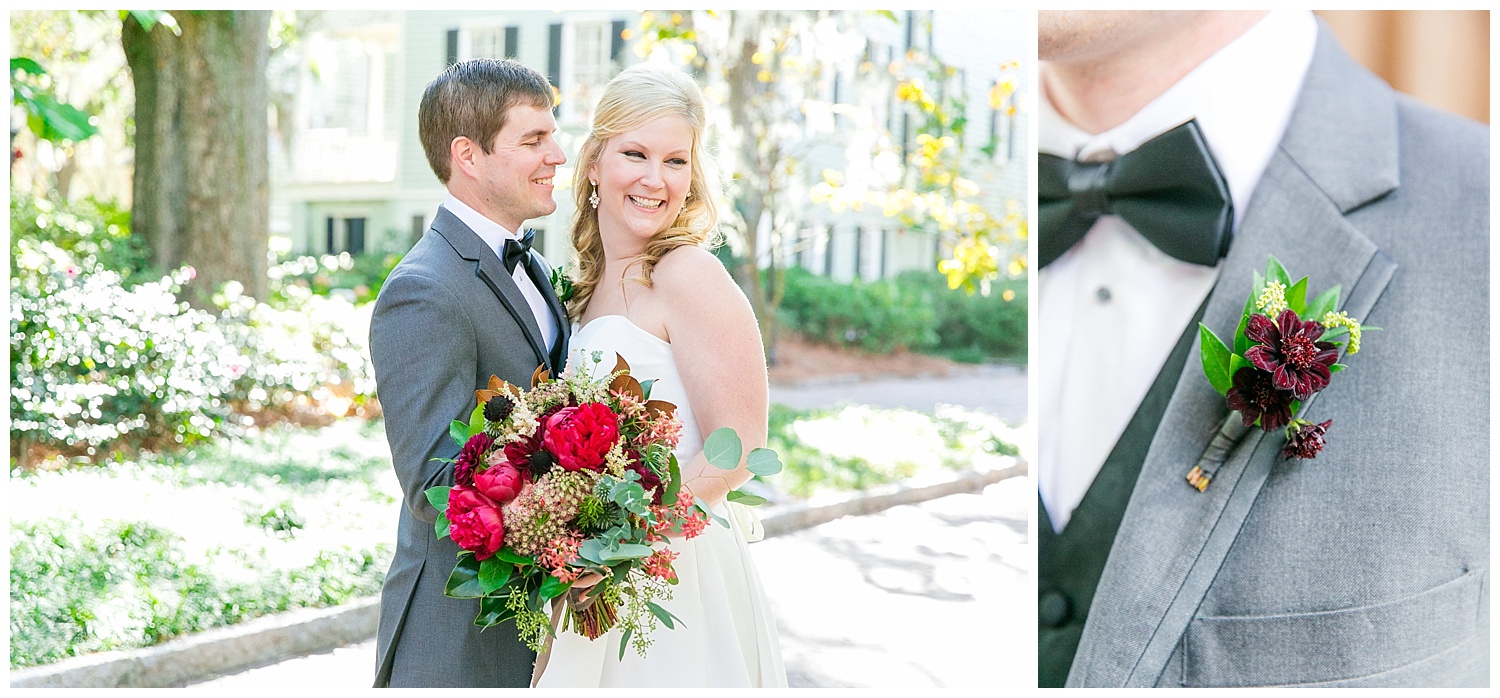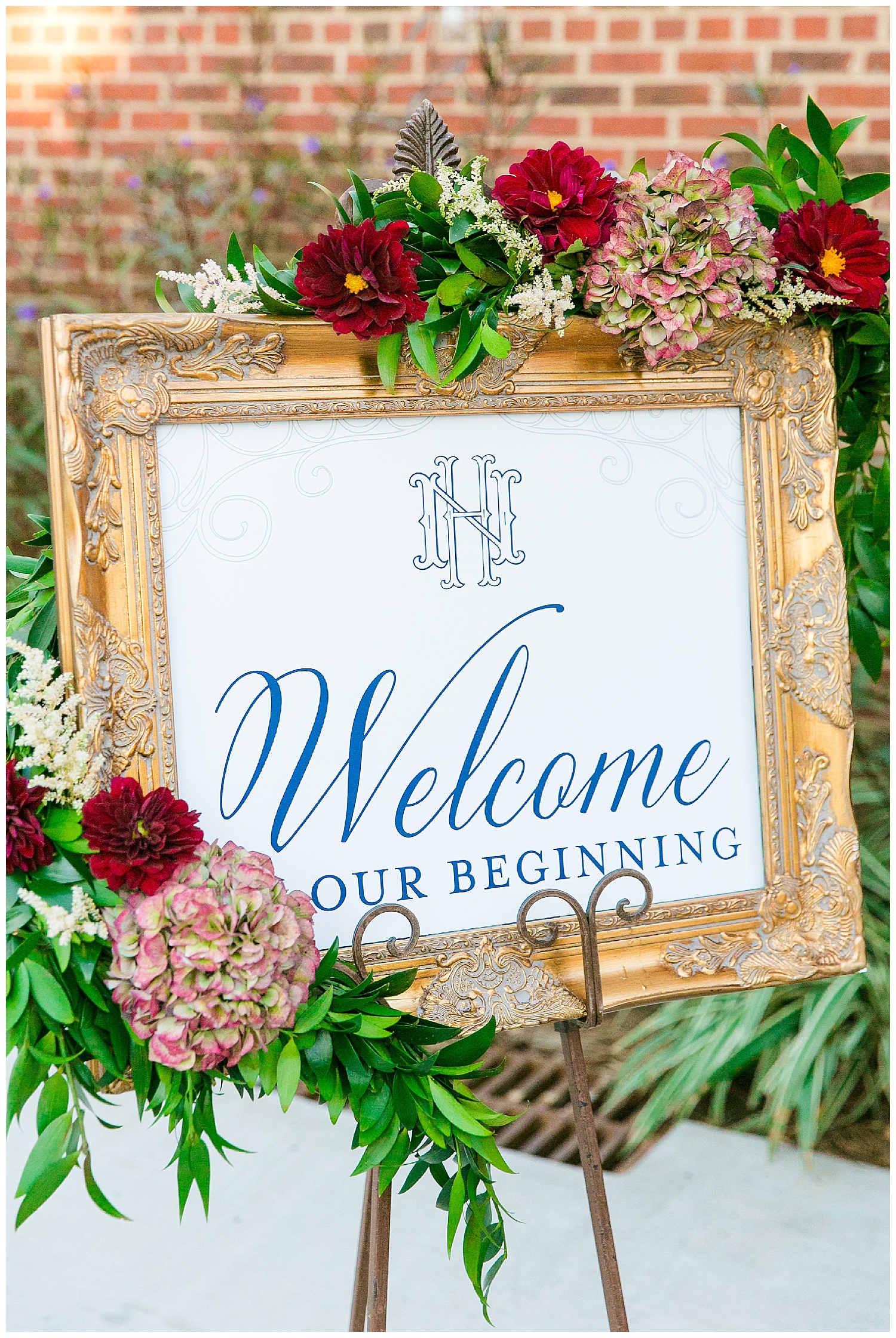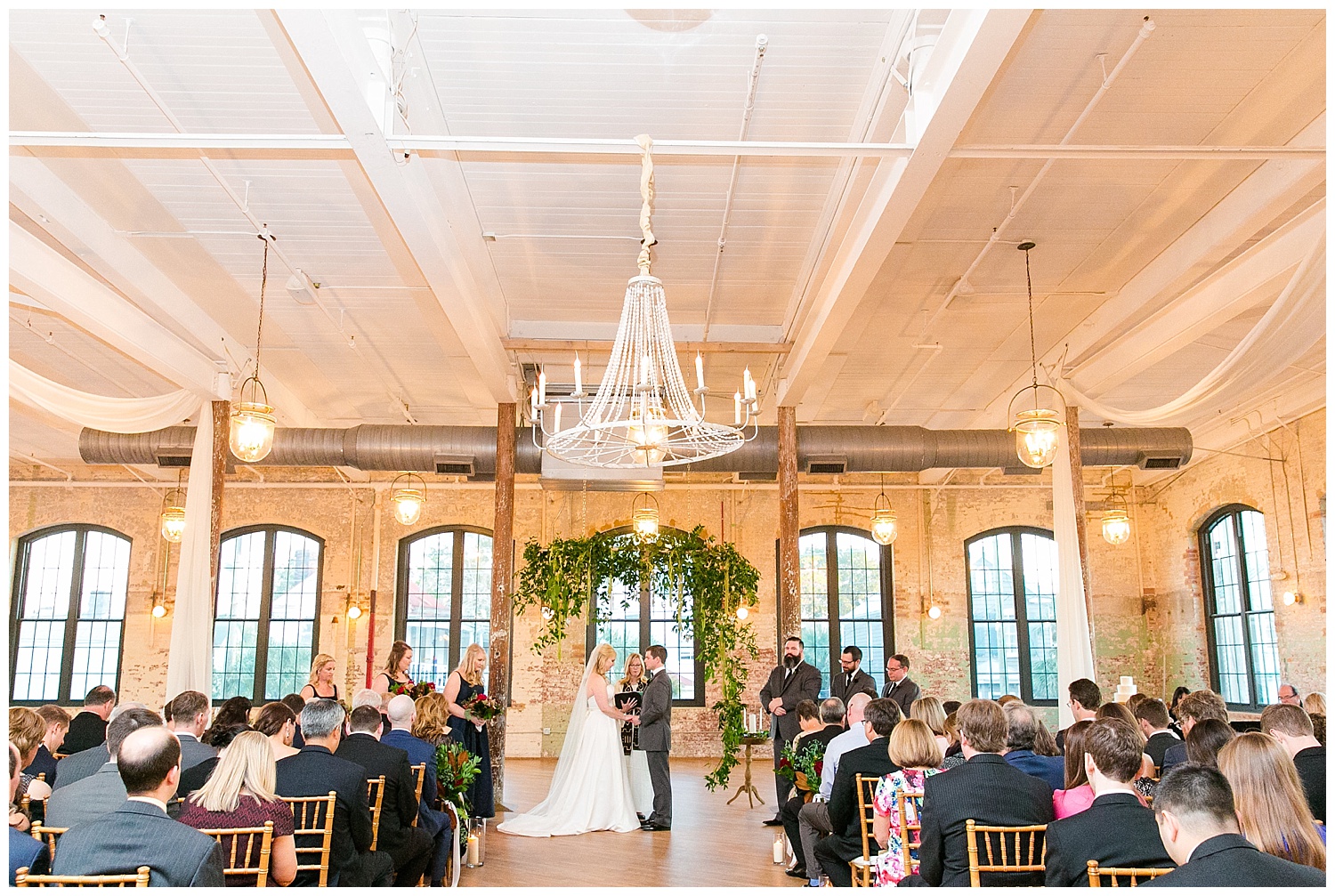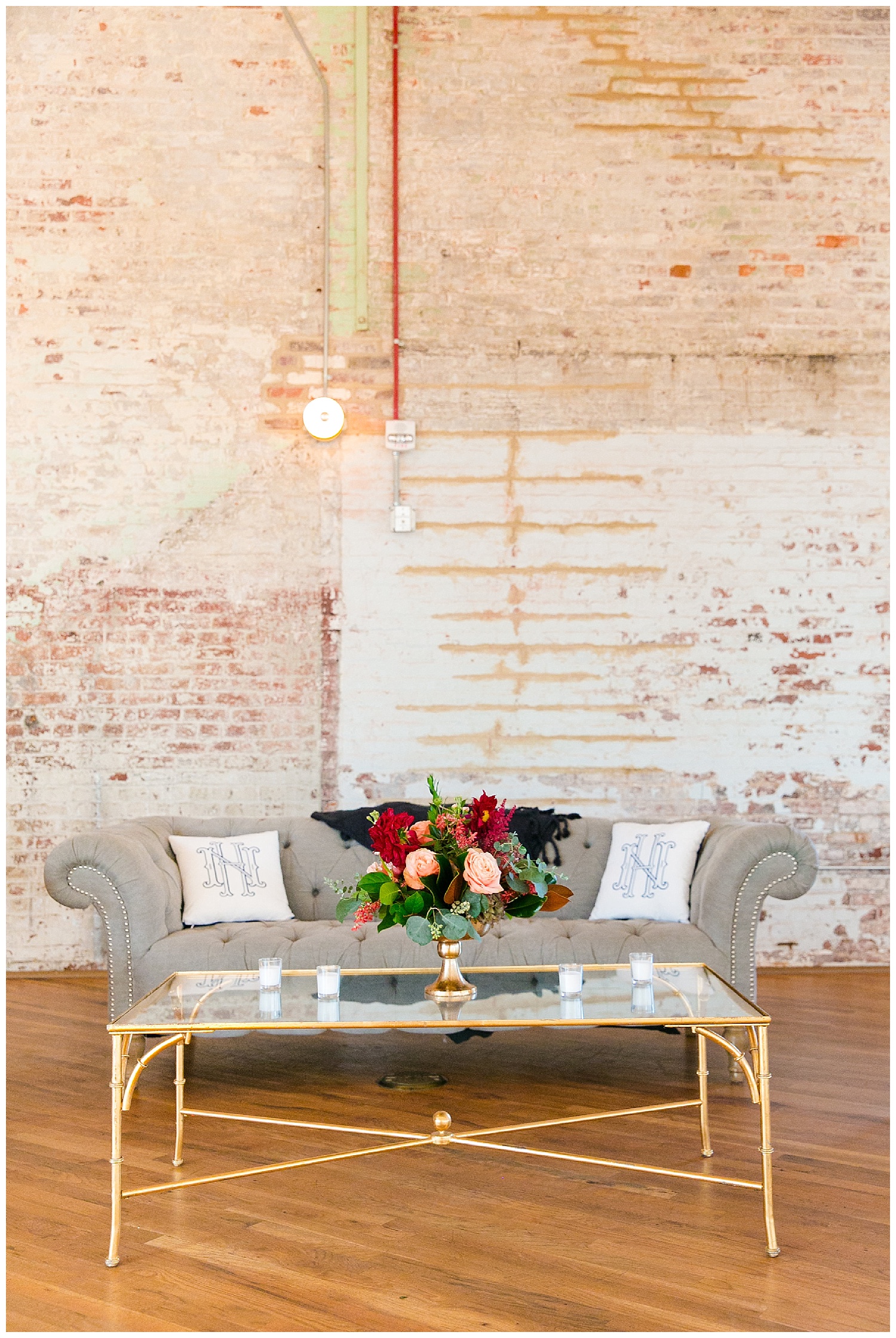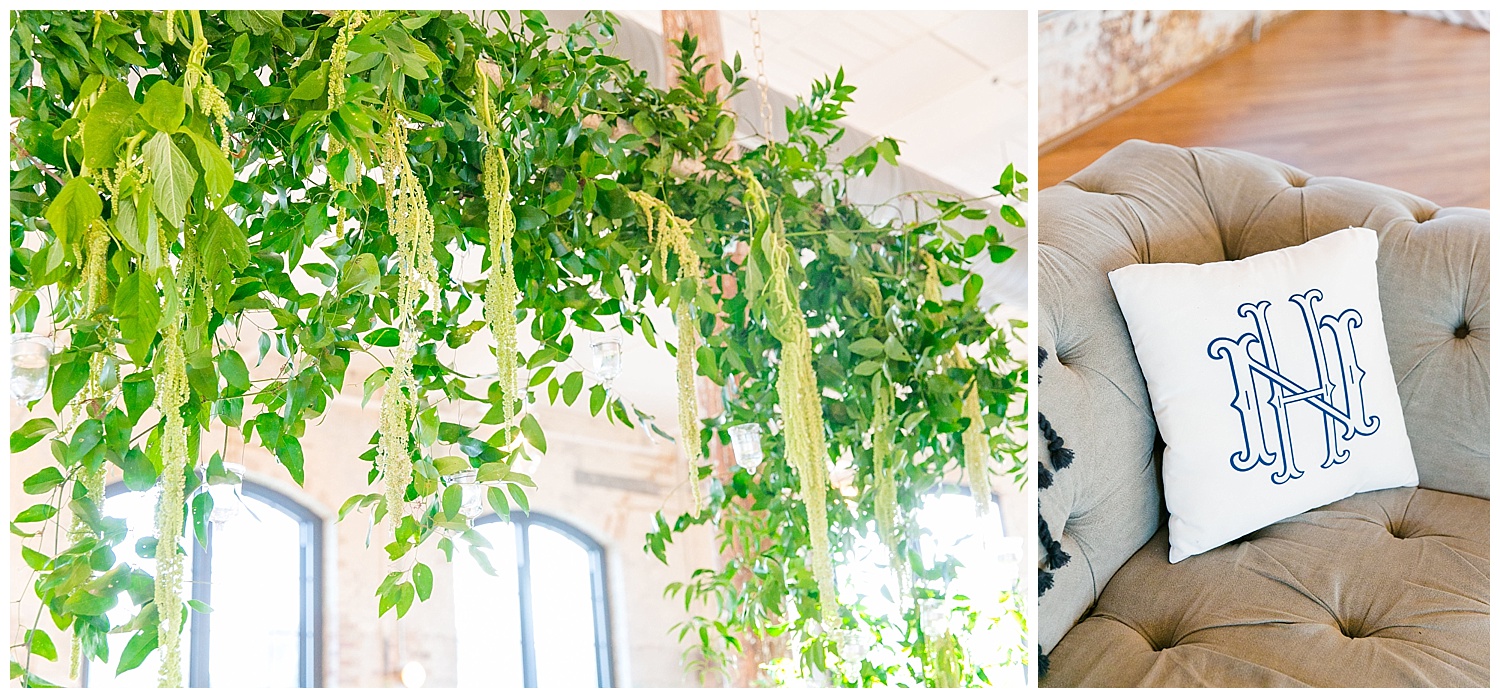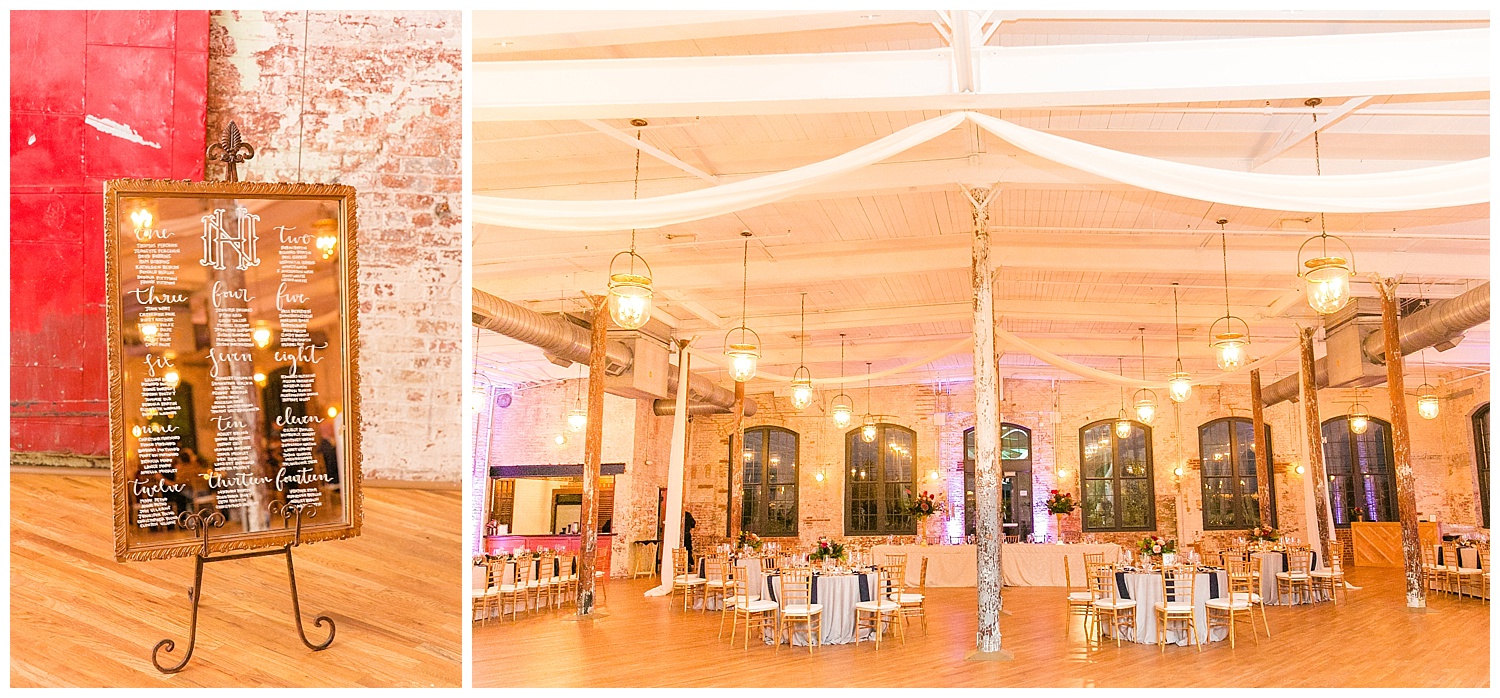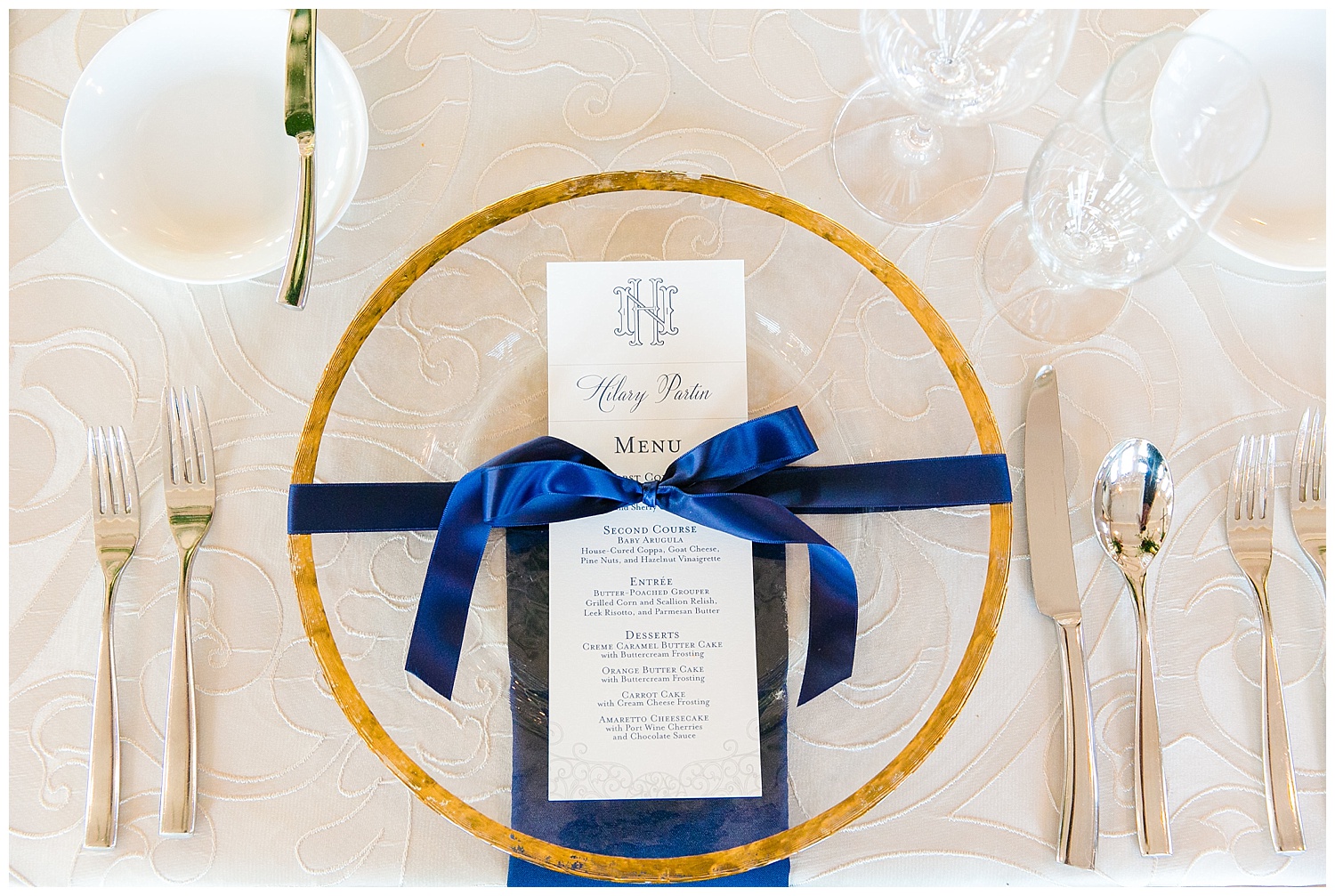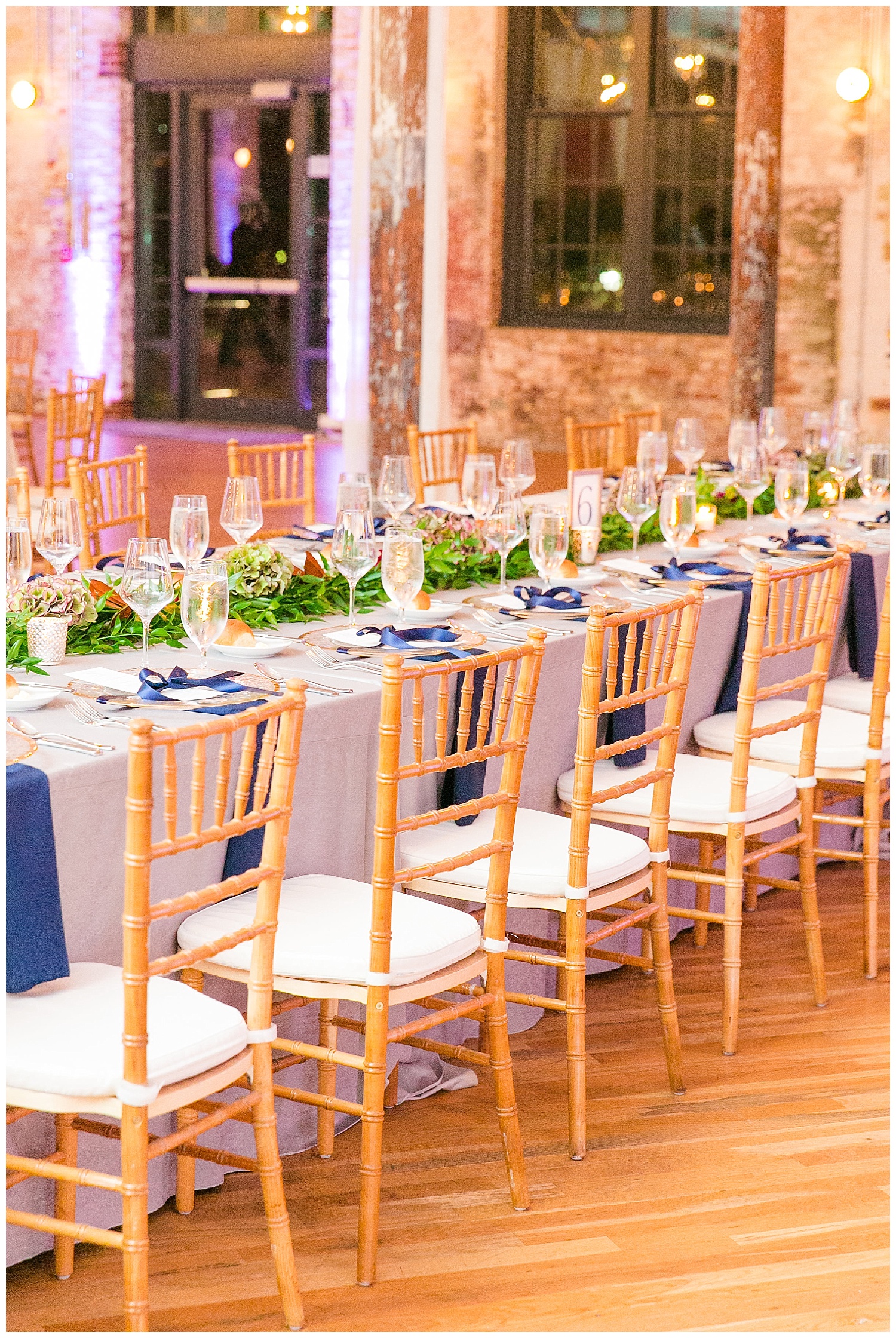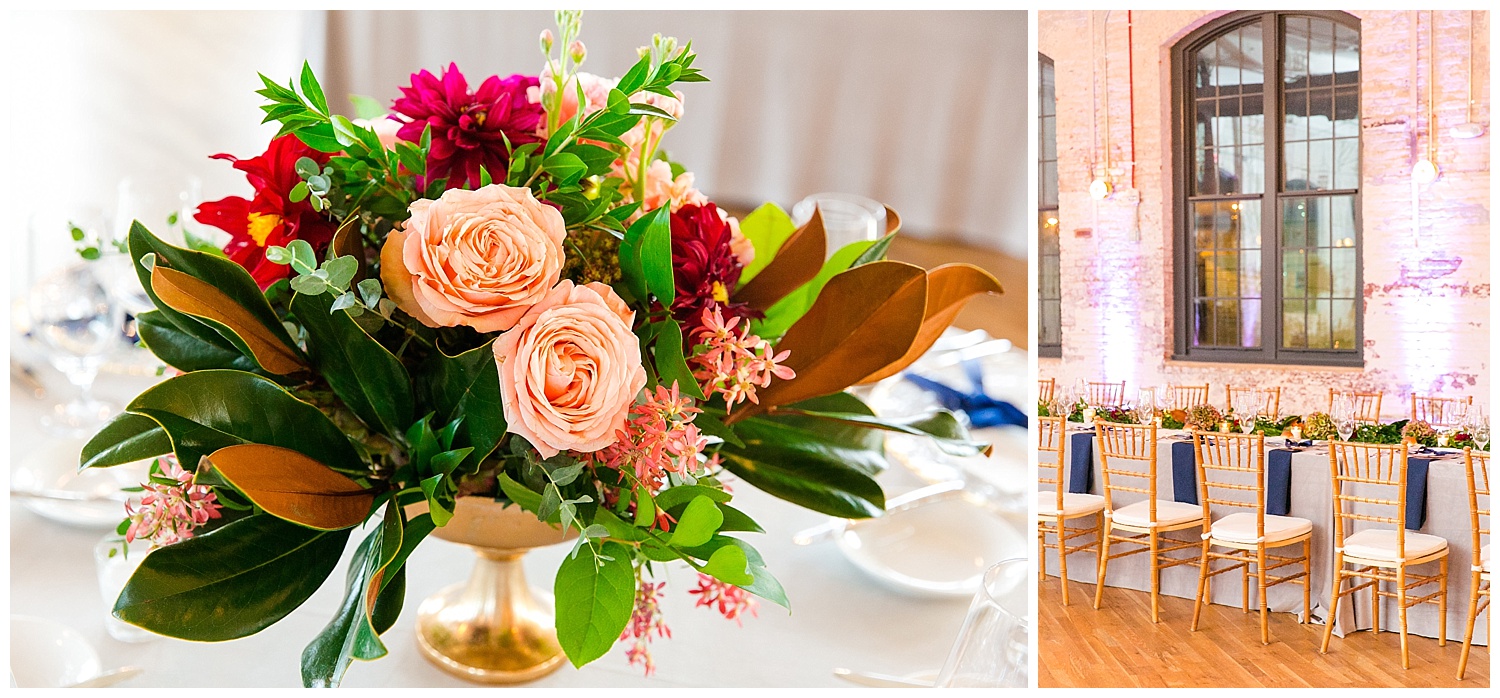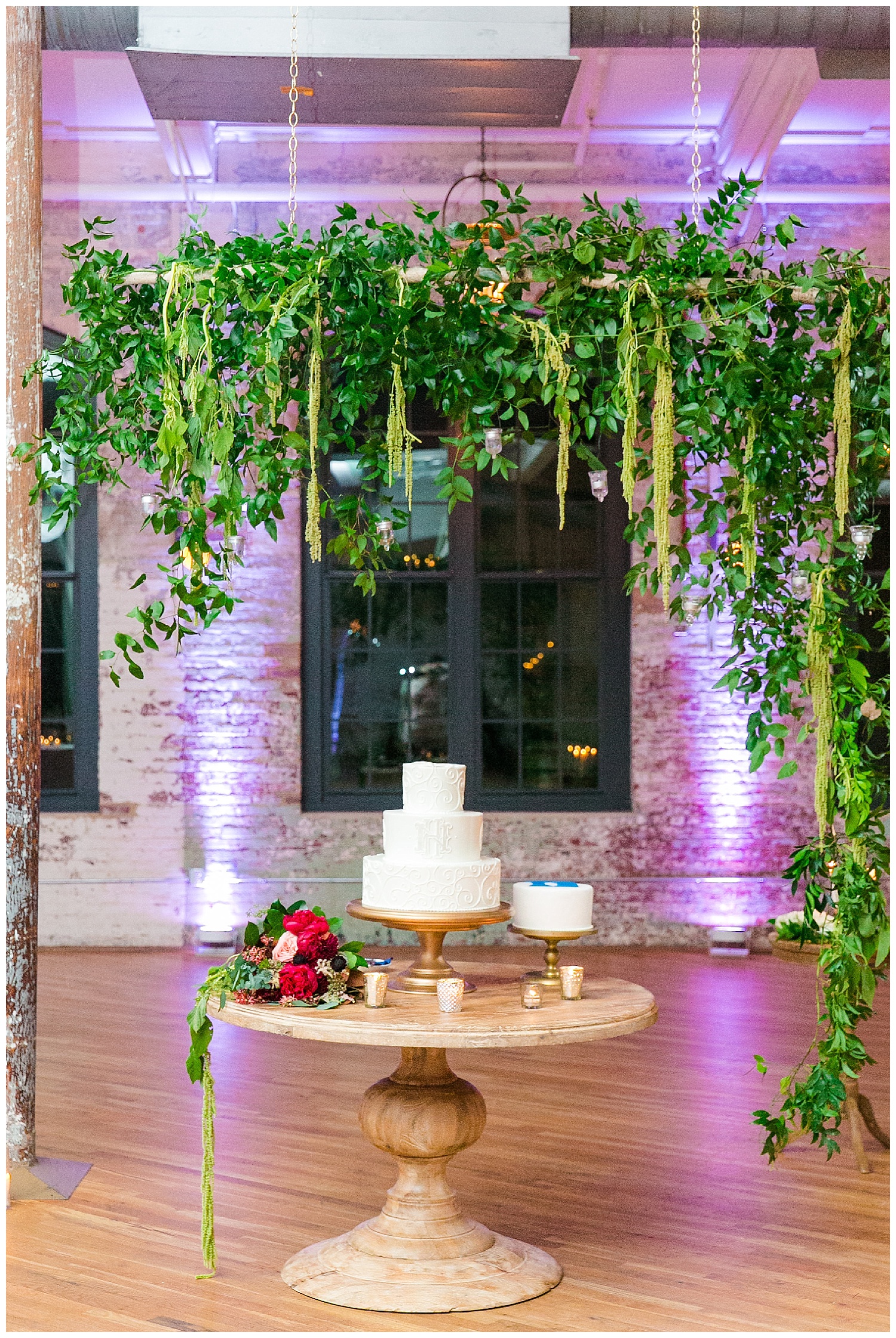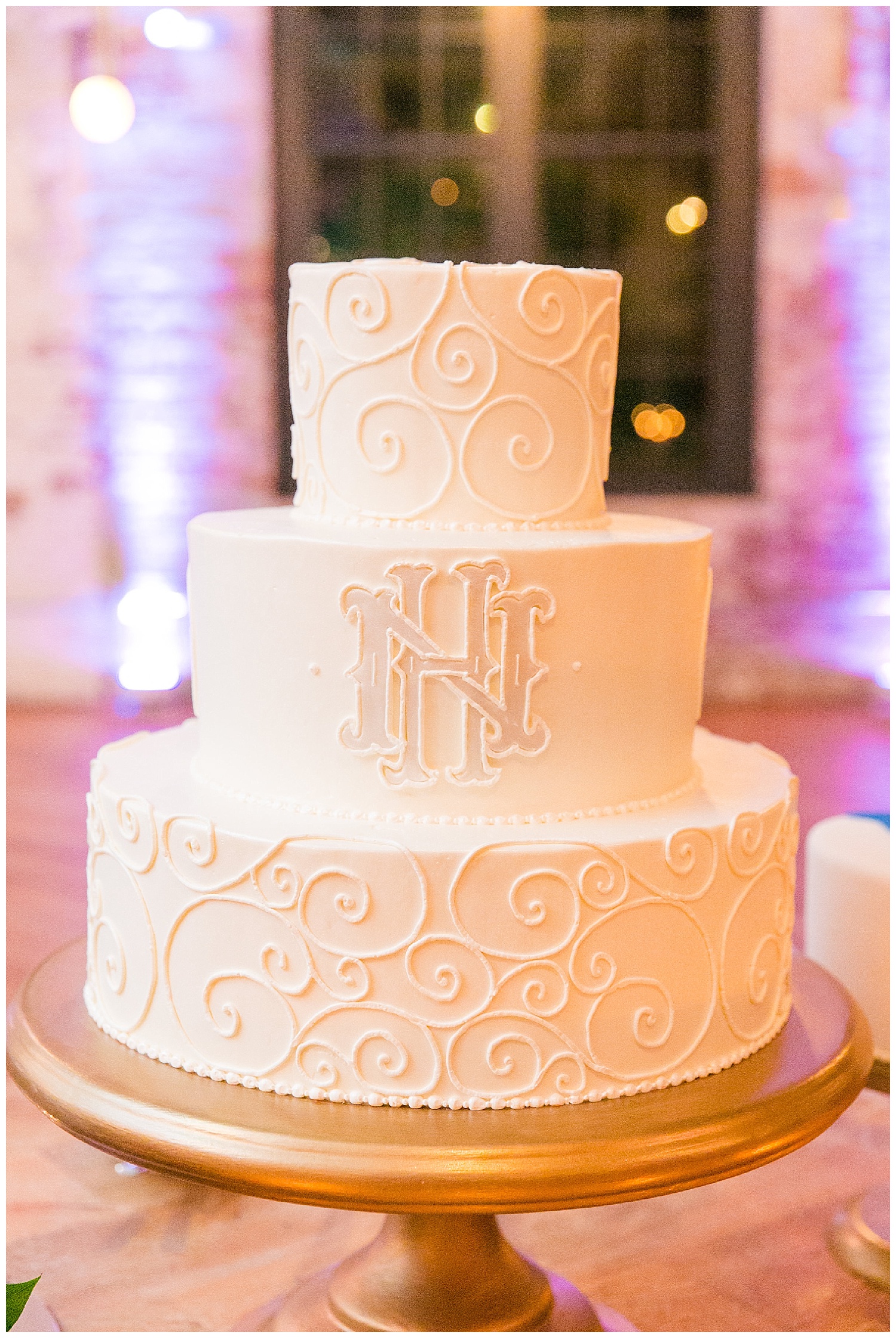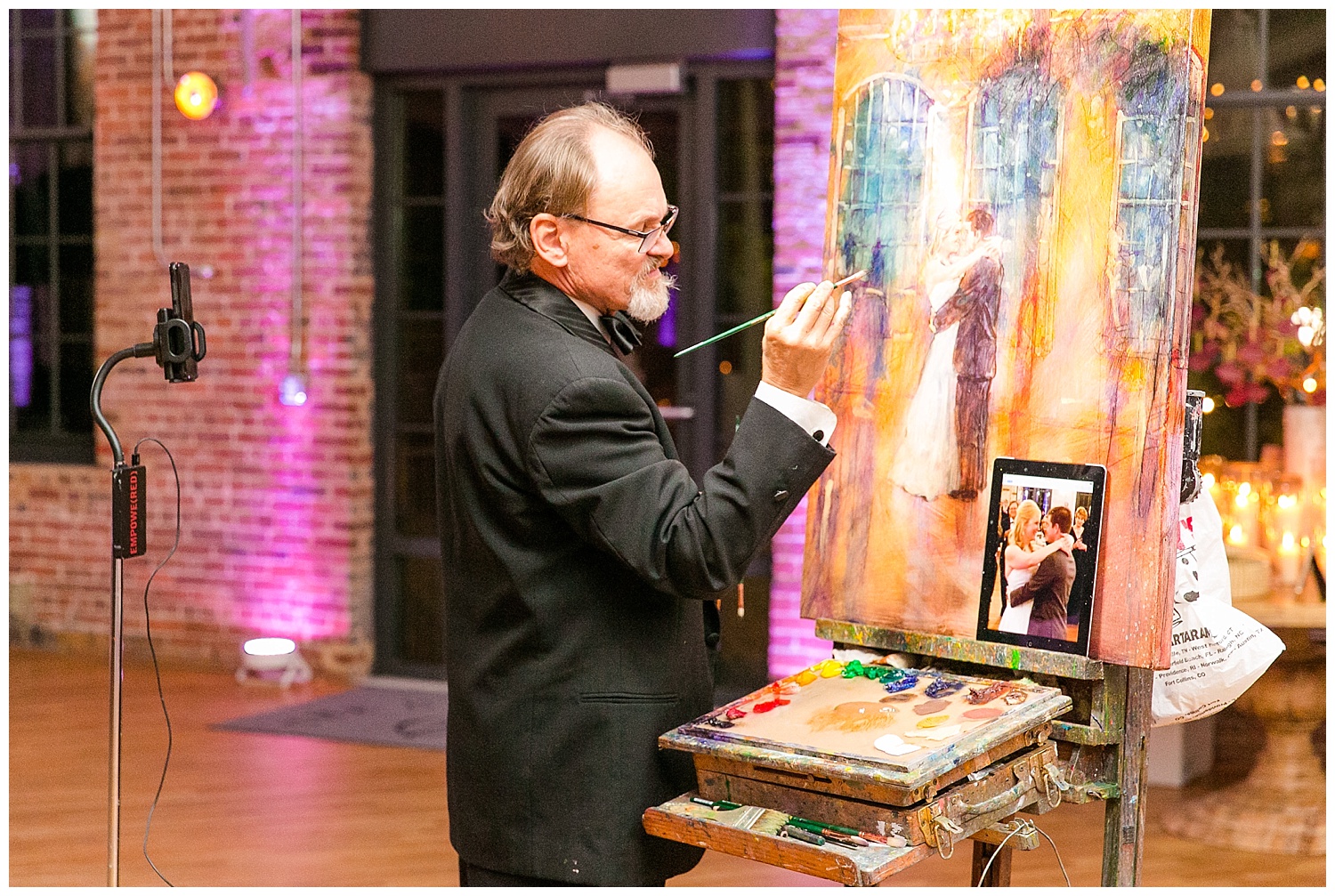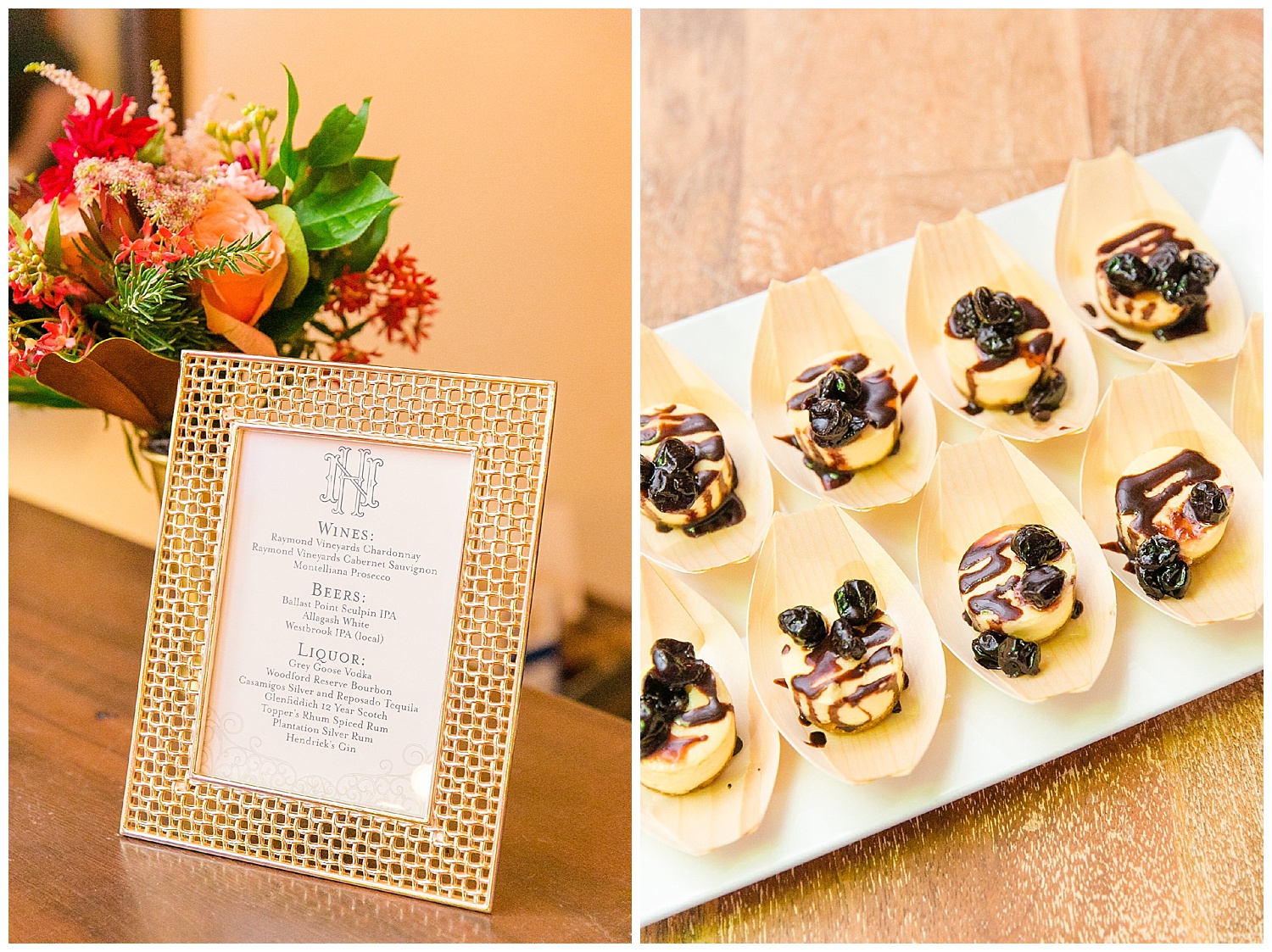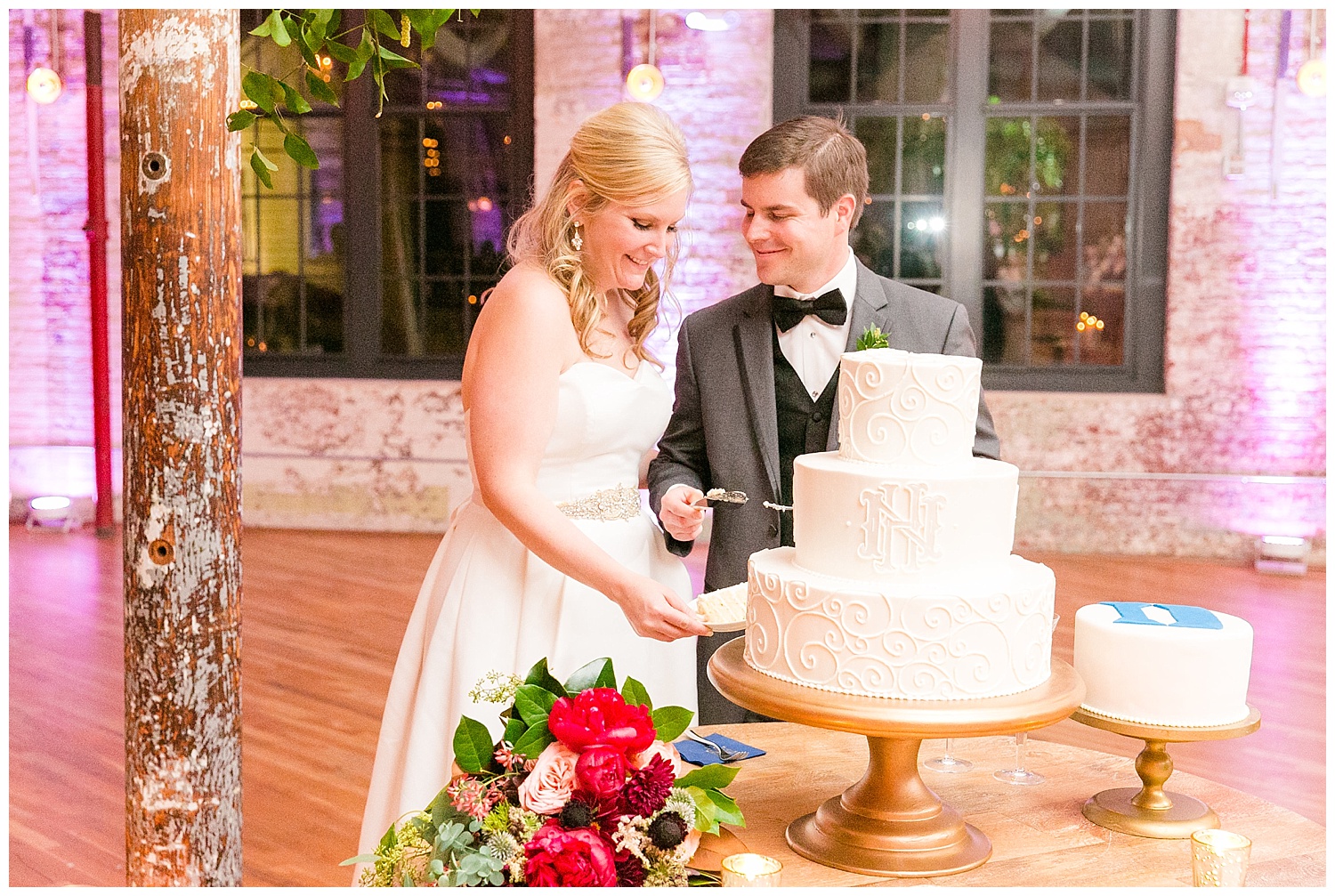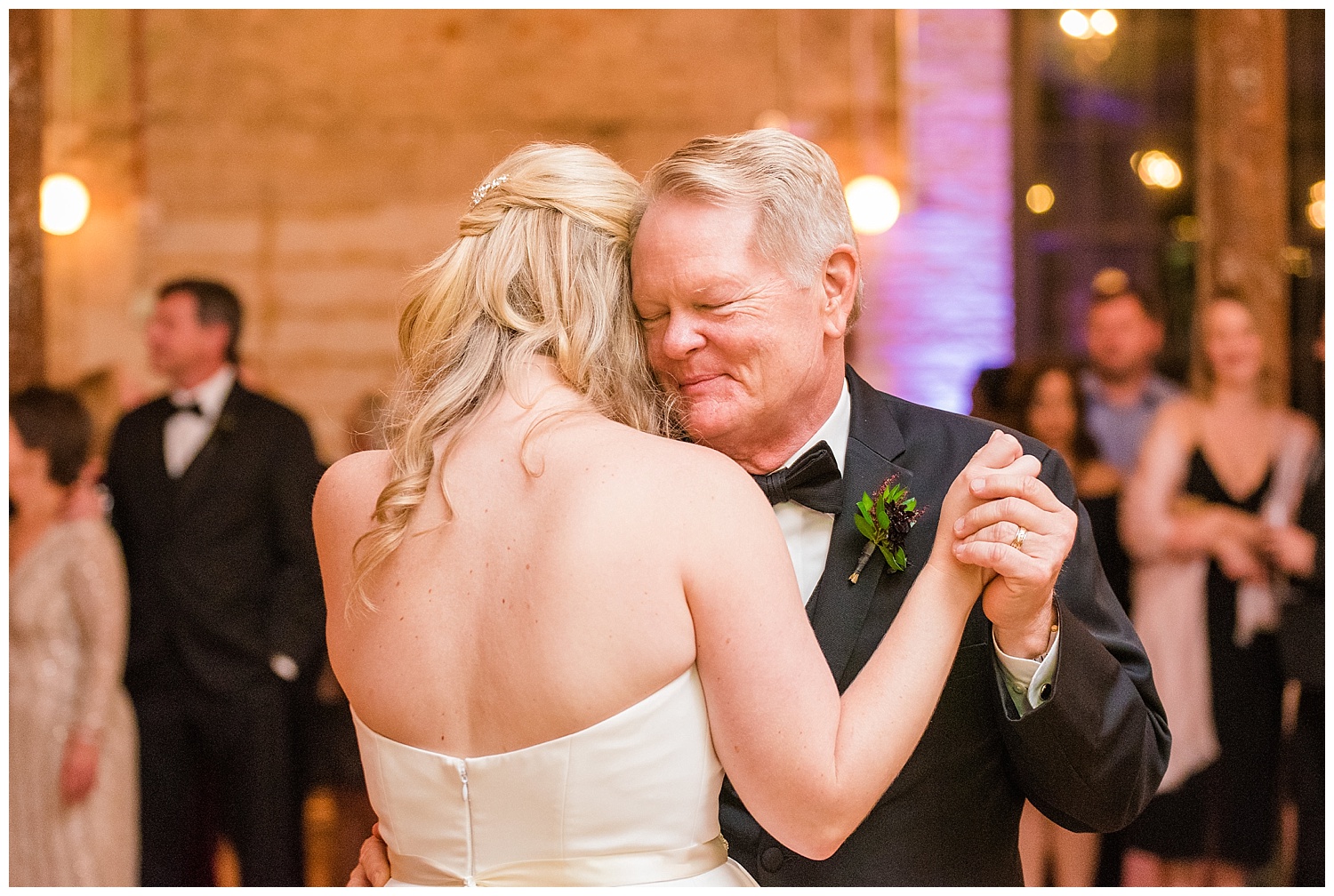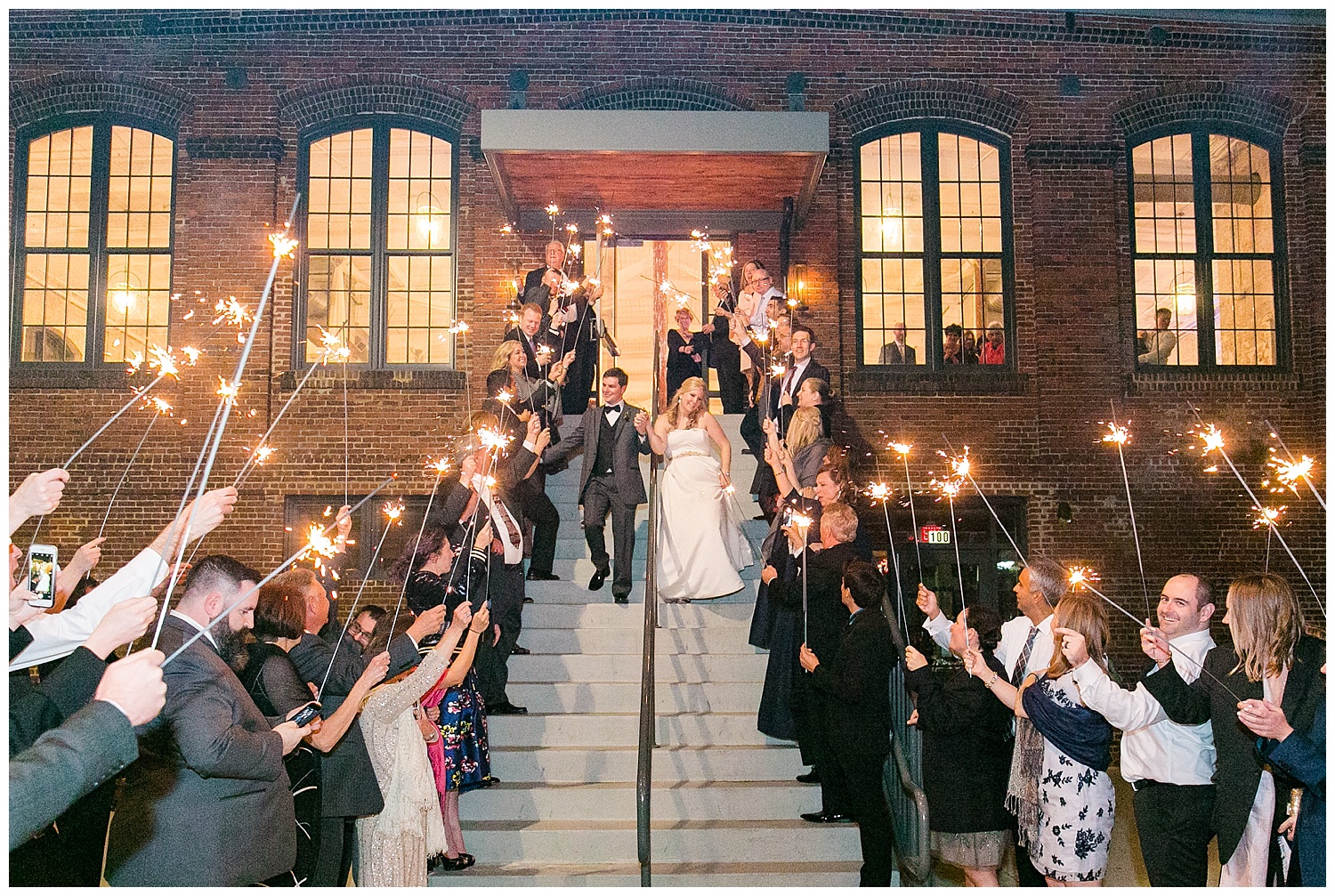 Vendors: Wedding Photography: Dana Cubbage Weddings | Venue: The Cedar Room | Planning + Coordination: Ooh! Events | Floral Design: Out of the Garden | Cake: Jim Smeal | Wedding Dress: Kate McDonald | Hair + Makeup: Ooh! Beautiful | Bride's Shoes: Badgley Mischka | Bride's Jewelry: Emma Katzka | Bridesmaids Dresses: LulaKate | DJ: Bunn DJ Company | Men's Attire: Men's Wearhouse | Catering: The Cedar Room | Officiant: Wedding Belle Rev | Rentals: EventWorks + Ooh! Events | Invitations: Scotti Cline Designs