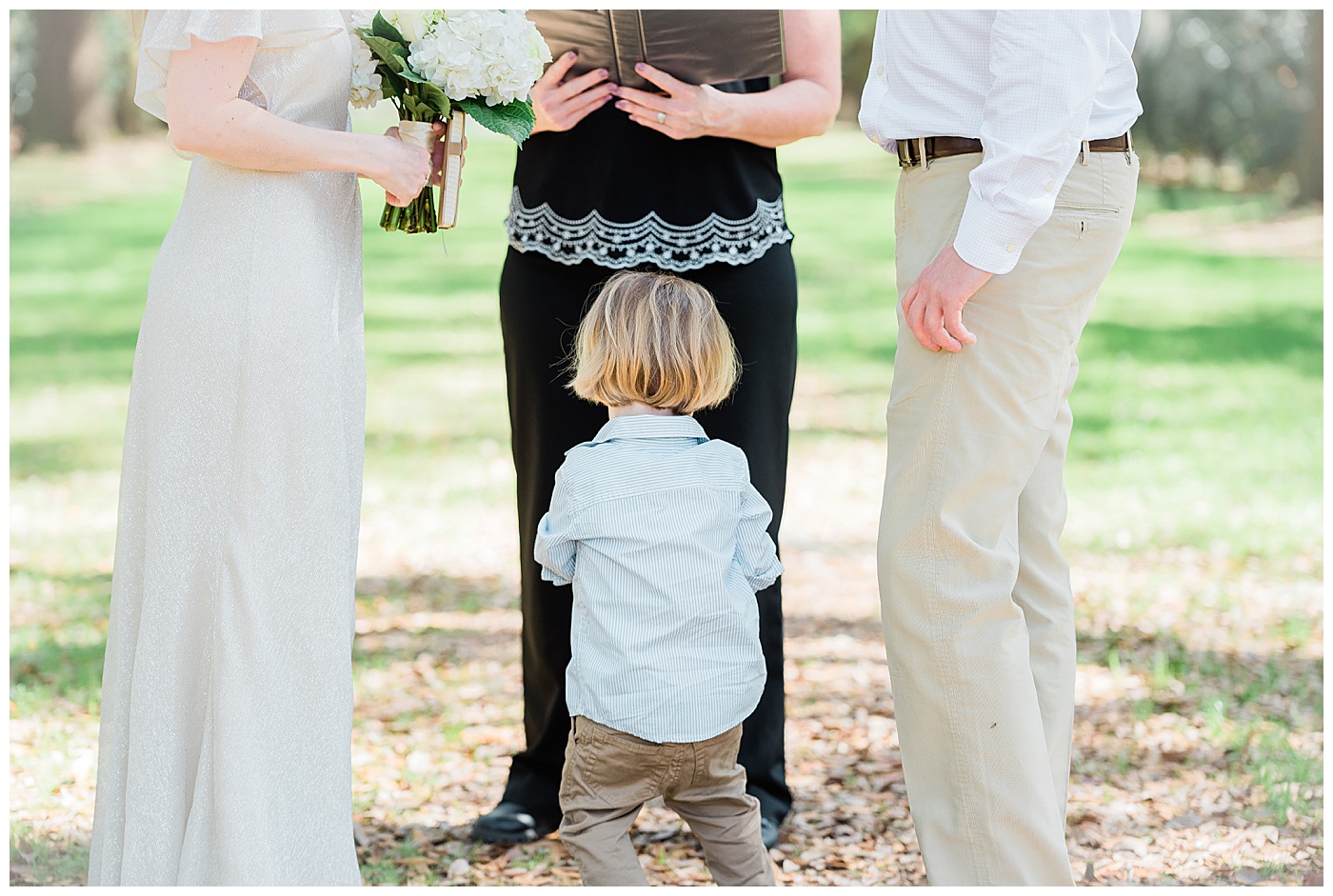 27 Mar

Laurie and Graeme | Charles Towne Landing Elopement

As the COVID-19 pandemic spreads, the majority of us are anxious and overwhelmed. And when you're engulfed in worry, you often dig further and further down that hole and forget to take in the beauty that still exists. For those tunneling, may Laurie and Graeme's very recent Charleston elopement, along with precious little Bennett, be a ray of sunshine. 

Laurie and Graeme met at Saltwater Cowboys on Shem Creek. Everything felt comfortable right from the beginning. In no time, even, Laurie's toddler son, Bennett, and Graeme became buds. "That really helped us realize how much we loved each other and that our little family was meant to be," Laurie shares. As for the proposal? "Graeme helped Bennett learn to say, 'Will you marry Ray Ray?' (what Bennett calls Graeme), and then had Bennett hold the ring while Graeme was on one knee."

After Bennett yielded the ring—not as easy as you might imagine—the John's Island, South Carolina, couple organized a trip to Washington State followed by a ceremony in Oregon with friends. Then, as the coronavirus outbreak took flight in Seattle, they scrapped the Washington element and aimed for Oregon alone. But on March 15, in the shadow of the spreading pandemic and three days pre-flight, they ditched Oregon, too. Still, that didn't mean Laurie and Graeme wanted to give up on "I do." Enter: a Charleston elopement that complied with the local social-distancing rules of the time.

Quickly, Laurie found local dream makers Allison Hanson Photography and Penny Reynolds from Charleston Elopements to help. The former suggested the stunning, open-air site Charles Towne Landing. And on March 20, with the bride carrying a bouquet from Tiger Lily Weddings, the couple shared vows they wrote for each other. As for Bennett, he kept handing his mom "treasures" (AKA leaves) during the ceremony. At some point, he wandered into the azalea hedge. Apparently, picking flowers is way more fun than a lot of love talk.

Their witnesses were dear friends, Sarah and Andrew. They brought along a surprise picnic basket with champagne and sparkling grape juice for Bennett. Then, M&M bribes led to the portraits with the toddler you see here. And from there? It was back home (and back to self-isolating) for the newly minted family of three. Well, that is, after grabbing reception fare-to-go via takeout from Charleston-favorite Wild Olive.