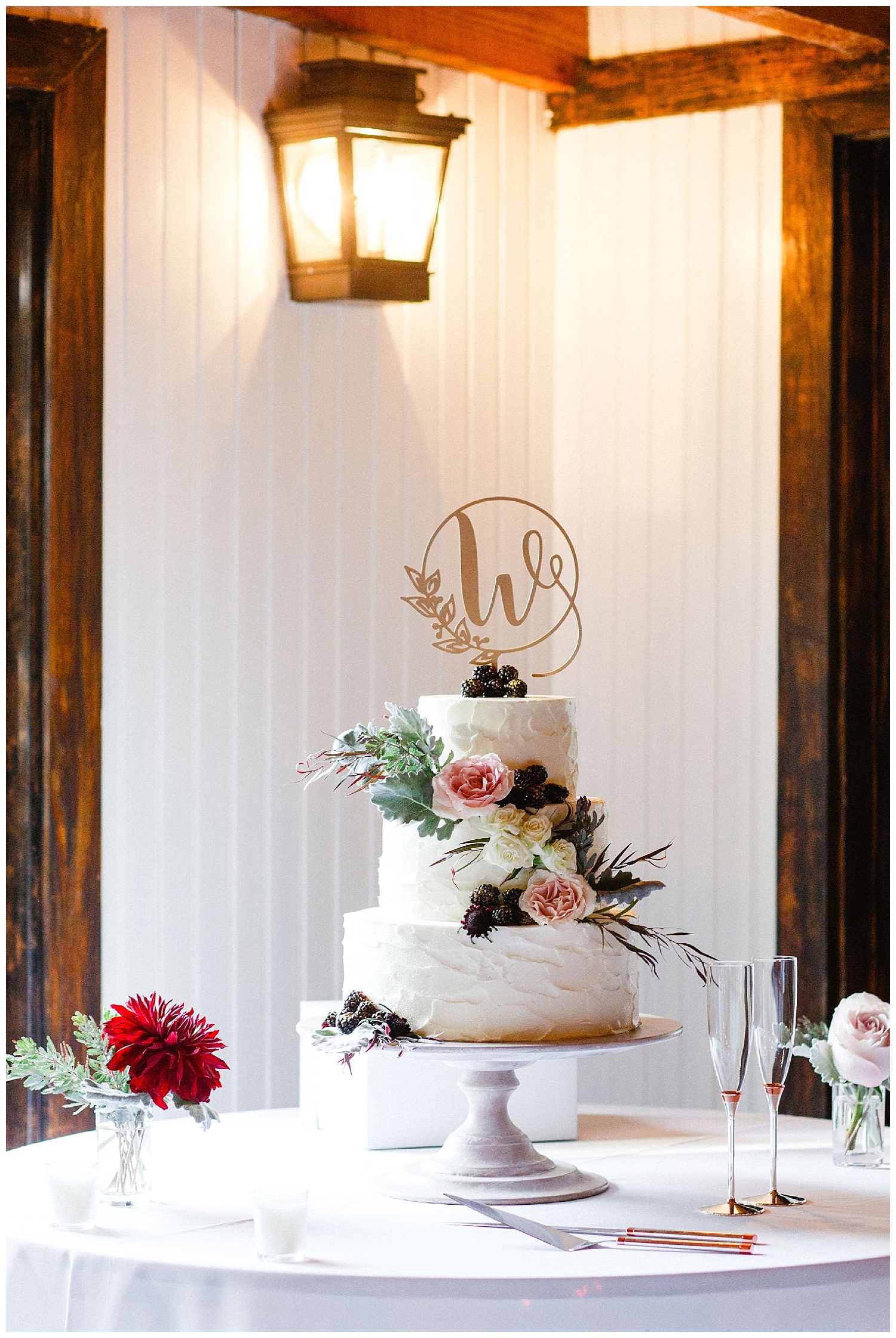 12 Nov

Jamie & Benjamin | Magnolia Plantation & Gardens

The Wedding Row: How did you and Ben meet?
Jamie: Ben and I met when I was about to graduate law school from the University of Alabama and he was working in Birmingham. I was about to move back to Detroit to take the bar exam and he was about to move to North Carolina and Duke University. Two and a half years of long-distance dating later, I moved to Charlotte, North Carolina, to be with him. Six years after we met, we were married.

TWR: Share the deets on your proposal!
Jamie: Our friend Haley, one of Ben's former colleagues, started a company called SkillPop that hosts pop-up classes in now four different cities taught by local professionals. They teach everything from hand-lettering to watercolor, public speaking, conversational Spanish, small business finance, and more. When I moved to Charlotte, I didn't know a single person besides Ben, and SkillPop was a great way for me to meet people. So Ben's plan? Have Haley make a fake Skillpop class, get me to sign up for it, and show up with a ring. I arrived 3 minutes before the class was supposed to start, and Haley was there to check me in (a pleasant surprise for the founder to be hosting a class). She told me I was the first one there, which I thought was strange, and then directed me to an area where the class would be meeting. She called me back as I started to walk (I found out later that this was because I was walking too fast), and asked if I had brought anything to take notes with. I was really confused by this question, told her no, and she just quickly reassured me I would be fine without anything. When I turned back around, Ben was walking towards me and I immediately started sobbing (loudly, as Haley can attest).

TWR: Wow, how creative! Why did you all choose Magnolia Plantation for your wedding?
Jamie: We had dreams of an outdoor wedding under the giant Spanish Oaks at Magnolia Plantation & Gardens, but Mother Nature had other plans (even though we buried the bourbon). We ended up having our ceremony inside the Carriage House due to the torrential downpour, but from the way, everything came together, you wouldn't even know it was our backup plan. The backdrop and draping were out of a dream, and even if we had sunny weather, we would do it inside again given how amazing it looked.

TWR: What was your favorite part of your reception?
Jamie: Ben and I were standing outside the Carriage House waiting to make our "entrance," and all of the stress of the rain/getting the ceremony inside was gone (because we were already married), and I felt like I really had a chance to breathe and be with my husband for a minute alone (it was the only time we were alone the entire day—without photographers or videographers either). It just grounded me to what mattered most about the day. Ben's favorite was our dip in our first dance. We took dance lessons (at my request) and had practiced a dip repeatedly. When the time came to do it, I panicked and Ben dipped me anyway, causing a lot of laughs, cheers, and claps among us and our guests.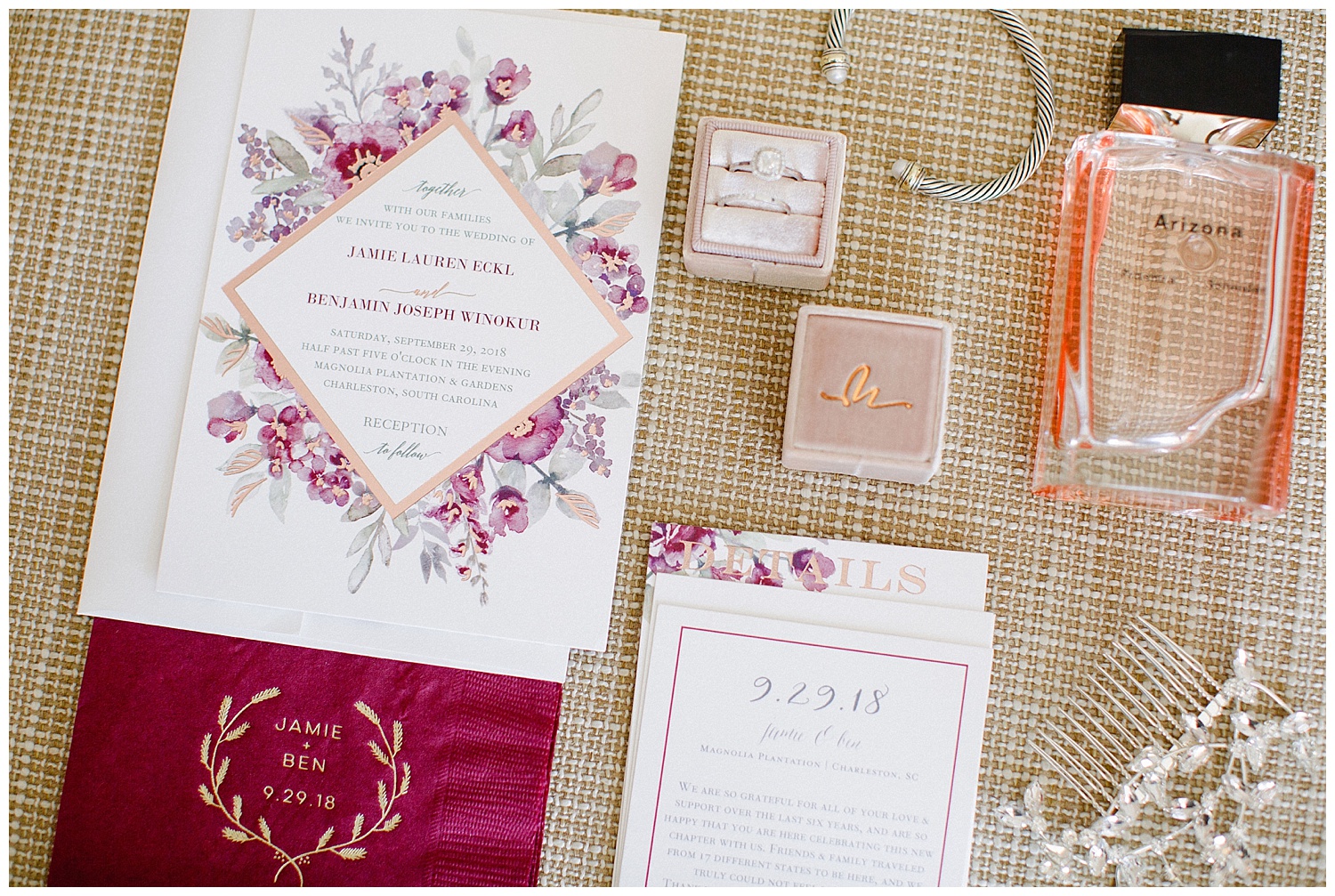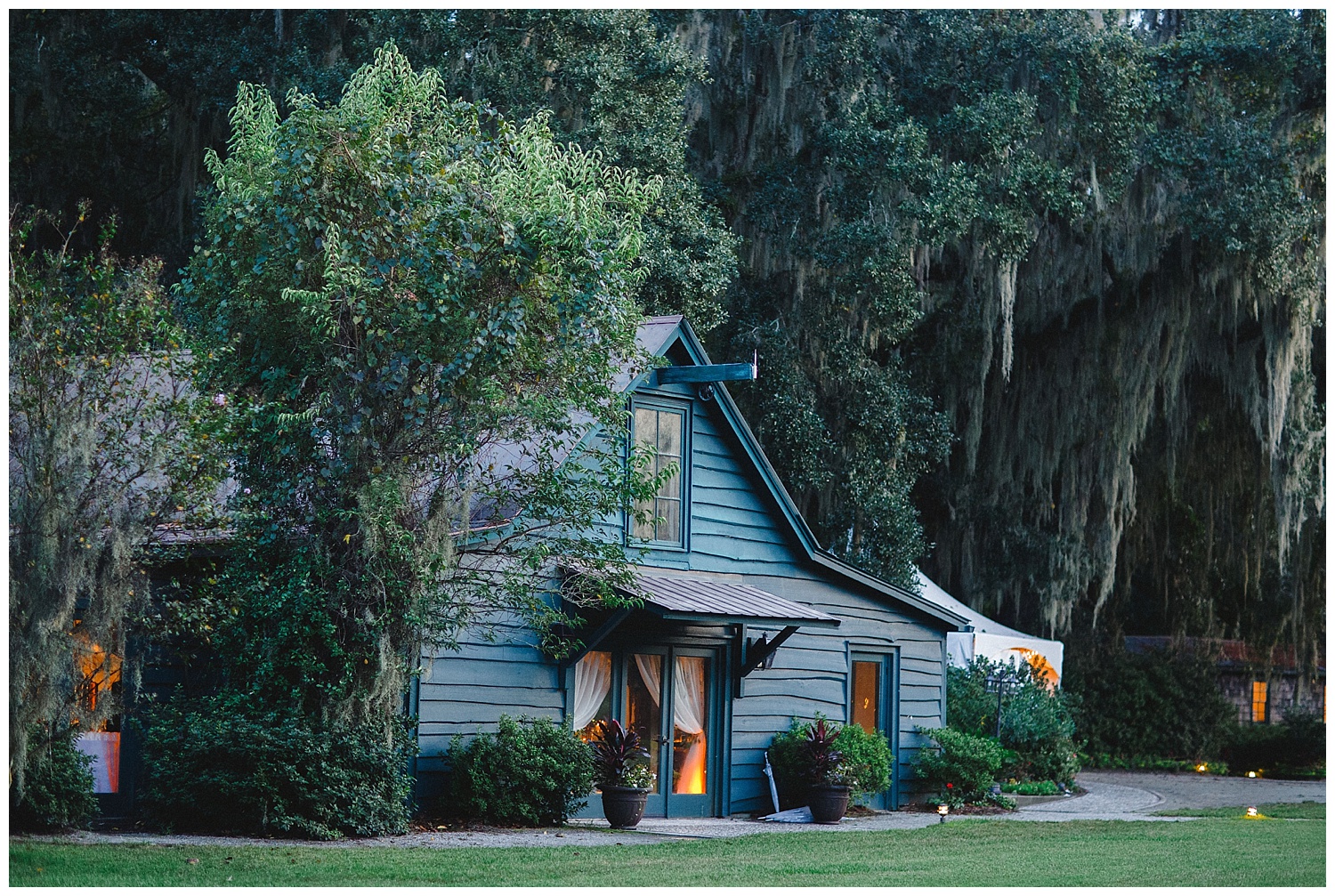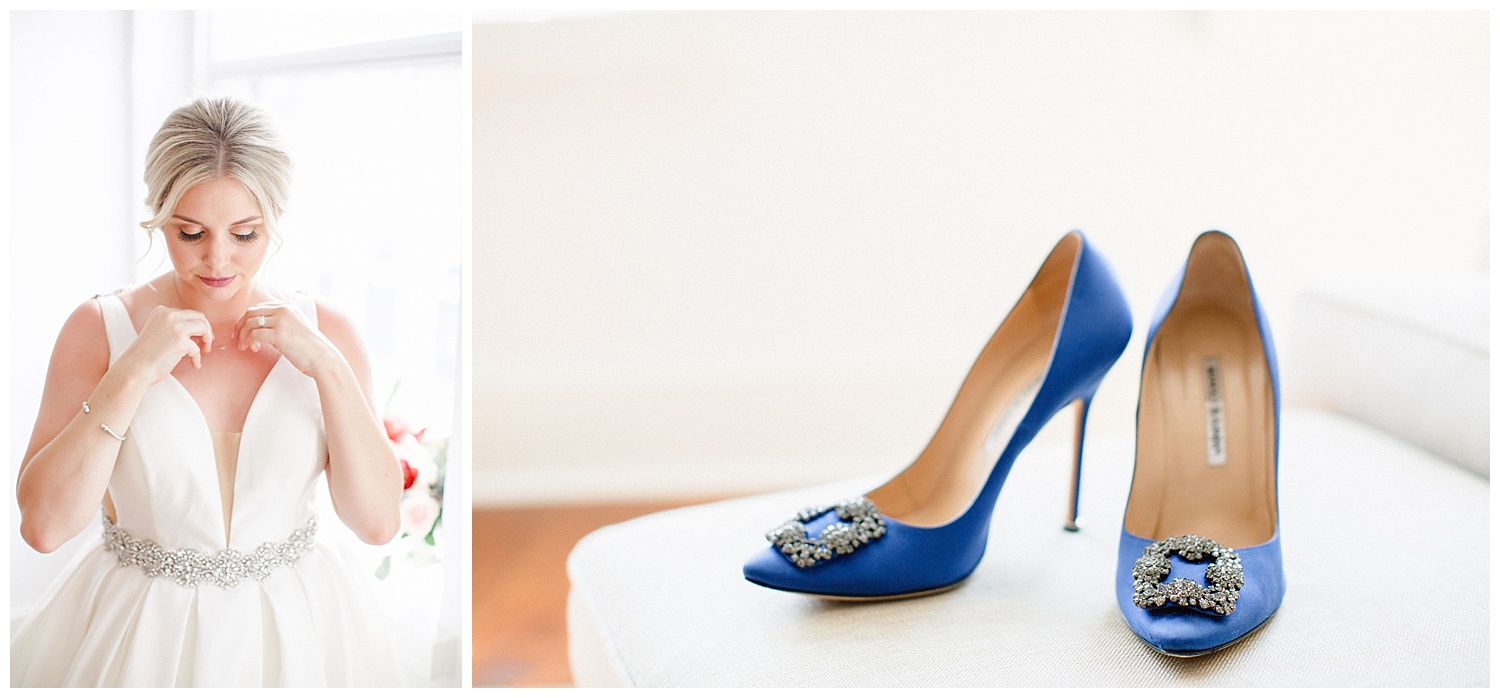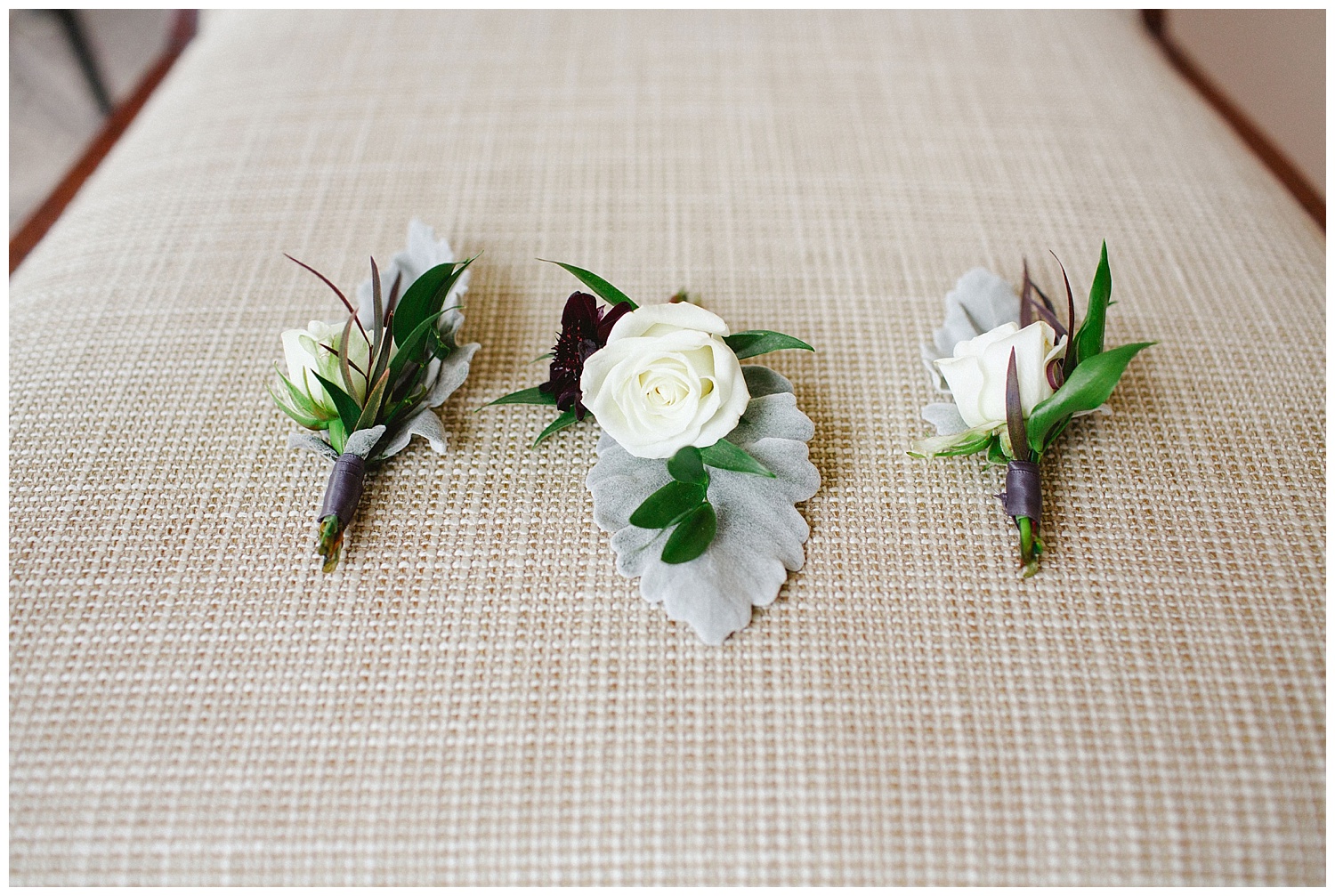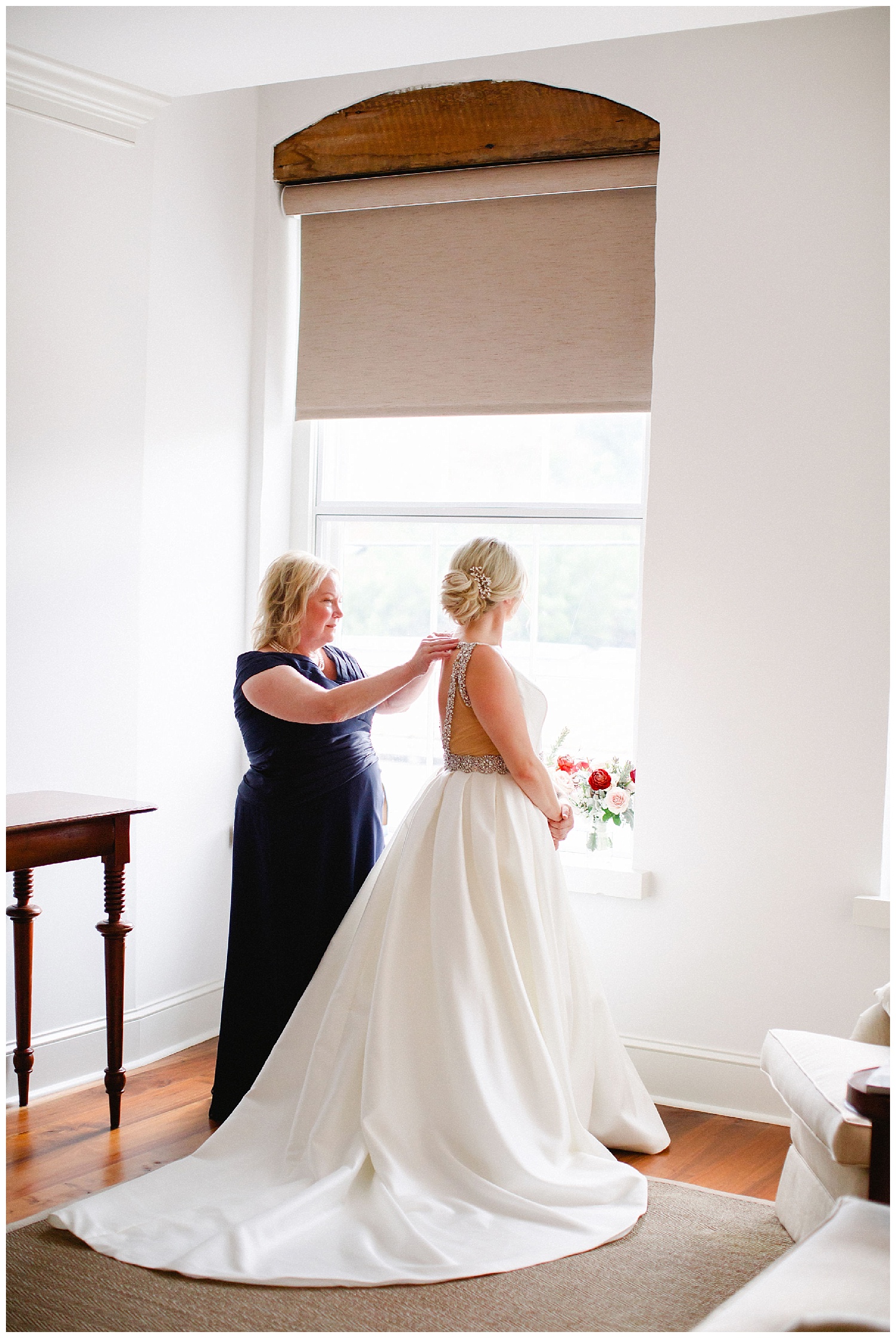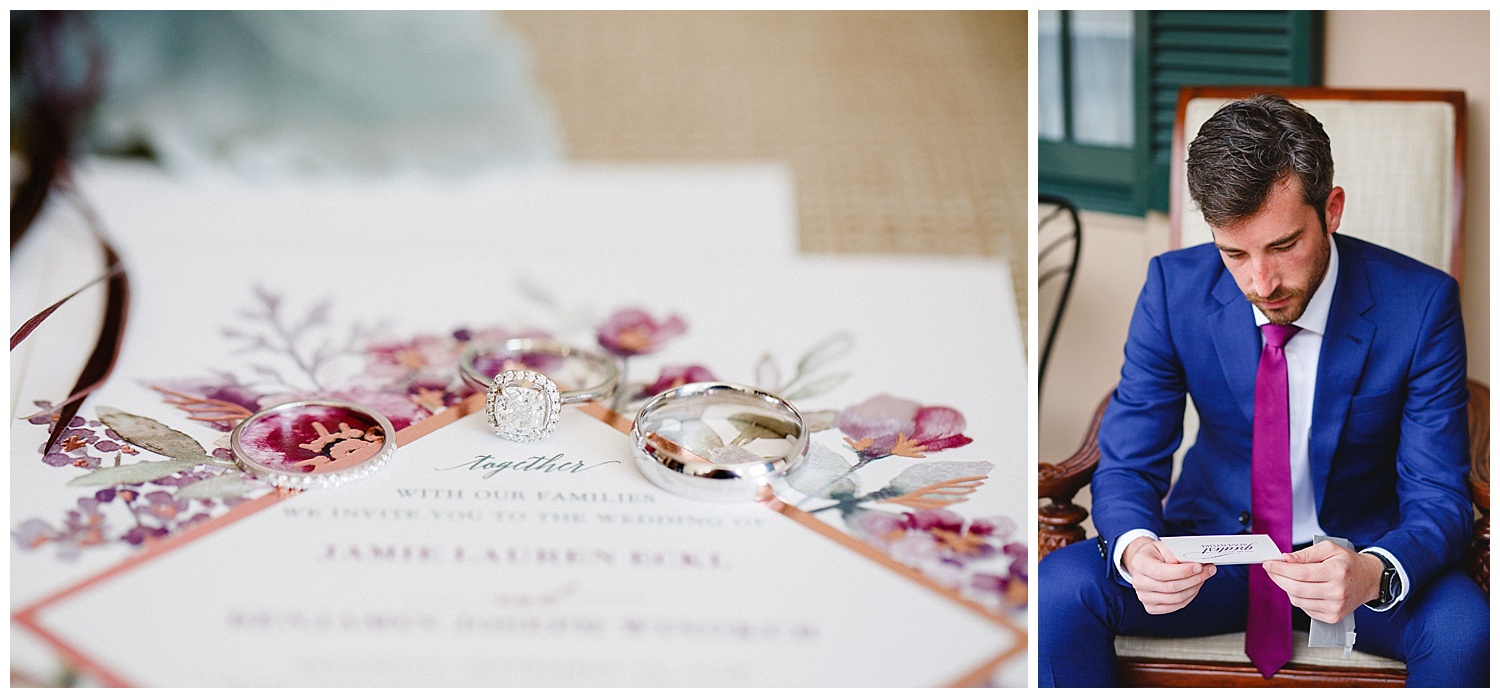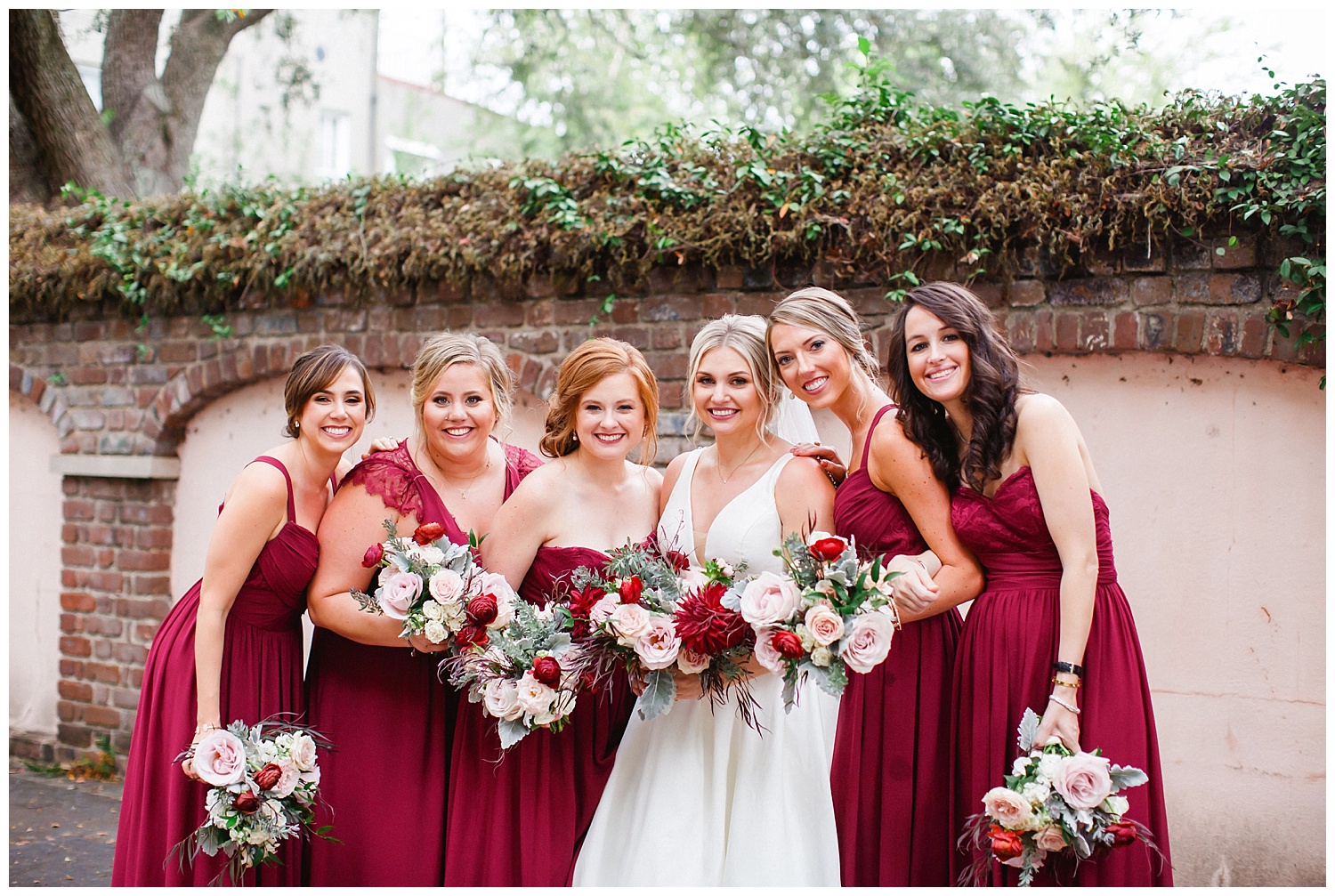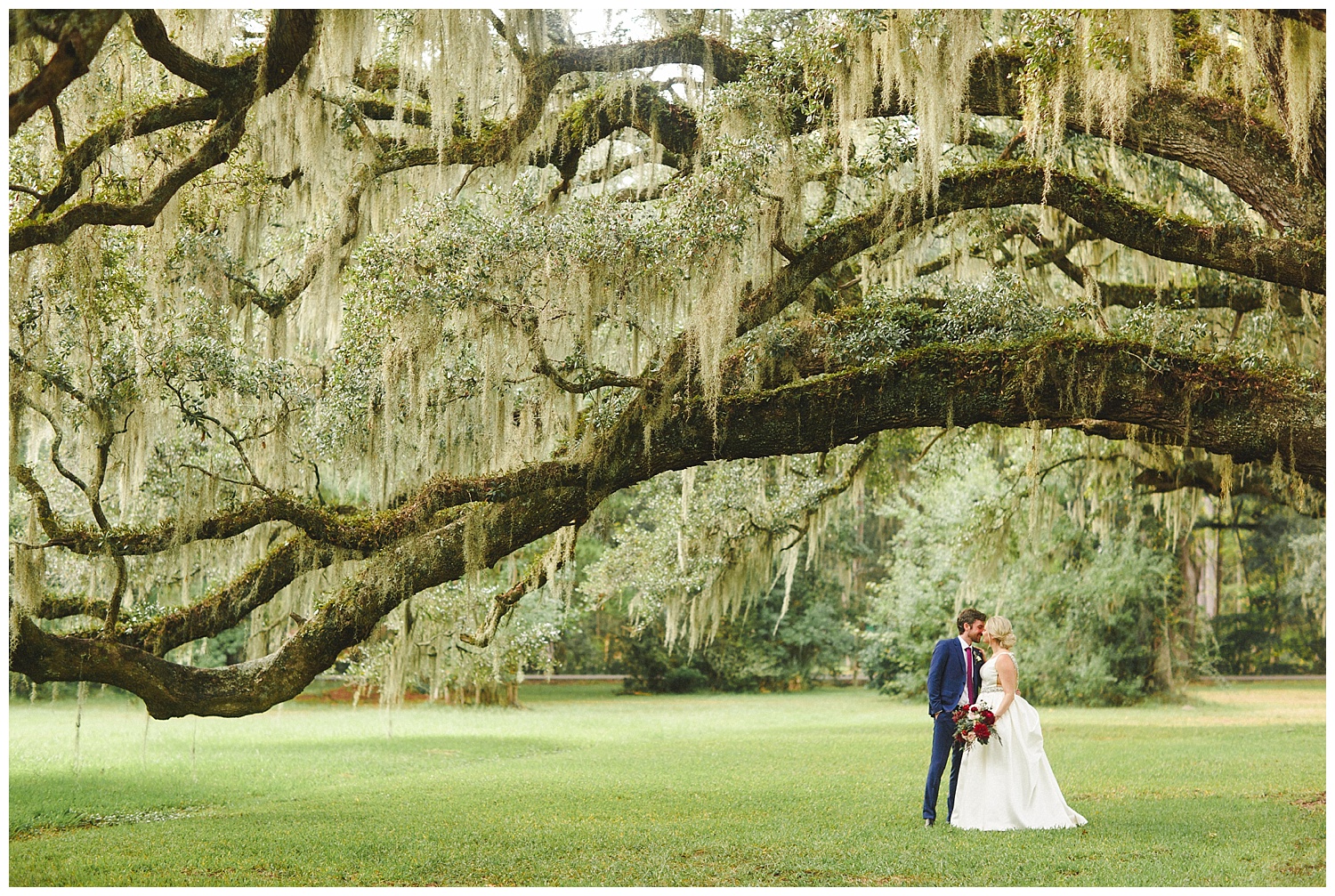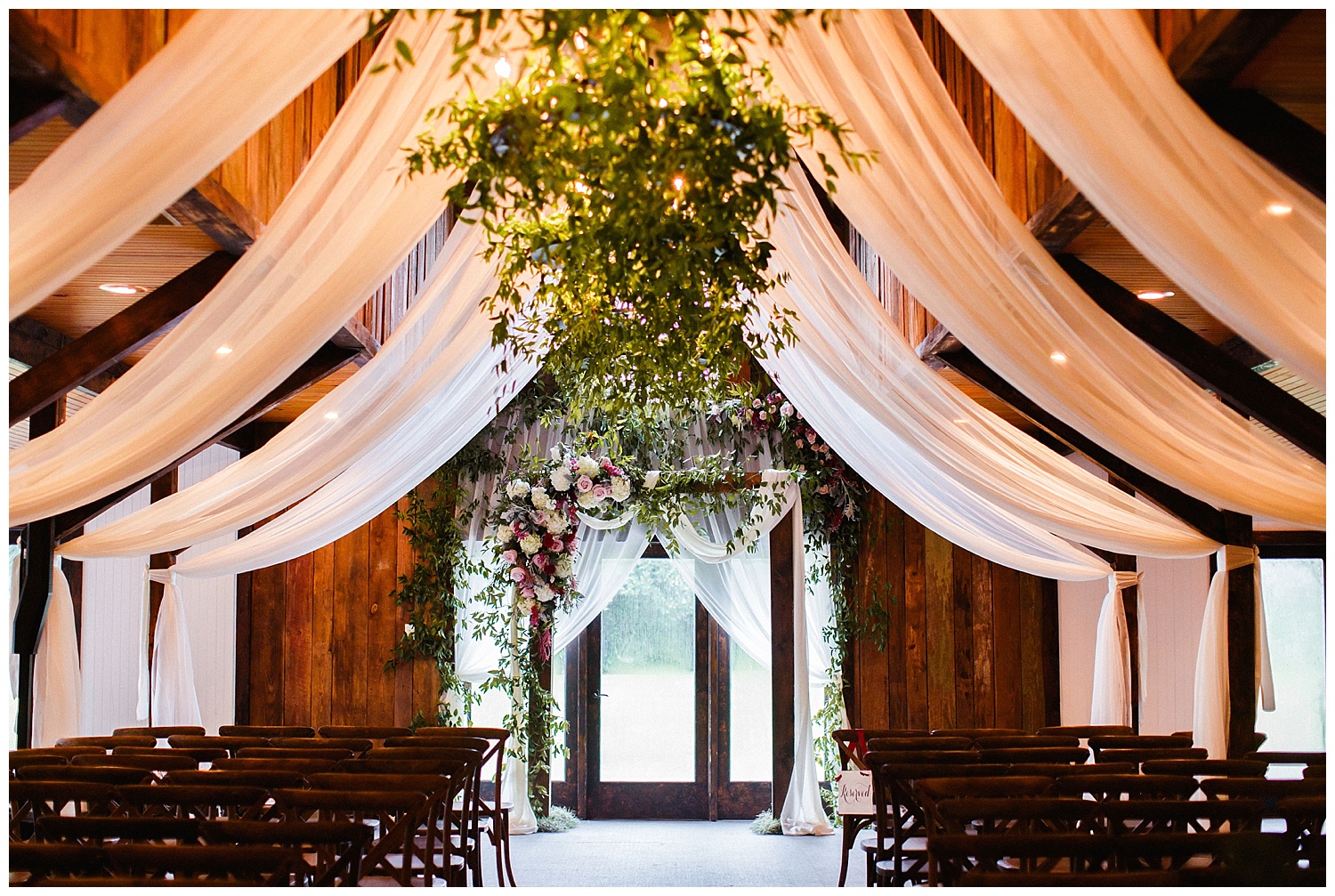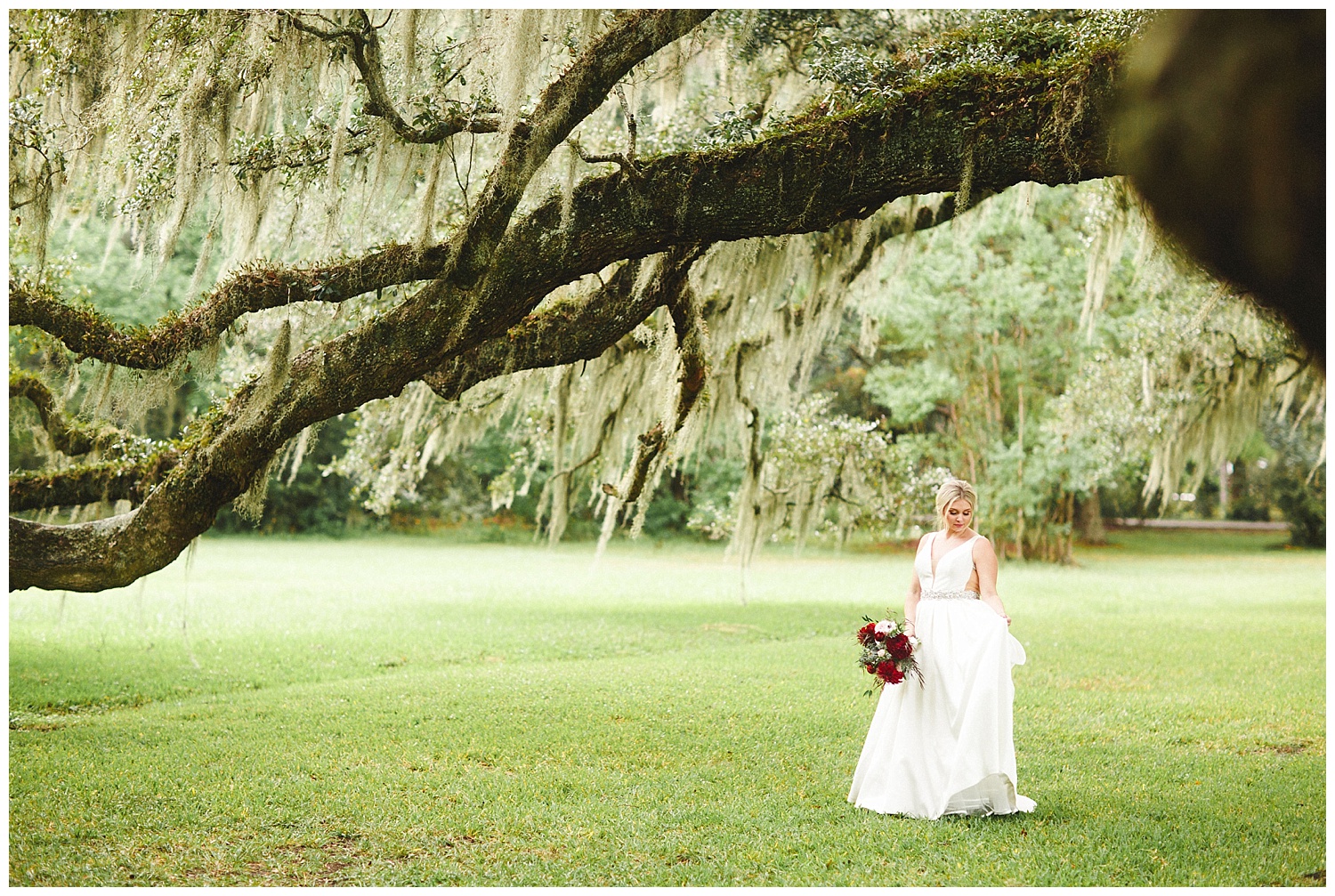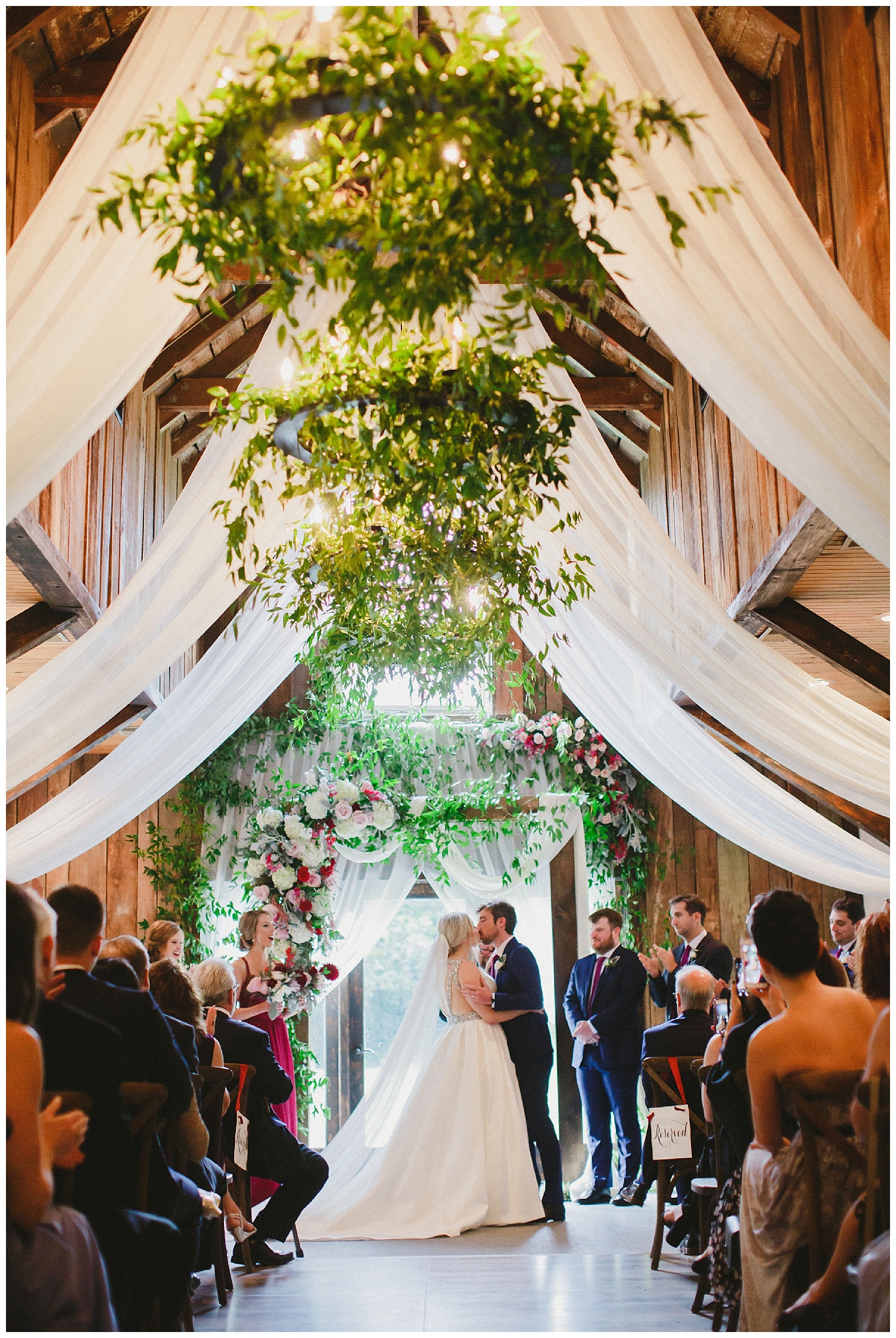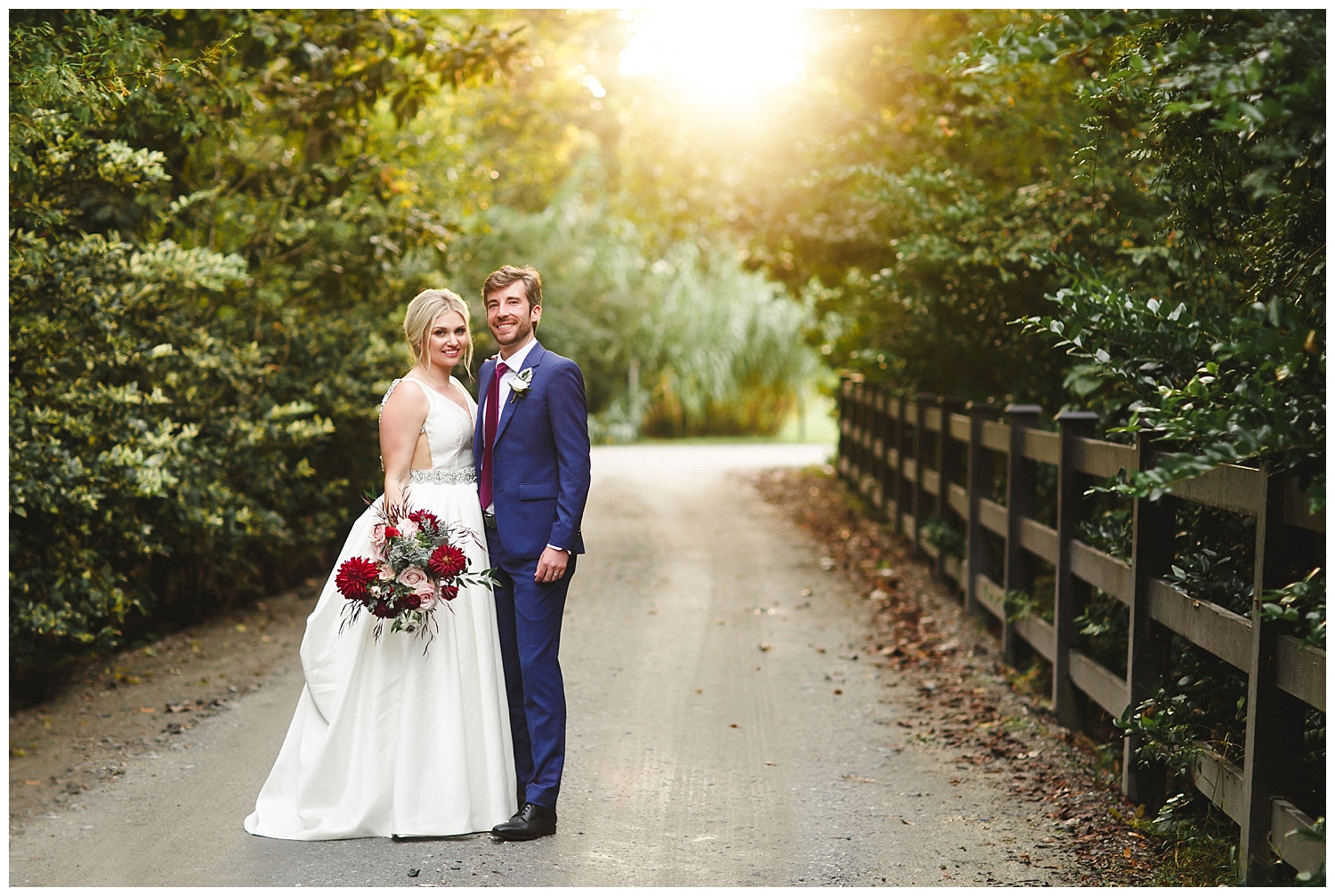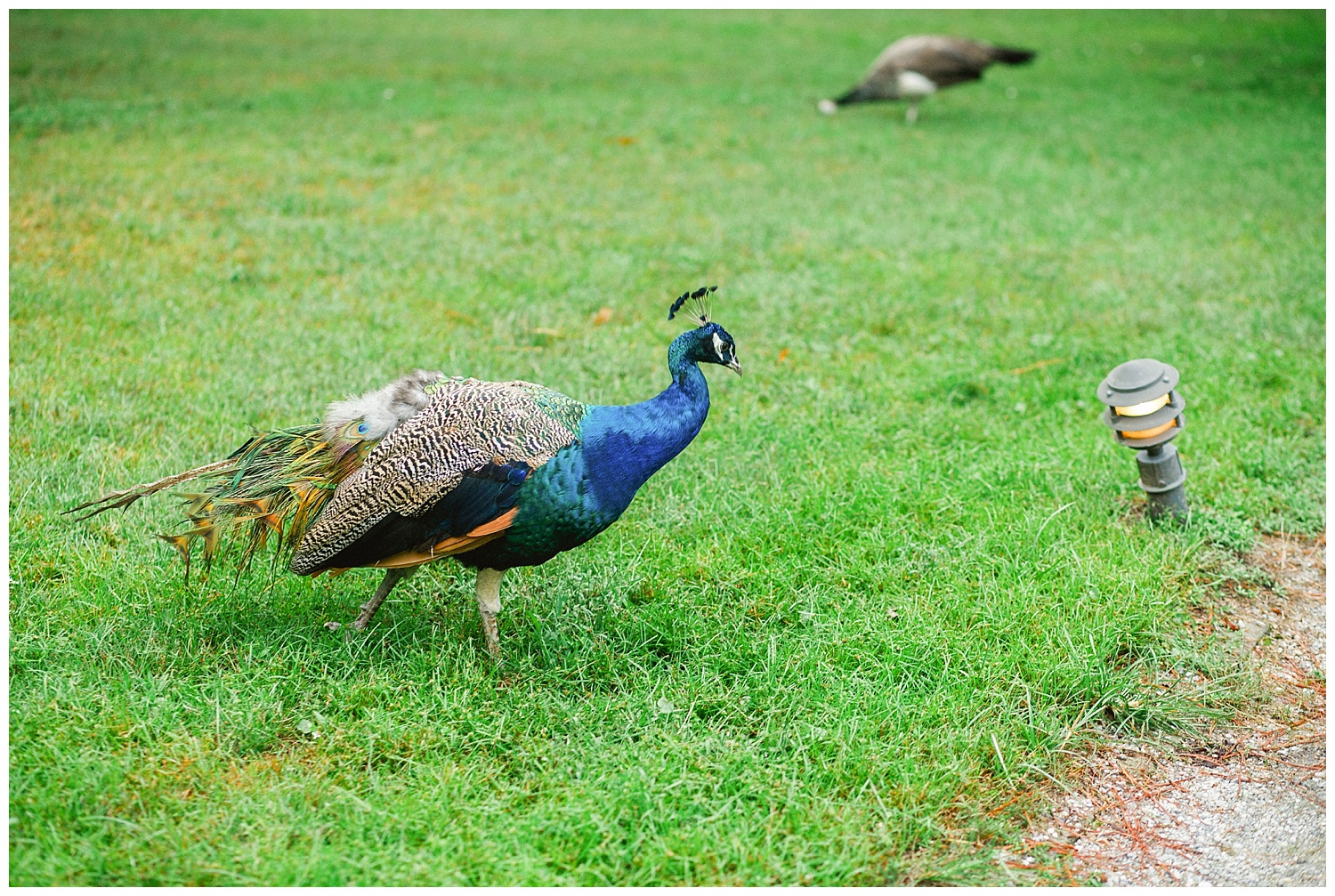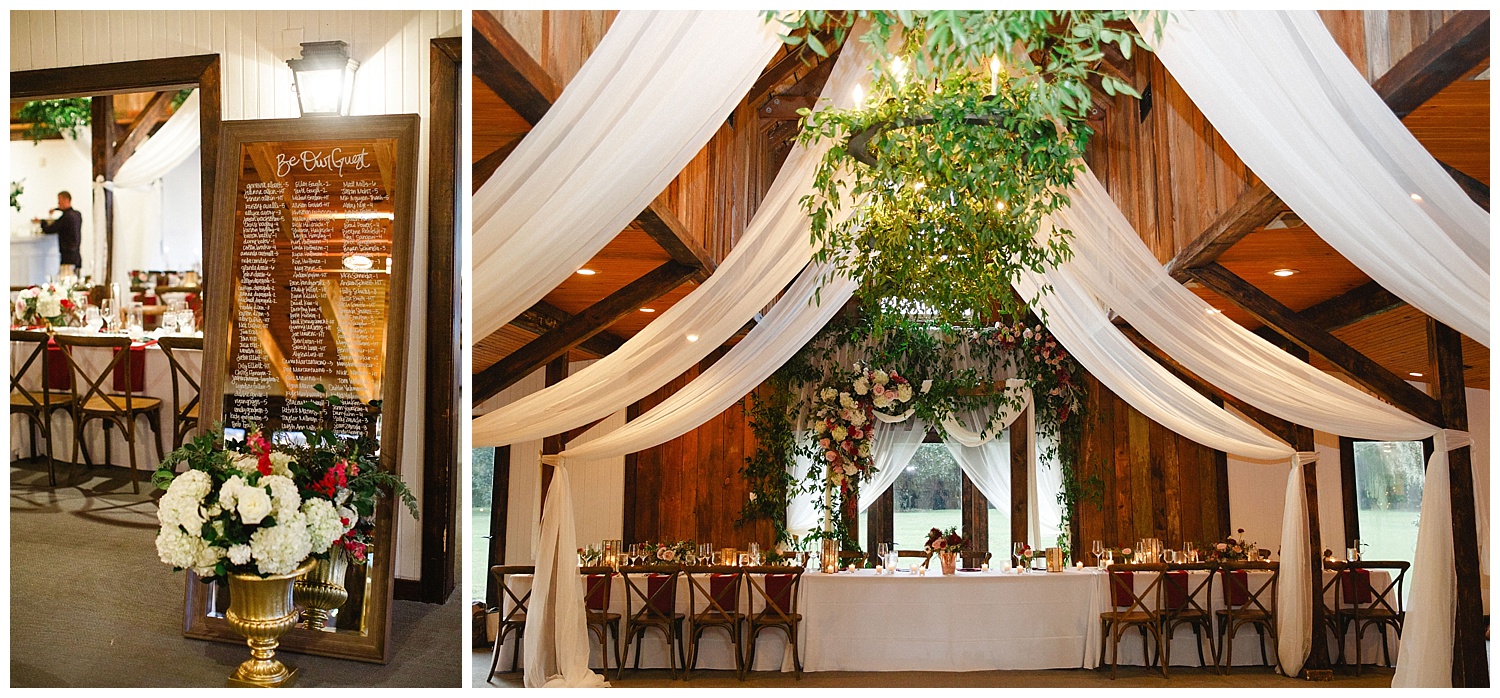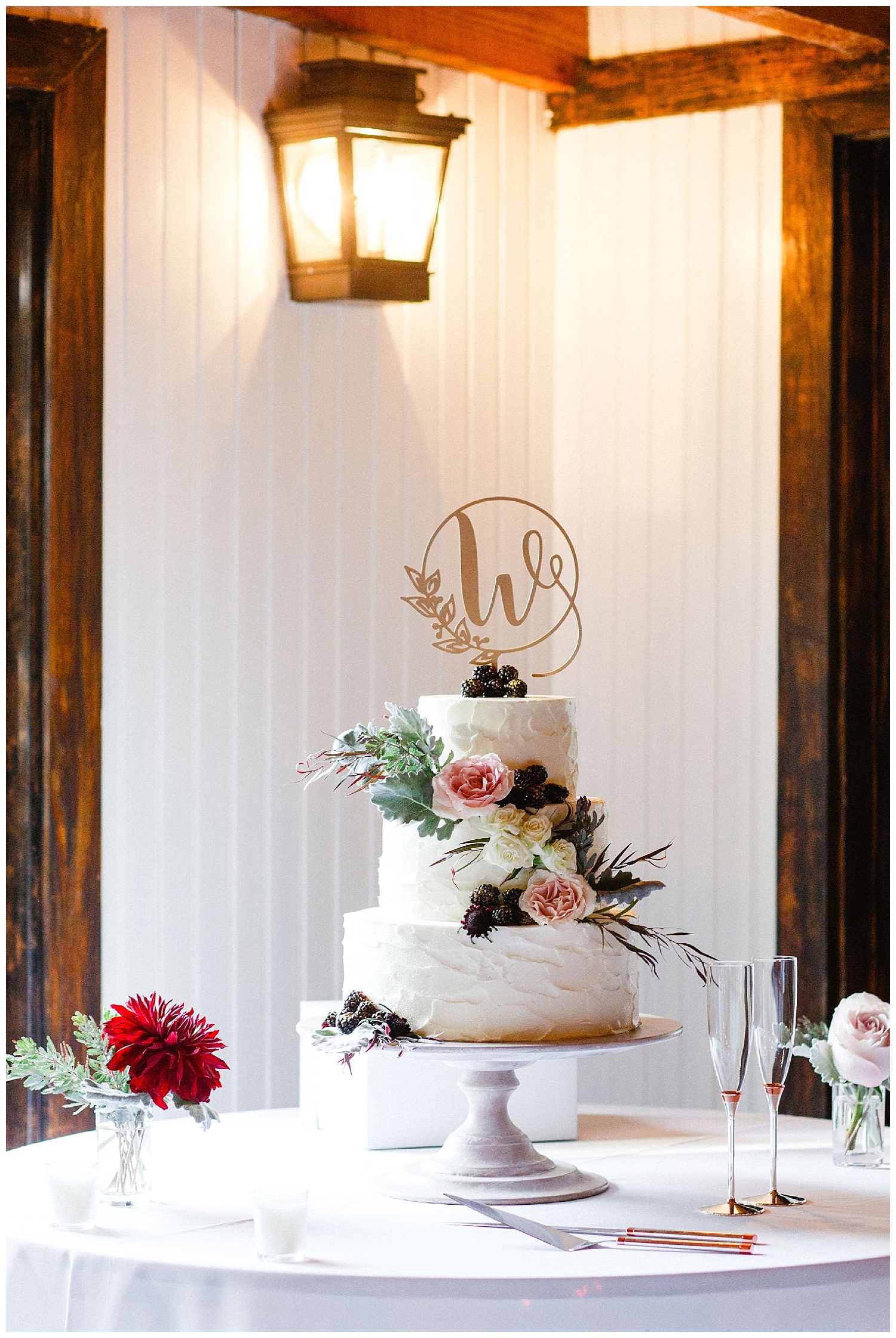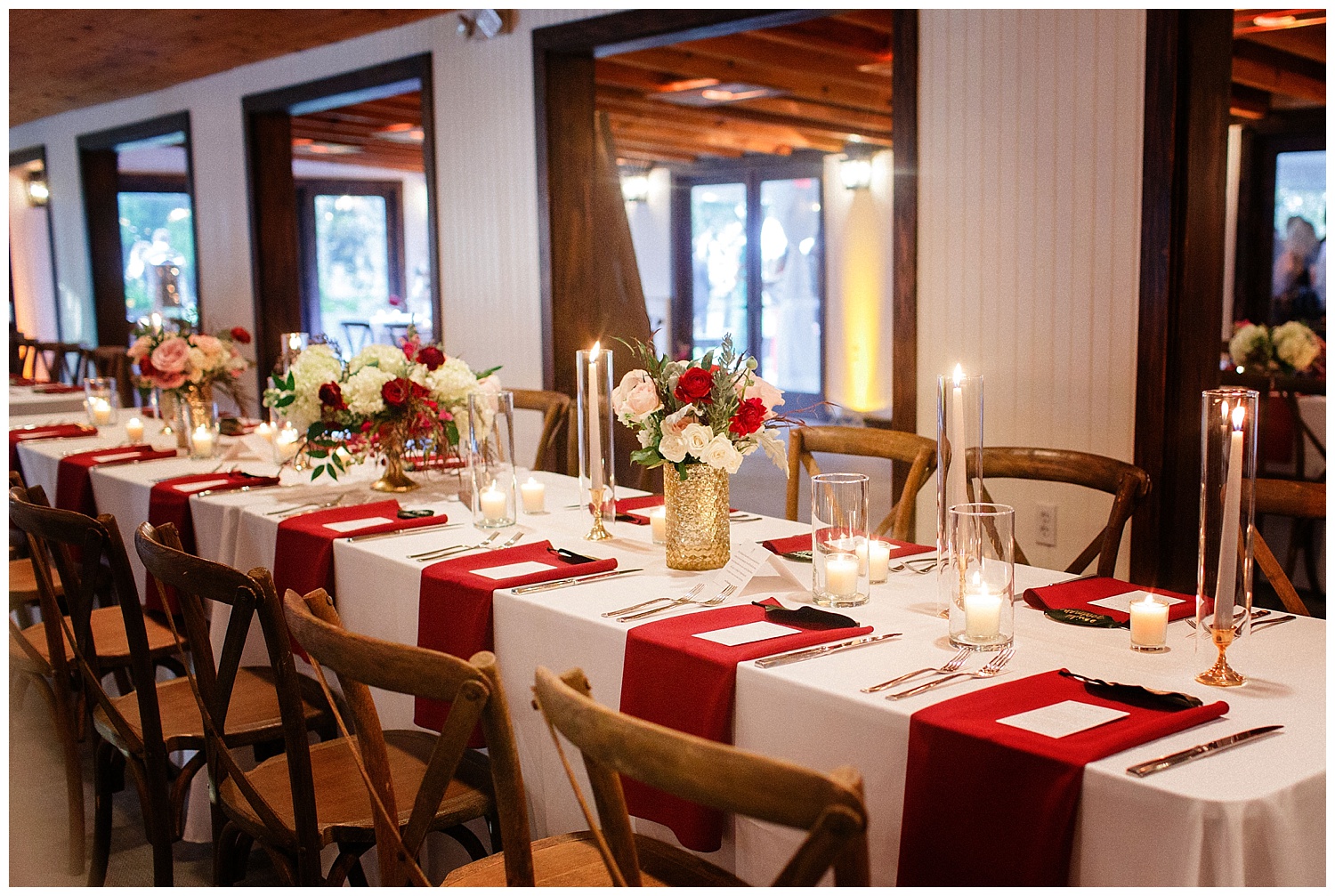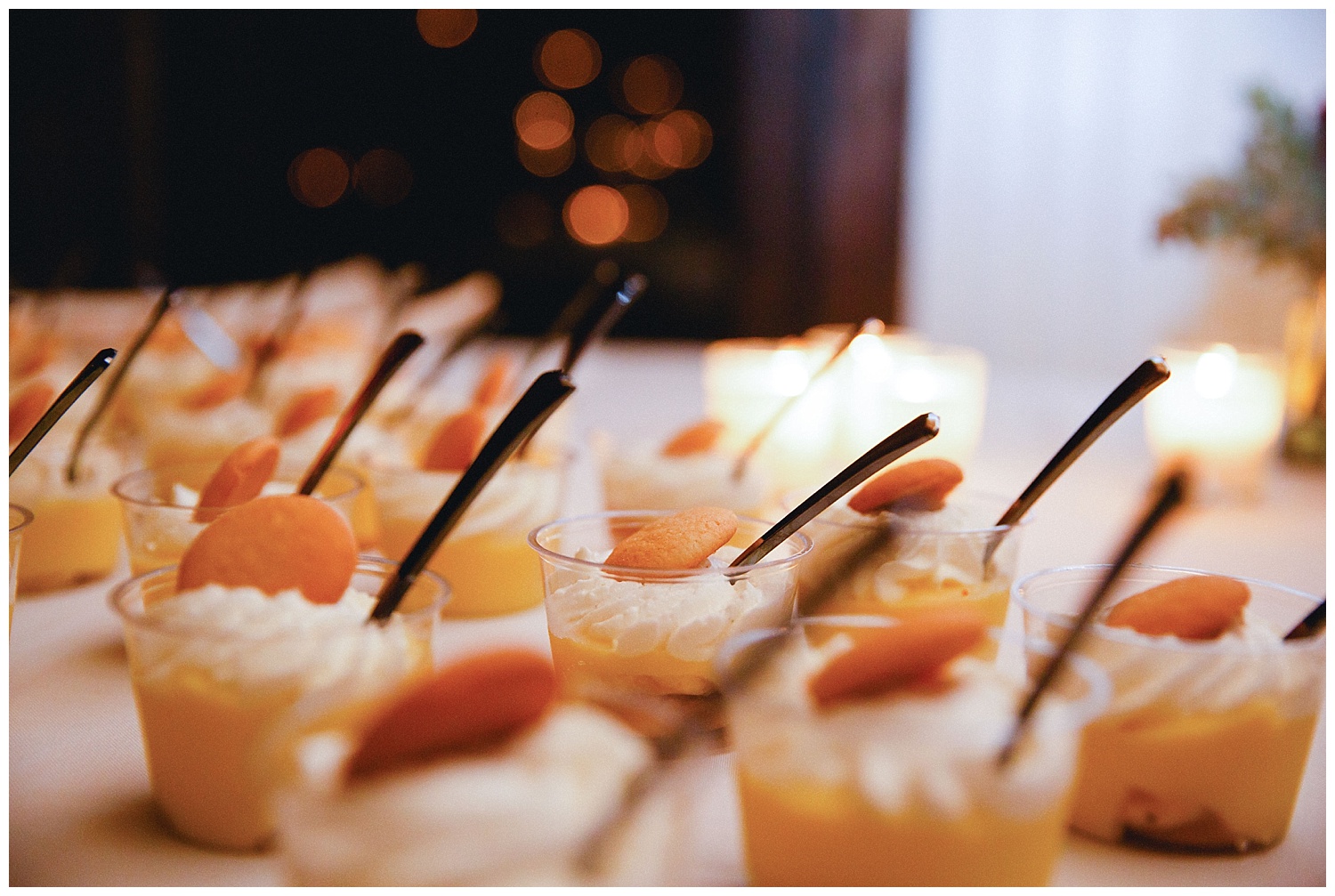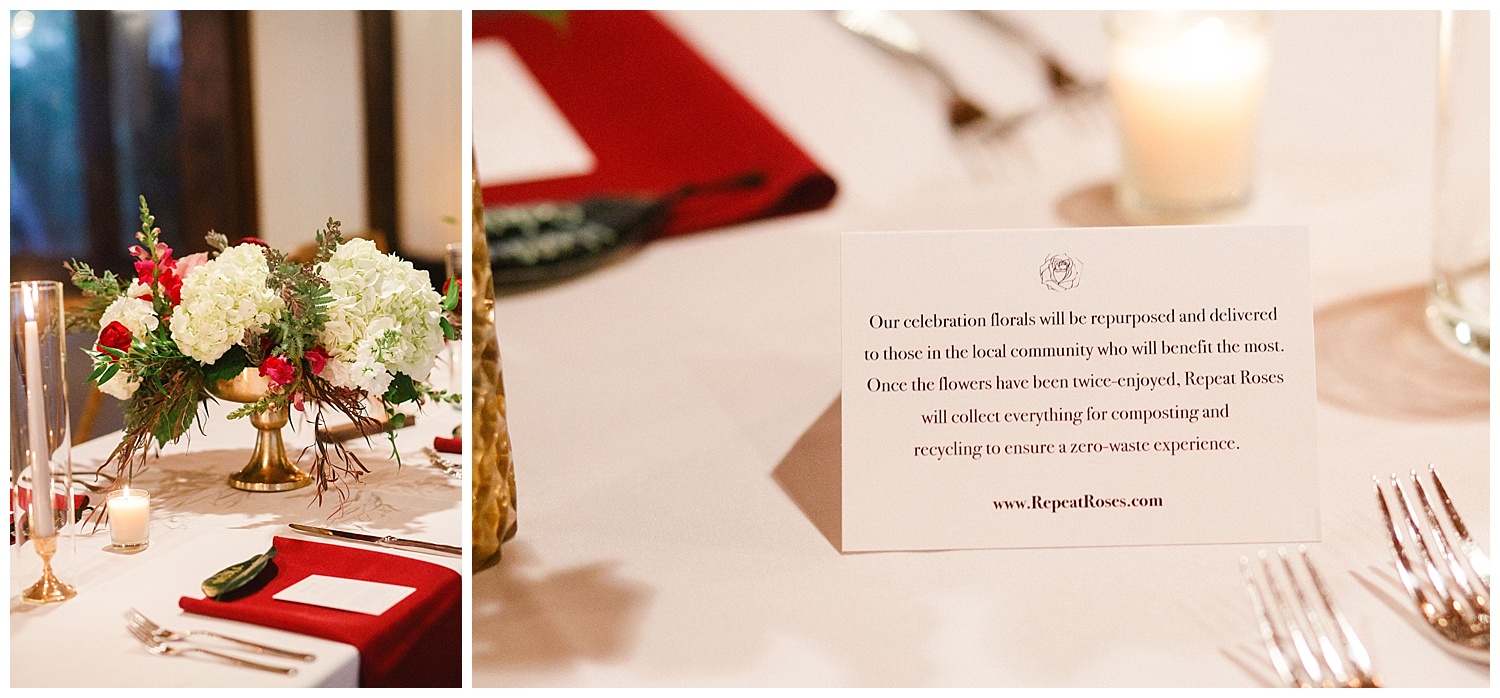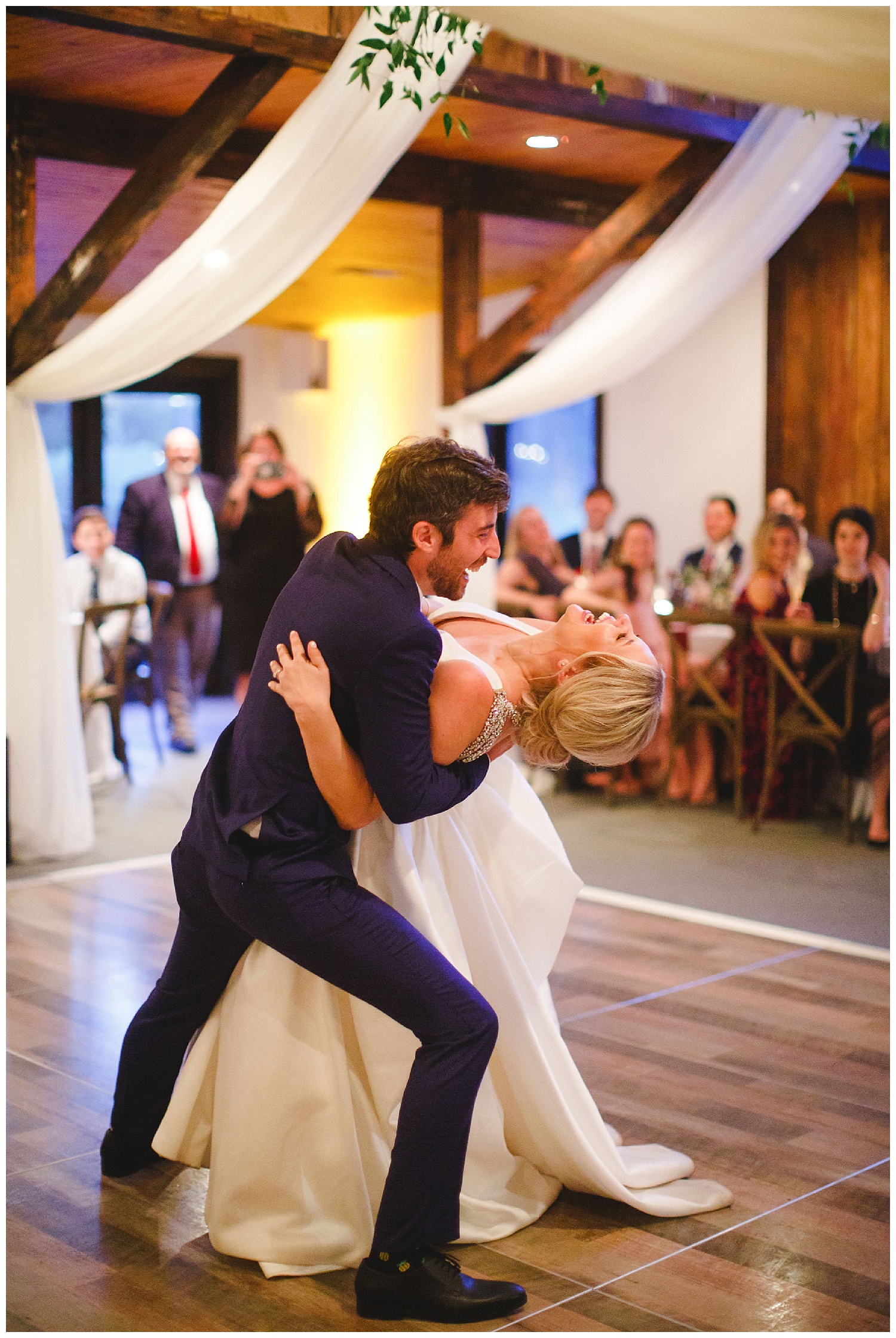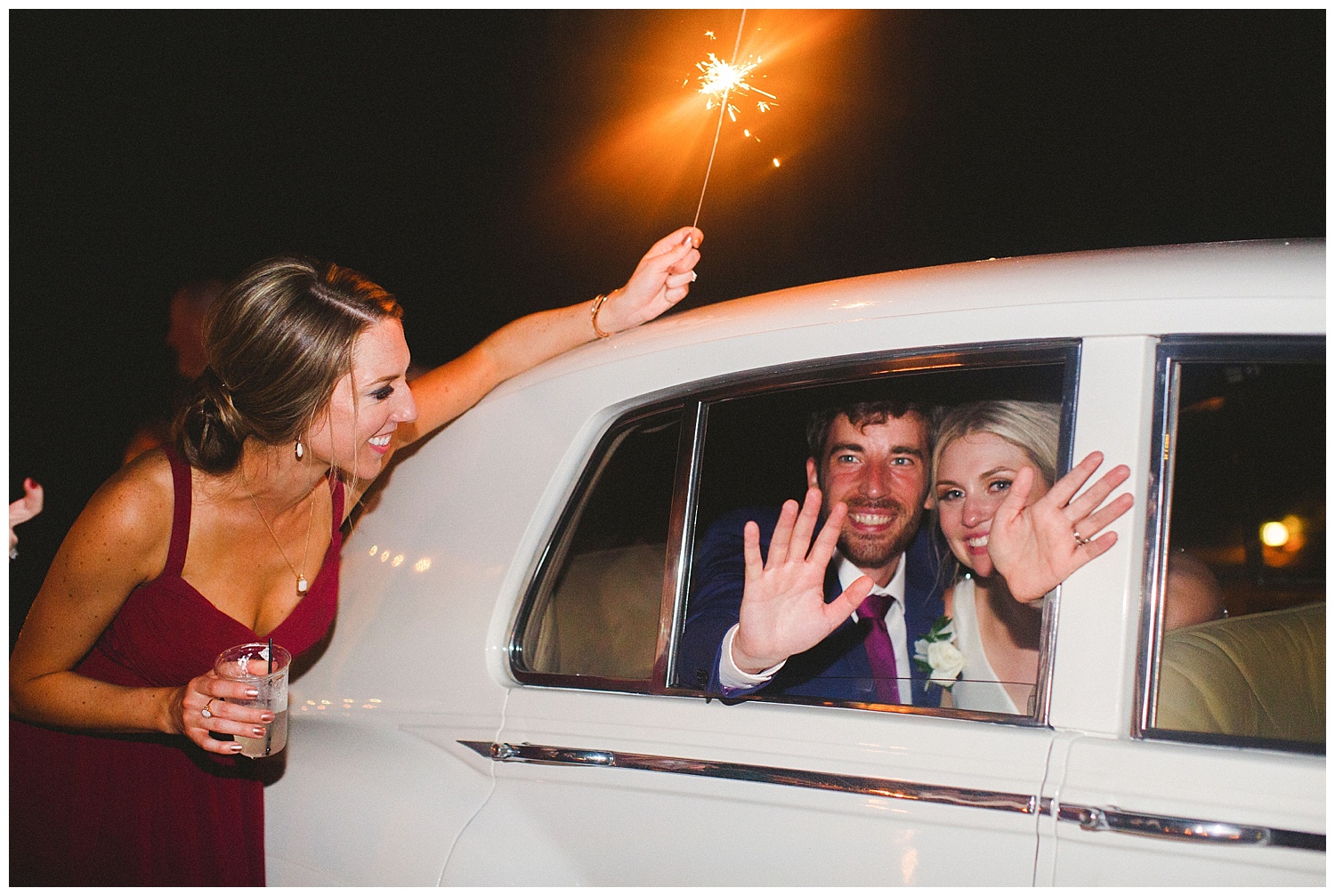 Images: Julia Fay Photography | Videography: Dock House Digital | Floral: Branch Design Studio | Venue: The Carriage House at Magnolia Plantation & Gardens | Catering: Tristan Catering & Events | Getting Ready Attire (girls): Plum Pretty Sugar | Bridal Attire: Calla Blanche (dress), Manolo Blahnik (shoes) | Bridesmaids Attire: Hayley Paige through Bella Bridesmaids | Groom/Groomsmen Attire: Indochino | Hair & Makeup: Lashes and Lace | Ceremony Music: Classical Charleston | Reception Music: David Fox of Bunn DJ Co. | Cake: Ashley Bakery | Bar: MIX Bartending | Stationery: Shutterfly Weddings | Signage: The bride | Officiating: The bride's uncle, Mark Schneider | Rentals: EventWorks | Draping: Pure Luxe Bride | Transportation: Lowcountry Valet & Shuttle Co. | Event Coordination: Luminary Event Co.