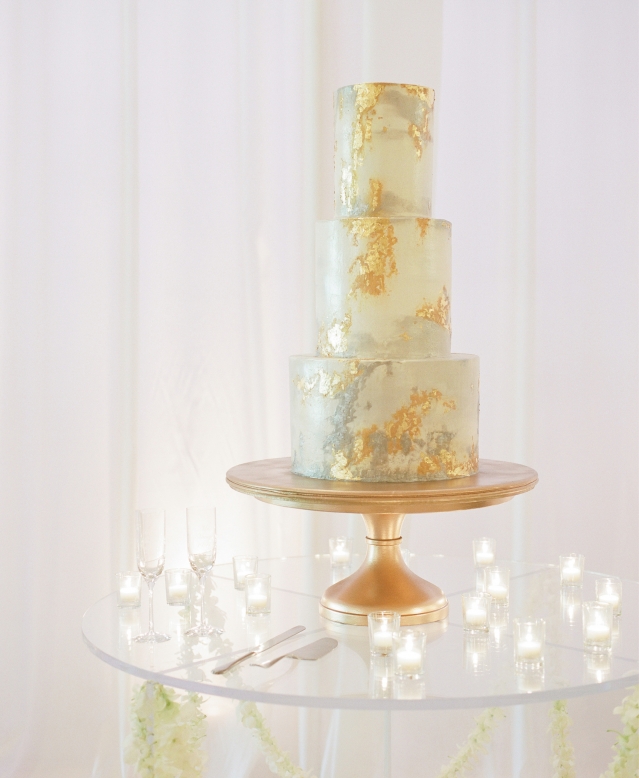 14 May

22 of Our Favorite Wedding Cakes from Charleston's Best Bakers

If there's one thing that we love about weddings (besides the "I do's," of course), it's CAKE! From the traditional all-white kinds to those bursting with all sorts of color, the sugary creations from Charleston's pastry chefs wow us at every turn. Whether it's for a reception, shower, brunch, or other, there's always an excuse to indulge. Happy scrolling, everyone—and remember there are no calories when it comes to looking!  

Now, this is what cake dreams are made of. We're going nuts over this pink and gold number that is a ringer for this gorgeous hand-painted gown from Charleston's own Kate McDonald.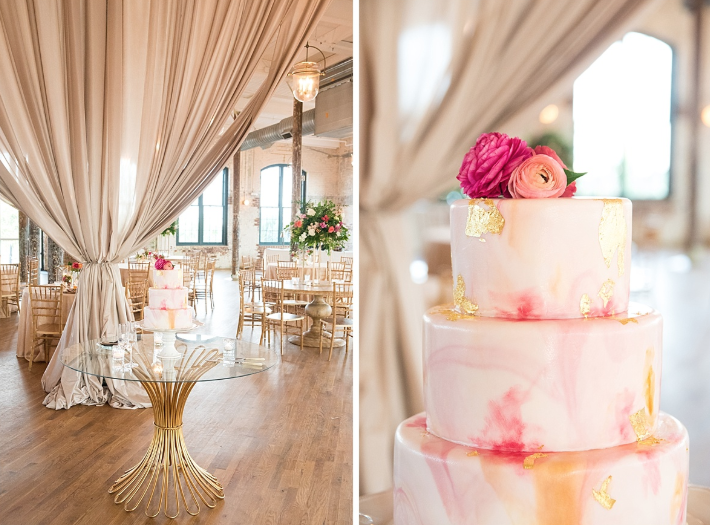 Cake: Lindsey Reynolds, Mercantile & Mash
Image: Sloan Photography
Couple: Sarah and Jeff
Venue: The Cedar Room
Wedding Designer: Yoj Events
How about a cake as your "something blue?" That certainly worked for bride Albina when she commissioned  Delicious Desserts to make this stunner in a robin's egg hue.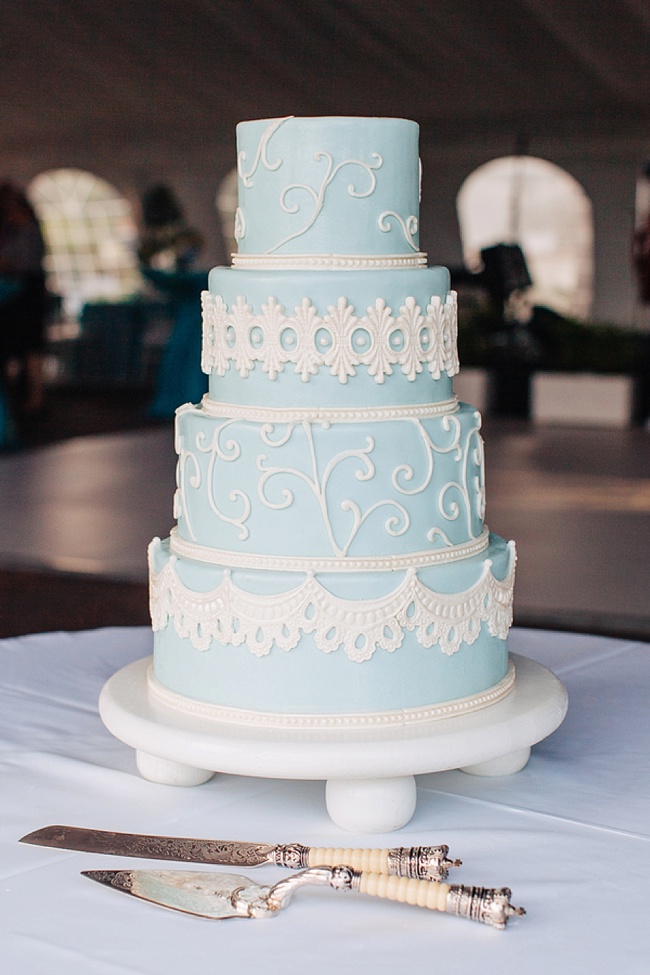 Cake: Delicious Desserts
Image: Riverland Studios
Couple: Albina and Grey
Venue: The Pavilion at Patriots Point
When a classic—a traditional white cake with fresh blooms—is rendered as elegantly as this, it's always a winner. Tip: Ask your florist to set aside a few star blooms for your pastry chef. That way the accents echo your décor and the blooms will be showstoppers.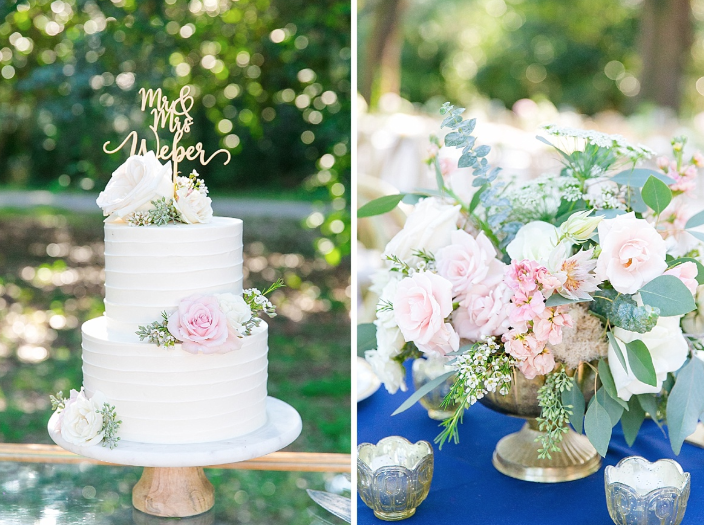 Cake: WildFlour Pastry
Florals: The Purple Magnolia
Image: Dana Cubbage Weddings
Couple: Katie and Brad
Venue: Legare Waring House
Wedding Designer: ELM Events
"I wanted it to look like the Kardashians threw up everywhere," says Gaby about her vision for her glamorous wedding at Kiawah. In keeping with that theme, Jim Smeal made this knockout of a metallic marbled cake. Fun fact: For her first anniversary with hubby, Ward, Gaby had her nails done in the same pattern as the cake. Sweet! Click here to see it.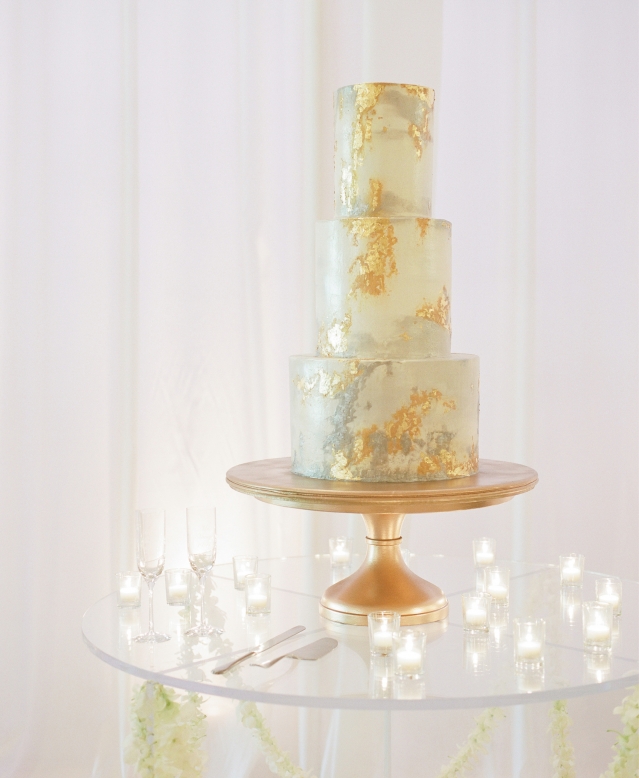 Cake: Wedding Cakes by Jim Smeal
Image: Corbin Gurkin
Couple: Gaby and Ward
Venue: Sanctuary Hotel on Kiawah Island
Wedding Designer: Tara Guérard Soirée
With its black, white, and pink palette plus the stripe, bow, and polka dot decorations, this one is for all you Kate Spade fans. (Be sure to check out the rest of this wedding, too. This bold cake worked especially well since the reception repeated so many of the same colors and motifs.)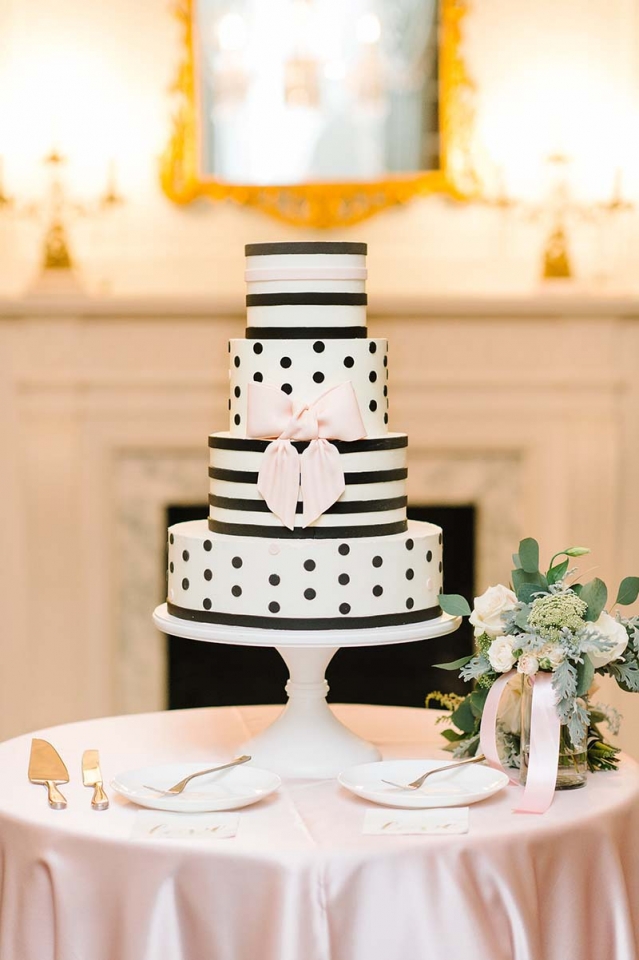 Cake: Jessica Grossman, Patrick Properties Hospitality Group
Image: Aaron & Jillian Photography
Couple: Nisha and Justin
Venue: Lowndes Grove Plantation
Wedding Designer: Christina Baxter, Cibi Events
Just as with a lacy white wedding gown, this cake demands a little up-close attention to appreciate its intricate details. Just check out those patterns in the white on white icing! Pairing an elaborately decorated number like this with a simple stand and floral topper is the way to go.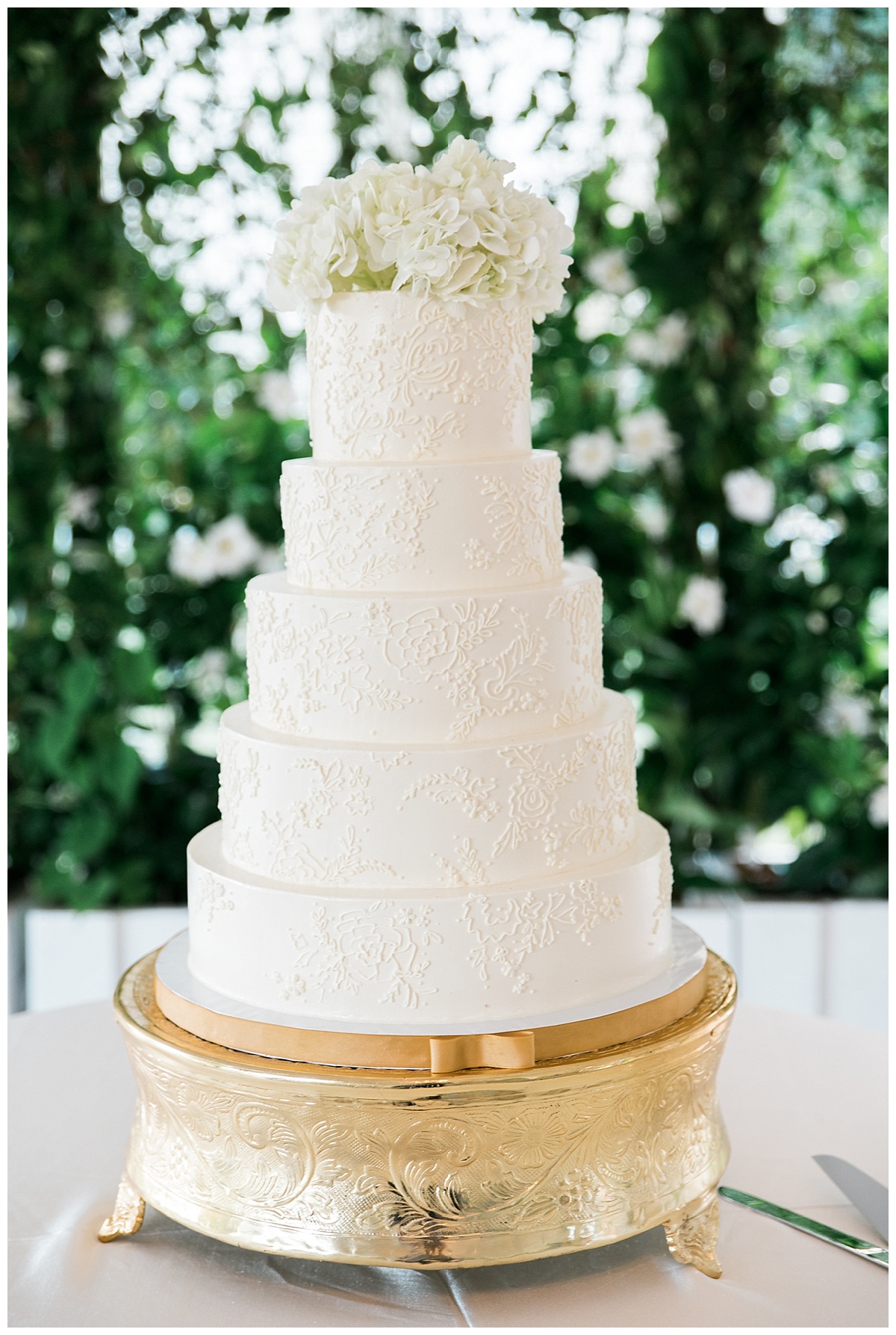 Cake: ABCD Cakes
Image: Virgil Bunao
Couple: Sarah and Demitri
Venue: Wingate Plantation
Wedding Designer: Samantha Anderson Events
What started as a trend—the dessert bar with a headliner of a cake—has stuck around. Thank goodness! Don't skip something that's been Pinned to death if you love the idea, and, in this case, love sweets. It's your Big Day, after all.  
Cake: WildFlour Pastry
Image: Dana Cubbage Weddings
Couple: Stephanie and Nick
Venue: Boone Hall Plantation
Wedding Designer: Posh Petals + Pearls
Choose a personalized cake topper (Jaymee and Ephy went for this cute copper one from Le Rustic Chic) and you can bring it out for every anniversary.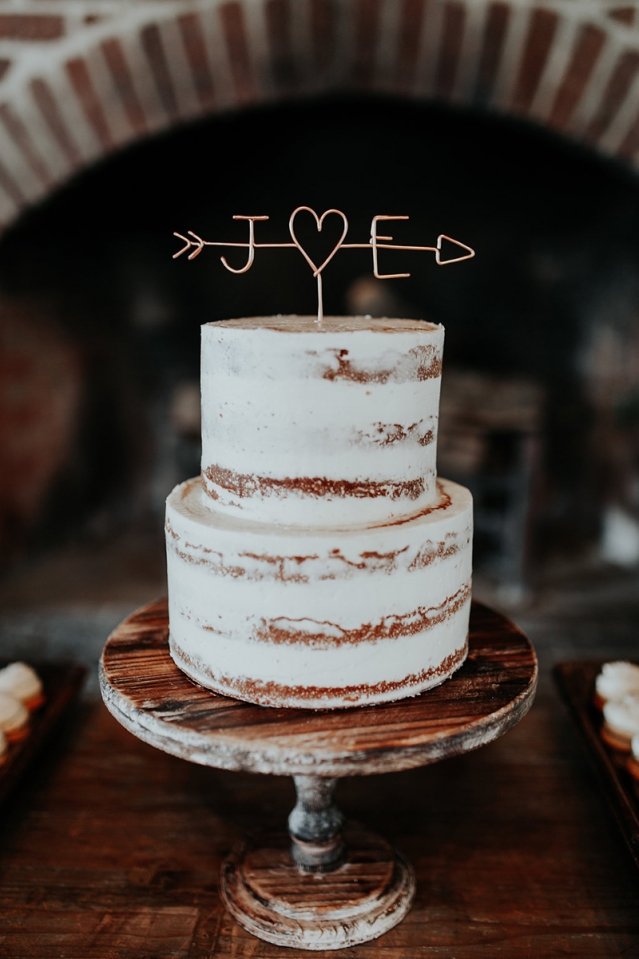 Cake: WildFlour Pastry
Image: Carrie Elizabeth Photography
Couple: Jamie and Ephy
Venue: Boone Hall Plantation
Wedding Designer: Party.Love.Birds
Cake Topper: Le Rustic Chic
Balloon sculpture, check. Tassel garland, check. Gilded décor elements, check. Something in cursive, check. Donut stacks, check. Anddddd, the piéce de résistence, macarons on a drippy iced, nearly naked cake, check. We're pretty sure if you're in the Millenial zone, this setup is enough to make you squeal from all its "it" elements. When tied together with the right palette all the on-trend goodness is indulgence at its best. While this was for a reception, it'd also be lovely for a bridal shower or luncheon, or a going-away brunch.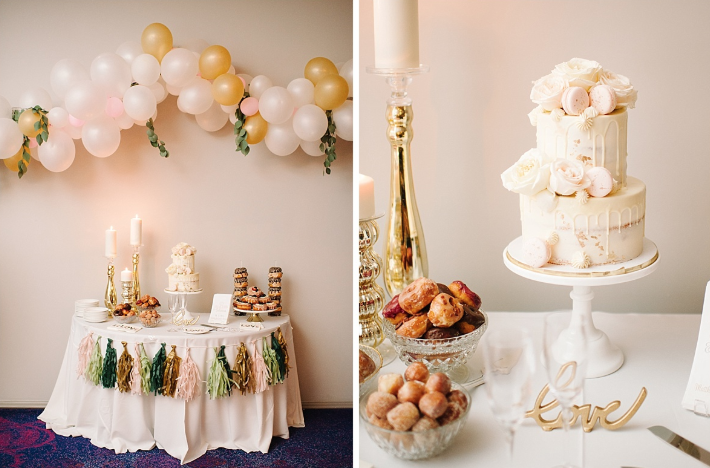 Cake: ABCD Cakes
Image: Faith Teasley
Couple: Andrea and Matt
Venue: The Grand Bohemian Hotel Charleston
Gold latticework was a motif that ran throughout Emily and Charles's open-air wedding. It popped up on the cake, on the flower girl dresses, and via gilded garden partitions. The clean-lined pattern of the latticework makes a great foil (not to mention a natural pairing) for the edible flowers and vines.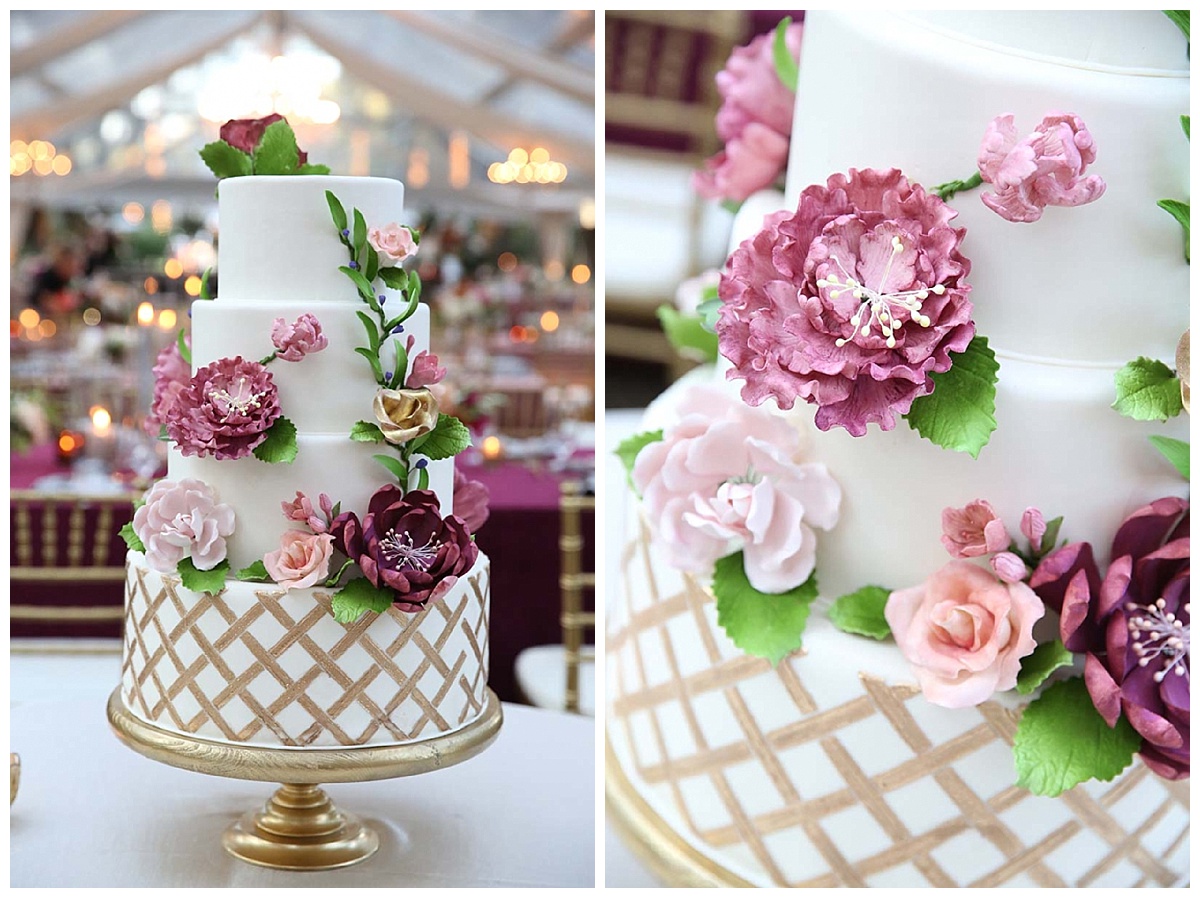 Cake: Delicious Desserts
Images: Jennifer Bearden
Couple: Emily and Charles
Venue: Legare Waring House
Wedding Designer: A Charleston Bride
Sometimes a perfectly made old-fashioned single-tier cake is all that's needed to cap off a wedding event. Just be sure to hit up one of the city's best bakers like Sugar Bakeshop, who made this treat that was just as delish as it was adorable.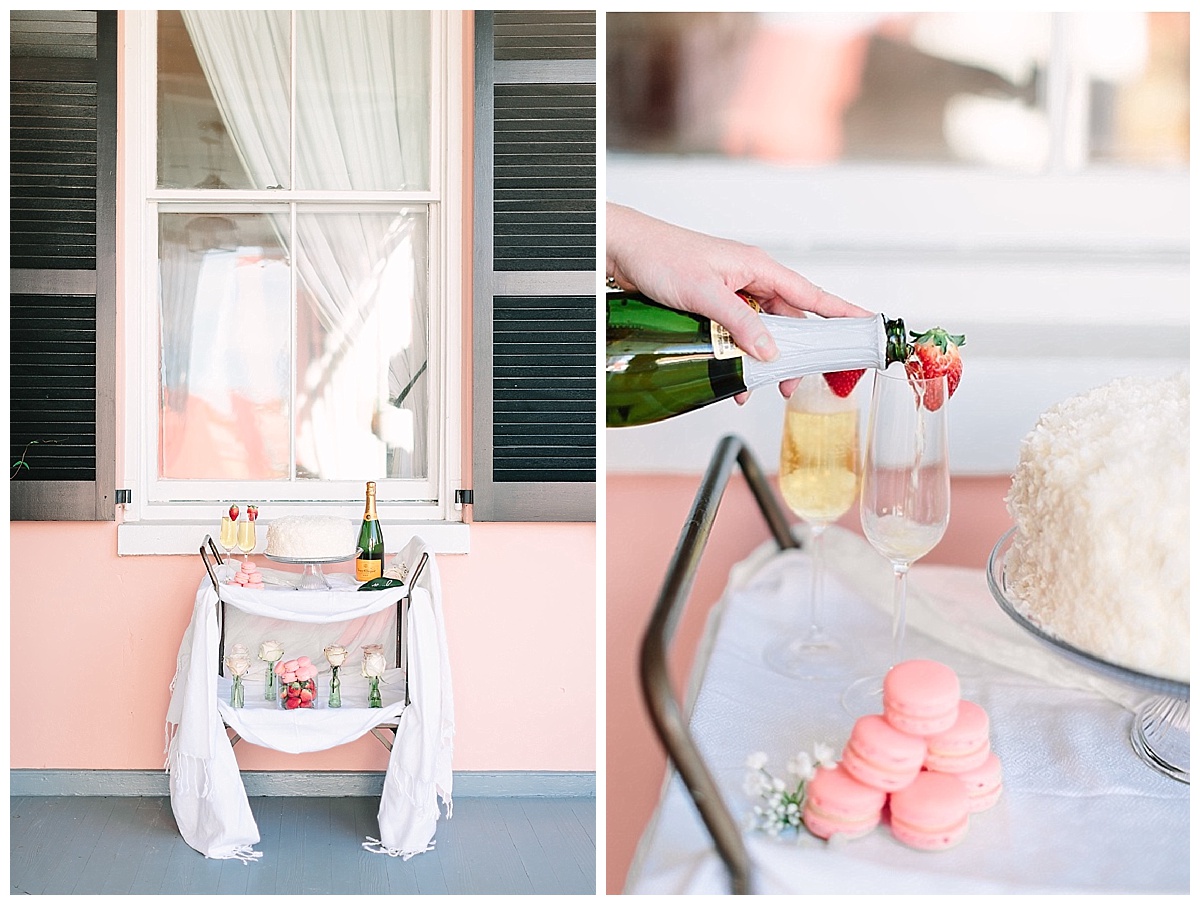 Cake: Sugar Bakeshop
Images: Lauren Myers Wedding Photography
Venue: The Parsonage
Wedding Shoot Designer: Katie, Rose Gold Events & Styling
Tara and John's gorgeous monogram was a staple throughout their Big Day, as were gilded, well, everything.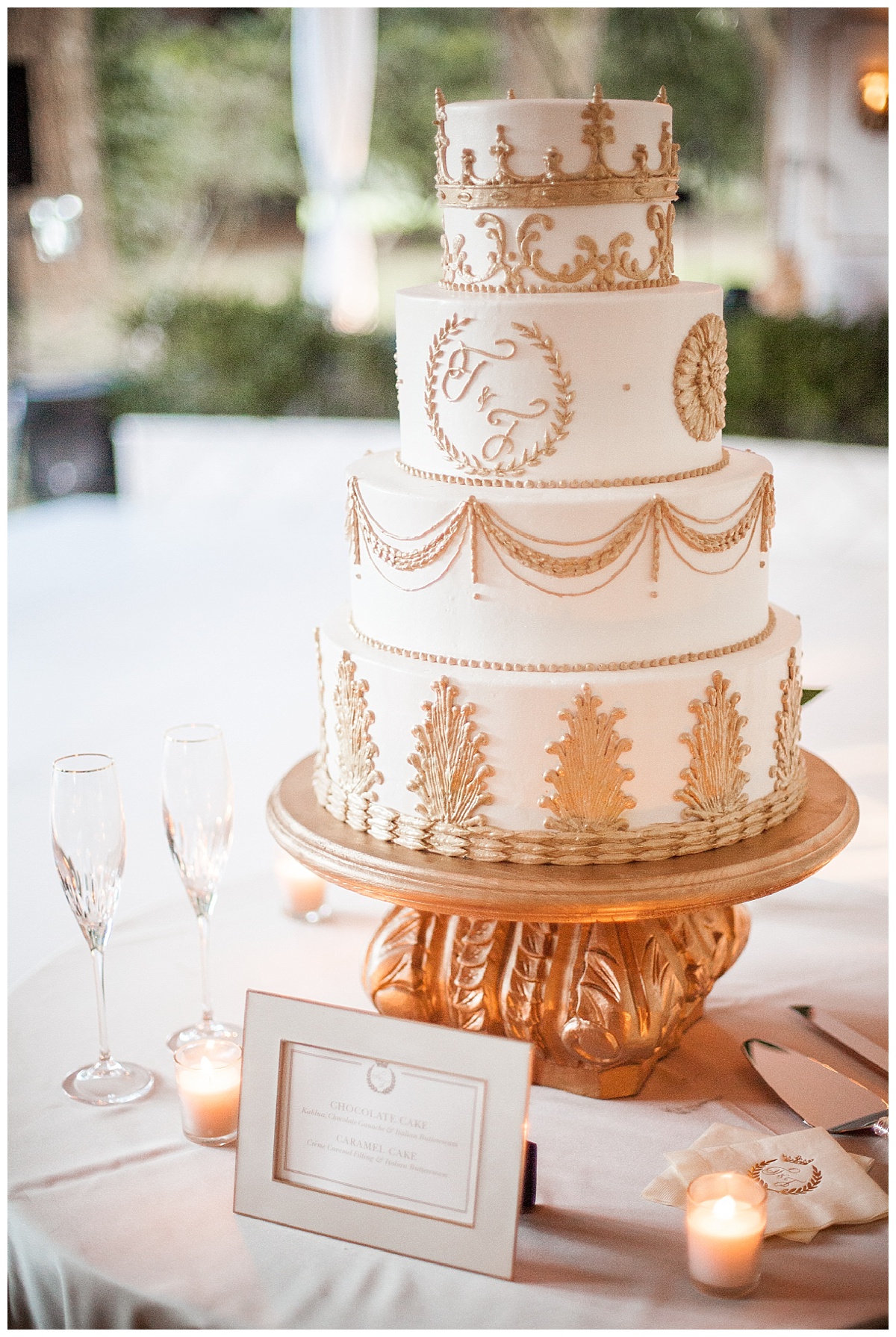 Cake: Wedding Cakes by Jim Smeal
Image: Tim Willoughby
Couple: Tara and John
Venue: Legare Waring House
Wedding Designer: A Charleston Bride
Your newlywed monogram is guaranteed to strike a special chord when you first see it on your wedding day. Here, Ashley Bakery announced this couple's union by showcasing the same monogram used on the couple's invitations.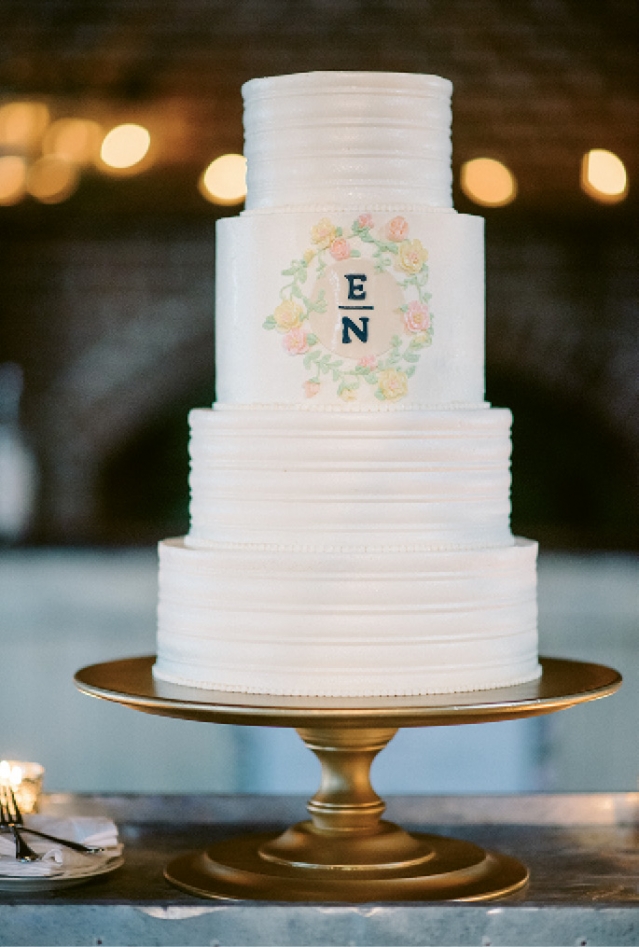 Cake: Ashley Bakery
Image: Sean Money + Elizabeth Fay
Couple: Elizabeth and Nick
Venue: Boone Hall Plantation
Wedding Designer: A Charleston Bride
Peninsula Grill's coconut cake has been lauded in magazines, celebrated on a host of cooking and morning shows, and gotten the stamp of approval from celebrity chefs and planners galore. And the famous cake can be tiered up into a custom creation for your reception. Good enough for you? It sure was more than enough for Stephanie and J.P.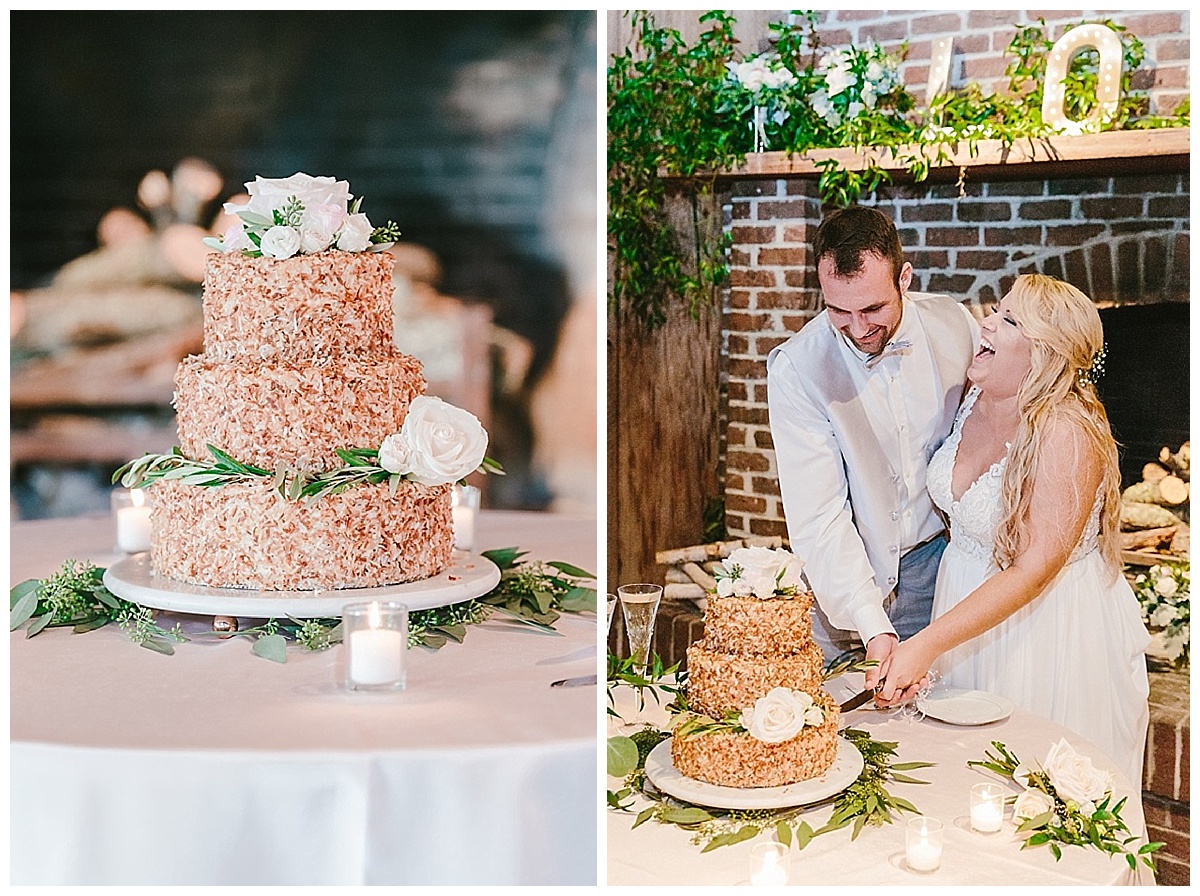 Cake: Peninsula Grill
Image: Emily Meeks Photography
Couple: Stephanie and J.P.
Venue: Boone Hall Plantation
Wedding Designer: MI Events Charleston
We think this cake (actually from a birthday party for Yoj Events' Blythe Hill's daughter) will wow at any reception. A side note to those with smaller statement desserts like this: Ask your baker to have sheet cake slices on reserve to supplement as needed.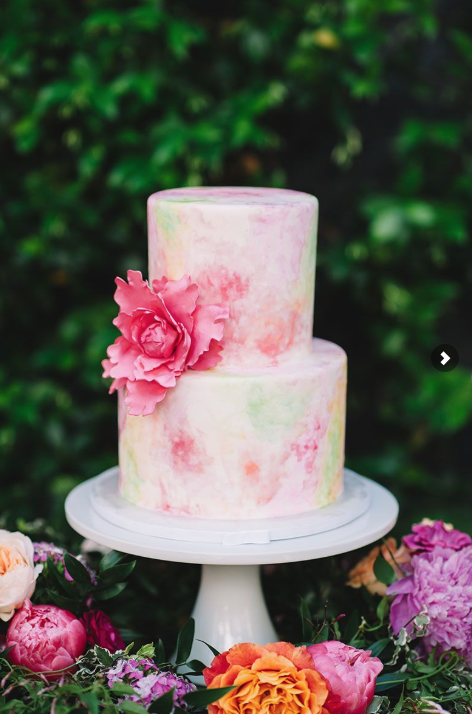 Cake: ABCD Cakes
Image: Jennings King
Venue: The Parsonage at St. Johannes
Wedding Shoot Designer: Blythe Hill, Yoj Events
Lauren and Paul have Sablée to thank for creating this color-coordinated dream. Each dessert matches the couple's blush, white, and green color scheme for their Big Day, right down to the tasty sprinkles and champagne. Be sure to share your palette with your chefs, dears!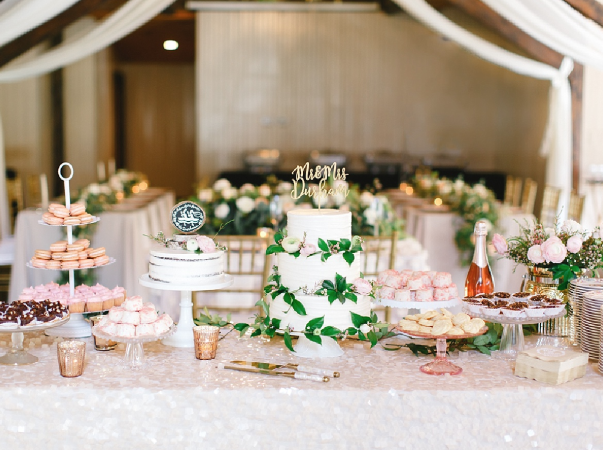 Cake: Sablée
Image: The Happy Bloom
Couple: Lauren and Paul
Venue: Magnolia Plantation & Gardens
Wedding Designer: A Charleston Event
"Romantic, elegant, clean, and classic," were the words t stylist Samantha Anderson shared with ABCD Cakes when she commissioned this rose gold and spa blue cake. Love a bold hue or another metallic? Rather than overwhelm a confection, consider adding an accent of it, as shown here.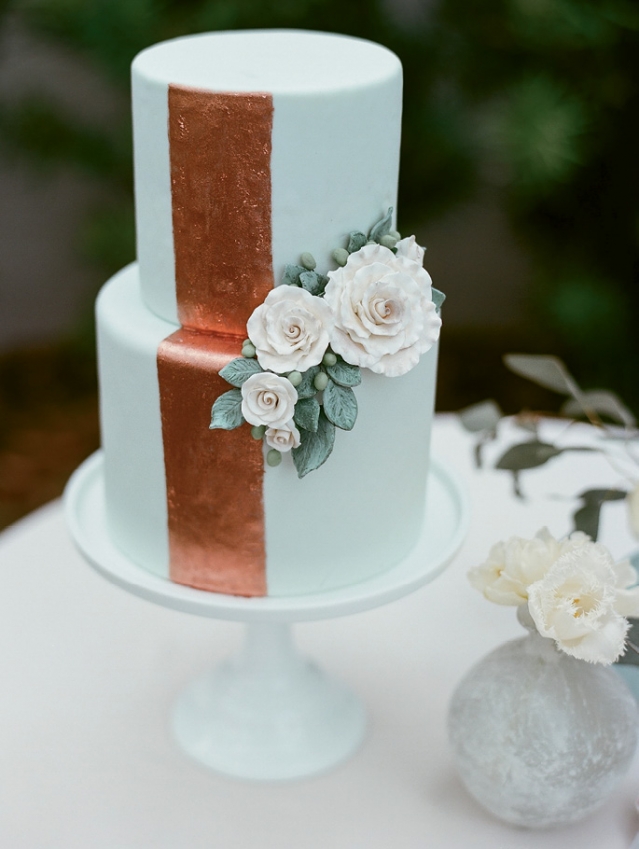 Cake: ABCD Cakes
Image: Lauren Jonas Photography
Venue: Rose Gold Inspired Shoot at The Gadsden House
Wedding Shoot Designer: Samantha Anderson
While we can't get enough of watercolor crests, take a close look at this goodie and you'll spot another swoon-worthy something, a little ode to Charleston. Yep, right there around the rim is a border of golden pineapples—the longtime symbol of hospitality here in the Holy City. Check out the rest of their reception, gold pineapples made cameos here and there.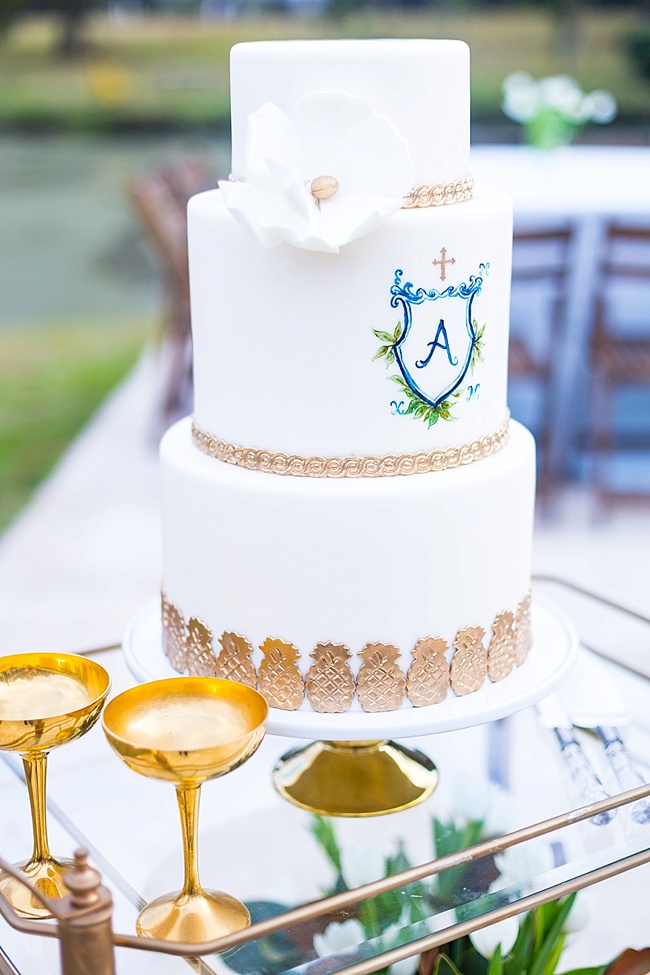 Cake: DeClare Cakes
Image: Carter Fish Photography
Couple: Samantha and Maxwell
Venue: Old Wide Awake Plantation
Wedding Designer: Samantha Anderson Events
Bride Lauren gave her guests a sweet taste of the South with this five-tiered cake covered with tiny blue flowers that matched the reception décor and more from her Big Day. Tip: Buttercream cakes and open-air or tented weddings in Charleston at risk of melting. Most bakers recommend that you keep buttercream in cool, air-conditioned spaces during the warm months. Or, if you want to display your cake in a tent, aim for winter or a cool spring day.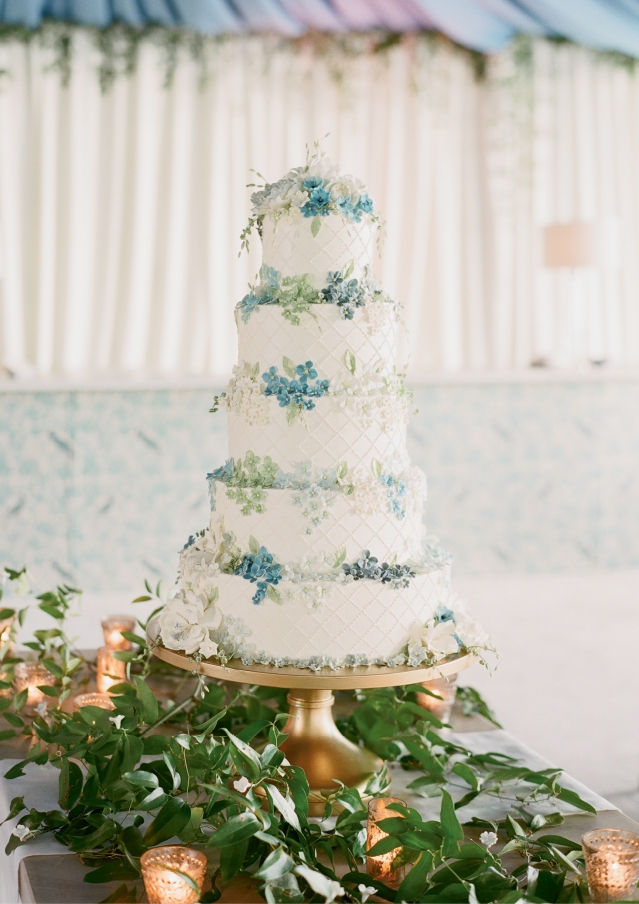 Cake: Wedding Cakes by Jim Smeal
Image: Corbin Gurkin
Couple: Lauren and Patrick
Venue: Lowndes Grove Plantation
Wedding Designer: Tara Guérard Soirée
Inspired by the dominant patterns and colors of Casey and Zach's wedding, Charleston pastry chef Jim Smeal, created this impressive masterpiece in buttercream. Our takeaway from this stunner: If you're not a wallflower, don't have a cake that is.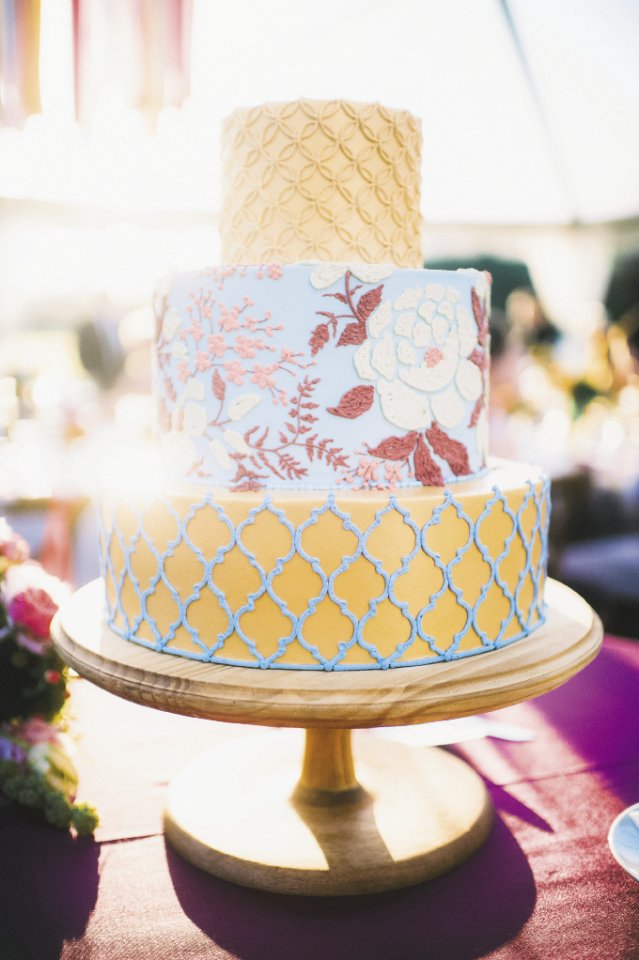 Cake: Wedding Cakes by Jim Smeal
Image: Timwill Photography
Couple: Casey and Zach
Venue: Middleton Place
Wedding Designer: A Charleston Bride
Ikat—it's not just for fabrics anymore. We've long harbored a soft spot for this orange, blush, and gold number.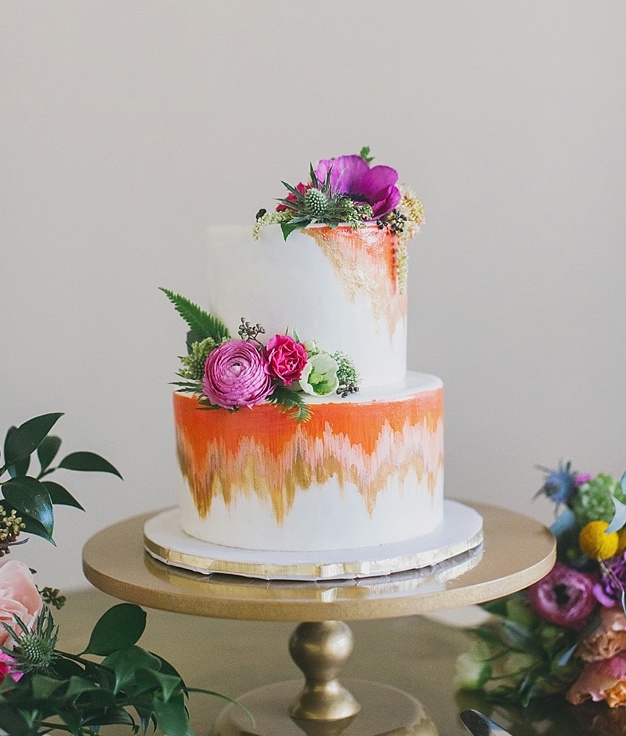 Cake: ABCD Cakes
Image: Hyer Images
Couple: Grace and John
Venue: Seabrook Island Lake House
Wedding Designer: Ooh! Events
Talk about pampering! Pastry chef Laney Cowan of Delicious Desserts created small yellow and grey iced cakes for each table at this wedding.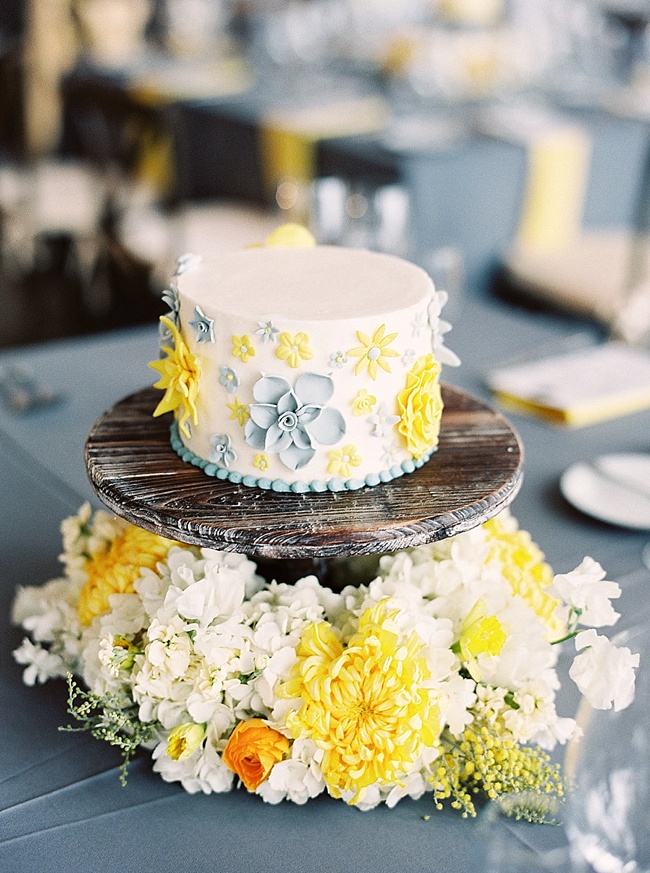 Cake: Laney Cowan, Delicious Desserts
Image: Julie Paisley Photography
Couple: Laura and Phil
Venue: Lowndes Grove Plantation
Wedding Designer: Southern Protocol