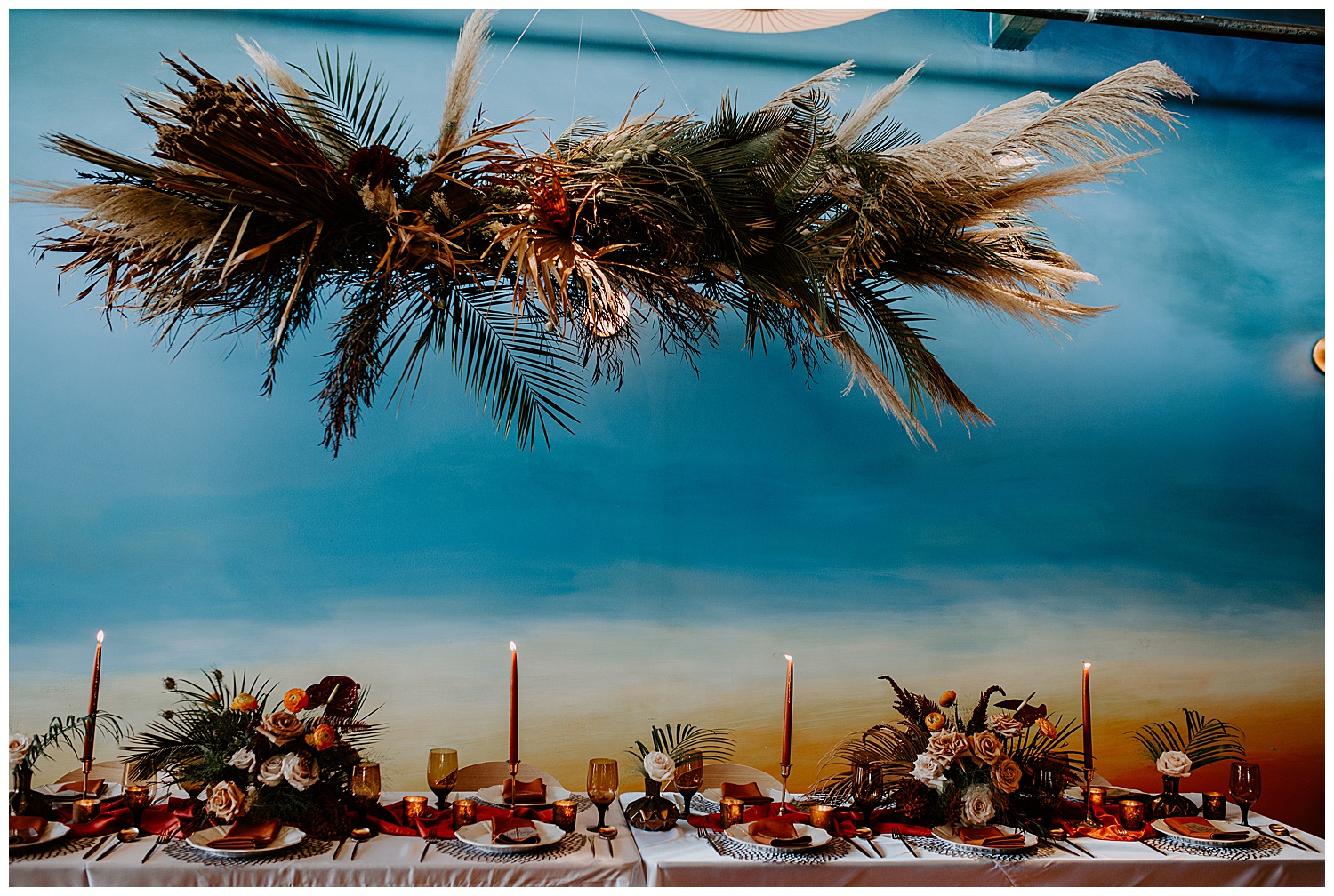 04 Oct

Wiki Wiki Styled Wedding

Y'all. I almost don't want to write a thing here because the shots from this retro "wedding" at Folly Beach's Wiki Wiki Sandbar are so freakin' amazing they need no explanation, embellishment, or extrapolation. I mean, really—take a scroll! But because some of you ache to know what happens behind the scenes, here's a little share from Holly Collins of  Sawdust and Seagrass, one of the newest (and most promising) planning and rental groups on the scene. Impeccable doesn't come close to describing Holly's taste and talent for pulling together a team to craft an utterly retro and utterly fresh styled shoot, AKA just what Charleston wedding world needed. Happy Friday to all, and thank you to Holly and the rest of the crew for sharing the roadmap to this fabulousness via the vendor list below the shots.

 Are the models for real?

Yes! Sean and Joanna are a real couple and they are absolutely adorable! Their chemistry is just amazing, it almost felt like it was their actual wedding.

 How in the world did you come up with something so atypical—yet apropos—for Charleston? It looks like an old-school, retro Folly Beach or Isle of Palms wedding to us.

As they say, once you have the dress everything else just falls into place. That's what happed when our hair and makeup artist from DNa Lab showed me this vintage beaded mini dress. It belonged to her grandmother, and Penny asked me how we could create some looks around the style. I have always had a love for everything retro and I draw a lot of inspiration from the '50s, '60s, and '70s —the styles that come out of those decades are amazing.

 Tell us about the location.

I had been to Wiki Wiki Sandbar  so many times and the '50s Hawaiian theme was perfect. Also? They host events in the Sunset Room where we set up the reception. Having great canvas like theirs gave us a head start for colors, textures, and more.

 We love how the wedding-day fashions are so wearable and fit the retro look, too.

The bridal gown is by Adashi from MODELBRIDE.  We wanted to keep the dress retro, but have it be more bohemian and more '70s [than the mod mini exit dress]. Next, with the bridesmaid dresses, the goal was to harken the color palette. Bella Bridesmaids provided the perfect Jenny Yoo looks for that; the first dress is English Rose velvet, the second was burgundy velvet.

 Hexagons—a throwback shape in itself—seem to be the name of the game here.

The hexagon name plates tied in with the backdrop, hexagon shelf, and the cake and  those geometric details tied in with the retro style. Why? Details feed the bigger picture!

 Clearly. Tell us about the palette.

We're aiming for more of a fall feel so Angela of Charleston Flower Girl used a lot of rich colors, with dark burgundy and pops of orange. We then tied those colors into the entire shoot.

 What do you want a real bride to take away from these images?

Always remember to not be afraid to step outside of the wedding box. After all, ultimately, your wedding should reflect you and your partner. Everyone is so uniquely different, so have a special day that reflects that to create some genuine [and authentically "you"] memories to look back on.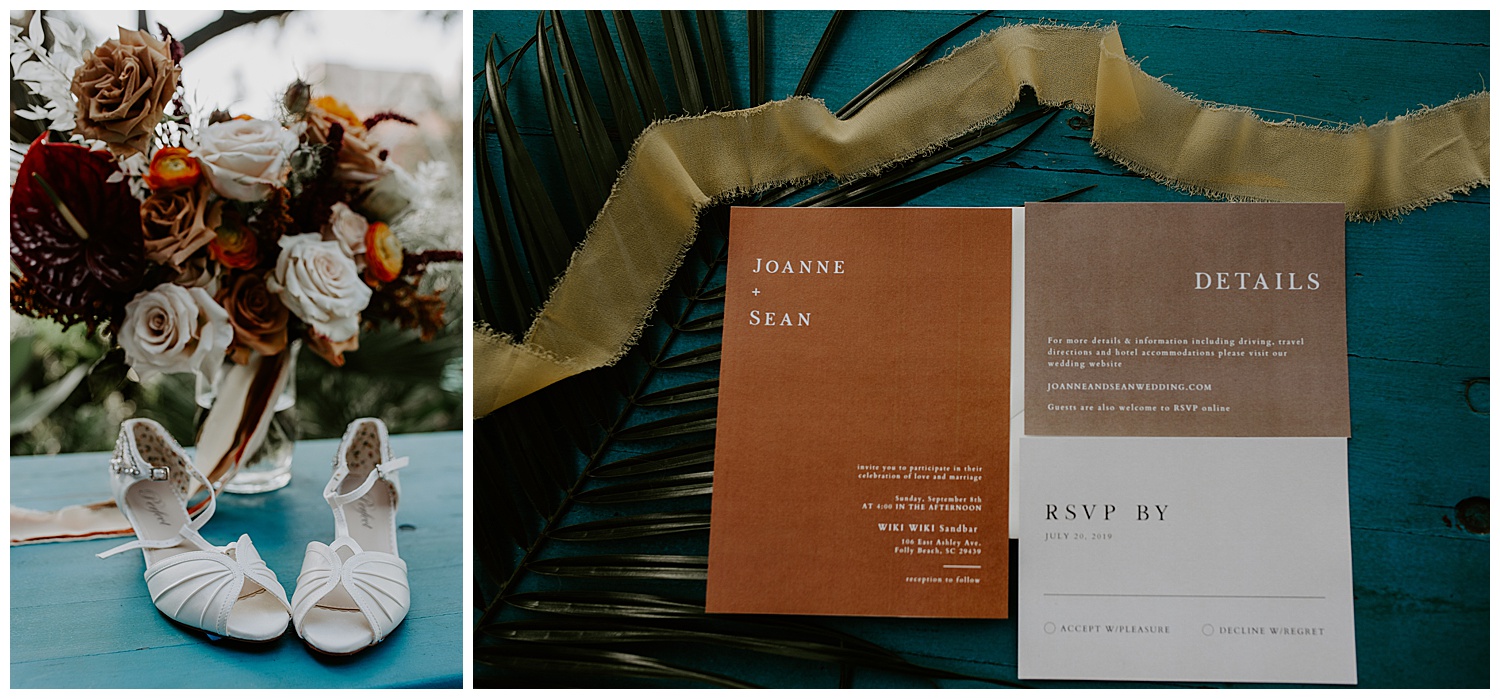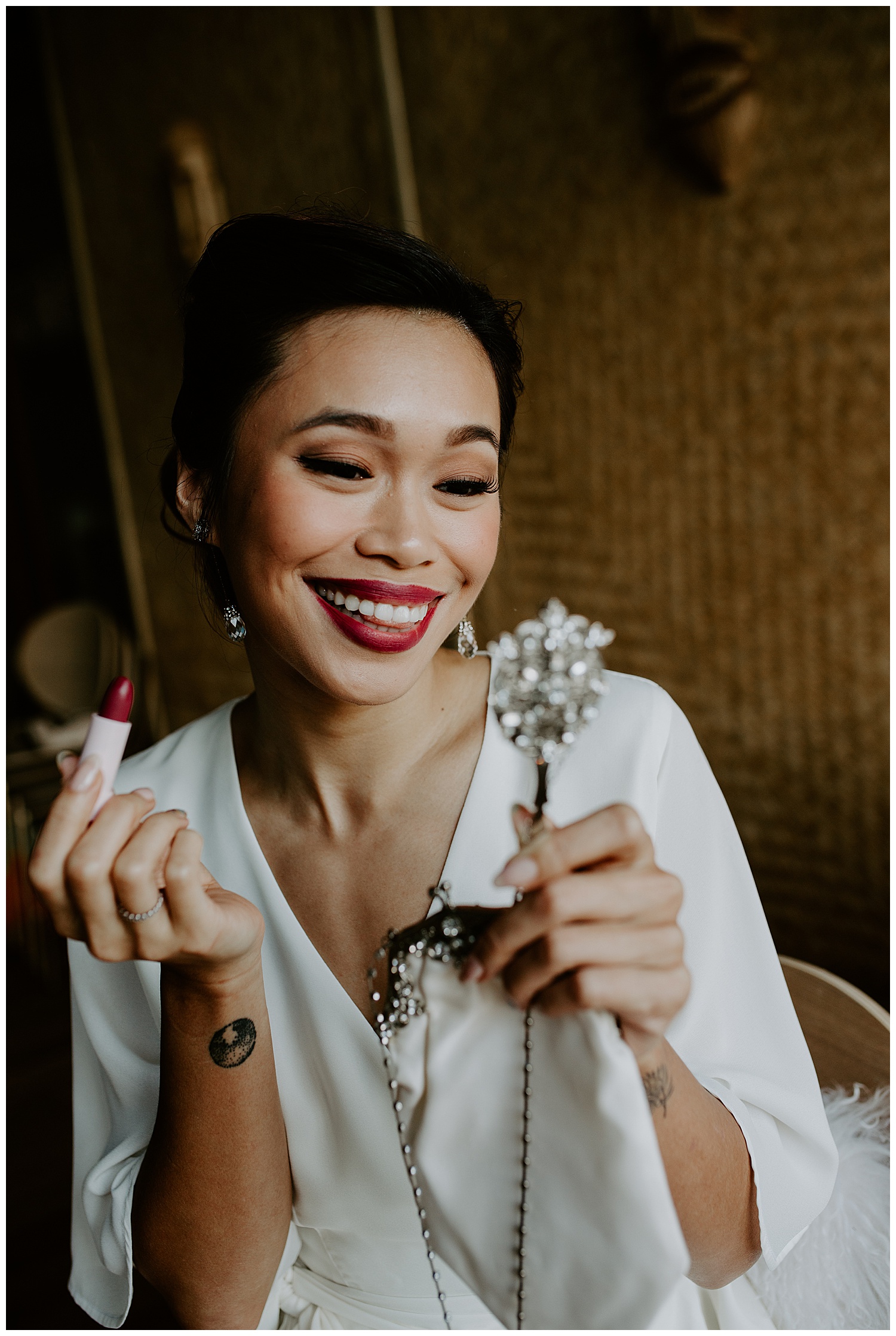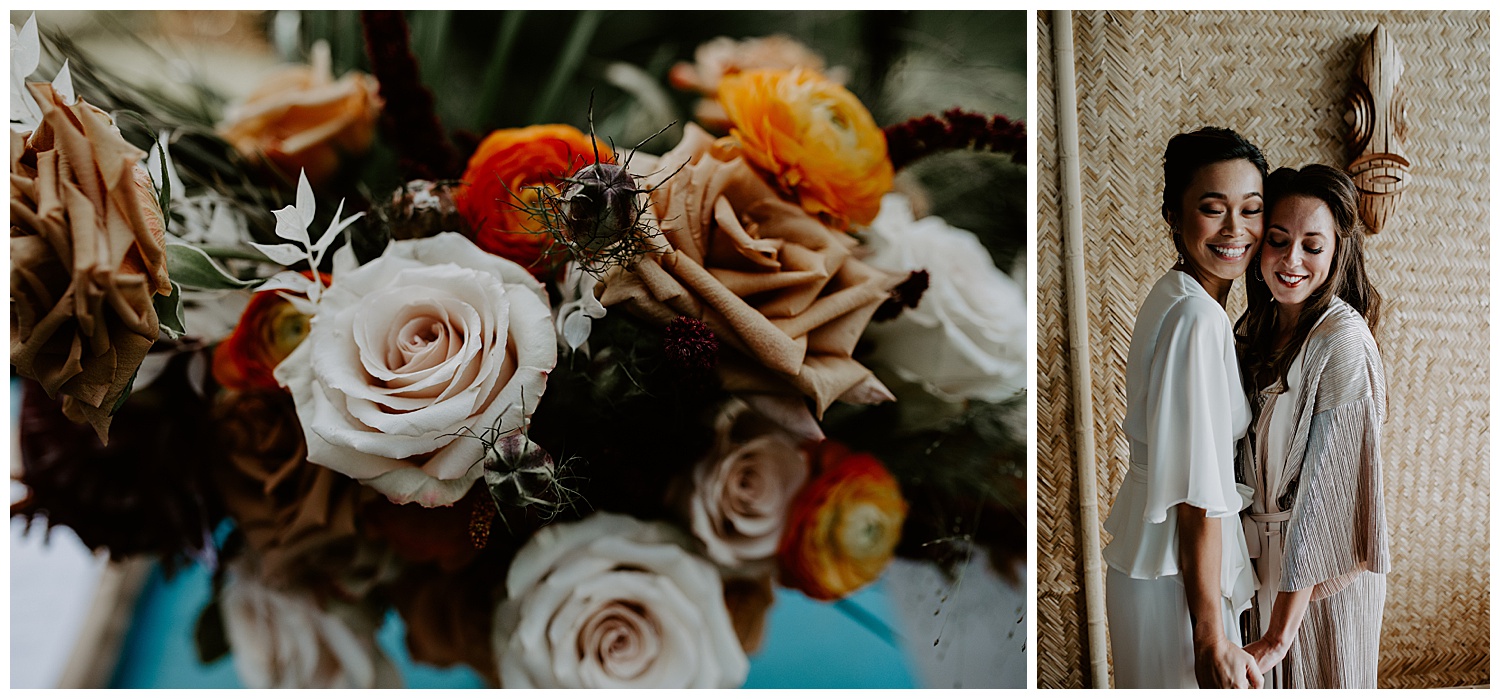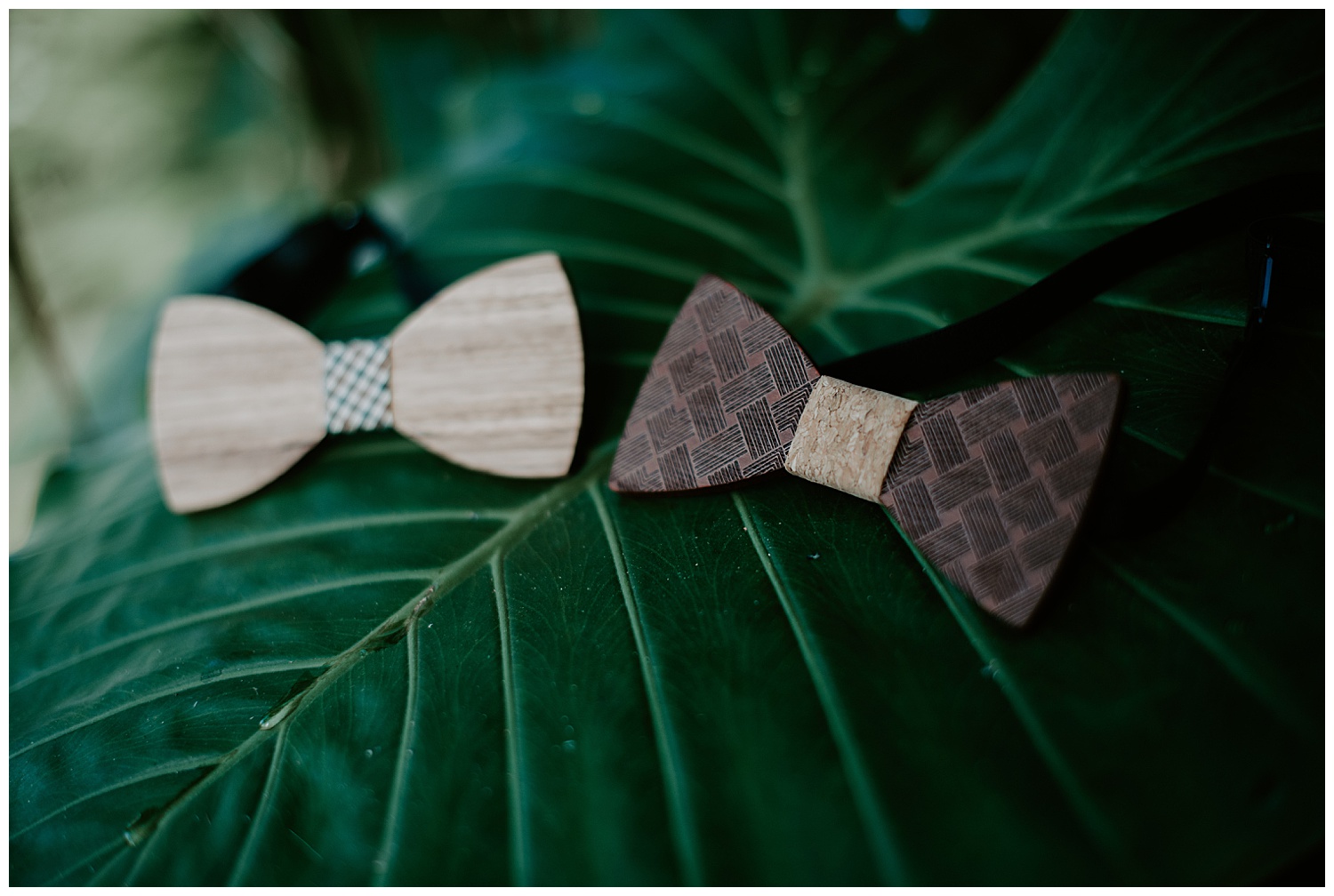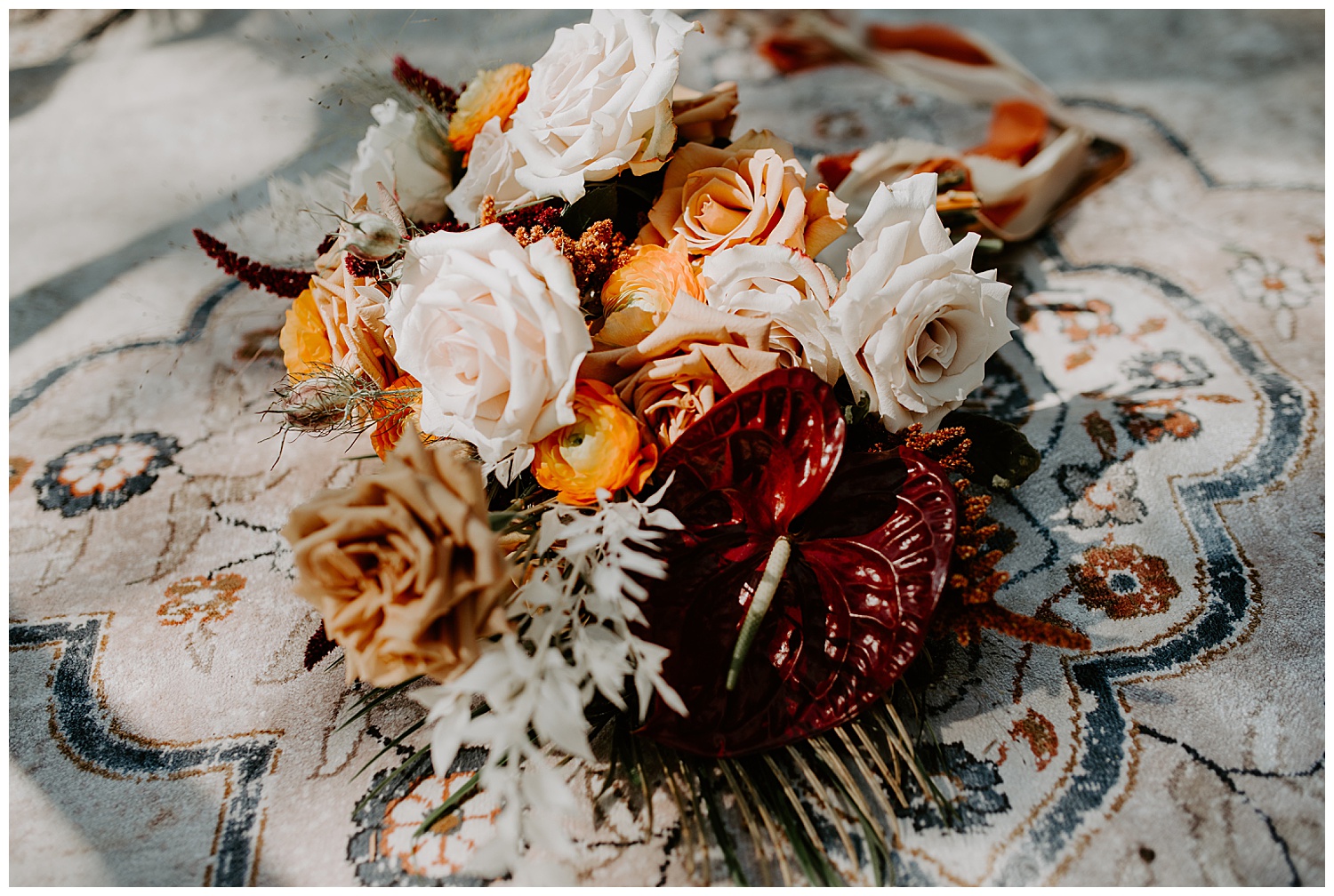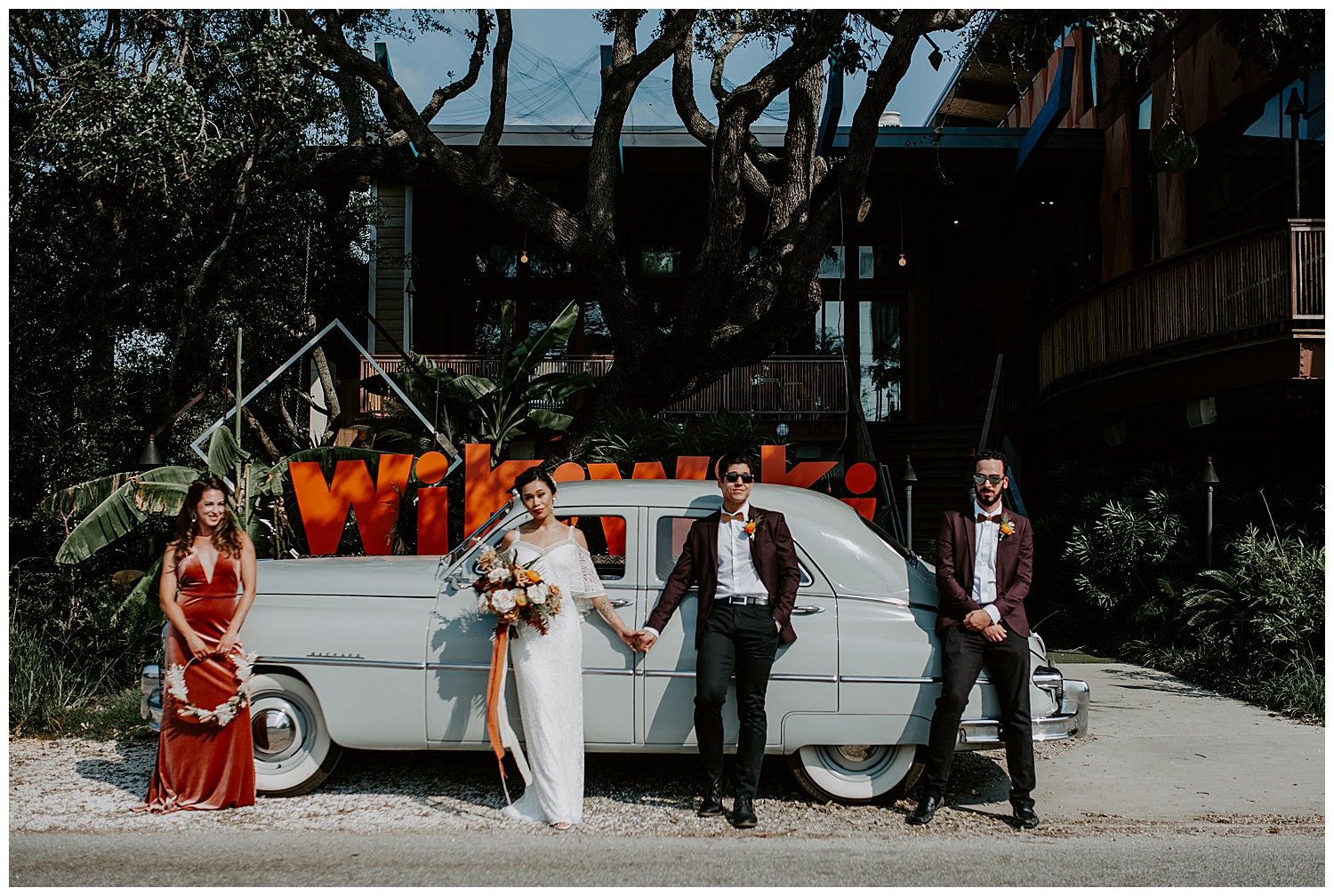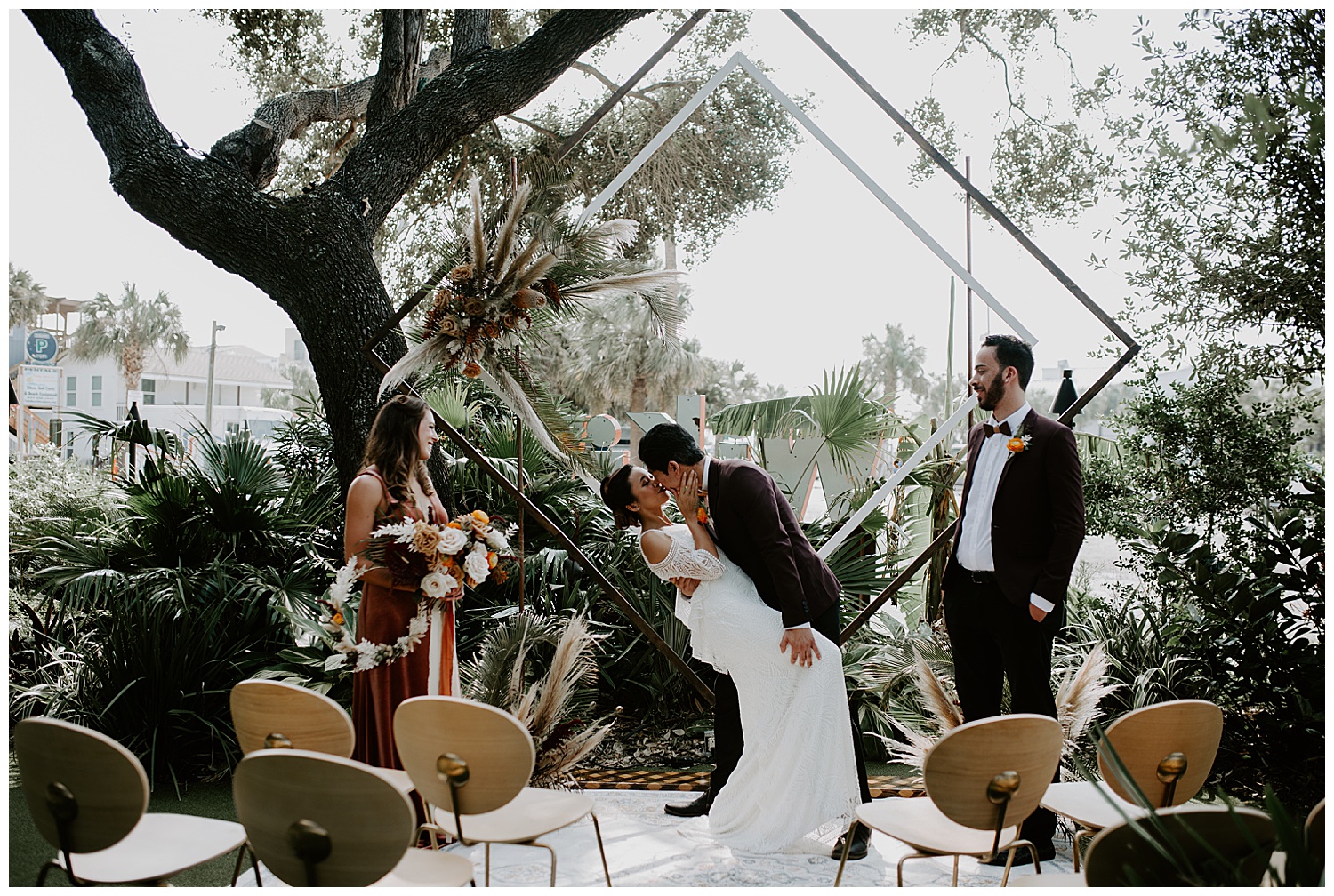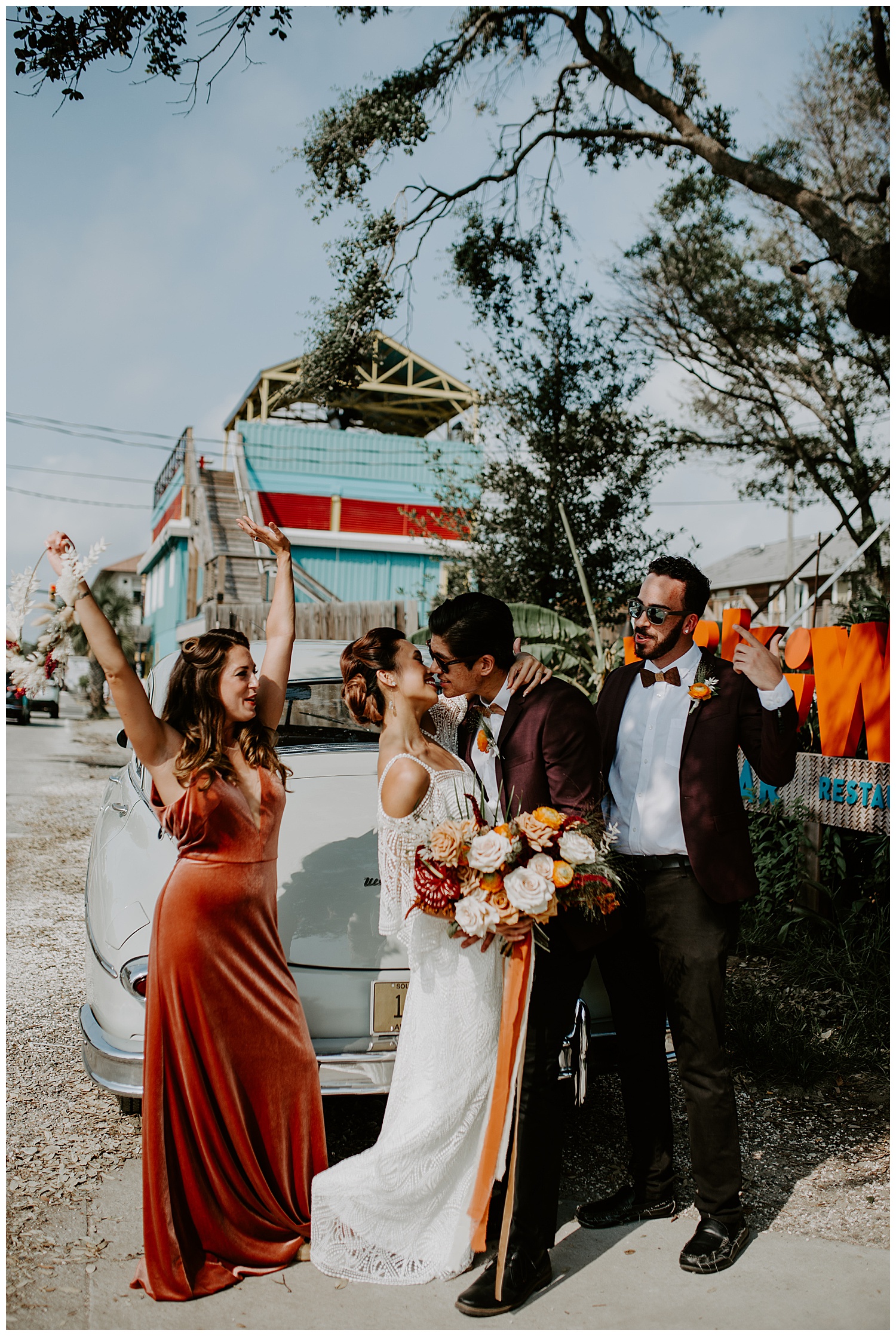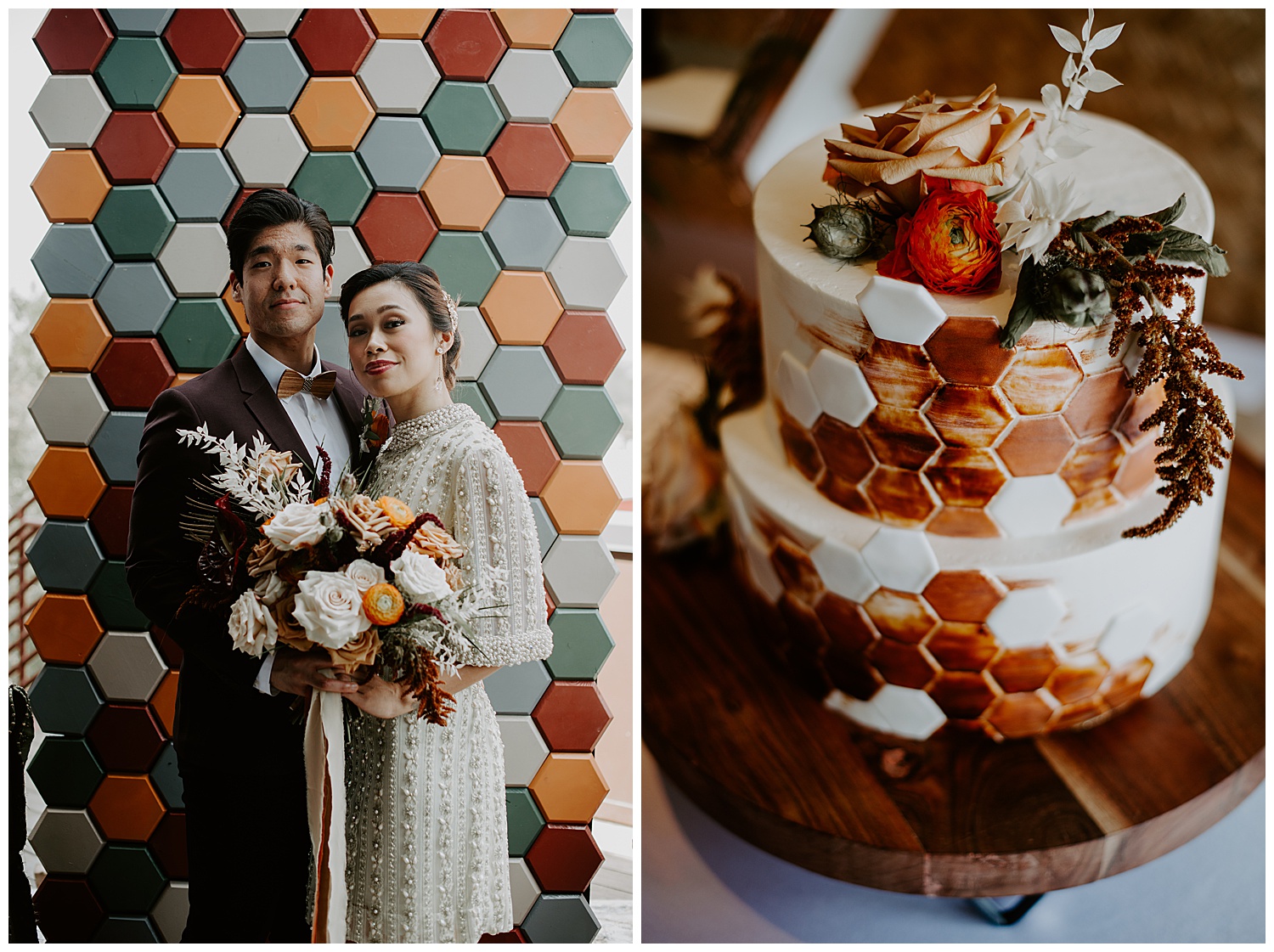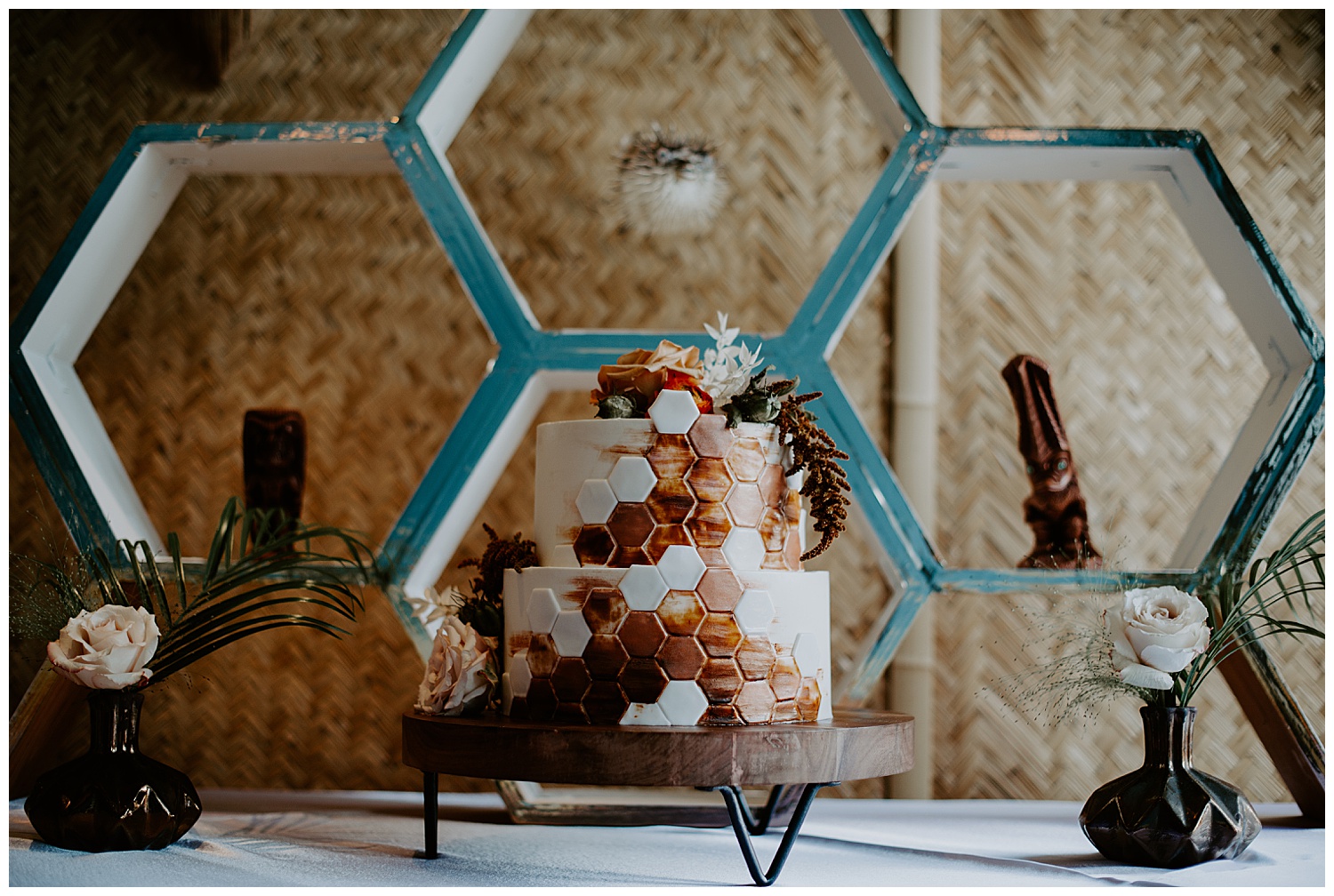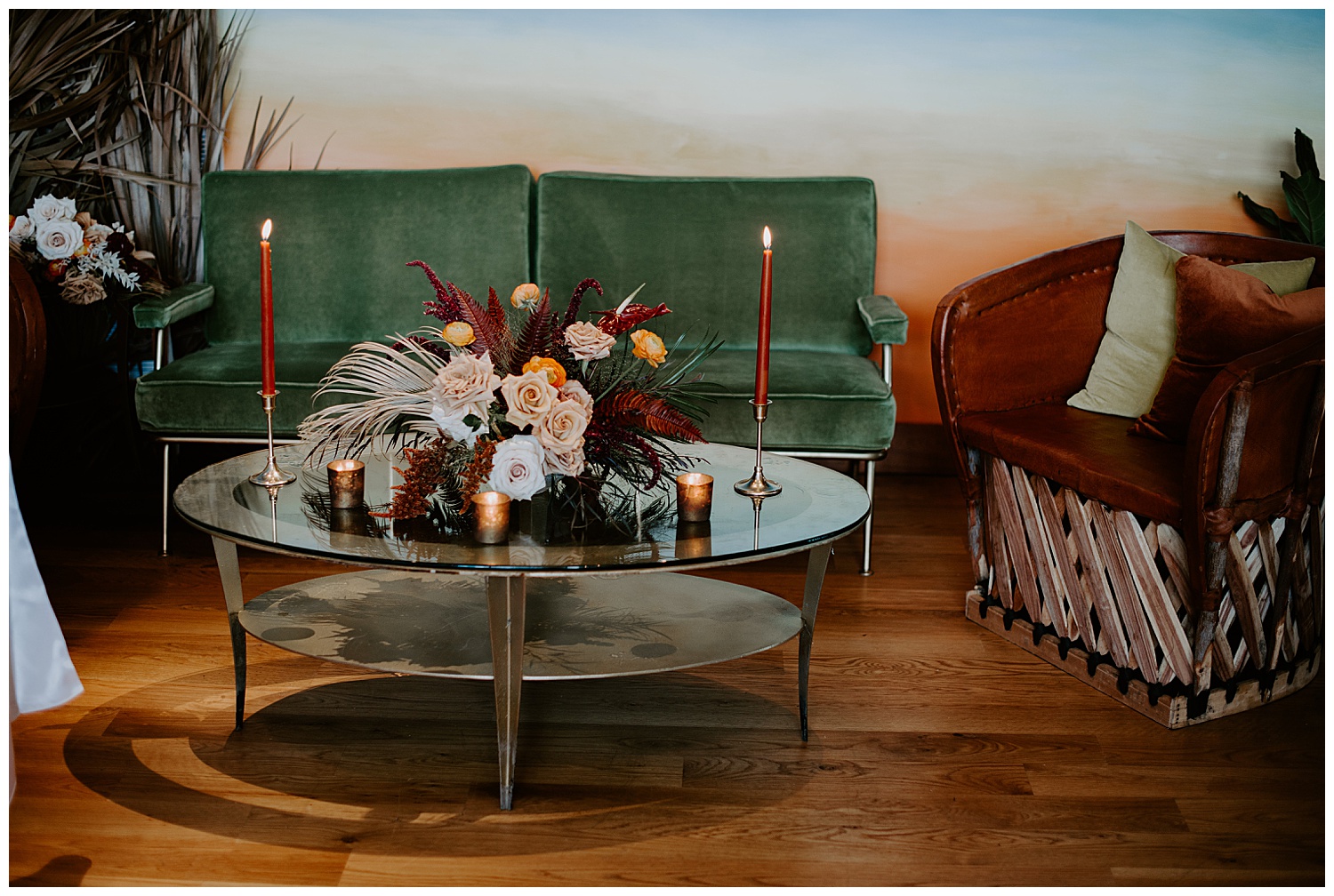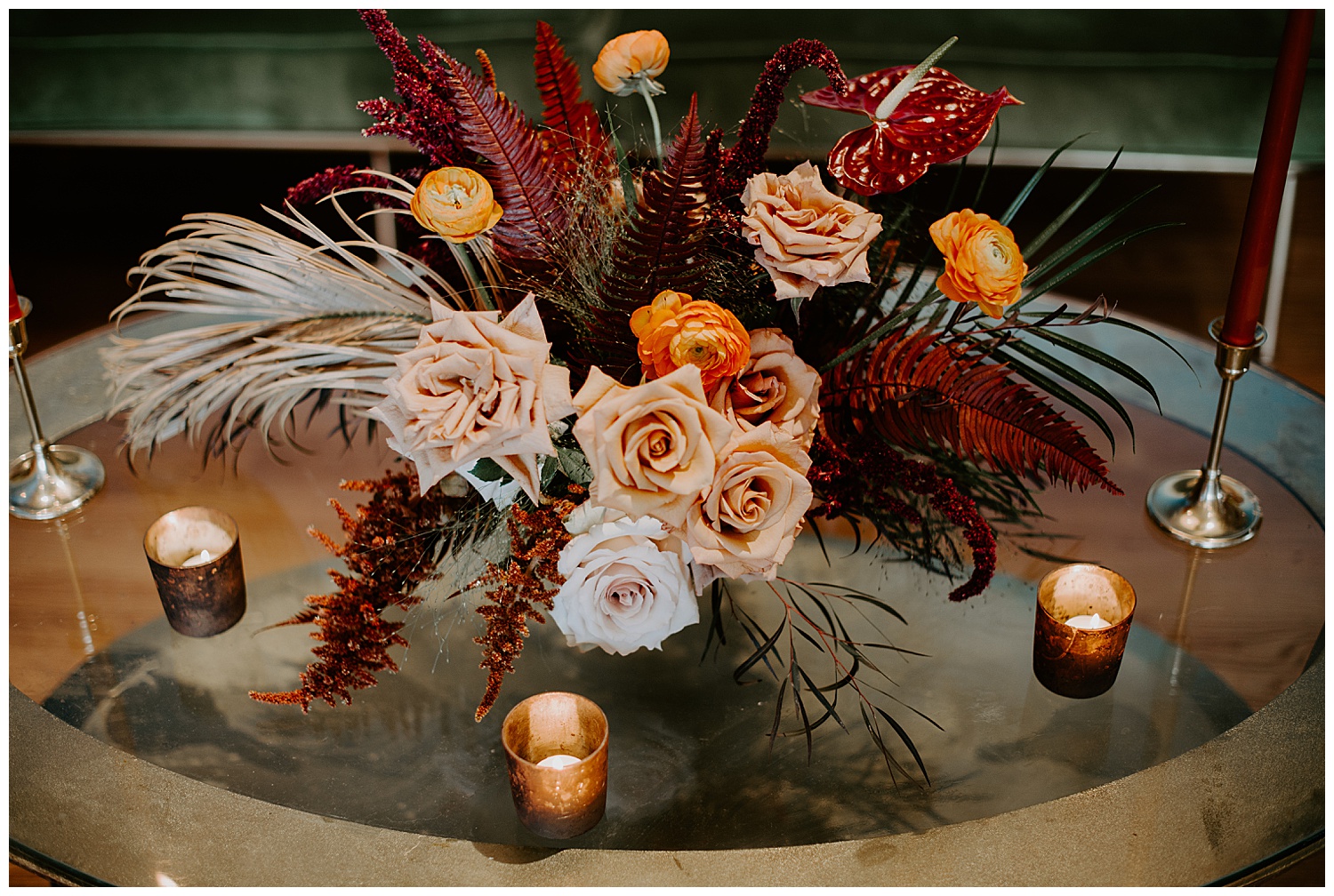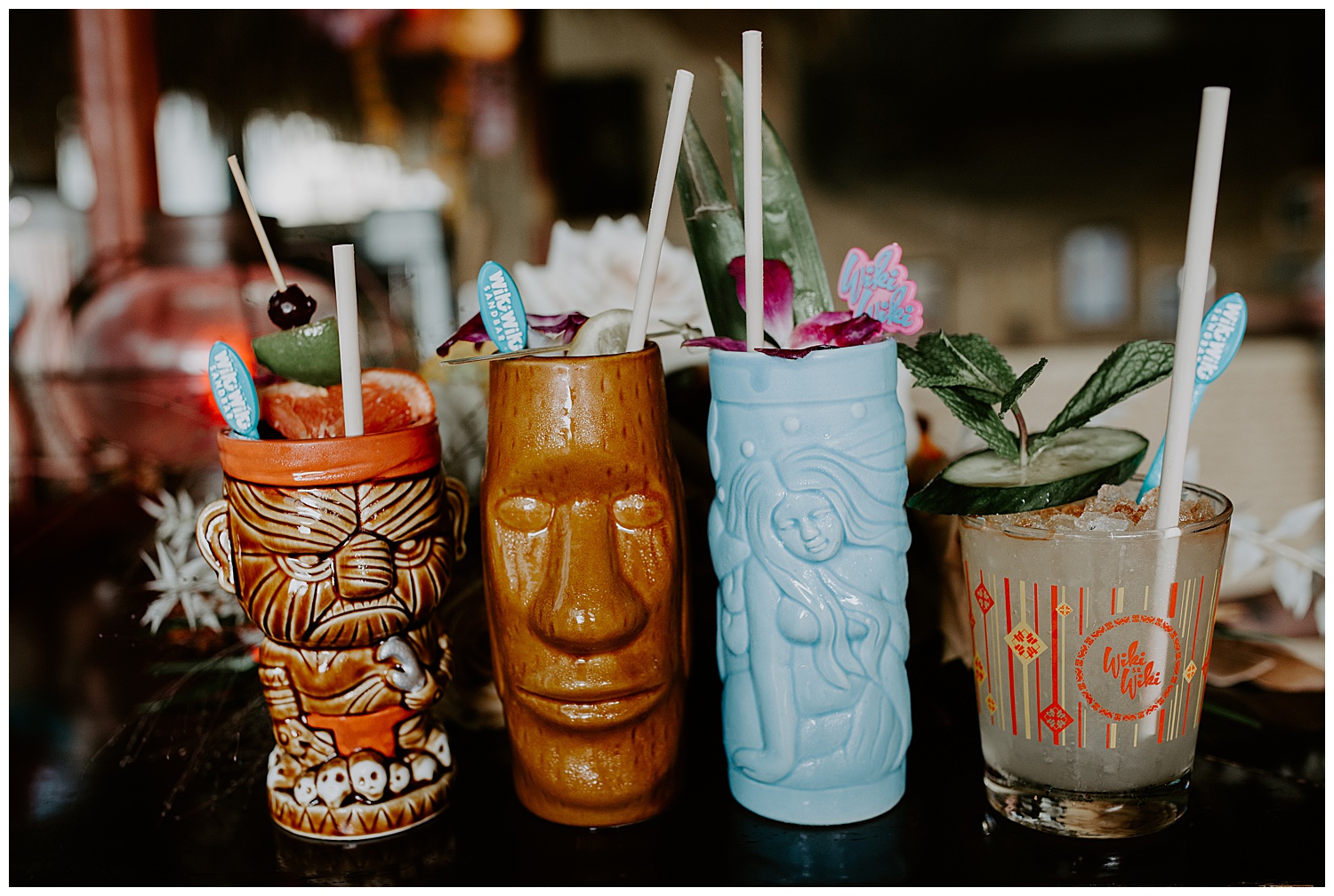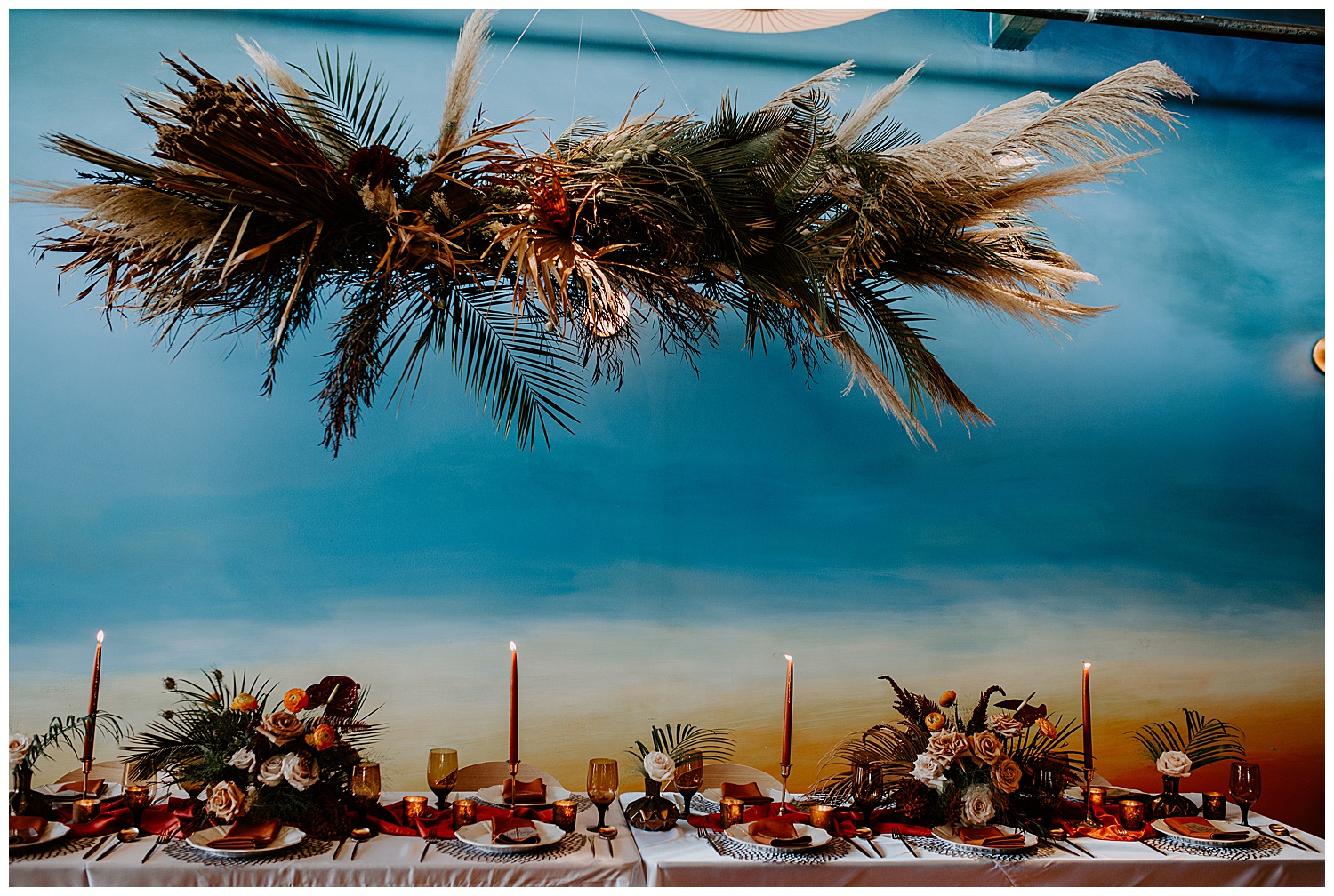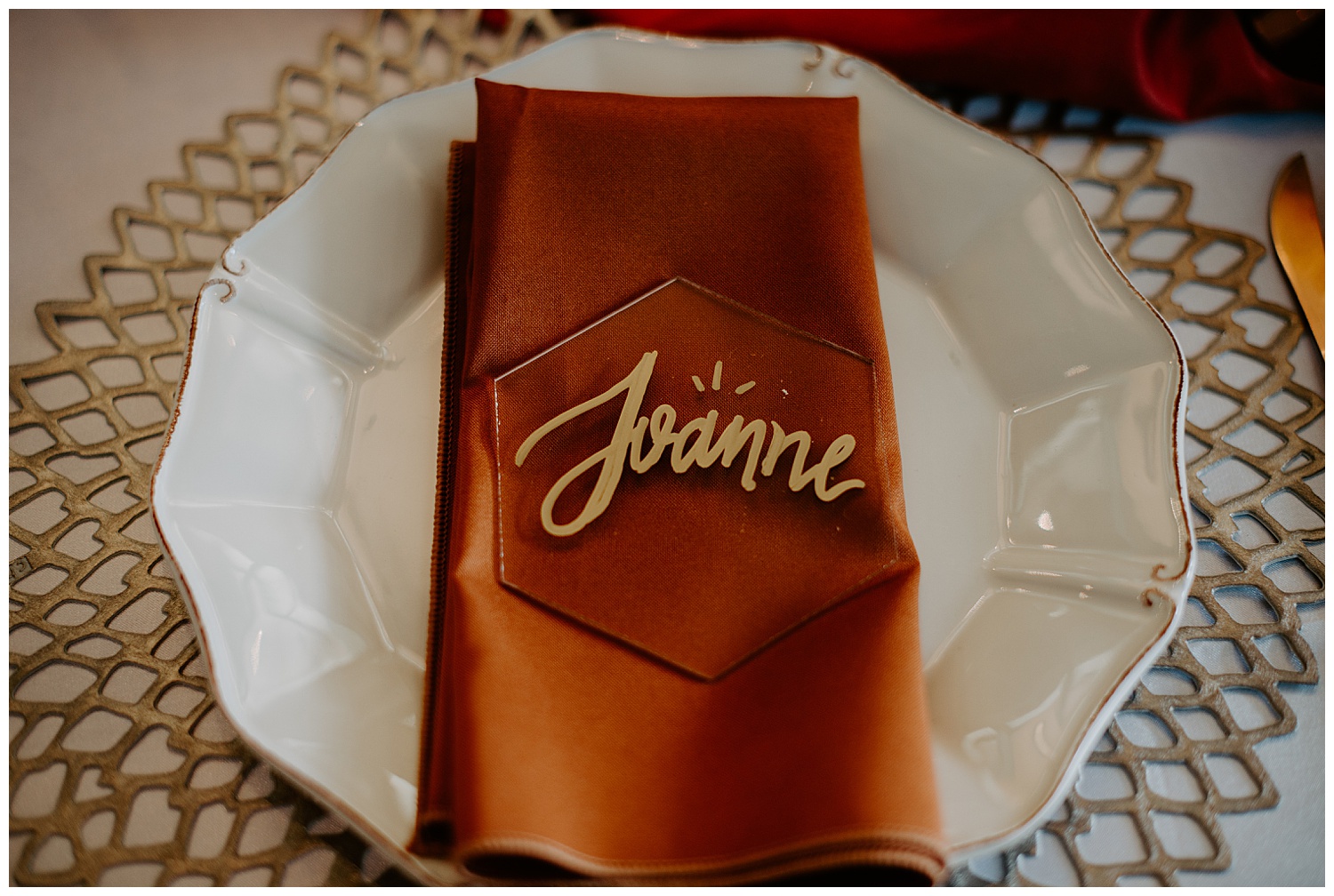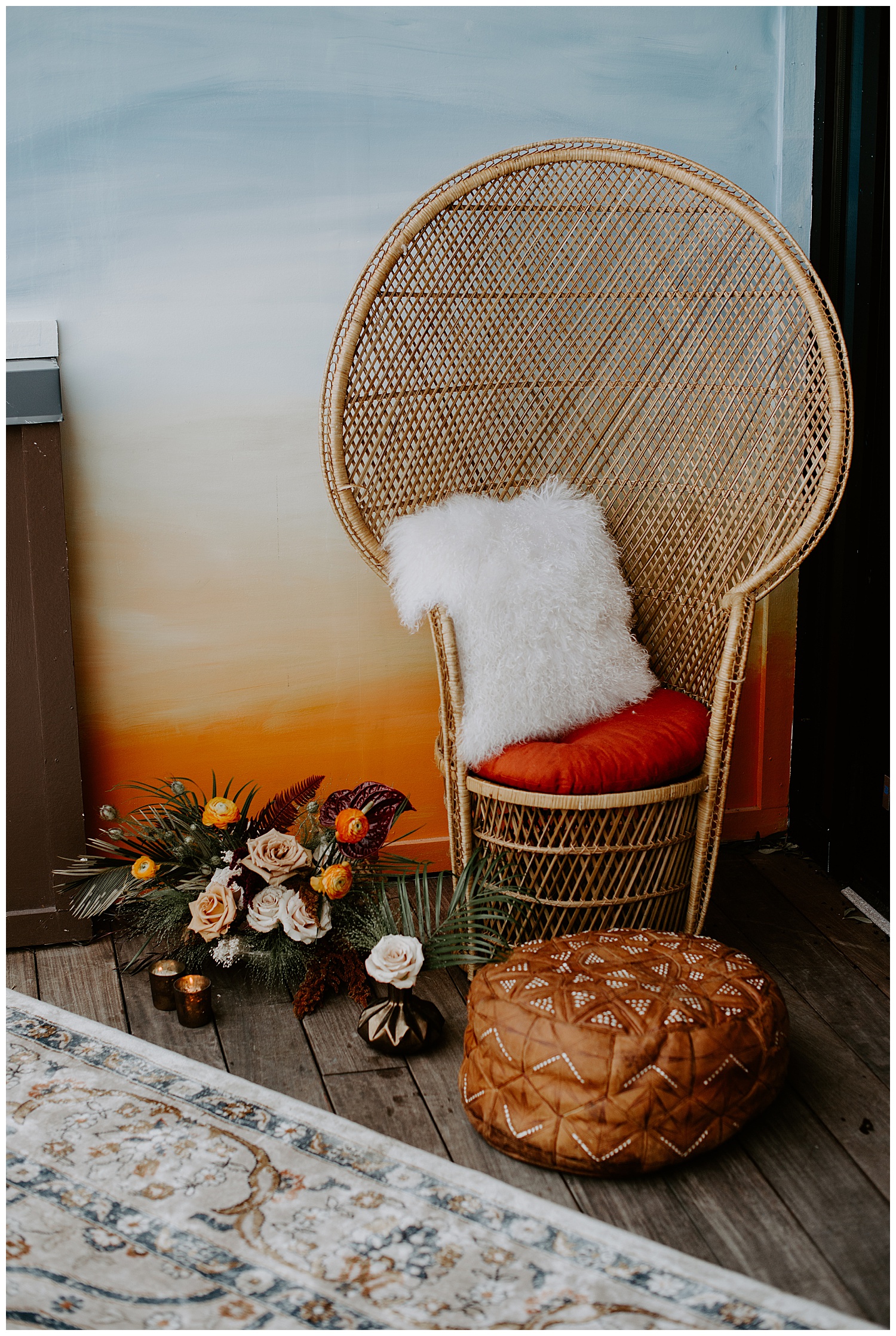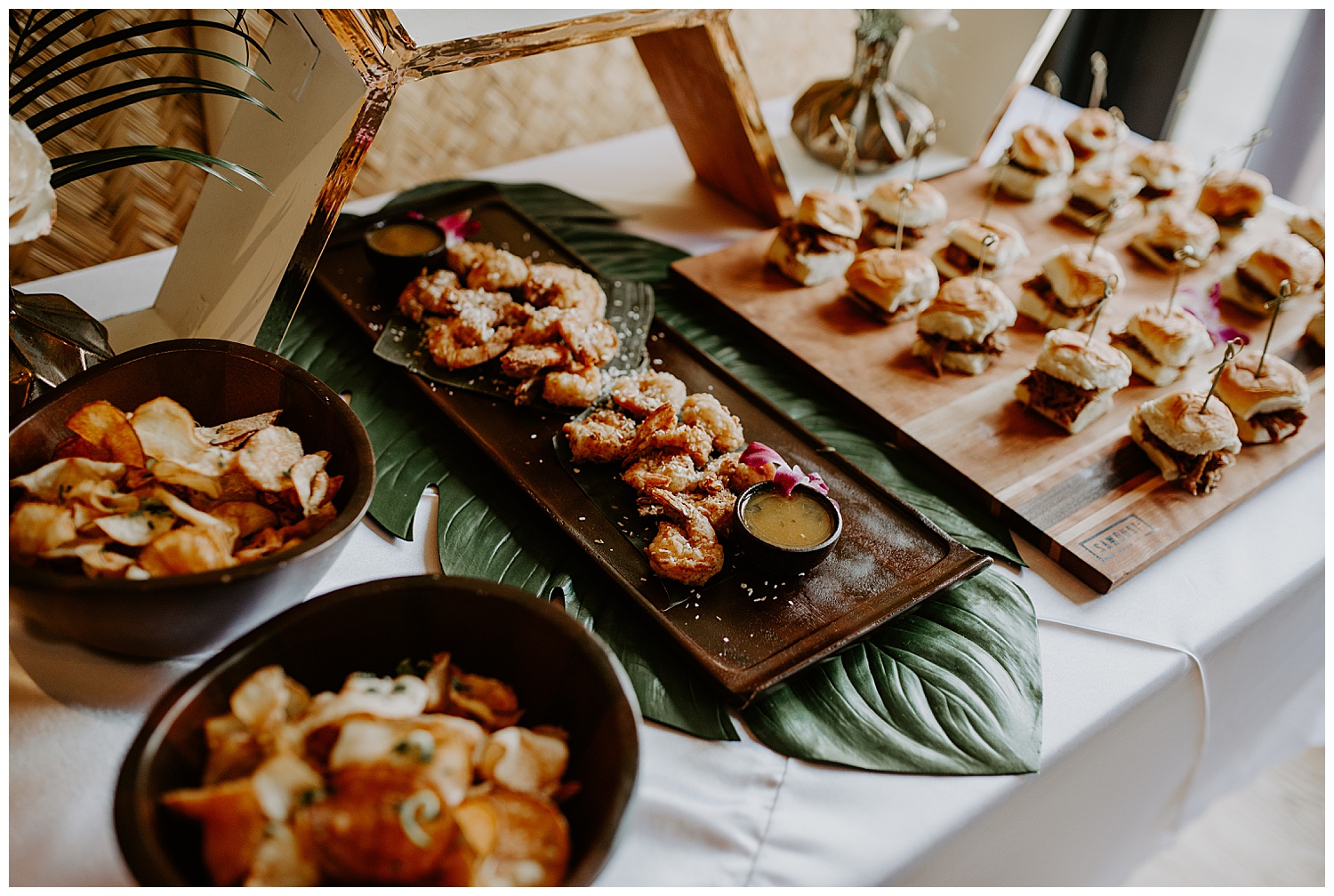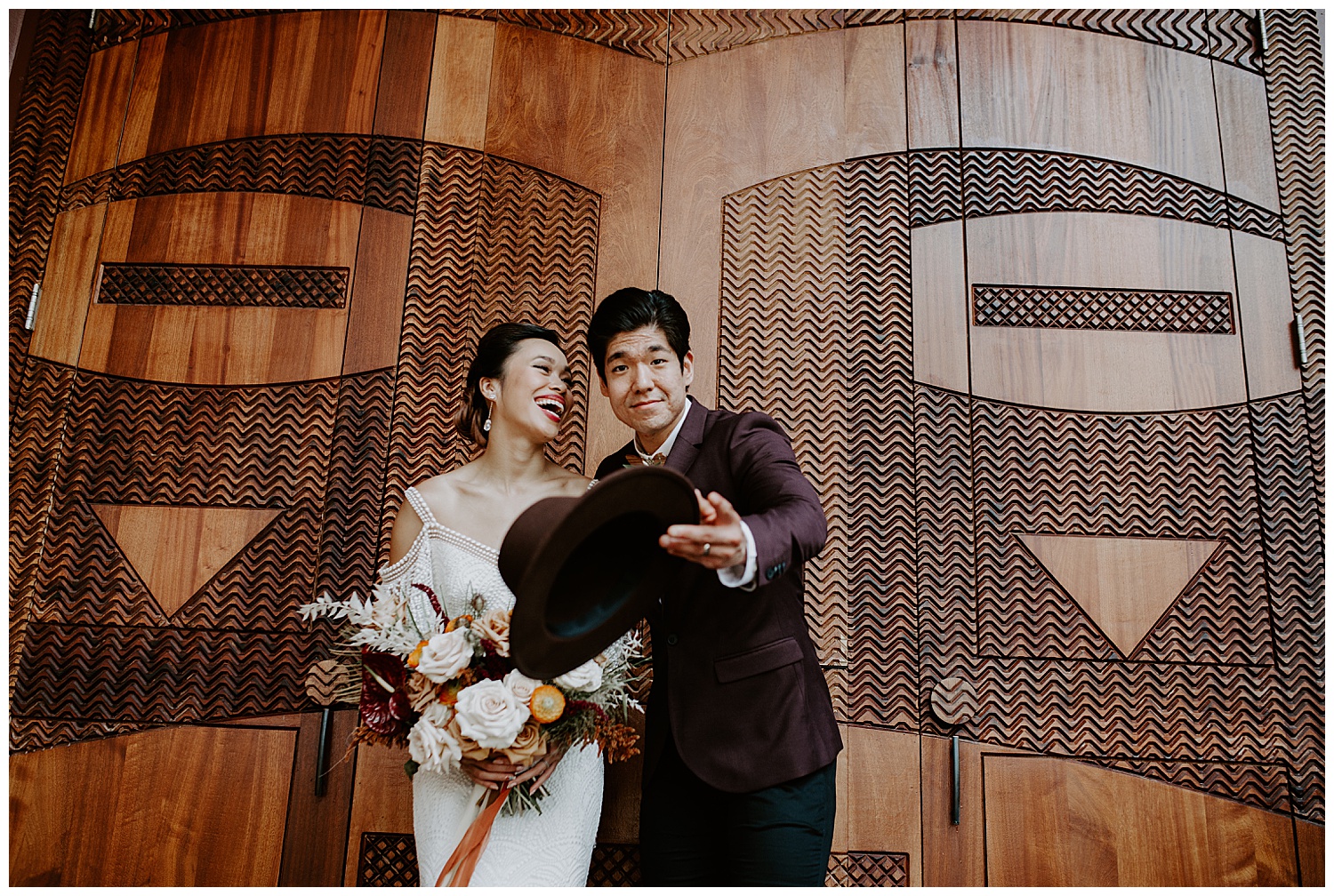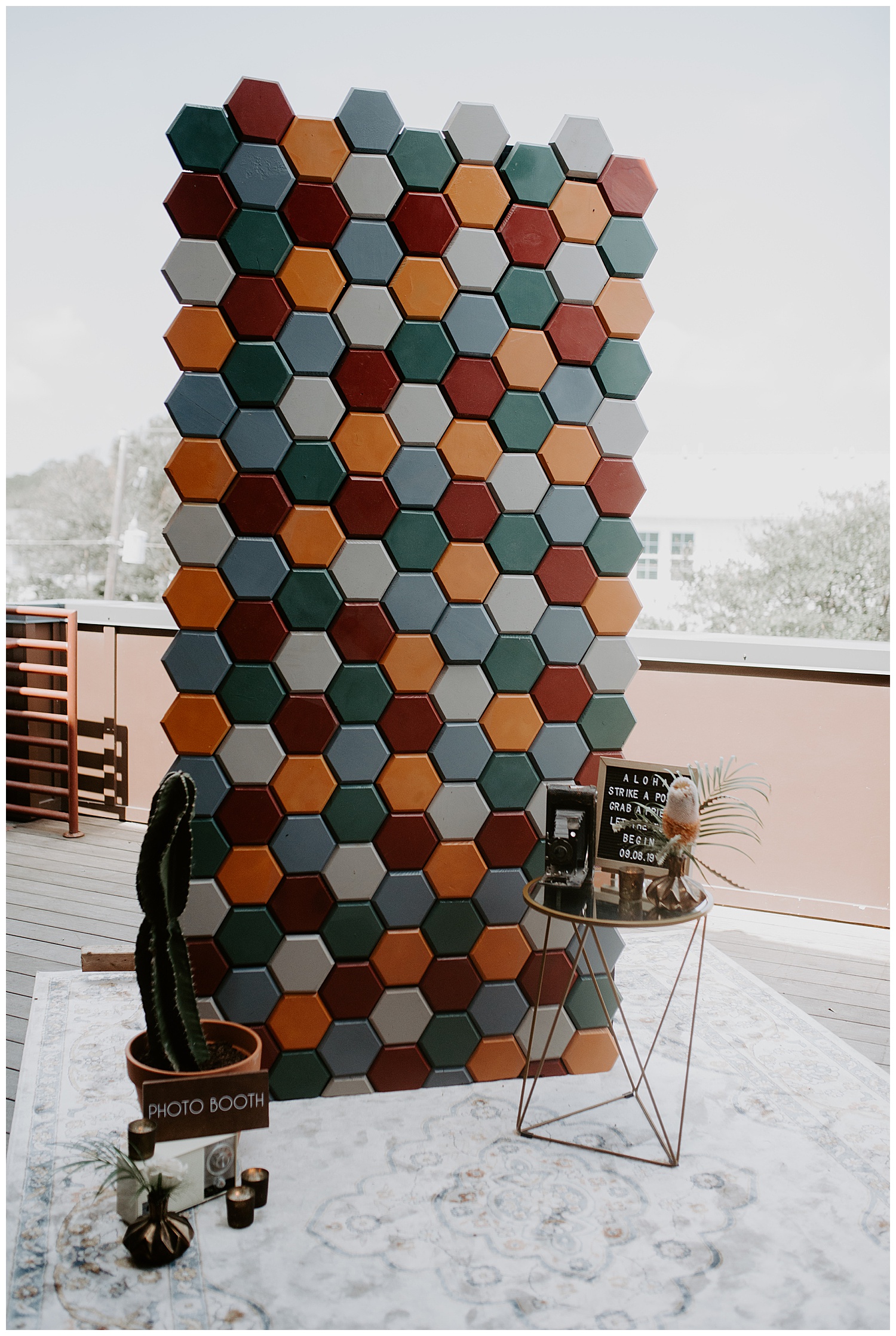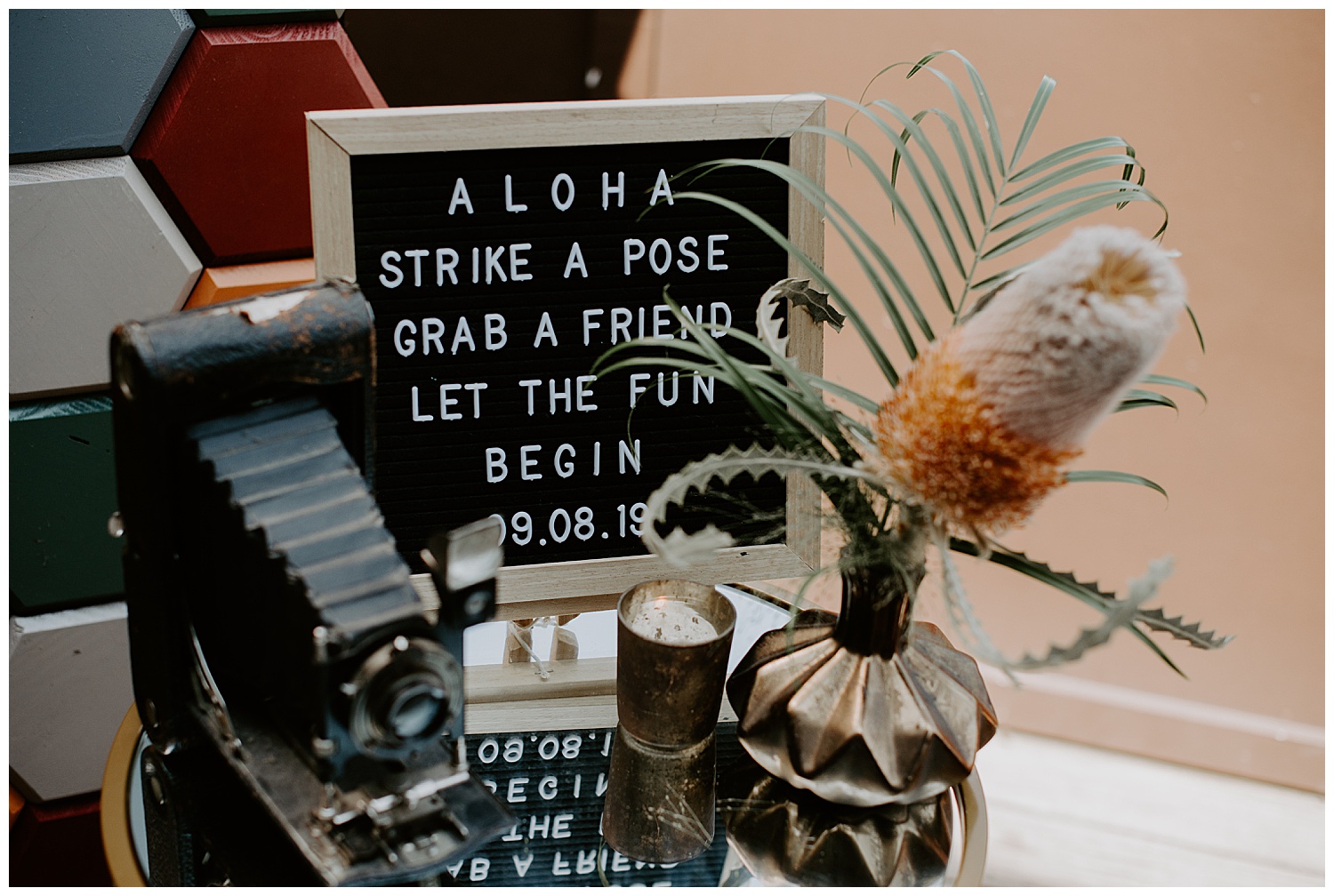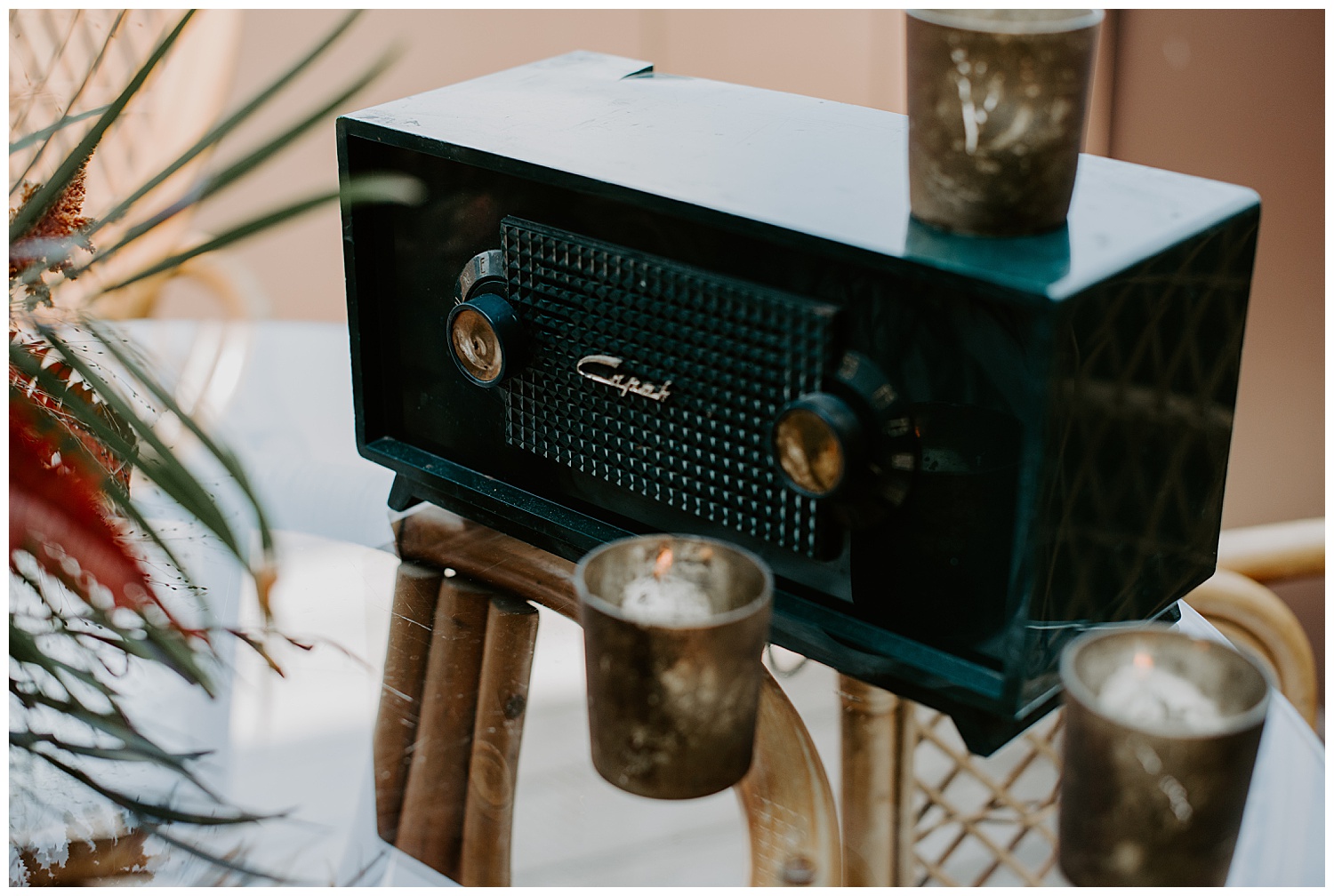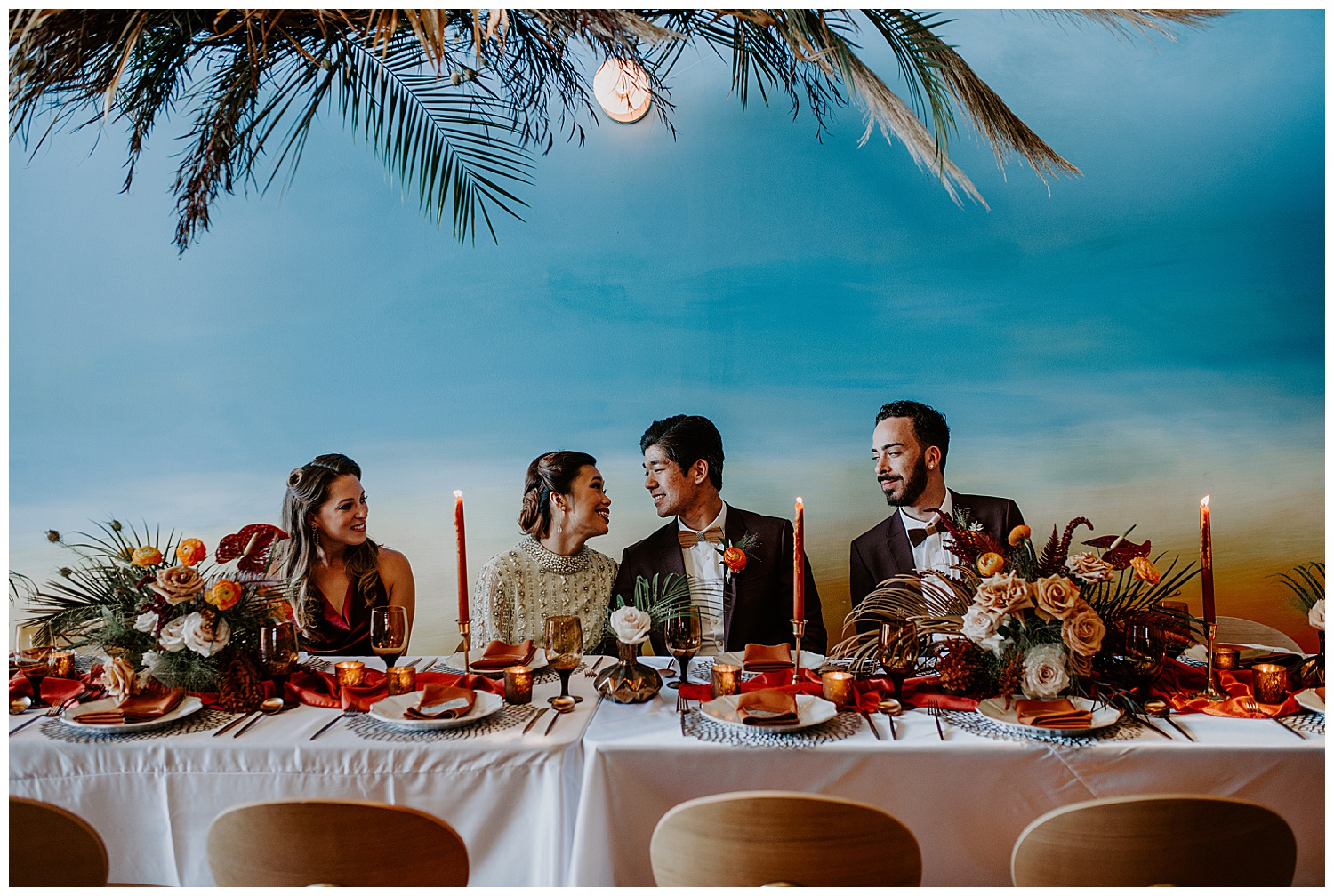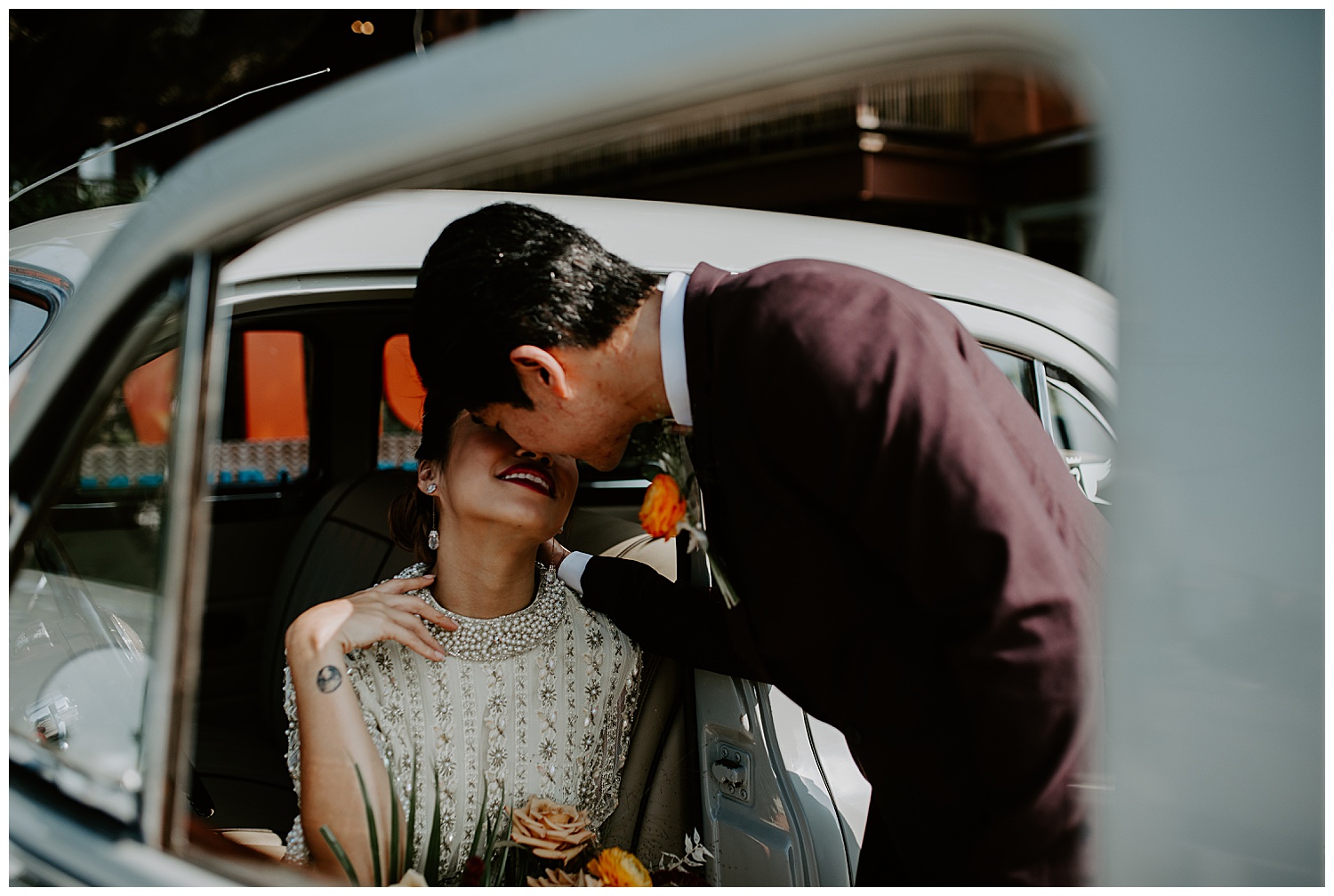 Wedding Design: Sawdust and Sweetgrass Rentals | Florals: Charleston Flower Girl | Photography: N. Mickle Photography | Venue + Bar + Catering: Wiki Wiki Sandbar | Rentals: Adorn Charleston + Sawdust and Sweetgrass Rentals | Linens: EventHaus Rentals | Cake: The Cake Stand | Graphics + Signage: cu bo llc | Bride's Attire: ModelBride + DNa Lab | Bridesmaids' Attire: Bella Bridesmaids | Beauty: DNa Lab | Men's Attire: FE Design Studio | Getaway Car: Lowcountry Valet & Shuttle Co.