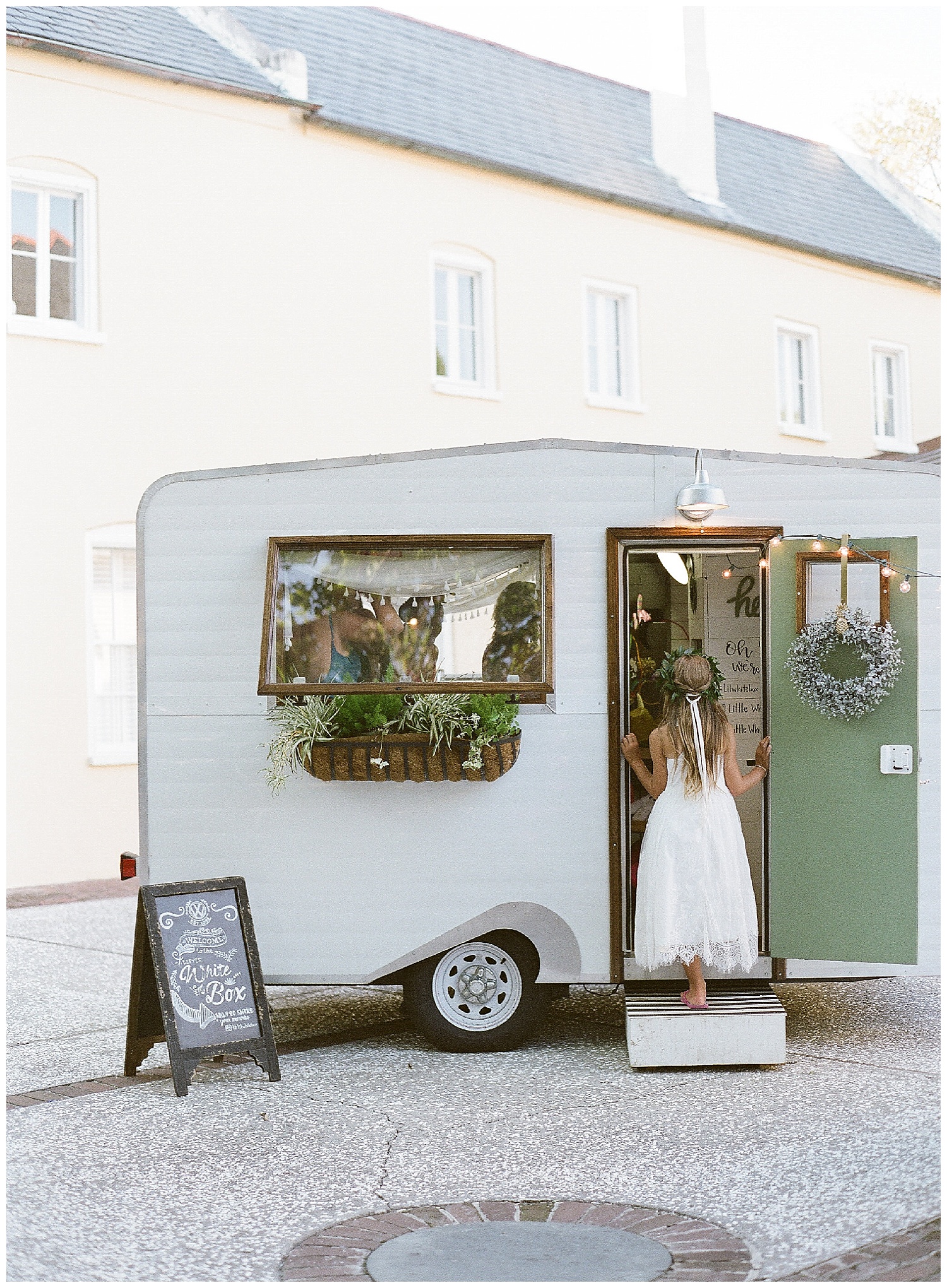 22 Jun

Kristin & John | The William Aiken House

The Wedding Row: How did you two meet?
Kristin Huetter: John was the manager of a cocktail lounge in Midtown Manhattan and I was a middle school teacher and a bartender part-time. My first shift at my new bartending job happened to be John's last day managing before taking a few weeks off. As the lounge was closing that night, a coworker mentioned going to a nearby bar for an after work cocktail. Right away, I said I wasn't able to make it, but according to John, based off the chemistry he sensed with me throughout the night, he knew there was some doubt behind my words. (I vehemently deny this.) Before turning off the lights and locking the doors, John walked me to the front entrance to say goodbye. He asked me again if I planned on going out, in which I hesitantly said no. With it being his last night, he knew that if he hurried, he could "accidentally" run into me on the street. But just in case his timing was off, with one of the more aggressive and borderline creepy moves, John dug through the filing cabinet of employee paperwork and grabbed my number off of my resume. Thankfully he did, because he never did see me later that night. Over the next couple of days and a handful of text messages, John asked me out on our first date–front row at "Saturday Night Live"–and that sealed the deal.

TWR: John must have known you were the one right away Kristin–he was so adamant on spending time with you. How did he propose?
KH: We took our first "real" vacation together in February 2016 to celebrate my 30th birthday in St. Lucia. John booked a private dinner on the beach and convinced me that along with the dinner, the resort offered a photographer to take a few pictures of the romantic dinner. So prior to the dinner, John snuck off to meet with the photographer to go over the plan. And about an hour or so later, walking on the beach to the dinner, the photographer said "this looks like a great place for a picture" and with that, John dropped to a knee and proposed. (I said yes.)

TWR: What things were most important elements to have at your wedding?
KH: Live band, plenty of dancing, and a good open bar. Ideally, since everyone was traveling to the wedding, we wanted to make sure it was plenty of fun. We always thought that a formal sit down dinner with long speeches and introductions kills the vibe and energy of the celebrations. So we opted for the "no assigned seating, eat when you want to eat, dance when you want to dance" type of event. All of our friends and family in attendance, the majority of them from New York City, thought it was a great idea.

TWR: What was your first dance to? The pictures looked like you had such a great time.
KH: Our first dance was to James Arthur's hit "Say You Won't Let Go." One of our friends is a semi-professional ballroom dancer, so for a few weeks leading up to the wedding, she was giving us lessons. But last minute, we decided to have the band play it which sort of threw our rhythm off but oh well. We tried and it was fun. Nailed the dip and kiss though so that's all that matters!

TWR: We are in LOVE with the welcome bags you created. Can you tell us what was included in them? Were there any other personalized creations for your guests?
KH: We wanted to really go all out for our guests since everyone made a huge sacrifice (flights, hotels, AirBnB's, leaving their kids for the first time, etc.) in order to celebrate our wedding with us. John's father works in the embroidery/promotional business so he was really able to hook us up with a lot of the items. I designed the welcome bag and John's dad was able to digitize a drawing onto the bag. In regards to the items…
Tin of cookies that was personalized with a picture of us

A "Hangovers only last a day, Memories last forever" recover bag that had all of the essentials needed for the following morning

Foldable sunglasses imprinted with Charleston, South Carolina on the side

Small phone charger (called a Juicebox) with a Charleston design on it

Aloe Vera bag with sunscreen, lotion, chapstick, etc.
At the wedding, we had matches for our cigar bar with "One Hot Match" printed on each box. The coolest item was motorized handheld fans during the ceremony that lit up with three different phrases: "Our Love is Hot", "MeesToMrs", and "MeesSoHuetter."
TWR: Umm, do we spy milk and cookies? And cotton candy? Was this a late night treat?
KH: John was too busy at the bar and on the dance floor but I have a sweet tooth and so sweets were a must! Cotton candy has been my favorite since I was a little girl and with flavors like sweet tea or lavender, the stand at Pure Fluff Co. was a no brainer.
TWR: Tell us about your sweet puppers. Did they play a role in the wedding?KH: Winnie and Rudy! Winnie is a 10-year-old black Pomeranian. She's very sassy and loves to be pet and has no problem barking at bigger dogs. Rudy is an 11-year-old white long haired Chihuahua. He's just a tad overweight but is the sweetest little guy who loves to cuddle and eat treats. This was a non-negotiable for any wedding venue we looked at. They are such an important part of our lives that it was only right that they're there to celebrate as well.
Planner: Haley Kelly with A Charleston Bride | Venue and Caterer: William Aiken House | Officiant: Jason Bell (friend) | Ceremony and Cocktail Hour Musicians: One Kool Blow | Photographer: Anne Rhett | Videographer: Paragon Filmworks | Equipment Rentals: Snyder Events and Ooh! Events | Lighting: AV Connections | Draping: Pure Luxe Bride | Entertainment: Steeltoe Stilletos | Cotton Candy: Pure Fluff Co. | Hair and Makeup: Ash + Co | Day of Signage: J.Lily Design