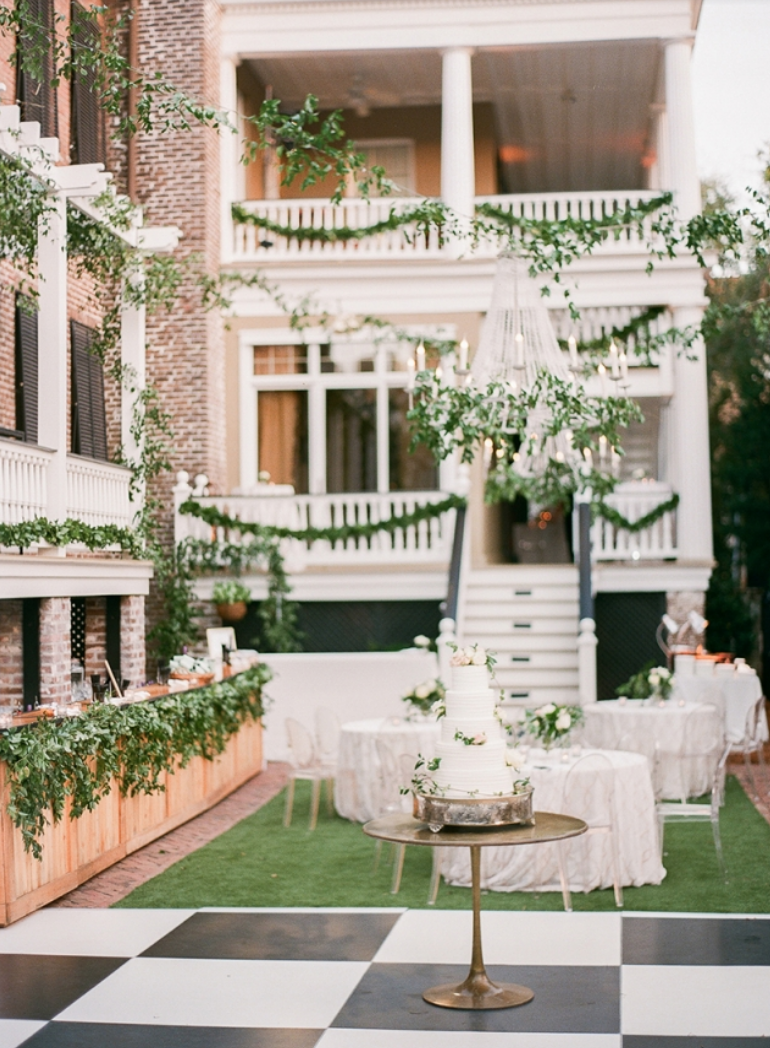 11 Sep

Our Fab Five Faves From Summer 2018

Hot times calls for haute trends. From custom newlywed crests to one cutie of a bar-on-wheels, here are our top five takeaways from the current issue of Charleston Weddings magazine. Click here to see where to snag your copy.

TREND: Wedding Crests
Whimsical watercolors, floral adornments, and animals domestic and wild are all a part of the trend that's giving the beloved monogram a run for first place in brides' hearts.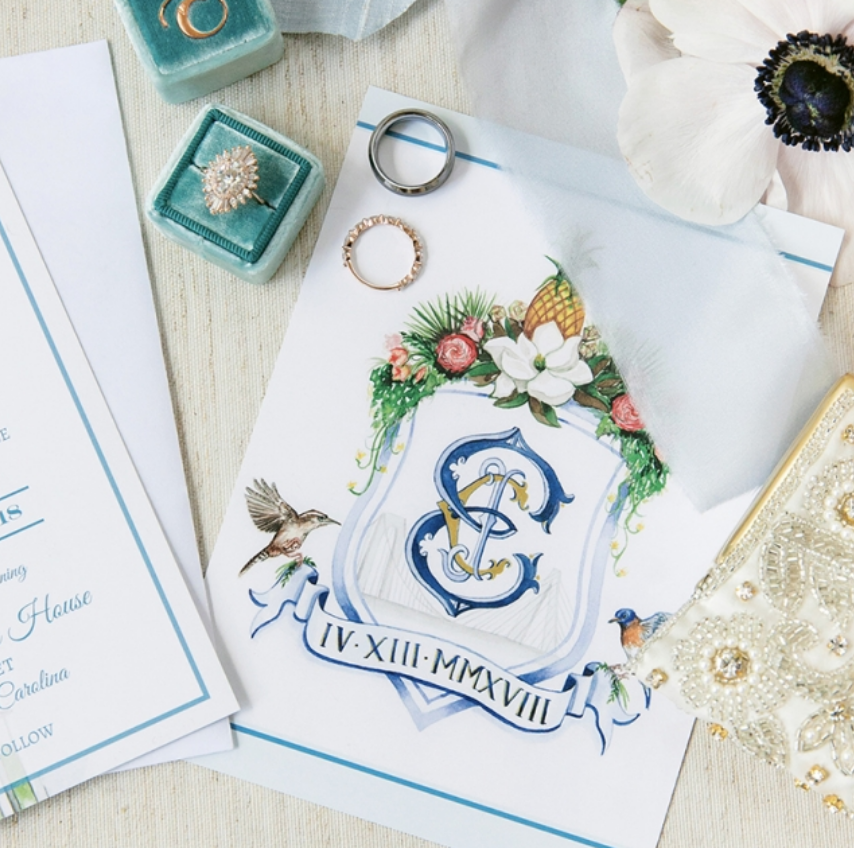 One of our featured favorites? This one from bride Caitlin Smith designed her own crest that intertwined Holy City elements with those of the couple's home,New York City, a la indigenous birds, famous bridges from each locale, and Charleston's welcome icon, the pineapple.
Couple: Caitlin and Joseph, The William Aiken House
Wedding Photography: Dana Cubbage Weddings
Venue: The William Aiken House
Planning + Coordination: Beautiful Bride Events
Floral Design: Purple Magnolia Floral Design
Stationery: The Fox and Bloom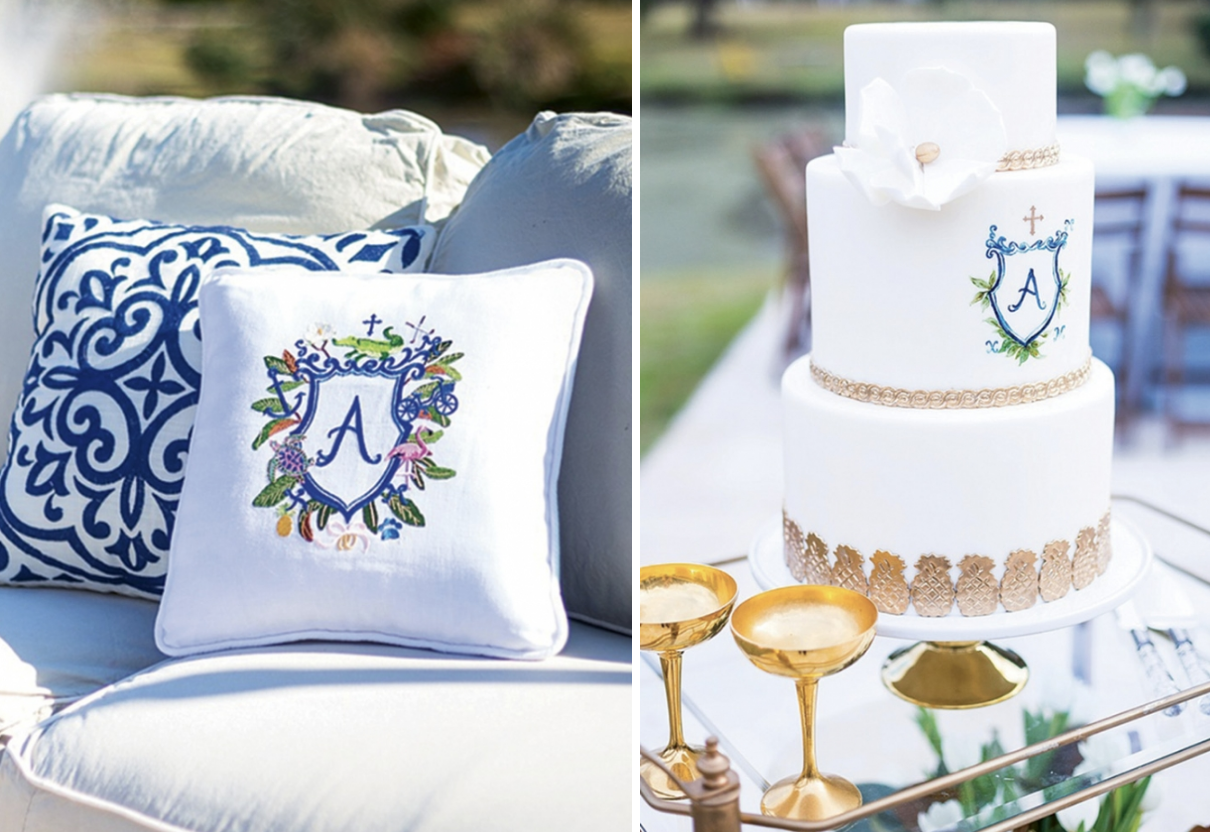 Samantha and Maxwell put their wedding crest on pillows, tablecloths, banners, and even their cake. Designed by Karli Strohschein Art, it showcases their favorite Charleston elements—sea turtles, beach bikes, and pineapples, and more—making it perfect for a Lowcountry wedding.
Couple: Samantha and Maxwell, Old Wide Awake Plantation.
Photography  Carter Fish Photography  
Planning & Design: Samantha Anderson Events
Linens: EventHaus
Stationery: SAS-E Ink
Custom Crest: Karli Strohschein Art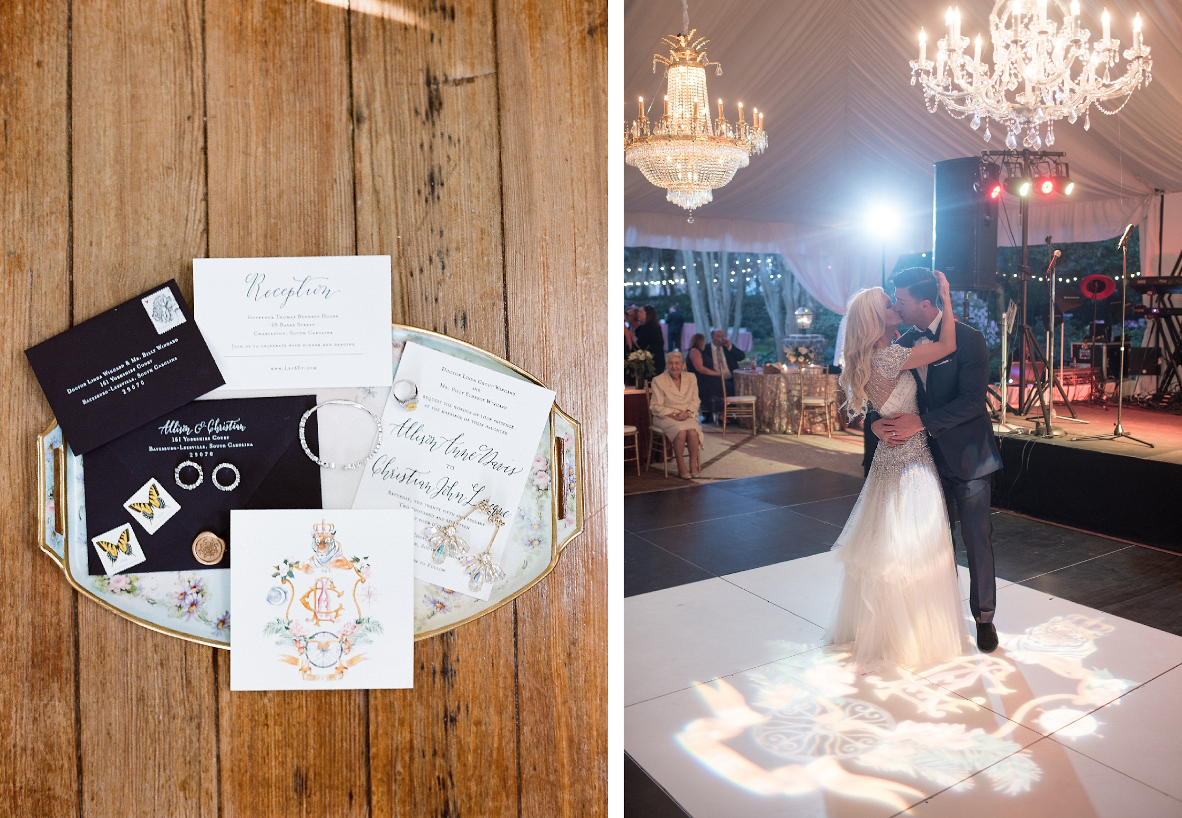 Allison and Christian's wedding crest was incorporated into their invitations, guest book, and it was even projected onto the dance floor. Today they have a painted version of it hanging in their Los Angeles home.
Couple: Allison and Christian, Governor Thomas Bennett House
Coordinator: A Charleston Bride
Photographer: Virgil Bunao
Calligraphy and Invitation Suite: Sweet Magnolia Paper
Watercolor Crest: Lemon Tree Calligraphy
TREND: Glowing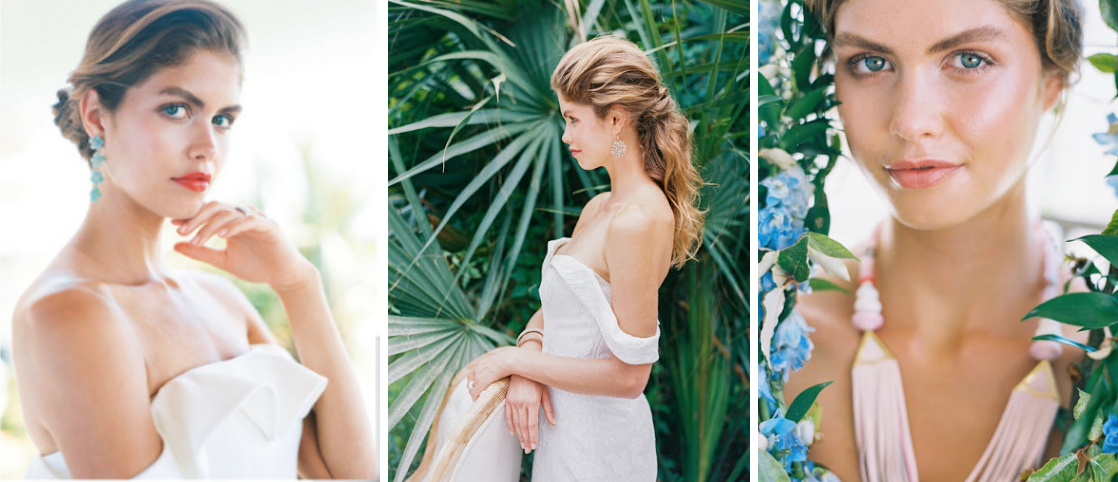 Choosing makeup for your wedding day can seem a bit overwhelming—you want to look your best, while also looking like yourself. We vote for a natural glow this season, one that highlights natural brown tones and peachy lips. Ready for a step-by-step to get model Katrina's look? Click here for that and more melt-proof advice from some of Charleston's top hair and makeup artists.
Photographs by: Perry Vaile
Hair and Makeup: Meg Ann Workman
Attire: (left) ModelBride, (middle) Rebecca Shoneveld's "Devon" from Southern Protocol Bridal
Accessories: (left) Mini Collection from Croghan's Jewel Box, (middle) earrings from Copper Penny and bracelet from Out of Hand, (right) Jahde Leather Atelier
Styling: Lindsey Nowak and Quinn Sherman
Shot on location throughout Seabrook Island
Rentals and Greenery: Ooh! Events and Out of the Garden
TREND: Green, Green, and More Green
Providing the perfect amount of lush and lavish that you're looking for, greenery has so many different textures to mellow out—or spice up—your Big Day doings.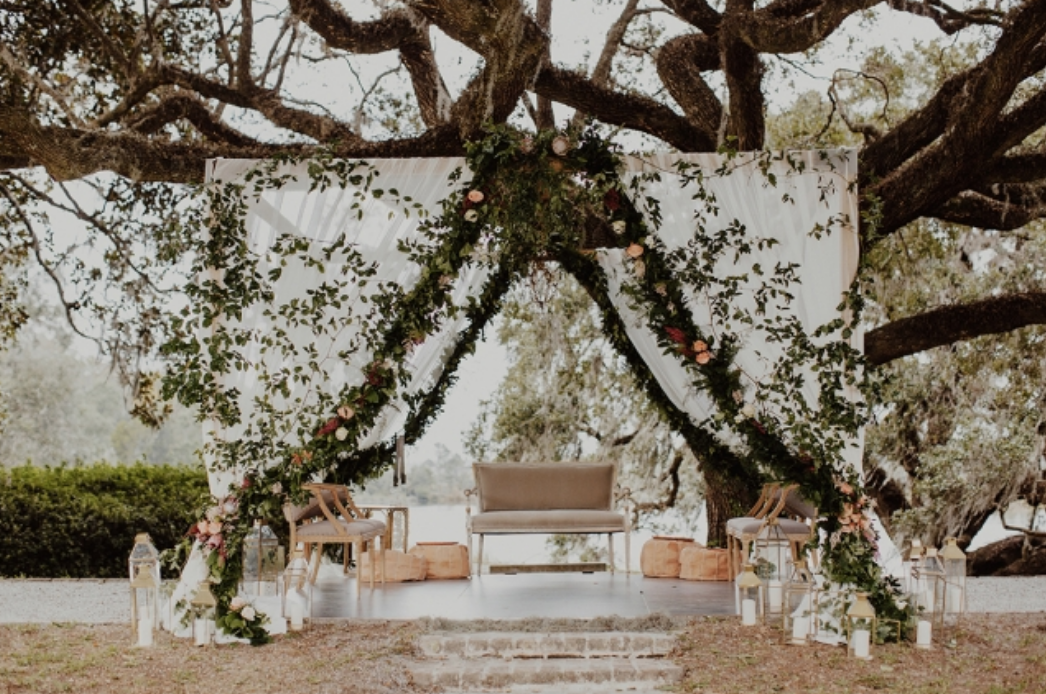 At Jennifer and Agam's Indian-meets-American fusion wedding, Out of the Garden echoed Middleton's verdant grounds with ropes and ropes of greenery on everything from the ceremony site to the sweet garland 'round their precious pup's neck.
Couple: Jennifer and Agam, Middleton Place
Wedding design, rentals: Ooh! Events
Photography: Logan Cole
Venue, catering, & bar: Middleton Place
Florals: Out of the Garden
Bride's Attire: Oscar de la Renta (traditional gown)
Indian attire: Anita Dongre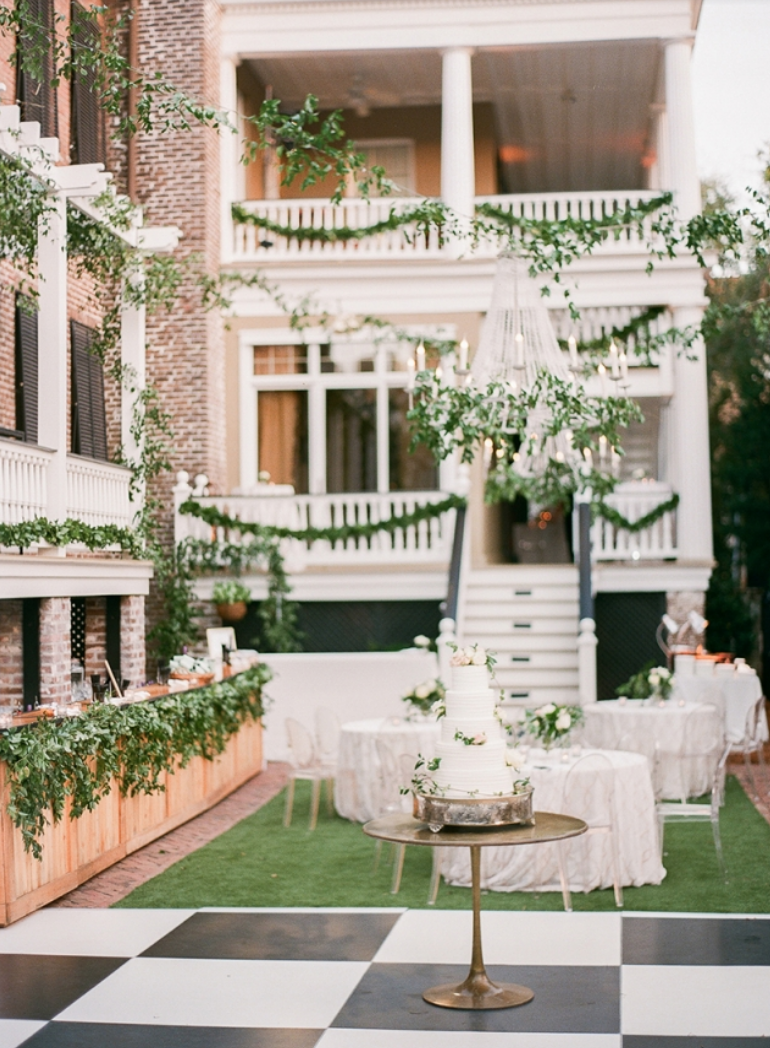 Now this is how Charleston does a backyard wedding! Draped in epic amounts of showstopping smilax vines, Coleman and Tom turned her parent's Ansonborough home into a verdant oasis.
Couple: Coleman and Tom, Private Residence
Design, coordination, draping: Yoj Events
Photography: Clay Austin Photography
Venue: Private Residence
Florals: Stephanie Gibbs Events
Cake: Ashley Bakery
Rentals: Ooh! Events (chandeliers, tables, bar stools, keg bar); EventWorks (tables, ghost chairs, linens, china, glassware, flatware, tents, dance floor, fans); Production Design Associates (stage, cafe lighting, main bar, generator); The French Eclectic (rugs); Nüage Designs (guest tables, cocktail table linens)
TREND: Bright Flowers & Colored Candles
While brides are still blushing with their palettes, more and more are breaking out of the neutral box to revel in vibrant colors.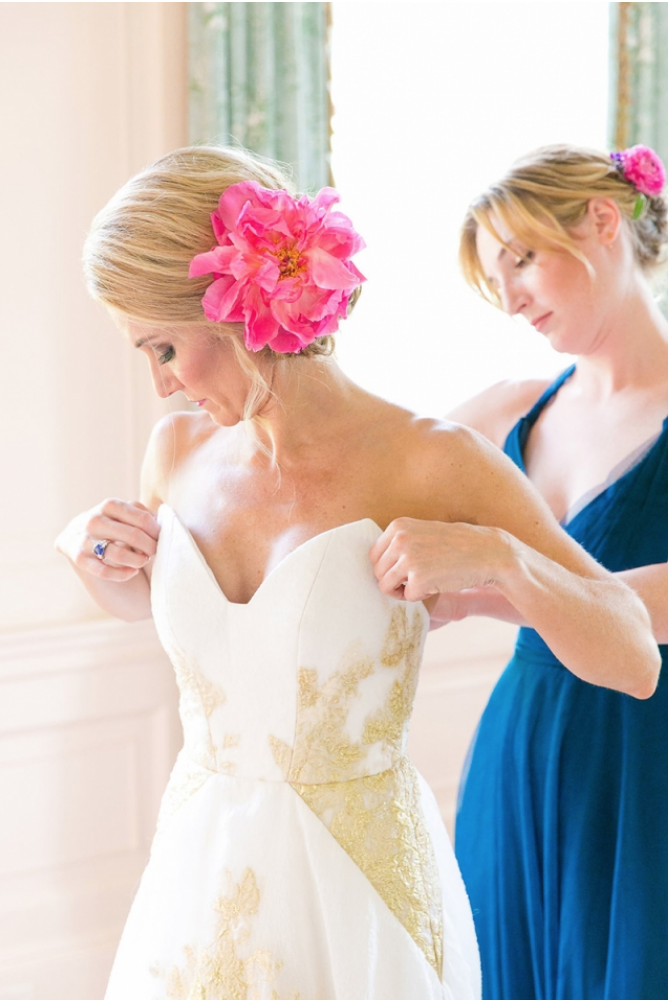 Megan honored her Hawaiian roots by wearing a pink flower over her left ear, an Aloha State  signal that shows she's off the market. (She also asked Intrigue Design & Events to incorporate more bright blossoms into her tablescapes, bouquet, and along the ceremony aisle.) So simple and elegant.
Couple: Megan and Scott, Lowndes Grove Plantation
Wedding design: Intrigue Design & Events
Photography: Dana Cubbage Weddings
Florals: Roadside Blooms
Bride's gown: Carol Hannah, available locally through Southern Protocol Bridal
Beauty: Lashes and Lace
Bride's attire: Rose Hraska (veil), Badgley Mischka (shoes)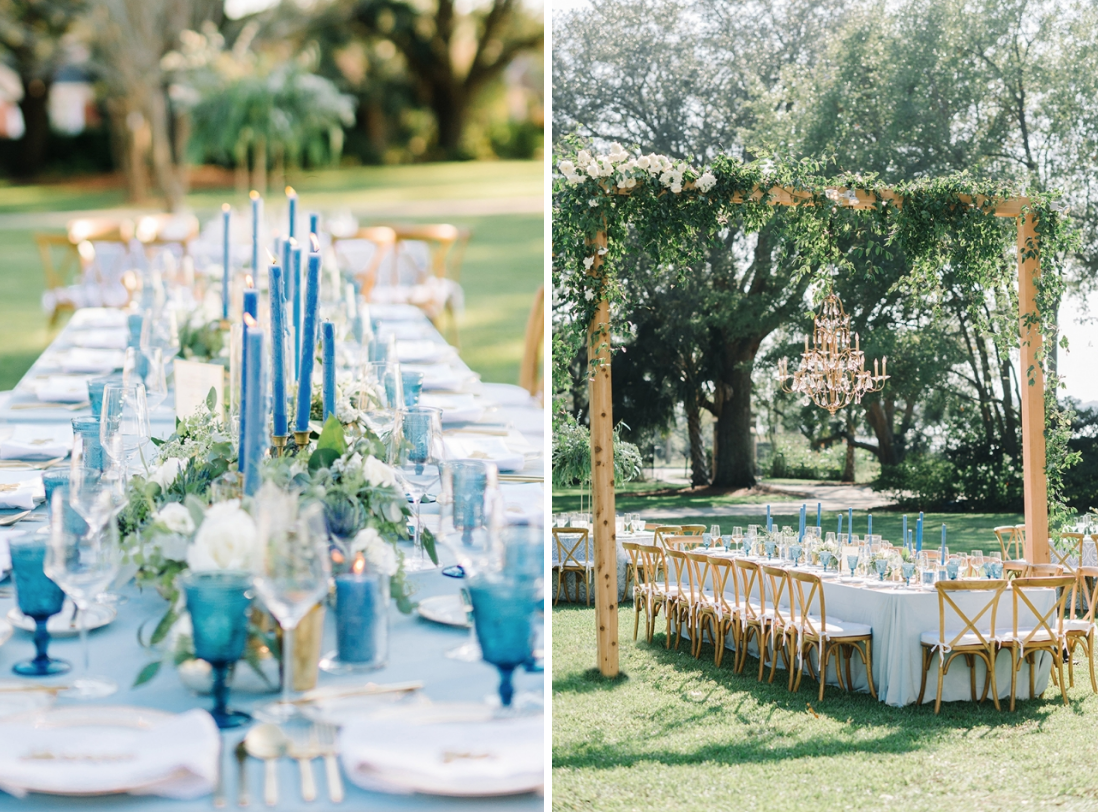 We're totally on "cloud nine" with this dreamy setup, all thanks to Sweetgrass Social, at Mallory and Kristian's wedding. "Sitting underneath that great structure right as the sun was setting … I was in awe," says Mallory. "Other than the ceremony, that was the most memorable moment."
Couple: Mallory and Kristian, Lowndes Grove Plantation
Images: Aaron & Jillian Photography
Planning + Design: Sweetgrass Social
Florals: SYG Designs
Rentals: EventWorks
TREND: Tiny Mobile Bars
We're seeing more and more unique bars-on-wheels sidling into receptions and weddings throughout the Lowcountry. What more could you ask for (besides maybe more moscato)?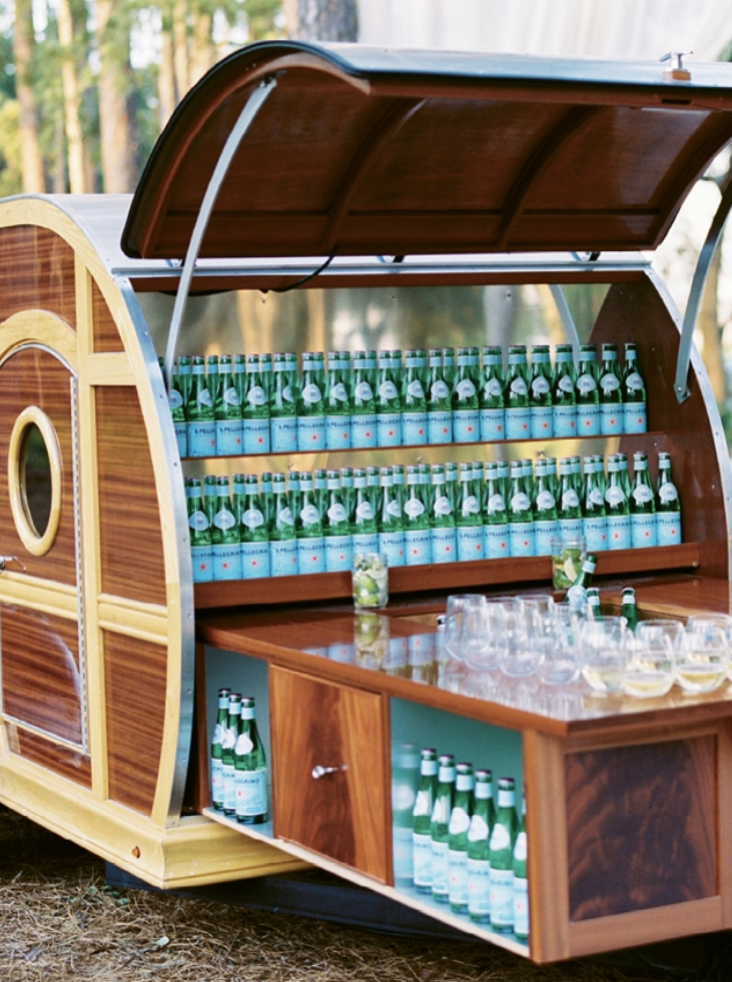 How about having this guy hitch a ride to your next celebration? Maddy and Gerald's Memorial Day rehearsal dinner was a hit thanks to Montage Palmetto Bluff's camper turned bar-cart. It was filled with sparkling water to keep guests cool, but different drinks could be added for your preference. We'll take a few, please.
Couple: Maddy and Gerald, Montage Palmetto Bluff
Wedding Design: Ashley Rhodes Event Designs
Photographs: Perry Vaile
Catering, bar service: Montage Palmetto Bluff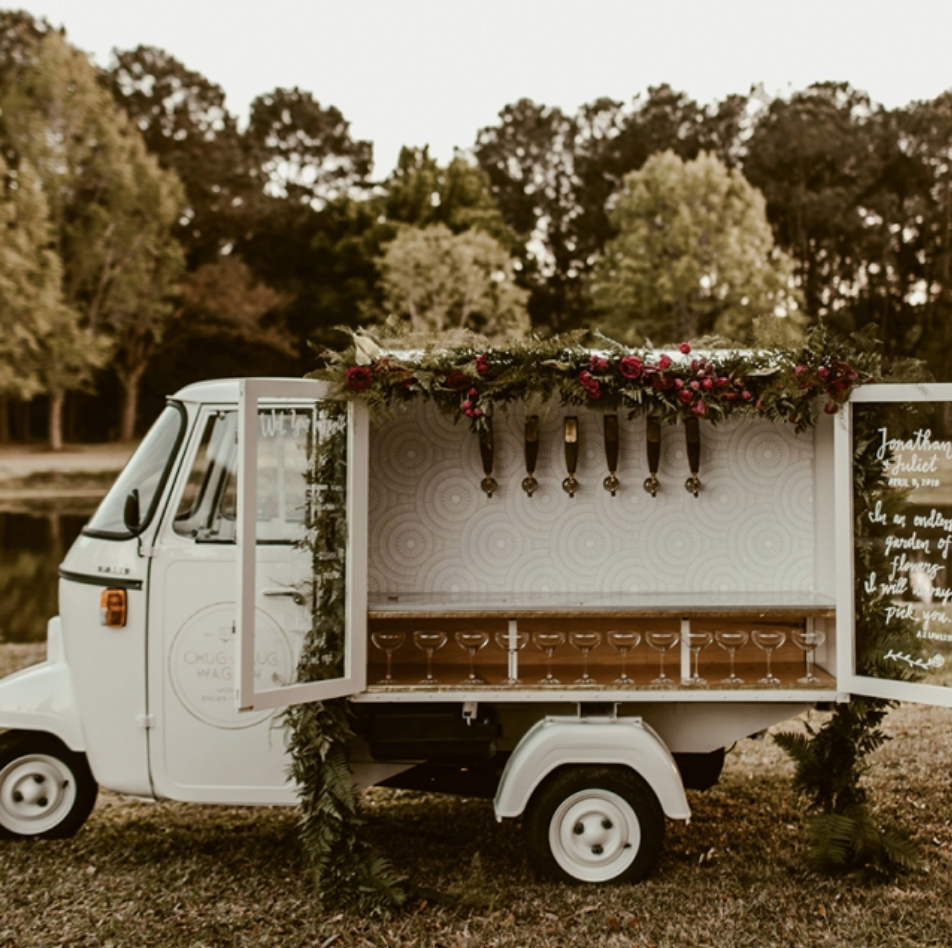 Brews and bubbly for the win! With up to six taps, customizable calligraphy, and biodegradable cups, the Chug-a-Lug Wagon is cruising to a wedding near you. Click here to learn about this little "chuglette".
Bar: Chug-a-Lug Wagon
Images: Hazel Eyes Photography
Florals: Wimberly Fair

Styled: The Petal Report