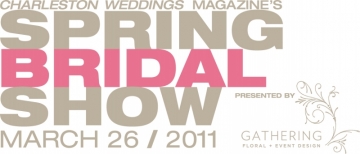 25 Feb

Charleston Weddings Magazine Spring Bridal Show

Alright TWR lovies, I hope that you are ready for an AHHMAZING day. We have a trifecta of fabulous starting with the Charleston Weddings Magazine Spring Bridal Show. This is a must mark your calendars and plan to attend event. Some of our super favs are going to be there including Gathering Floral + Event Design, Maddison Row, Belle Couture, Bella Bridesmaid and many more. Dee Ruel will also be on hand in the Style Lounge with her one of a kind bobbles and custom papers. Make sure to get your ticket and planned to be wowed….oh, and stop by to say hello, TWR will be there too with bells on!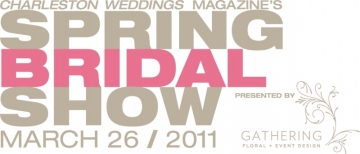 CHARLESTON FASHION WEEK® 2011 CELEBRATES THE BRIDE-TO-BE ON SATURDAY, MARCH 26th
Charleston, SC – The highly anticipated Charleston Weddings magazine's Spring Bridal Show will return to the tents in Marion Square on Saturday, March 26th. Charleston Fashion Week's annual tribute to the bride-to-be will feature local and national boutiques and bridal gown designers, jewelers, bridal accessory vendors, savory and sweet bites, and gift bags.
Saturday's daytime bridal show will present white gowns of all silhouettes, lengths, and styles carried and created by Lowcountry boutiques and designers. Staged in Marion Square, doors open at 10:30am, with a complimentary champagne reception from 10:30-11:30am. The runway shows start at 11:45am, and the sumptuous Bridal Style Lounge remains open until 2pm.
The premier bridal event located in the heart of one of the country's top wedding destinations will feature runway shows from Bella Bridesmaid, Belle Couture, Charleston Wedding Dress, Kira Elizabeth Designs, Maddison Row, Modern Trousseau, White, and Yoyo Designs.  Alabama native and bridal gown designer Heidi Elnora, whose line has been praised by Town & Country, Lucky and Daily Candy Atlanta, is the day's Featured Designer.
If you recently have said "I DO" or are just a fan of everything weddings, this is the event you DON'T want to miss!  Grab your tickets early to get in, get inspired, and enjoy Charleston Fashion Week's® annual sell-out event on Saturday, March 26th.