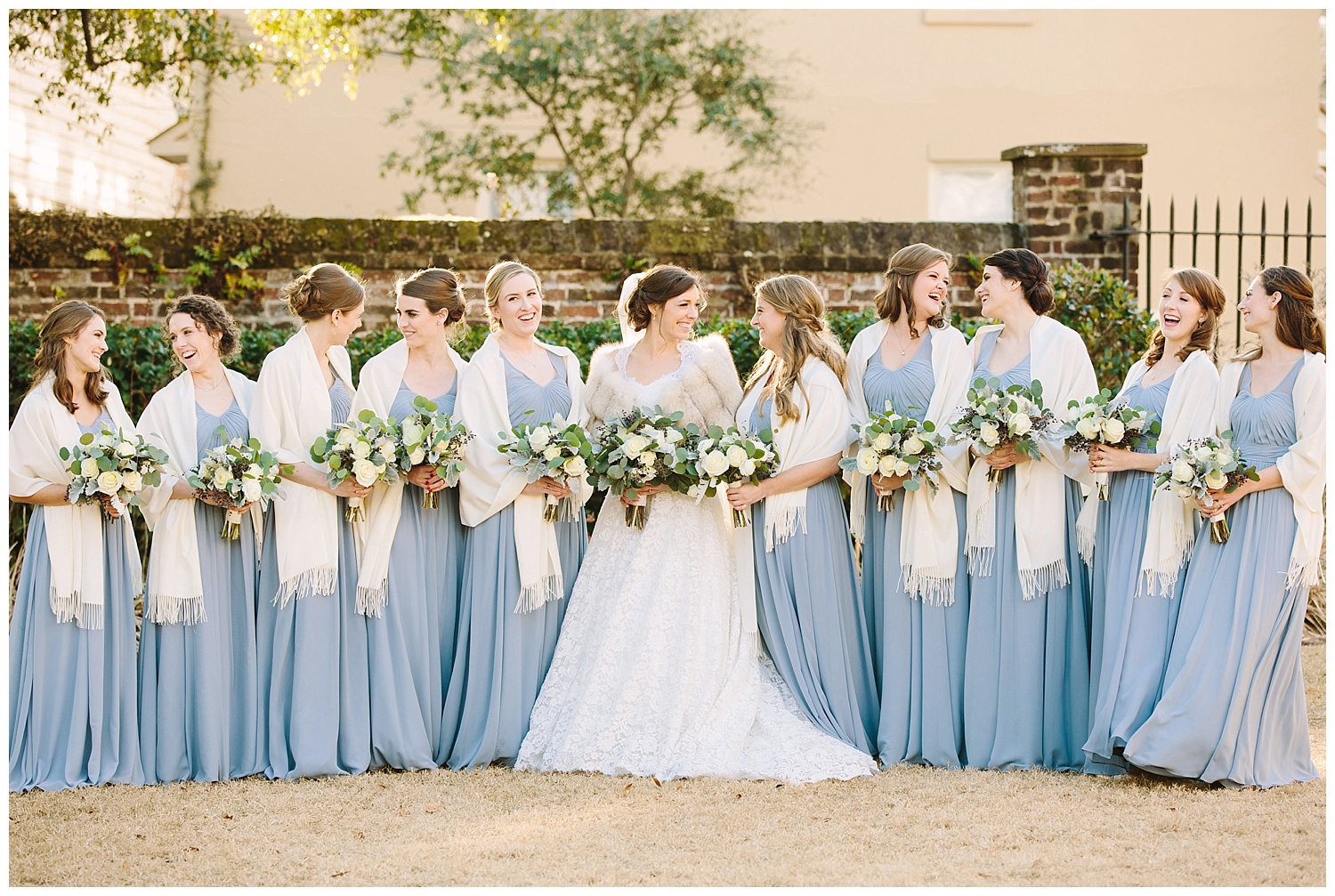 10 Jul

Anna & Sam | The Historic Rice Mill

Sometimes a bride shares so many cool things that we just have to pass them along straight-up. Here's a truncated version of what Anna told us about her romance with Sam, from when they first met—she was a grad student at College of Charleston and he was a carriage driver here—all the way to their departure from their wedding at the Historic Rice Mill on their cherished sailboat. If you are dying to scroll before reading, go for it! Anna's given you carte blanche to tag along for the engagement session, the rehearsal dinner, and the wedding, too.

From bride Anna …

First Sparks
Sam and I met through mutual friends while I was in graduate school at the College of Charleston. After I moved to Greenville, my former roommate from school reconnected me with him after learning we shared a favorite author and novel—Jayber Crow by Wendell Berry. We "re-met" in 2016 on an (unofficial) first date at SEWE; I moved back to Charleston the following year and we got engaged the next summer.

The Big Ask
Sam and I love to go sailing and one day in June 2017, we were sailing from a friend's dock in Rockville, South Carolina, out toward the North Edisto Inlet. When we could see the ocean, he asked me to walk with him to the bow and asked me to marry him.

Charleston Wins Out
We chose Charleston for our wedding because it has been an important place for each of us. Sam is John's Island, born and raised, and even though I am from Wendell, North Carolina, I have lived in South Carolina since college. This is where we now live together, and we wanted to invite friends and family to experience our city.

Smile for the Camera
Our engagement photos were taken at St. John's Parish Church (where we are members); on John's Island (family property); and on our boat (The Katharine.) I did my own hair and makeup and Aly Greer with Wild Cotton Photography was our photographer.

Rehearsal Dinner Details
Lynn and Perry (my in-laws) used our love of travel as a theme at the rehearsal dinner. Sam's father, who runs a woodworking shop on John's Island called Bend of the River Wood Products, made sailboats for the rehearsal dinner table "numbers". Sam's mother wrote the names of places that are important to us on the sails. And since Sam and I love looking at maps, she used a maritime map to for the seating chart.

Homespun Wedding Touches
My father made our gold wedding bands, and my veil was lined with lace from my mother's dress and that same lace was added to my Justin Alexander dress as well. (The dress work was beautifully done by Kira Elizabeth Designs.) My lifelong best friend, Daphne Mamoulides, who is an opera singer in New York, sang "Panis Angelicus" during the seating of honored guests at our ceremony. Our officiant, Father Jamie Sosnowski, is one of Sam's closest childhood friends.  

Rock-a-by Babe Moment
Our favorite moment from the Big Day was probably when Sam and I stepped away from our reception for a quiet moment on the Rice Mill's porch. We shared a rocking chair and enjoyed the nighttime view of the harbor. It was a sweet few minutes to ourselves in the midst of an amazing party, and I'm glad we took that moment to cherish the memories.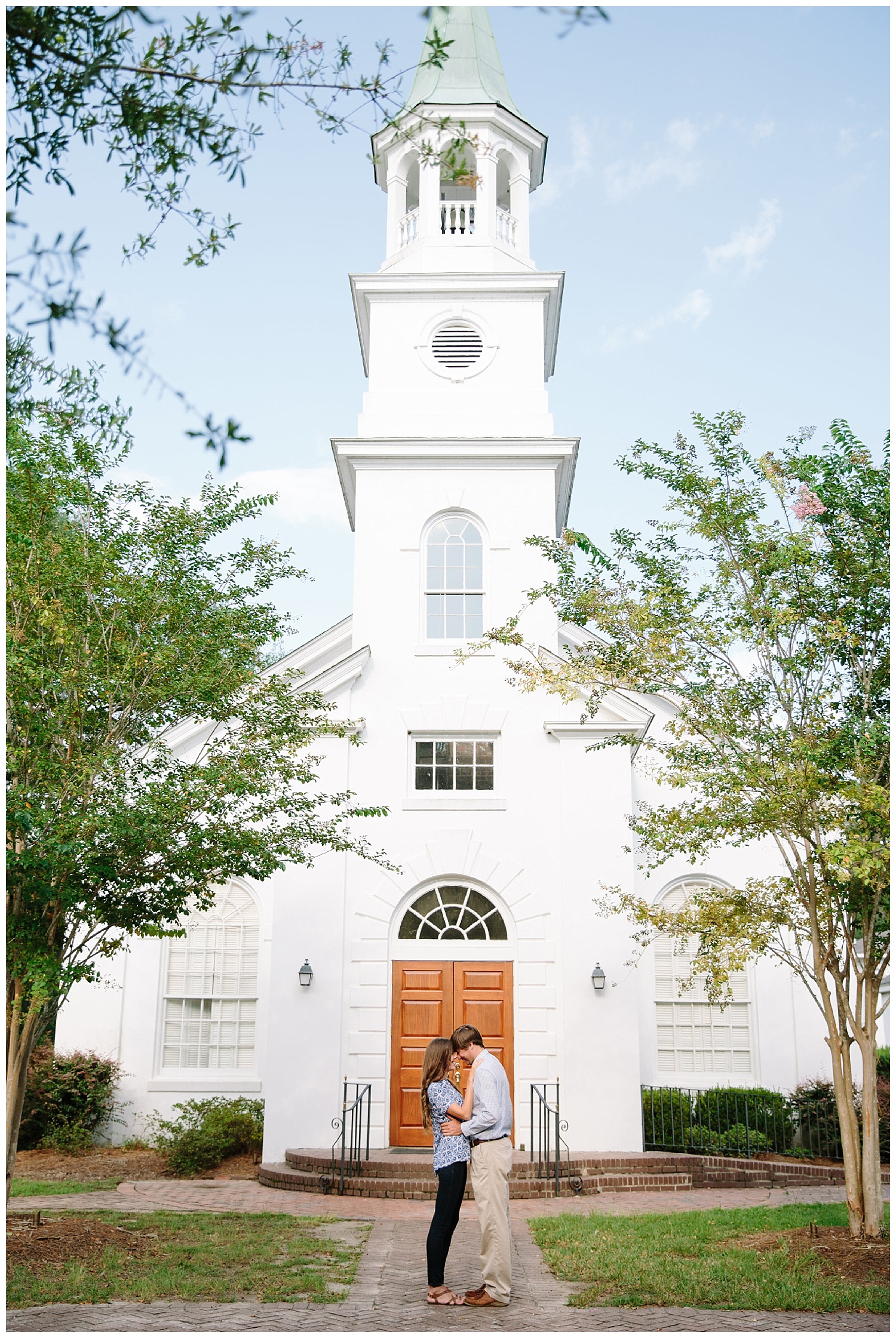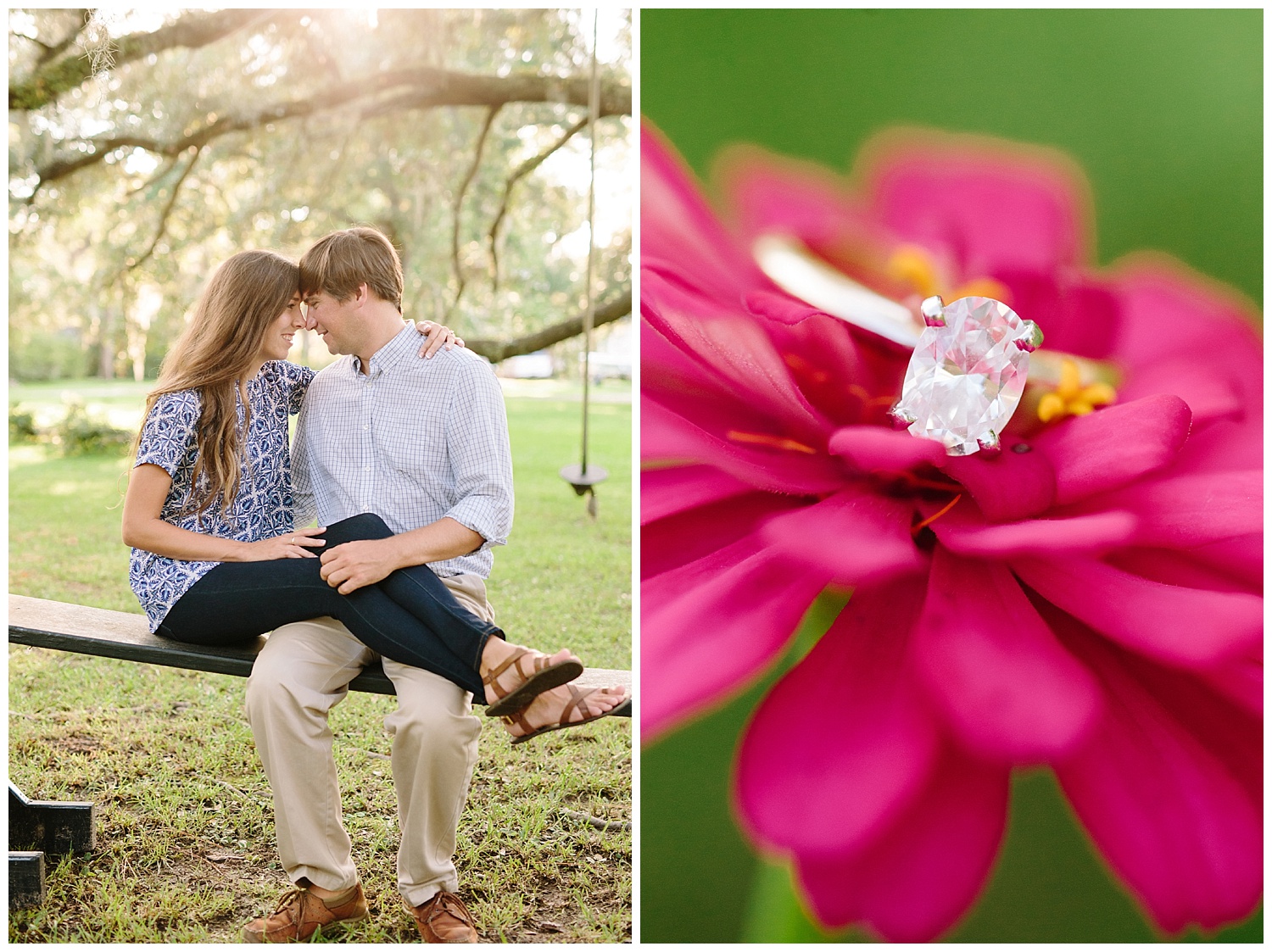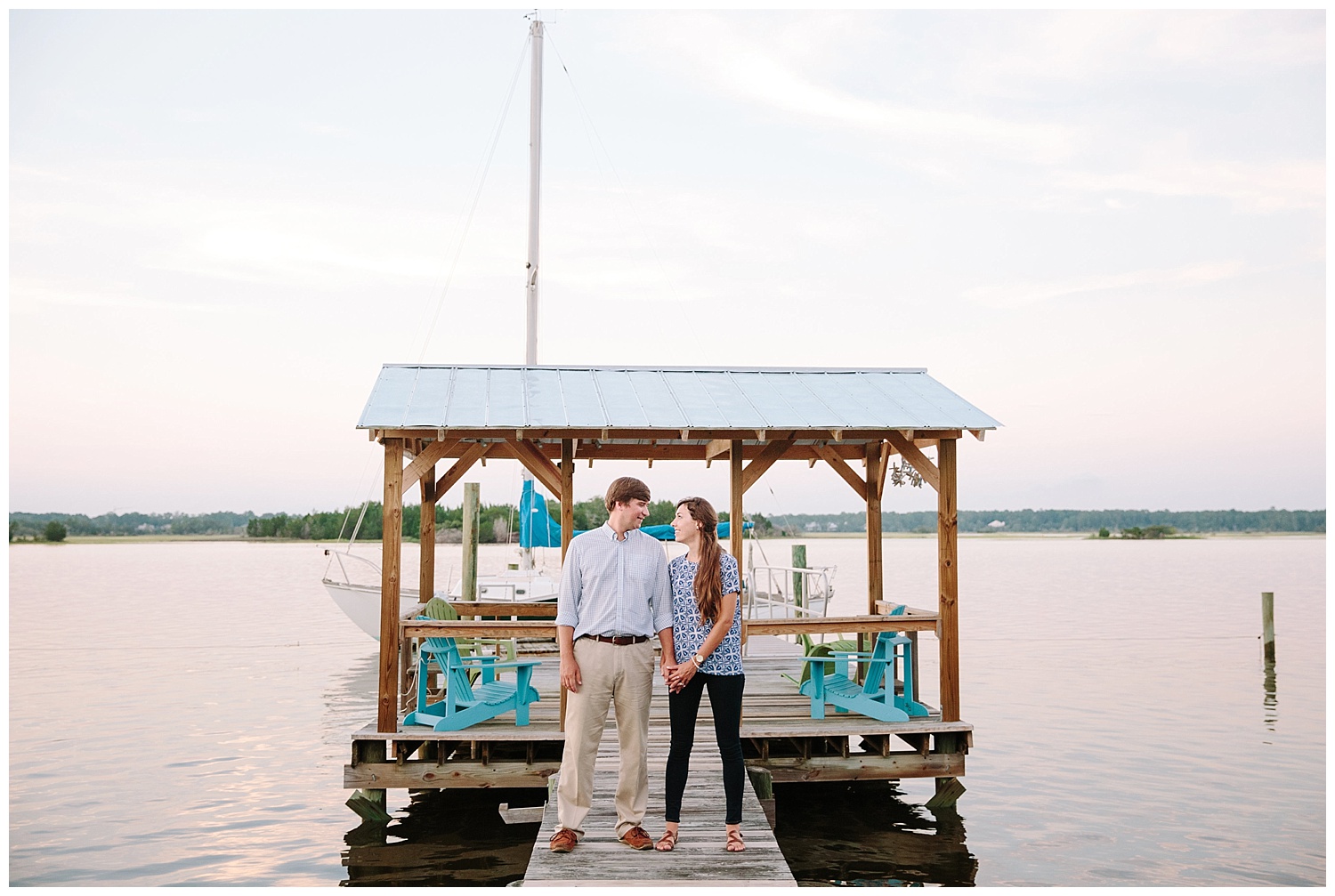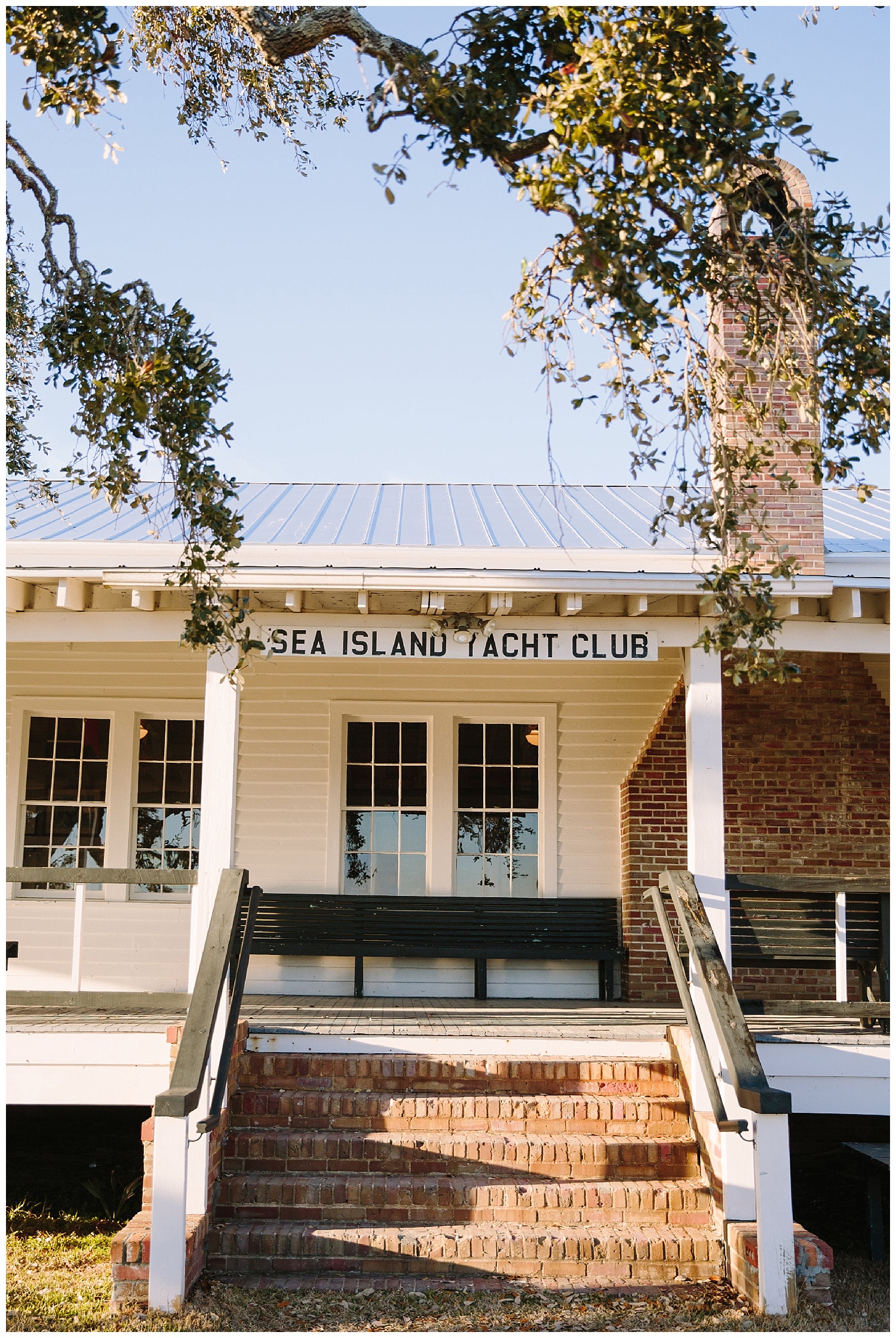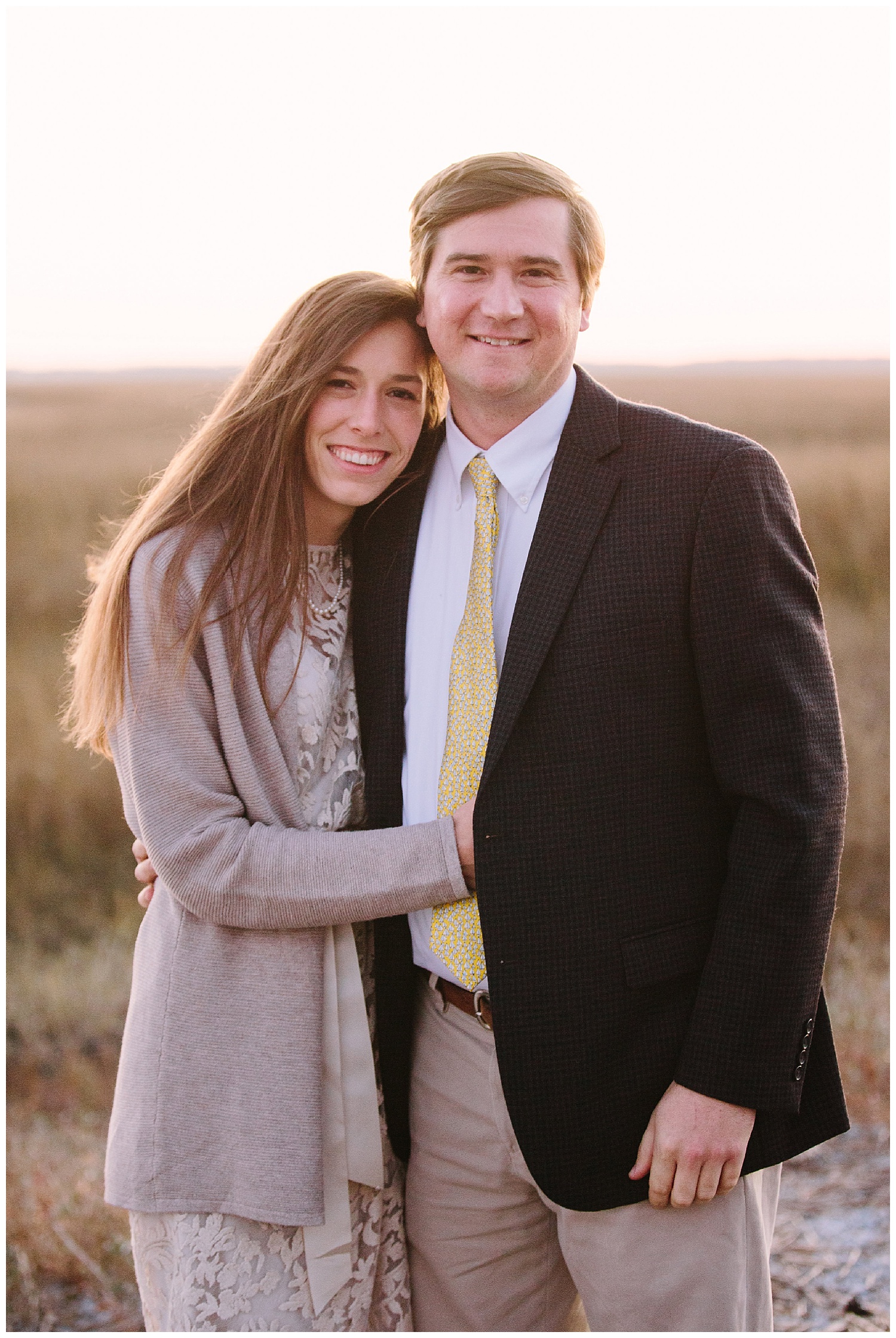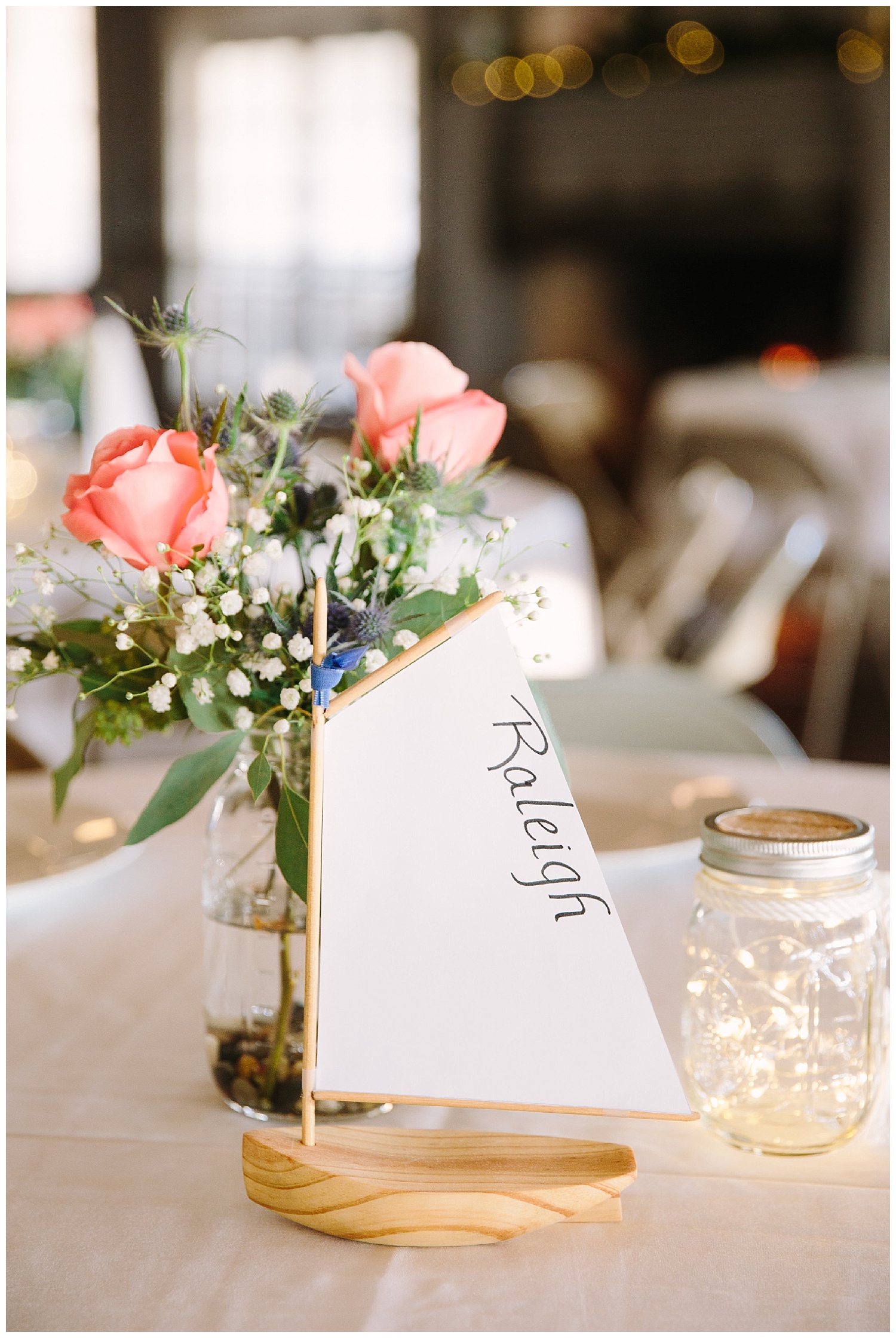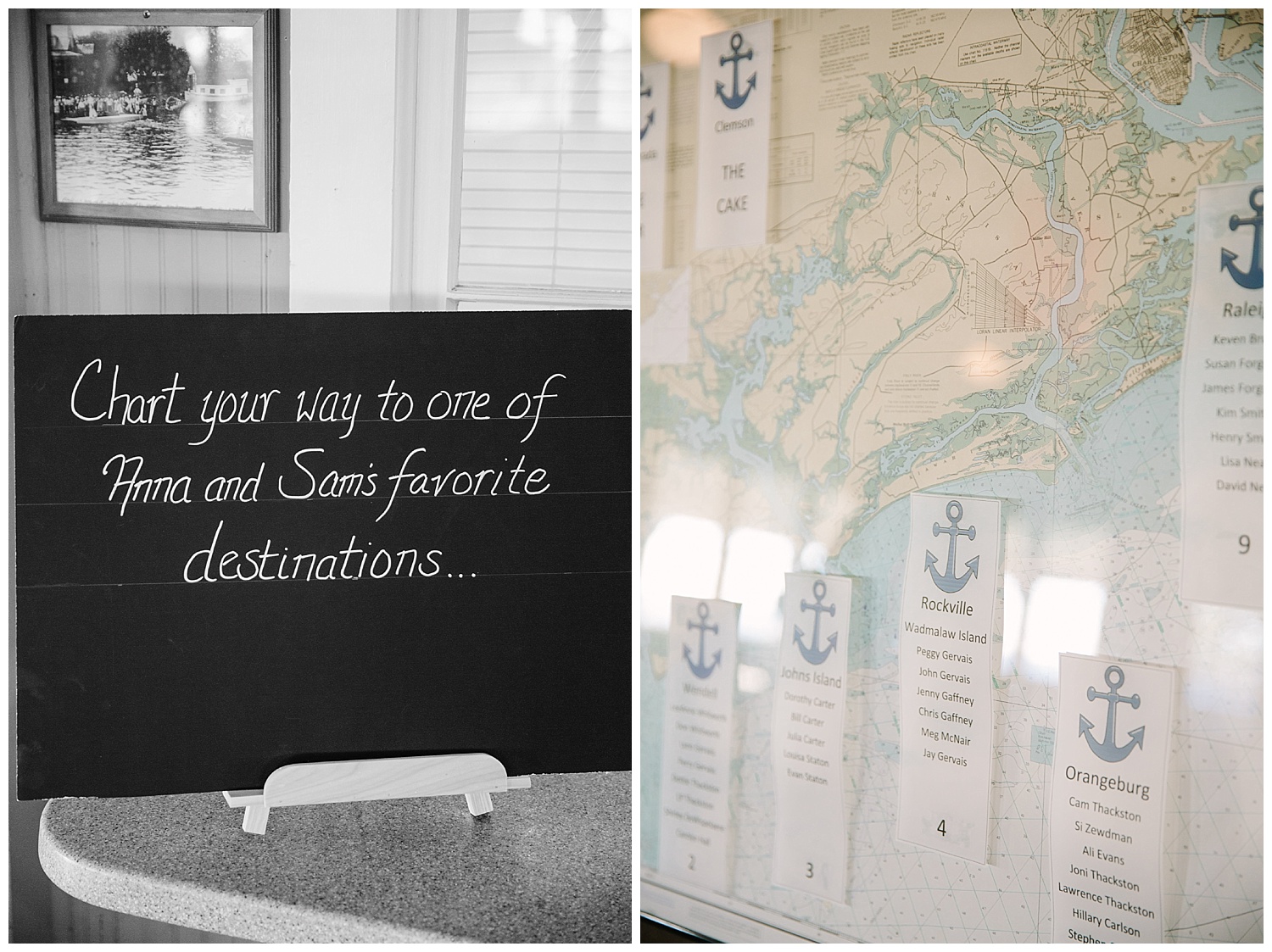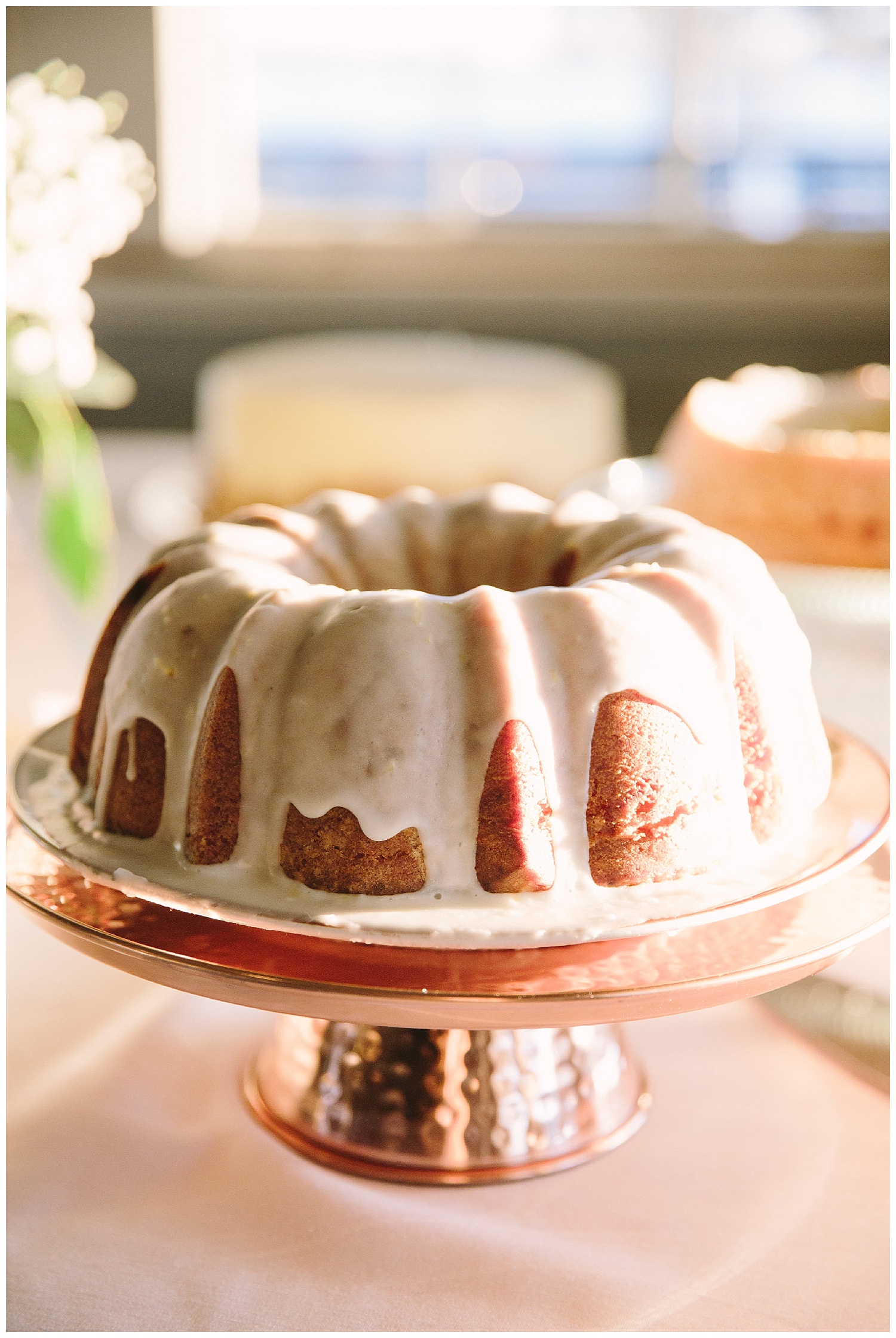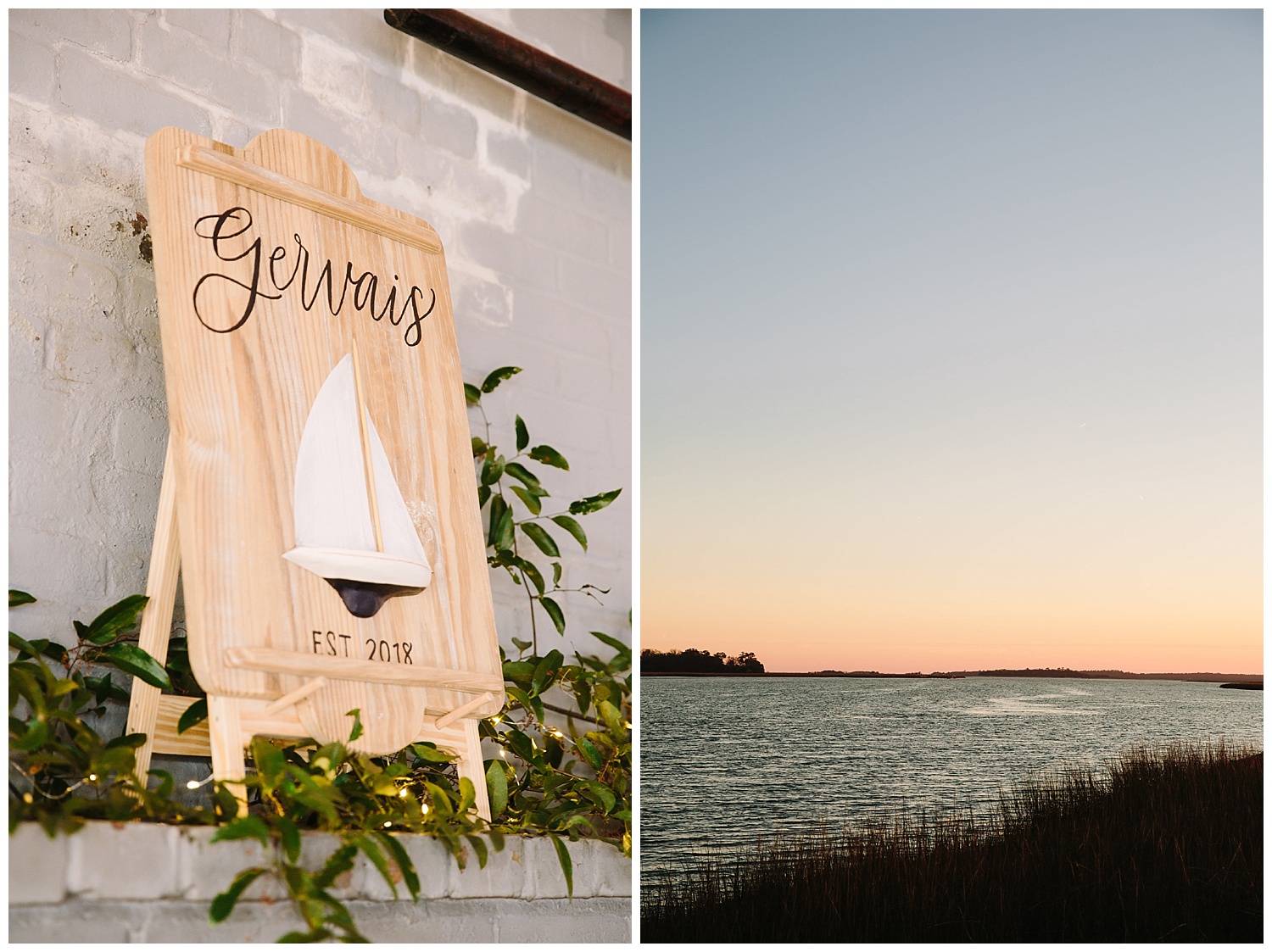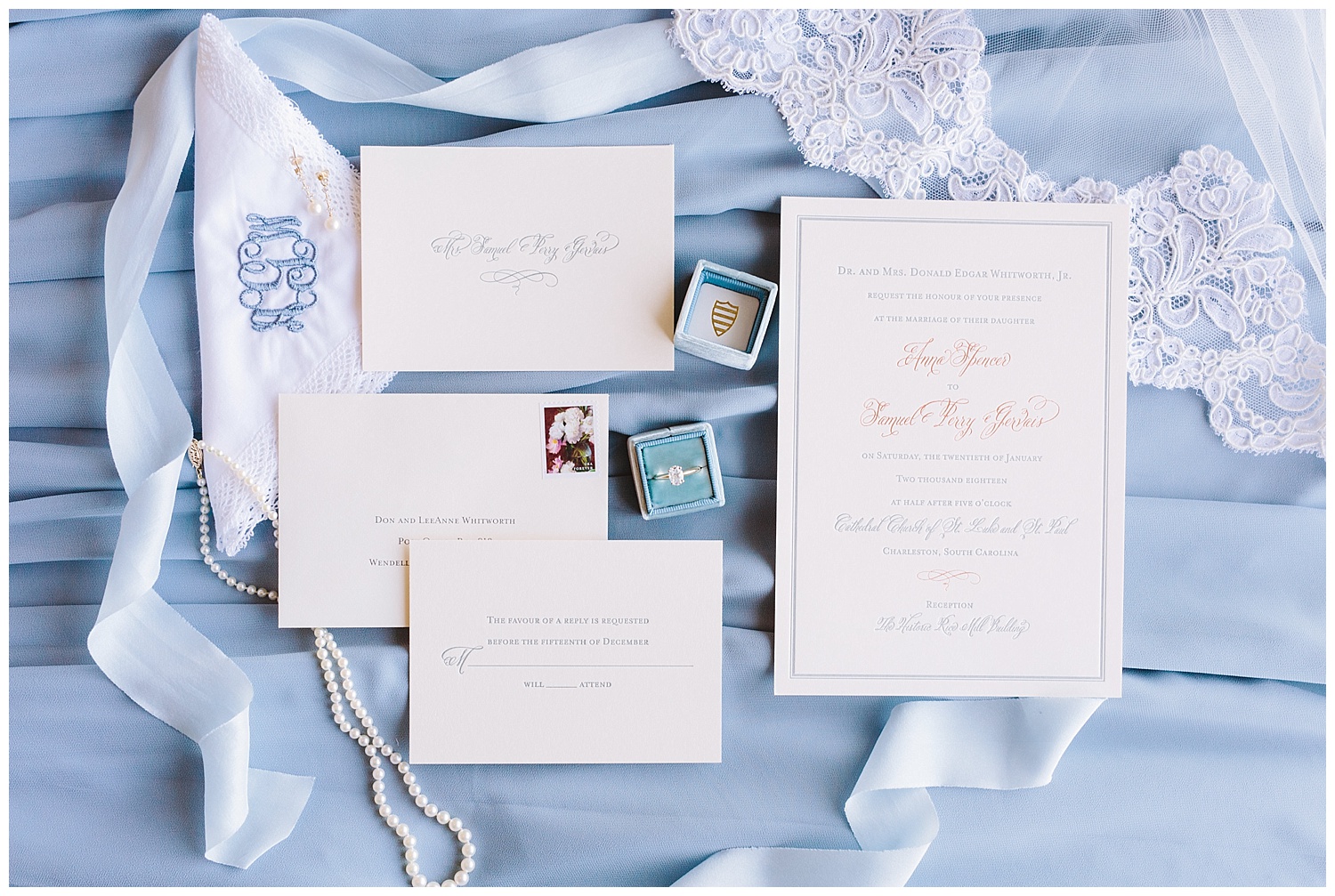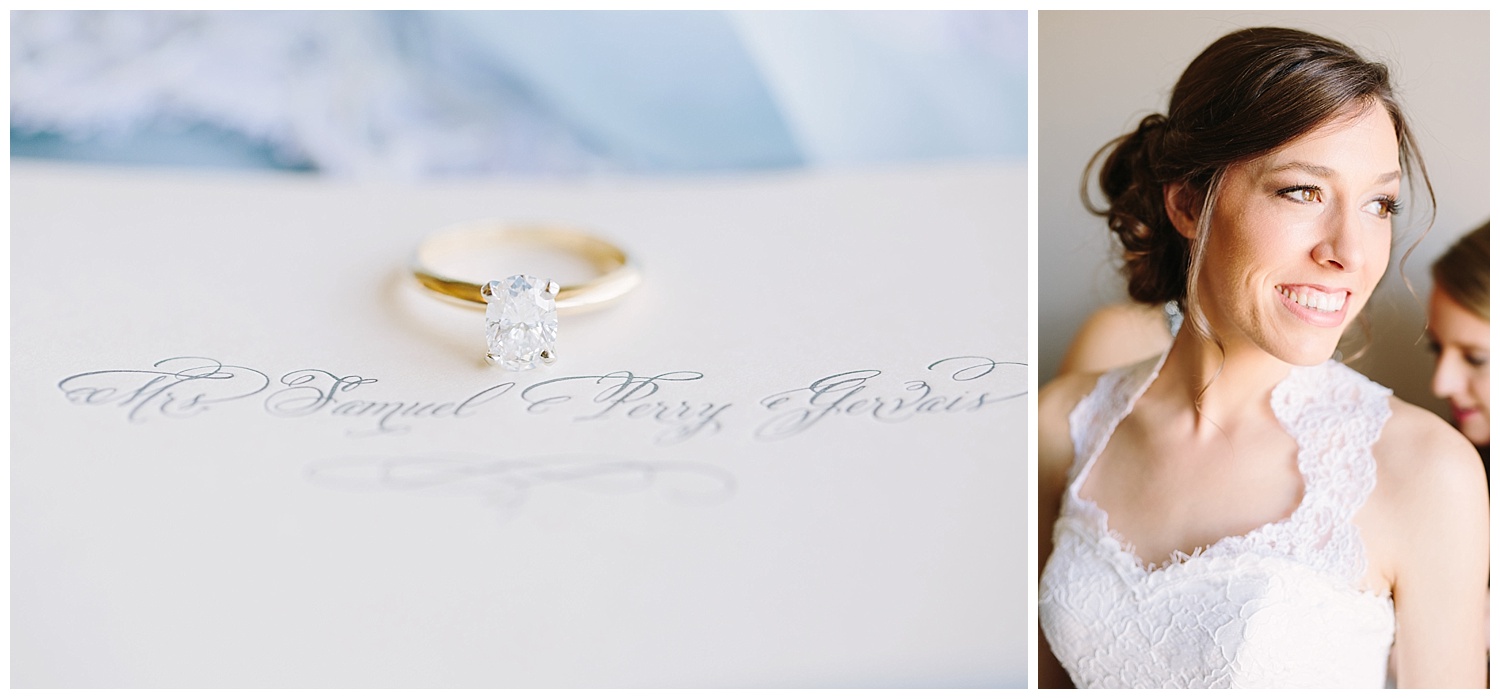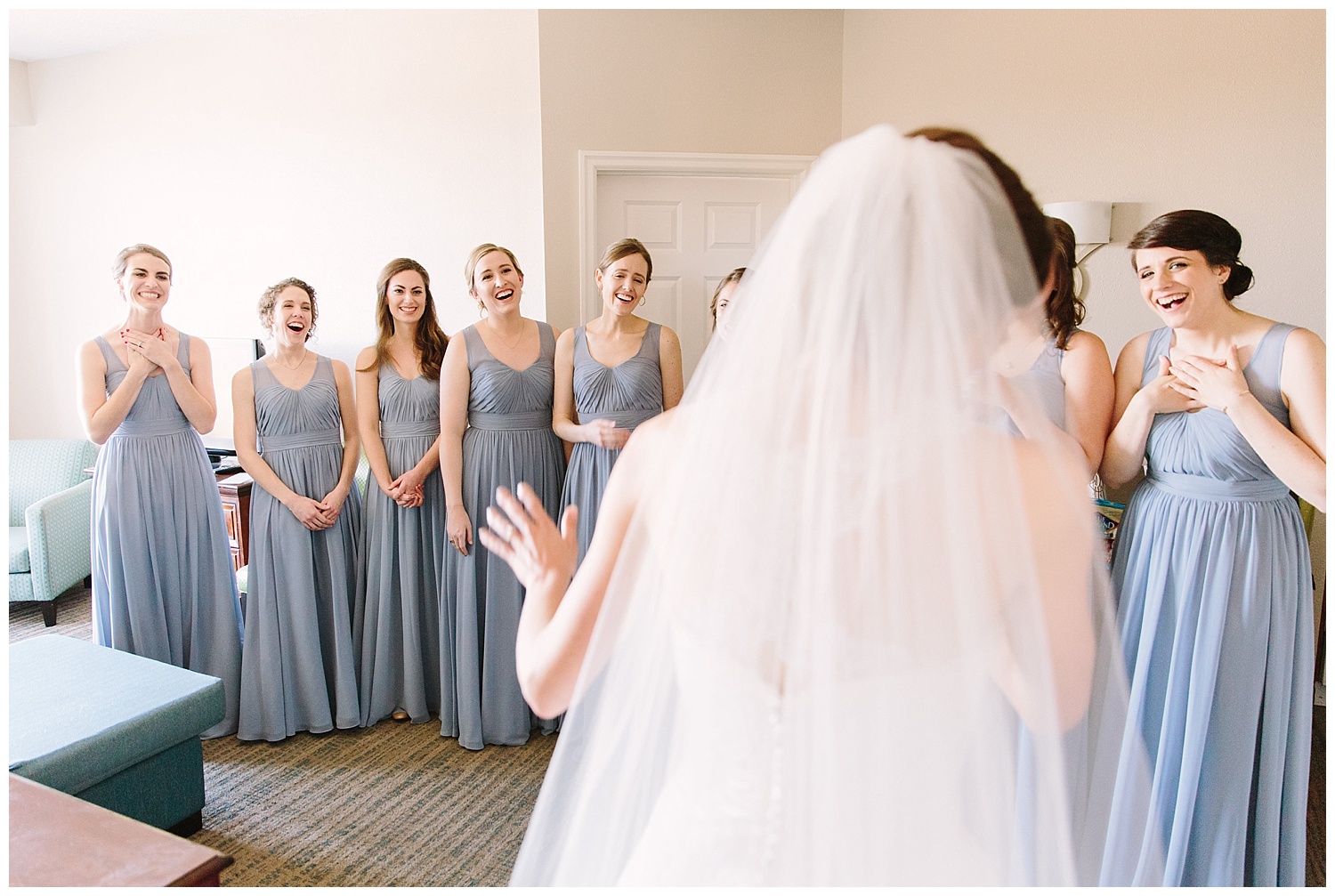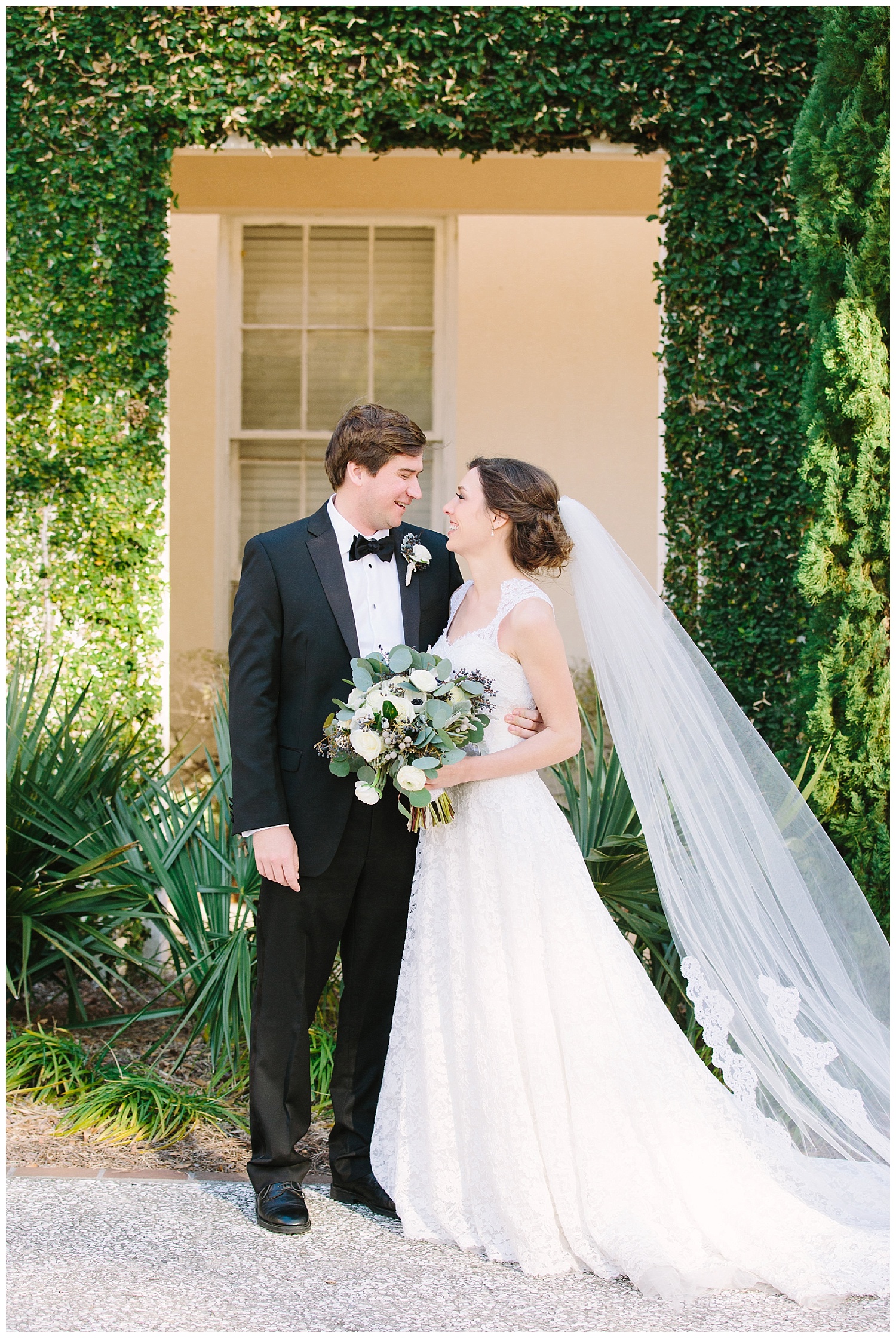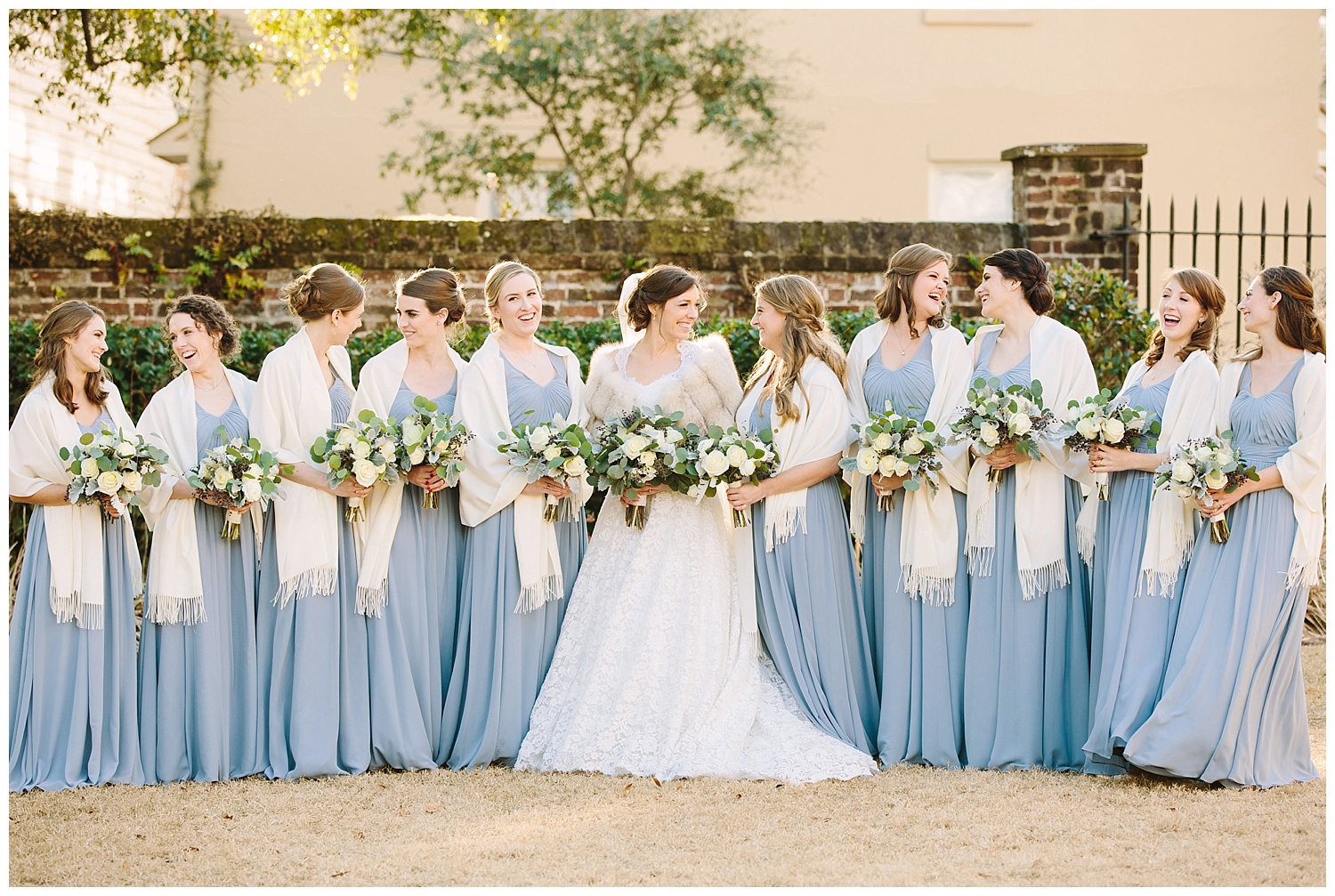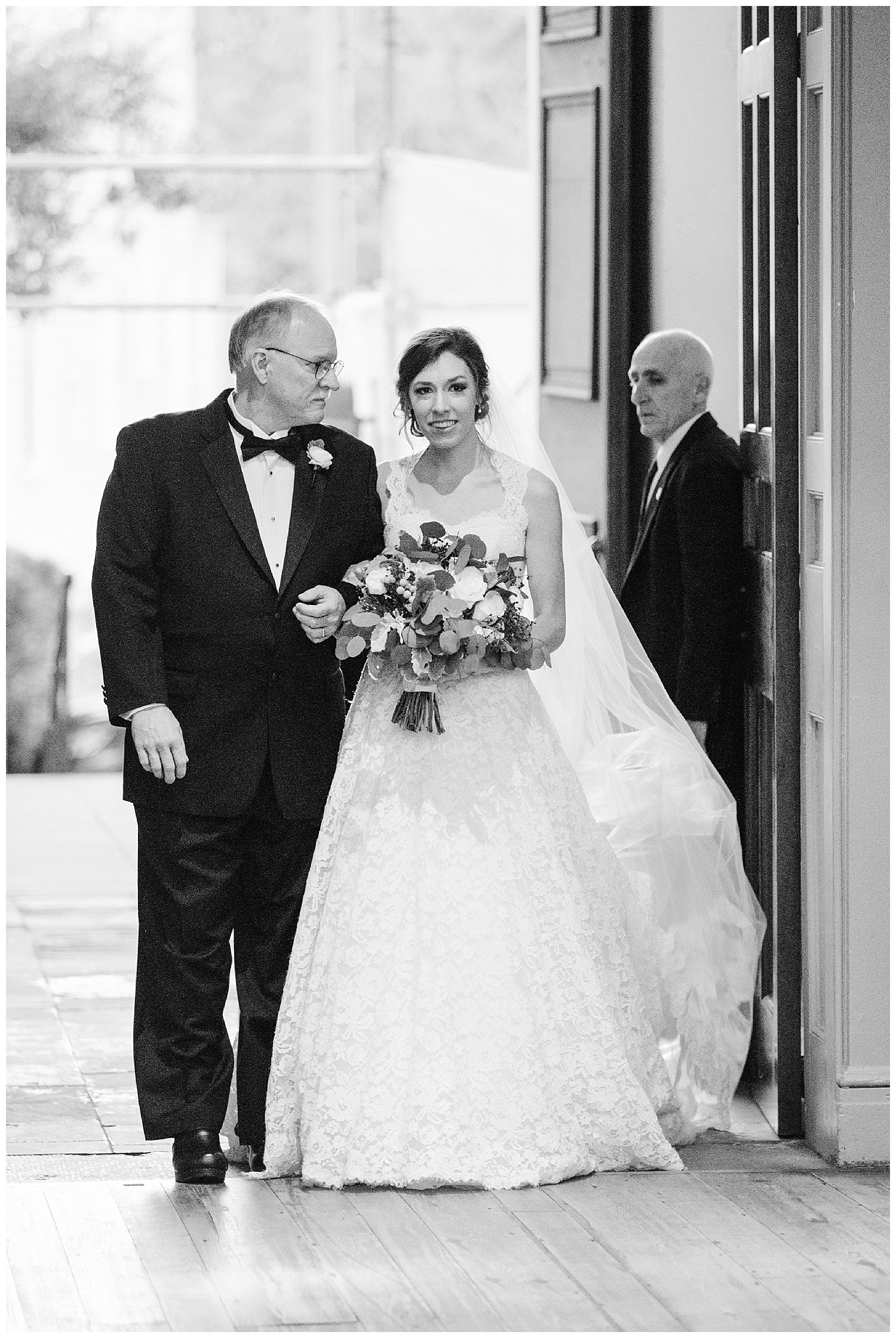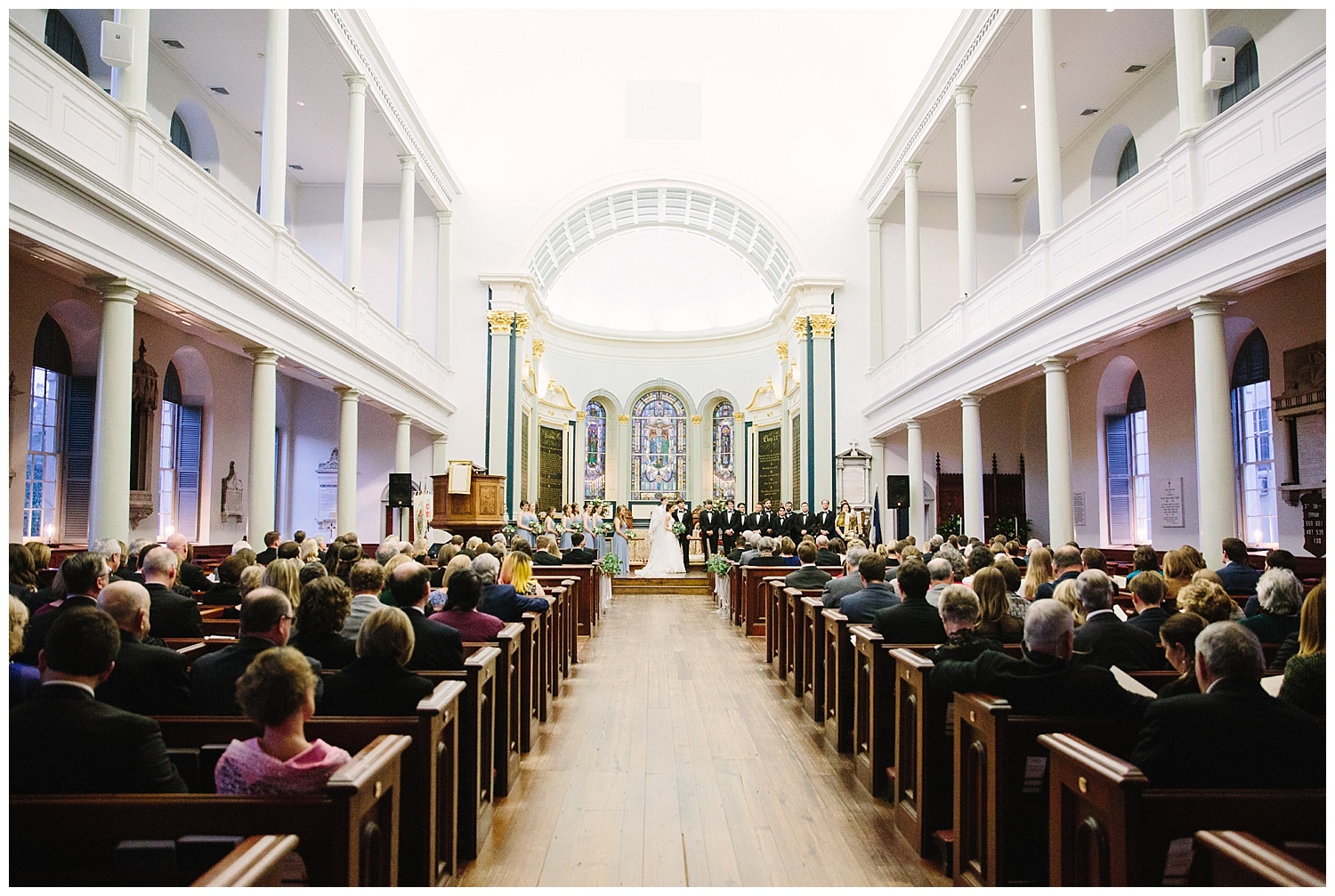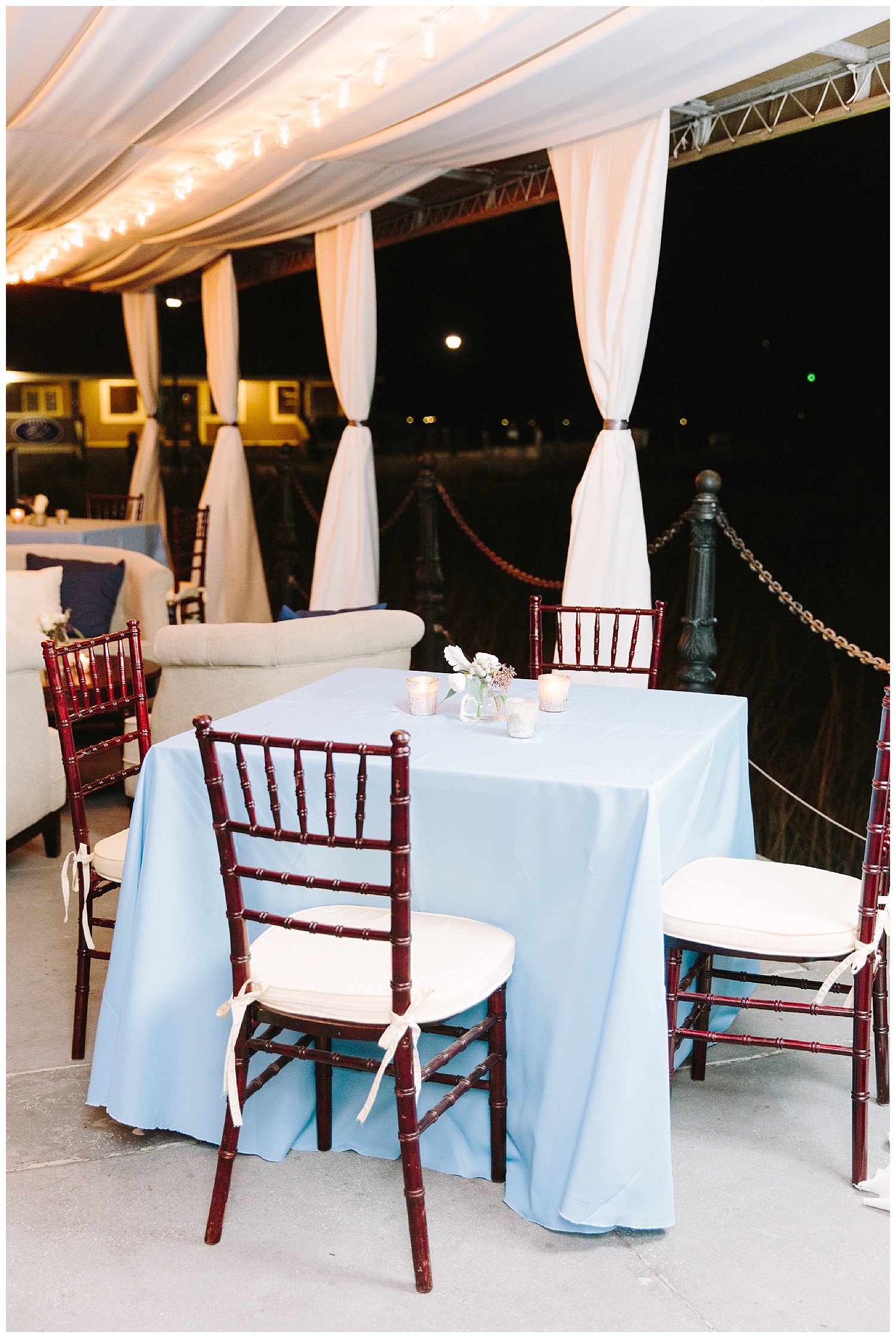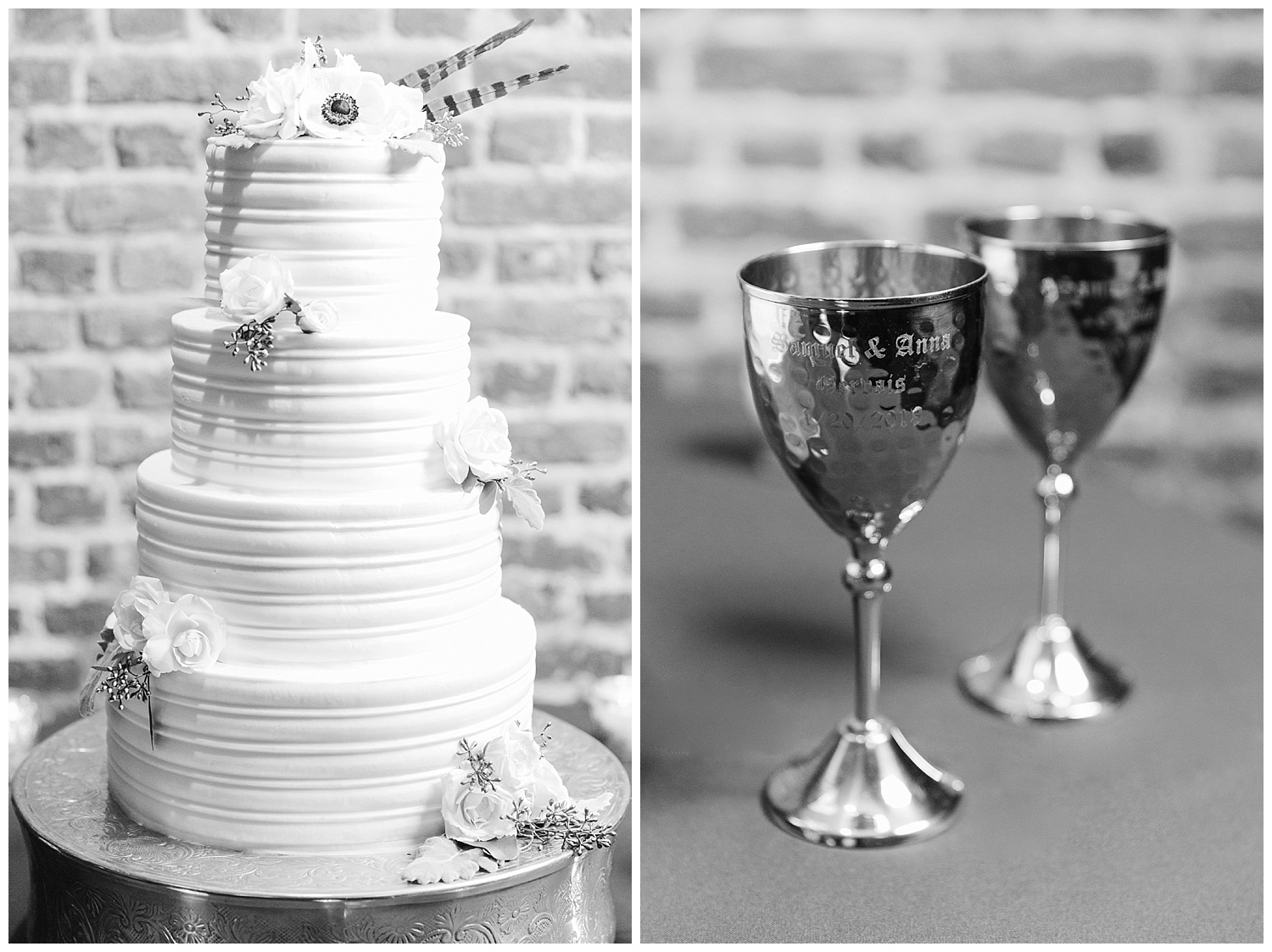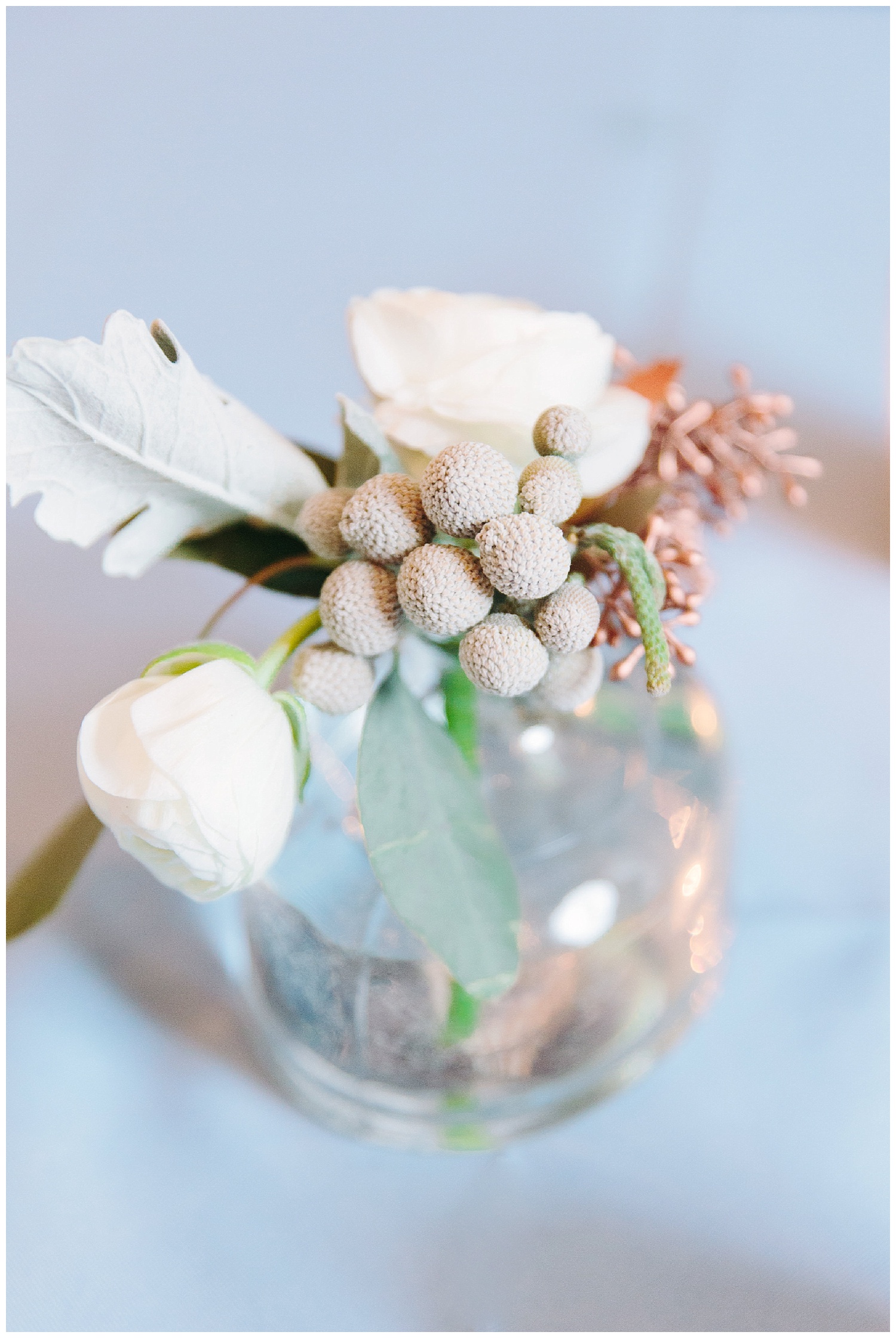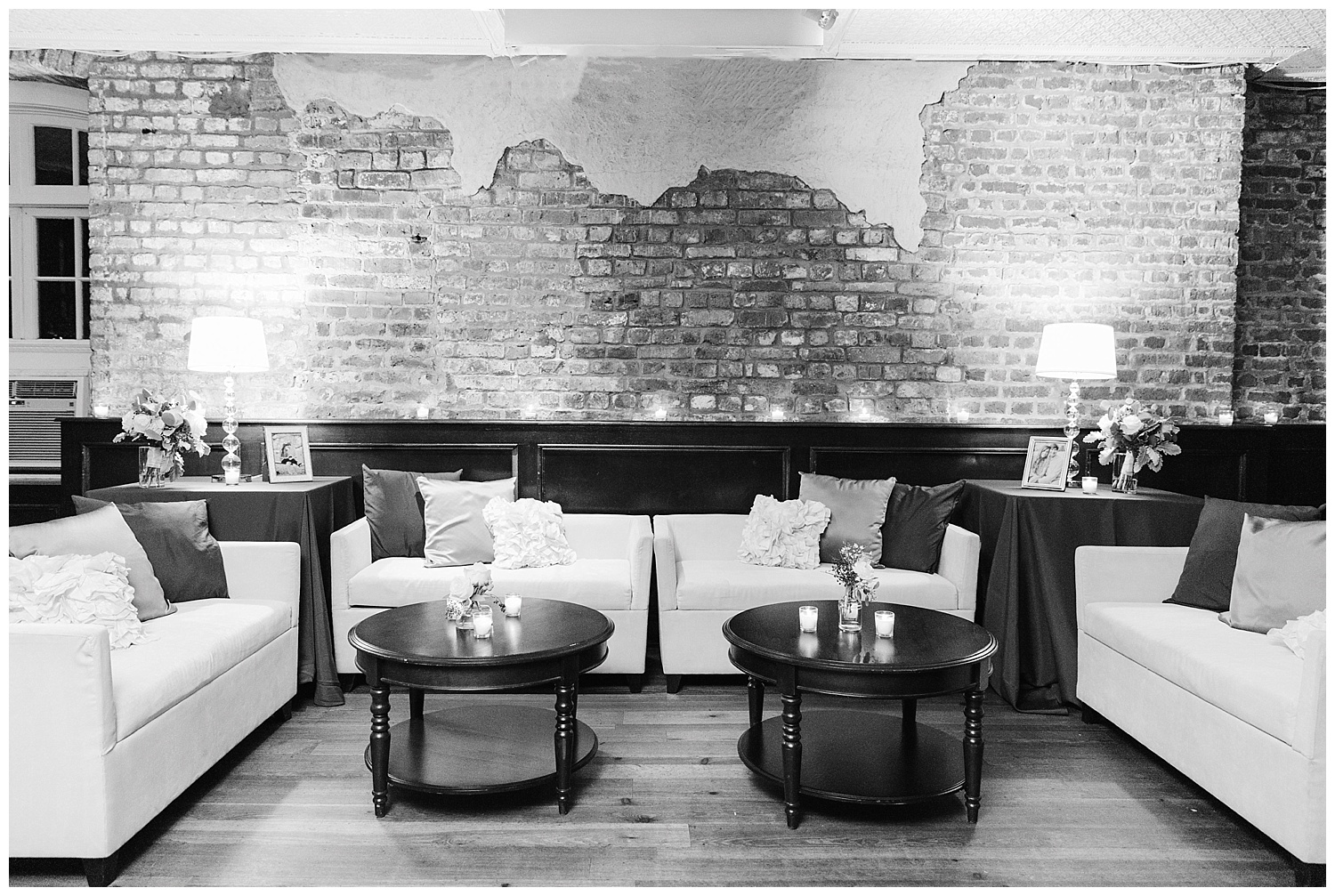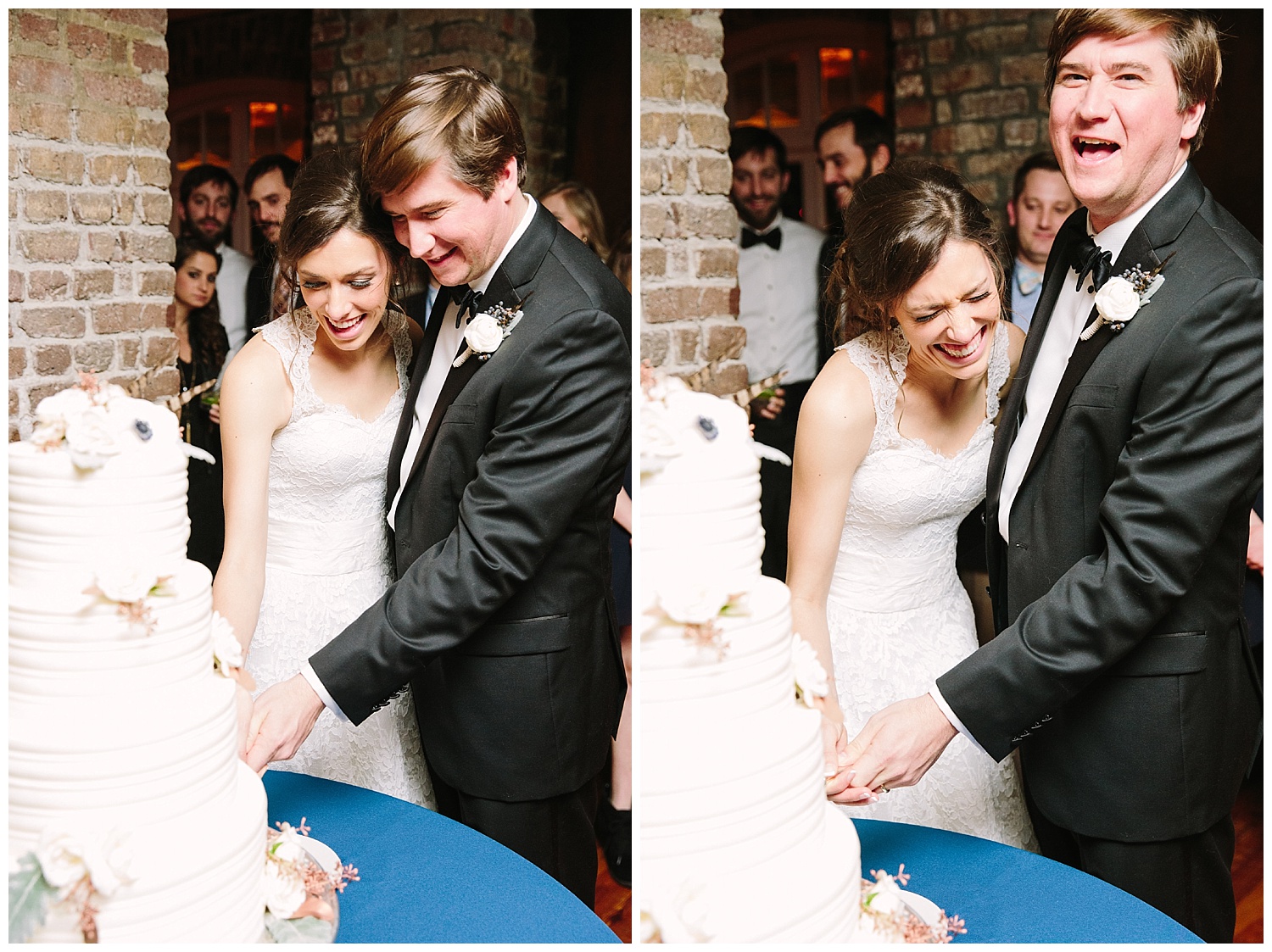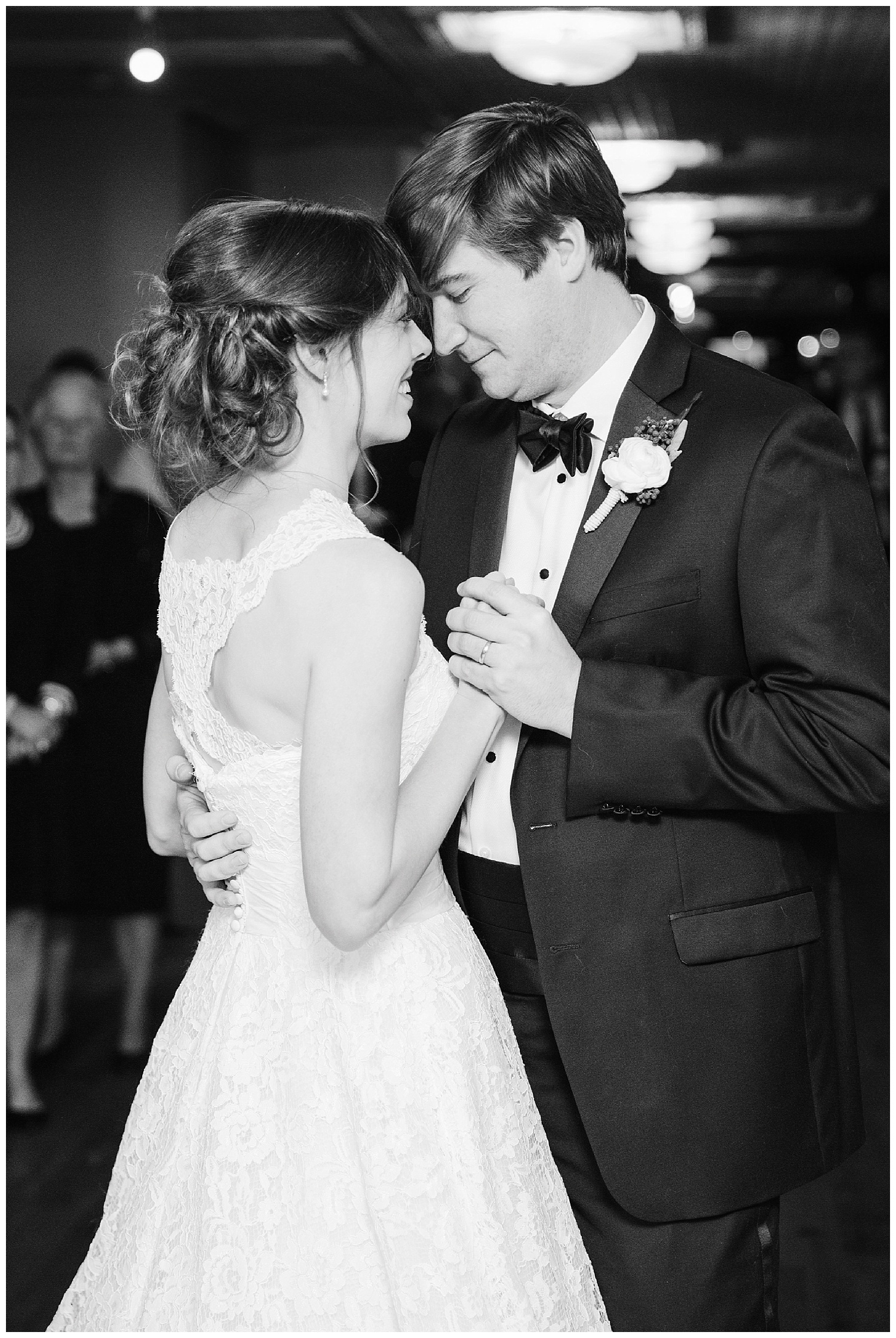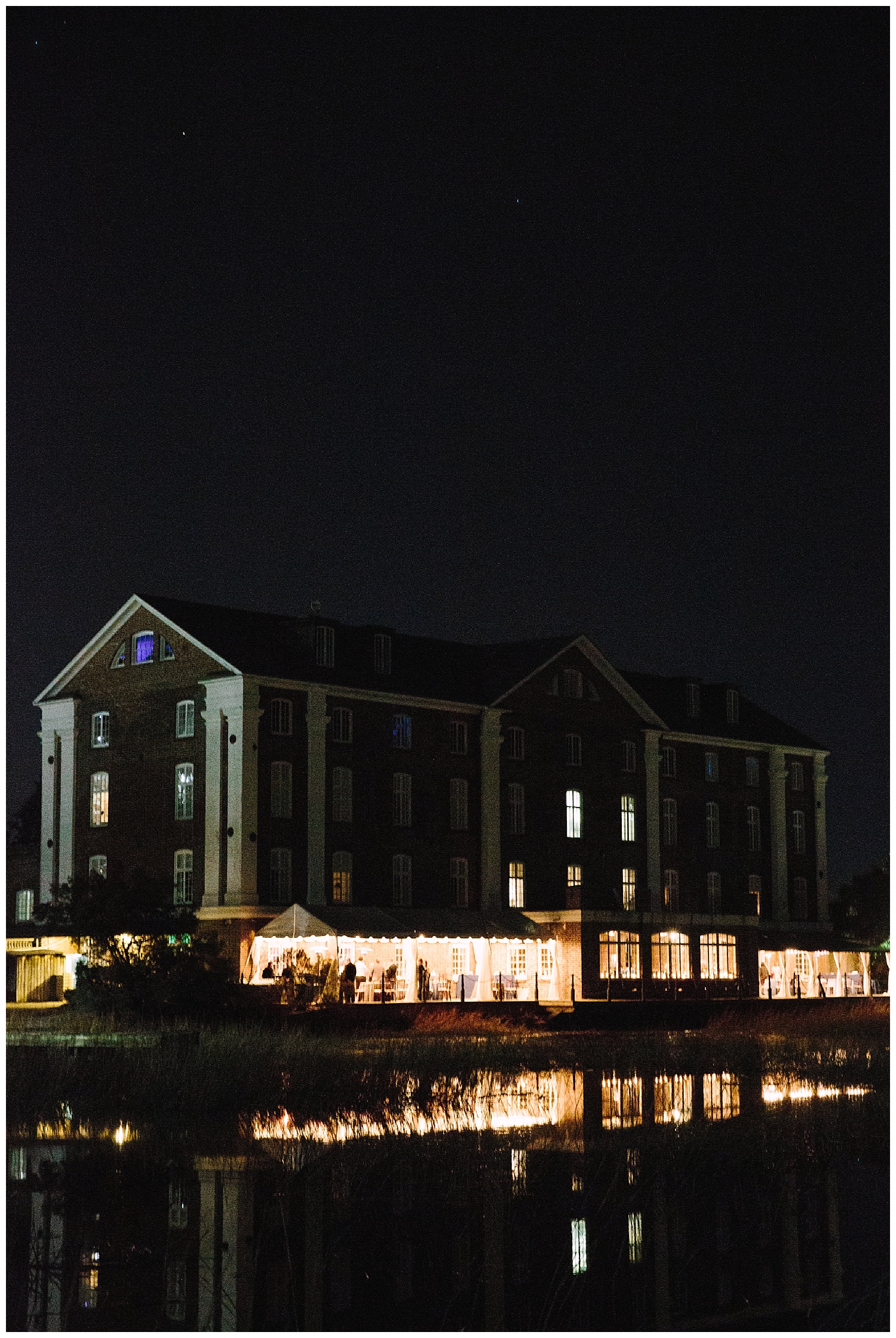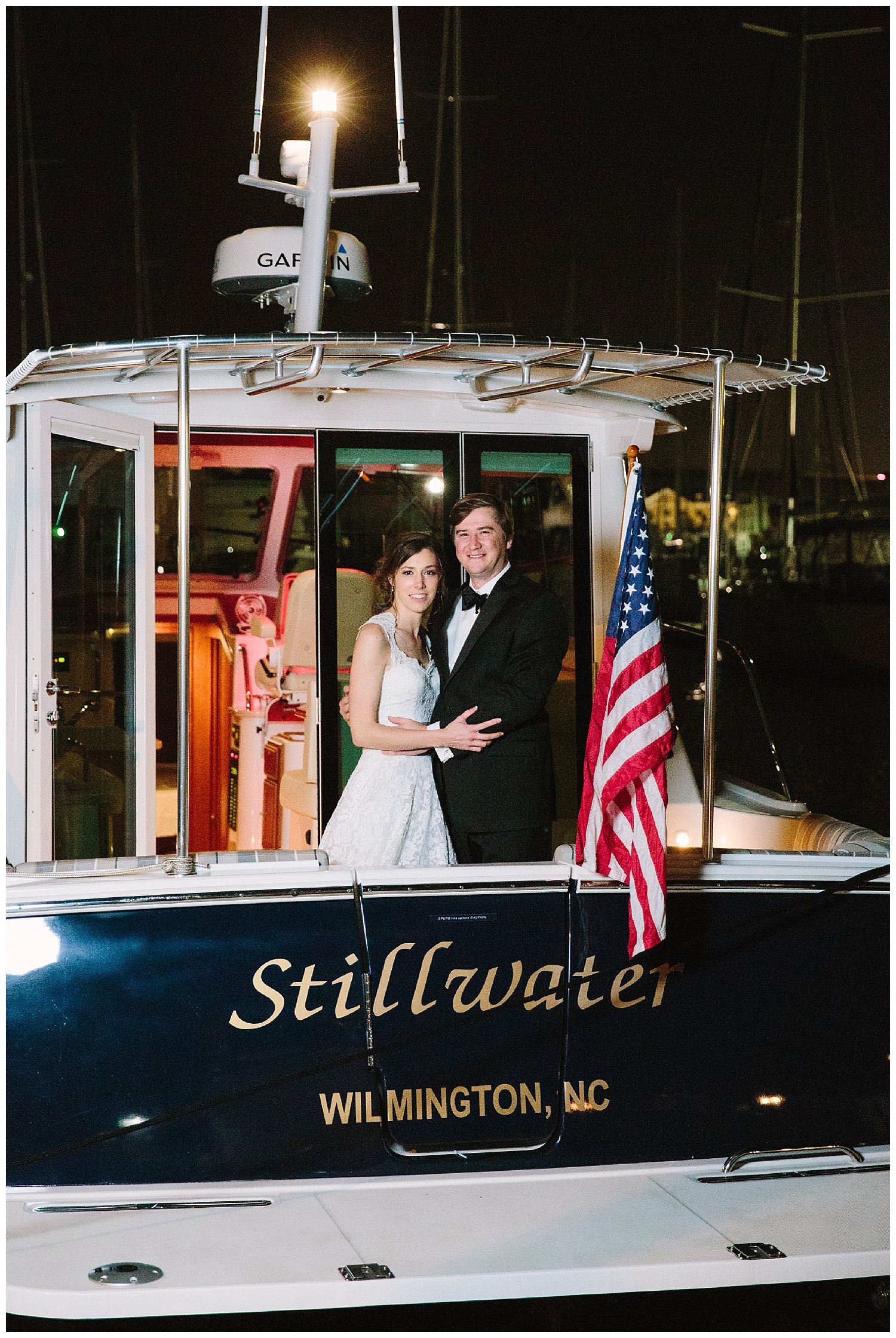 Engagement Shoot
Venues: St. John's Parish Church, family property, and couple's boat | Images: Aly Greer with Wild Cotton Photography
Rehearsal Dinner
Venue: Sea Island Yacht Club | Caterer: The Eclectic Chef | Cakes: Publix, Saffron's, friend, and homemade family member | Table Signs: Bend of the River
Wedding
Venue: Cathedral Church of St. Luke and St. Paul (ceremony) and The Historic Rice Mill (reception) | Planning/Florals: Engaging Events | Images: Wild Cotton Photography | Band: 17 South | Catering: Good Food Catering | Bakery: Ashley Bakery | Transportation: Charleston Style Limo | Rentals: EventWorks | Beauty: Strawberry Blonde Salon | Dress Designer: Justin Alexander at Kira Elizabeth Designs