Wedding Artist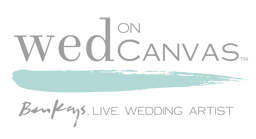 Your wedding day is a work of art! Wed on Canvas will capture the beauty of your wedding day with a painting created live during your ceremony or reception. Ben Keys, is a Charleston-based and nationally recognized artist painting live at weddings across the country. Trained at the Art Institute of Chicago and the School of Painting in Umbria, Italy, Keys' brings twelve years of experience painting for both galleries and private collectors. Wedding guests will love the entertainment of watching your painting come to life over the course of the evening. Wed on Canvas not only adds a creative touch to your wedding day, but the finished painting is a work of art be treasured for years to come!
Web | wedoncanvas.com
Instagram | @wedoncanvas
Facebook | facebook.com/wedoncanvas
Phone | (910) 232-7277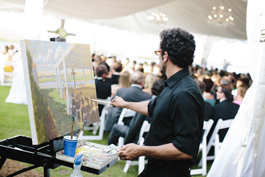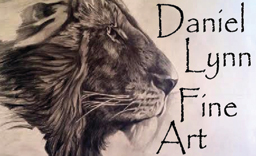 A native of Little Rock, AR Daniel Eric Lynn has been drawing since he was 5 years old. His motivation came from his mother's excitement about a drawing he did in kindergarden of baby Jesus in the manger. That admiration and excitement led to a lifetime of perfecting his artistic skills. He graduated from the University of Central Arkansas with a degree in Illustration. After graduation he went to work in Dillard's corporate office where his career in the fashion industry began. After five years of Textile Design in Little Rock he moved to NYC to work for Liz Claiborne in the heart of the City, Times Square. There he was exposed to various art forms from antiquity to present day, and continued to hone his skills as an artist. As the economy slowed, he began free-lancing for companies such as Victoria's Secret, Calvin Klein, and Abercrombie & Fitch, all the while remaining true to his first love, the pencil. Eric now resides in Mt. Pleasant, SC. He continues to do freelance work in Charleston and still enjoys the challenge of portrait drawing.
Let Eric help to capture a precious moment forever for you and your family TODAY.